---
Crew
Director/Story – Scott Conditt & Jeremy Tremp. Screenplay – Scott Conditt, Producers – Scott Conditt, Greg Grunberg, Jesse Lobell & Jeremy Tremp, Photography – Jeremy Tremp, Music – Jesse Mitchell, Visual Effects – Foxtrot X-Ray (Supervisors – Paul DeNegris & Dan Fusselman), Production Design – Jennifer Jones Nesbit. Production Company – Cineforce Media.
Cast
Tom Plumley (Max 'Max Reload' Jenkins), Greg Grunberg (Eugene Wylder), Hassie Harrison (Liz), Joey Morgan (Reggie), Joseph Reitman (Barton Grabowski), Lukas Gage (Seth), Kevin Smith (Chuck), Lin Shaye (Mrs Wylder), Jesse Kove (Steve), Martin Kove (Gramps Jenkins), Jai Raja (Egyptian Gamer), Richard Lippert (The Harbinger), Wil Wheaton (Arcade Heroes Narrator)
---
Plot
Max Jenkins and his two friends Liz and Reggie are both avid videogamers working together at the Fallout Games gaming store. Max is in awe of Eugene Wylder, a local game designer who back in 1984 created one of the legendary computer games with the Nether series. However, the company burned down (it was believed by Eugene himself) just as they were about to release Nether Dungeon. Just as Max is closing up for the night, a copy of Nether Dungeon is delivered to the door, which may be the only one in existence. Max livestreams playing the game before it causes his console to blow up. Max's rival, the bullying Seth, hacks his site and copies the game and distributes it everywhere. The next day, they discover that the cartridge can possess people as Reggie is taken over. The now middle-aged Eugene bursts in and banishes the possessing spirit. Eugene explains that the game unleashed a demonic entity known as The Harbinger that likes to play games with humanity and wants to destroy the world. With Seth having released the game, people everywhere are being turned into possessed Nether Blasters. It is up to Max and Eugene to find a way to defeat The Harbinger.
---
Max Reload and the Nether Blasters was the first fiction film from Scott Conditt and Jeremy Tremp. The two had previously made Game Jump: The Movie (2018), a documentary that followers a group of game developers, and before that several short films. The film features performances from the well-known faces of Greg Grunberg and Martin Kove, while both of their children also make acting appearances – Jesse Kove is the lead bully, while Greg Grunberg plays the middle aged version of the game's developer Eugene and Jake plays his younger self in the flashbacks. Kevin Smith also turns up in an entertainingly gregarious performance as the store's manager.
There have been assorted films depicting (as opposed to adapted from) videogames ever since defining classics like Tron (1982) and WarGames (1983). These videogame films tend to either fall into two categories – ones where people are trapped inside or by game as in Arcade (1994) Brainscan (1994), eXistenZ (1999), Spy Kids 3-D: Game Over (2003) and Stay Alive (2006); or else plots where people suddenly realise they are characters in a game as in Avalon (2001), Serenity (2019) and Free Guy (2021). (For more detail see Films About Videogames). Max Reload and the Nether Blasters is one film that does something interestingly different.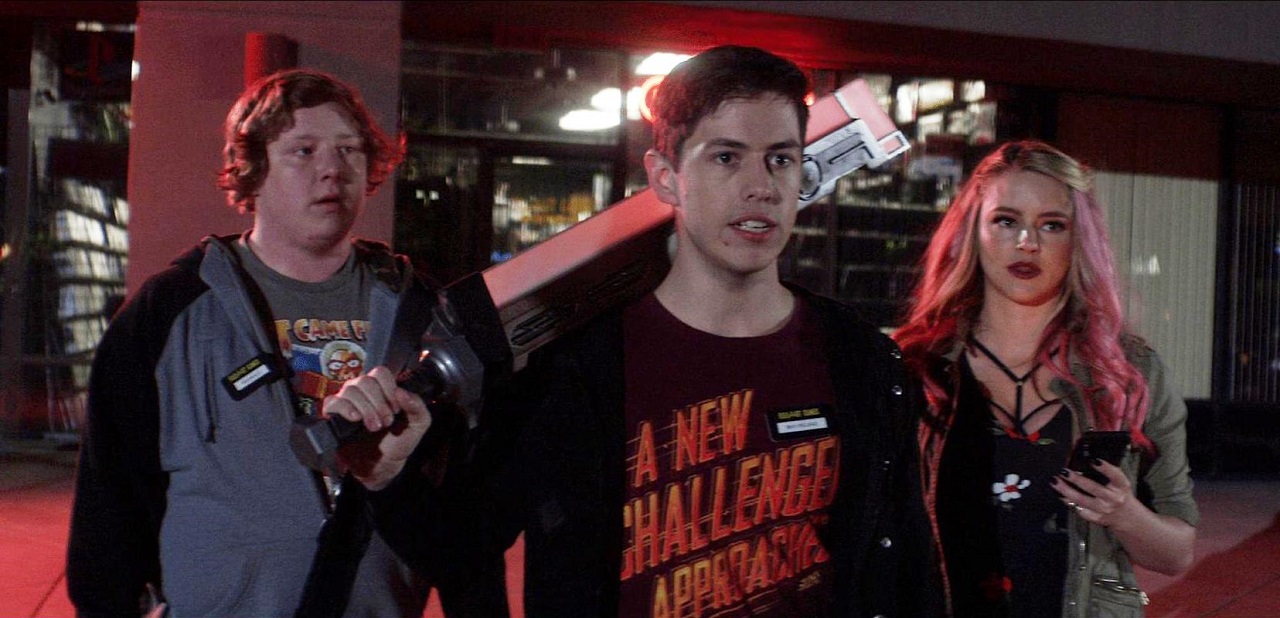 I enjoyed Max Reload far more than I was expecting to. I was anticipating something like Stay Alive or Arcade – any of the assorted evil videogame films you might find under the above link or perhaps even more so Beyond the Gates (2016) about a video boardgame that unleashed a demonic entity – but in actuality what you get is a smart, witty fun little film. The script is genre savvy and comes with a good deal of gamer asides and sly in-jokes – even ones that can easily be picked up by a non-gamer like me. This is such a nerd-friendly film that Greg Grunberg's character drives a DeLorean.
The nemesis being fought is somewhat generic and the game-possessed with glowing eyes never amount to much of a threat. Nevertheless the characters are likeable and well rounded, have solid heroic arcs and the film comes off far more engagingly than you expect it to.
---
Trailer here
---