(Maciste all'Inferno)
---
Crew
Director/Art Direction – Guido Brignone, Screenplay – Fantasio & Pittaluga, Photography (b&w) – Ubaldo Arata & Massimo Terzano,. Production Company – Fert Studios/Societe Anonima Stefano Pittaluga.
Cast
Bartolomeo Pagano (Maciste), Umberto Guarracino (Pluto), Franz Sala (Barbariccia), Elena Sangro (Proserpina), Mario Sajo (Gerione), Lucia Zanussi (Luciferina), Pauline Polaire (Graziella), Domenico Serra (Prince George)
---
Plot
Pluto, the king of hell, and his minions travel up to Earth to cause mischief. Pluto appeals to the muscular Maciste to join him but Maciste refuses. Pluto's minions steal a woman's baby. When Maciste comes to her aid and goes to punch Pluto, Pluto responds by whisking him down to Hell. A mortal can only stay in Hell for three days. However, Pluto's daughter Luciferina contrives to give Maciste the kiss that will make him into a demon meaning he must now stay forever.
---
Maciste is a heroic figure from Italian silent cinema who is almost completely unknown in English-speaking territories. (In Italian, the correct pronunciation of the name is 'Mah-chee-stay' as opposed to 'Mah-cheest', 'Mah-keest' or even 'Mack-keest'). Maciste first appeared in the silent film Cabiria (1914) where he was a slave from around 300 B.C. played by Bartolomeo Pagano, a former stevedore. The character was spun off in a further 26 films made between 1915 and 1927, all featuring Pagano. Without any explanation of why, these placed Maciste in various time periods and different settings ranging from The Orient to Arabia and America where he was always a strongman defending the weak. Maciste in Hell was the third to last of the original Maciste films.
Years later, following the massive international success of Hercules (1958), Italy created the peplum or sword and sandal cycle. For several years afterwards, Italy churned out a mass of copycat films featuring bodybuilder heroes like Hercules, Samson, Ulysses and Goliath. This period saw several Maciste films made but they were retitled as Hercules et al films in international release due to the fact that Maciste was a character with no international recognition factor. During this period, the film was also remade as Maciste in Hell (1962), known in English as The Witch's Curse, starring Kirk Morris.
As you start watching, your immediate thought is to contrast Maciste in Hell to one of these peplum films, which feature bodybuilder heroes who spend their time as roving do-gooders, frequently taking their shirts off to flex their muscles. Contrarily, when we are introduced to Maciste, he is just a regular guy, dressed in a suit and remains that way for much of the film – he doesn't get to take his shirt off until the 45 minute point. Physically Bartolomeo Pagano doesn't resemble any of the buffed bodybuilders who filled the part in the peplum films of the 1960s – he shows his strength but he is not muscle-toned. The whole Charles Atlas bodybuilding fad of the 1950s had not come about yet and what you suspect is that he was intended to resemble a circus strongman who would have been considered the archetype of strength back in the day. All of this tends to offset what you expect a peplum to be.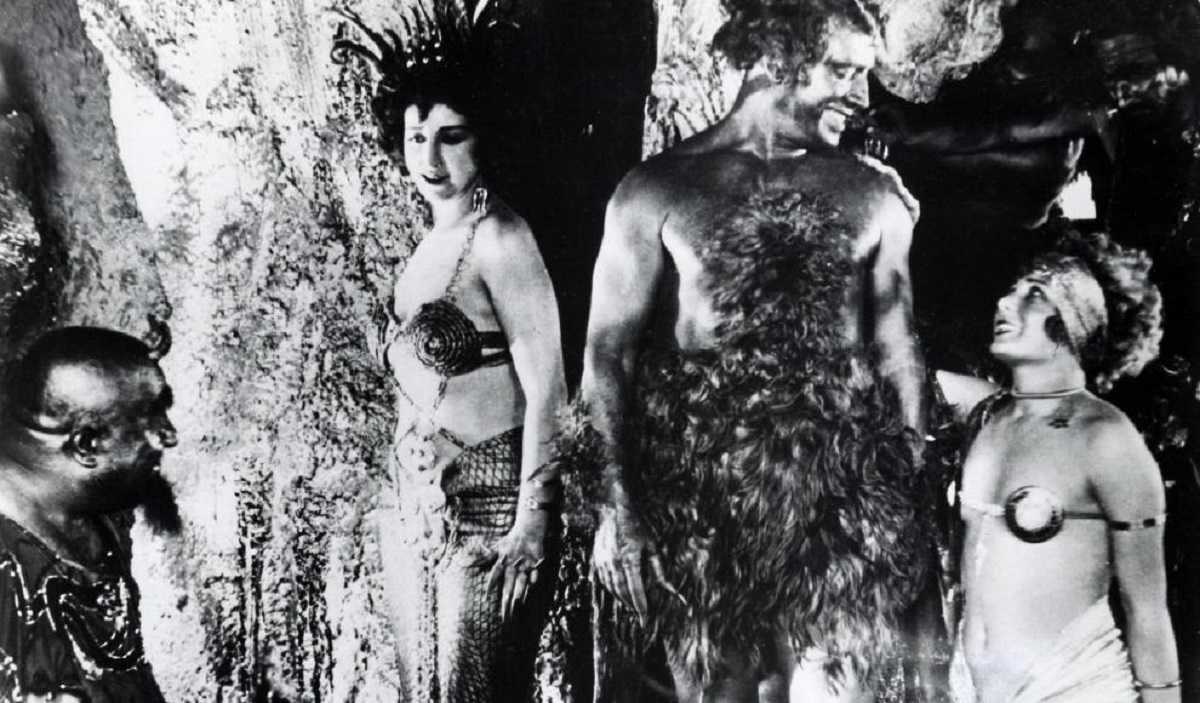 There are elements that seem badly dated now – Pluto (Umberto Guarracino)'s appearance to Maciste seems like a laughable cliche of a silent movie villain, outfitted in a top hat and a ridiculously fake looking mustache with upturned twirls. It is also not entirely clear whenabouts the film is taking place. Maciste travels by horse to plead with Prince George where the prince and his courtiers are dressed in 17th Century wigs and frockcoats and you get the impression this is taking place in a mediaeval kingdom. On the other hand, when Pluto tries to tempt Maciste with dominion over the Earth, the vision he shows him includes footage of modern cities and skyscrapers.
There are times the film rises out of itself and displays some imagination – like the opening visions of hordes of demon figures flying in circles (something let down by the weak effects) or the demons standing atop a cliff surveying the dominion of Mankind. These are images that you cannot help but think inspired F.W. Murnau in the creation of the much superior Faust (1926) the following year. The film conjures a reasonable depiction of Hell filled with demon figures waving pitchforks and breathing fire and grand visions of Bartolomeo Pagano shoving dozens of rebelling demons down into the pit with a single sweep of his arms. On the other hand, the effectiveness of such scenes is unwound by the fire-breathing dragon, which looks exactly like a giant puppy dog. The print I was watching came tinted in sepia-tone and orange, which aided immeasurably to the effect. The reality is though that the film is dramatically inert – much of it seems to involve Maciste simply sitting around in Hell.
It is also possible that major sections of the film have been cut. The IMDB lists the runtime for the film as 95 minutes. The English-subbed version available in public domain runs to only 65 minutes. Silent movies usually ran at 16 frames per second (as opposed to today's 24 fps) – when they are projected with modern cameras, this tends to the effect of people running around at undercranked rates. Some modern restorations take this into account and adjust the frame rate and it may well be that the 95 minute listing is a restored time.
On the other hand, it could simply be that some material has been cut out. Maciste goes to see the prince, persuading him to do the right thing regarding his neighbour but we never find out what it is the prince did in the first place. Similarly, the character of the Hell lieutenant Barbariccia raises a rebellion against Pluto (before Maciste puts it down) but we are never privy to Barbariccia's reason for rebelling.
---
---