---
Crew
Director – Steven Brill, Screenplay – Steven Brill, Tim Herlihy & Adam Sandler, Producers – Jack Giarrupto & Robert Simonds, Photography – Theo van de Sande, Music – Teddy Castellucci, Music Supervisor – Michael Dilbeck, Visual Effects Supervisor – John Sullivan, Visual Effects – Pixel Magic (Supervisor – Raymond McIntyre Jr), POP Art and Animation (Supervisor – David Sosalla), Rhythm and Hues (Supervisor – Derek T. Spears) & Vision Art and Design (Supervisors – Mark Kolbe & Craig A. Mumma), Miniatures – Grant McCune Design Inc, Special Effects Supervisor – Terry Frazee, Makeup Effects – Kurtzman, Nicotero & Berger EFX Group Inc (Supervisors – Howard Berger, Robert Kurtzman & Greg Nicotero), Production Design – Perry Andelin Blake. Production Company – Happy Madison/RSC Media/New Line Cinema.
Cast
Adam Sandler (Nicky), Robert Smigel (Voice of Beefy), Rhys Ifans (Adrian), Harvey Keitel (Satan), Patricia Arquette (Valerie), Allen Covert (Todd), Jonathan Loughran (John), Peter Dante (Pete), Reese Witherspoon (Holly), Tom 'Tiny' Lister Jr (Cassius), Kevin Nealon (Gatekeeper), Blake Clarke (Jimmy), Rodney Dangerfield (Lucifer), Jon Lovitz (Bird Man), Quentin Tarantino (Deacon), Michael McKean (Police Chief)
---
Plot
Satan wishes to retire but cannot decide which of his three sons, the awkward and geekish but nice Nicky or the brutal and sadistic Adrian and Cassius, should inherit the throne, and so he decides to stay on. Angered, Adrian and Cassius travel up to Earth, intending to wreak havoc there. However, their doing so freezes over the wall of flame that is the entrance to Hell, meaning that souls can no longer enter. This also causes Satan to start disintegrating. In order to save his father, Nicky must travel up to Earth and bring Adrian and Cassius back. There Cassius and Adrian, able to possess human bodies, are determined to turn New York City into Hell on Earth, promoting sin and depravity everywhere. In order to defeat them, Nicky must discover his devilish powers within.
---
The Adam Sandler movie is an acquired taste. That is to say, it is best appreciated if you are in your teens, belong to a fraternity house and consume large quantities of beer. Adam Sandler first came to attention as a regular on Saturday Night Live (1975– ). Sandler's cinematic career took off with The Wedding Singer (1998), a likeable formula romantic comedy that was a big hit. Since then, Sandler has seemingly developed a career as a frat house poster boy in the likes of The Waterboy (1998), Big Daddy (1999), Mr Deeds (2002), Anger Management (2003), Click (2006), I Now Pronounce You Chuck and Larry (2007), You Don't Mess With the Zohan (2008), Bedtime Stories (2008), Grown Ups (2010), Jack and Jill (2011), Pixels (2015), The Ridiculous 6 (2015) and Hubie Halloween (2020).
Little Nicky is sort of a conceptual collision between an Adam Sandler movie and The Omen (1976). One where the head-turning trick from The Exorcist (1973) now becomes a cute party trick and where The Devil's son isn't the Anti-Christ but a socially ill-adept geek (Sandler in an unbecoming look, including a hair lock dangling over most of his face and a cod-Don Corleone hoarse voice that tires about five minutes into the film).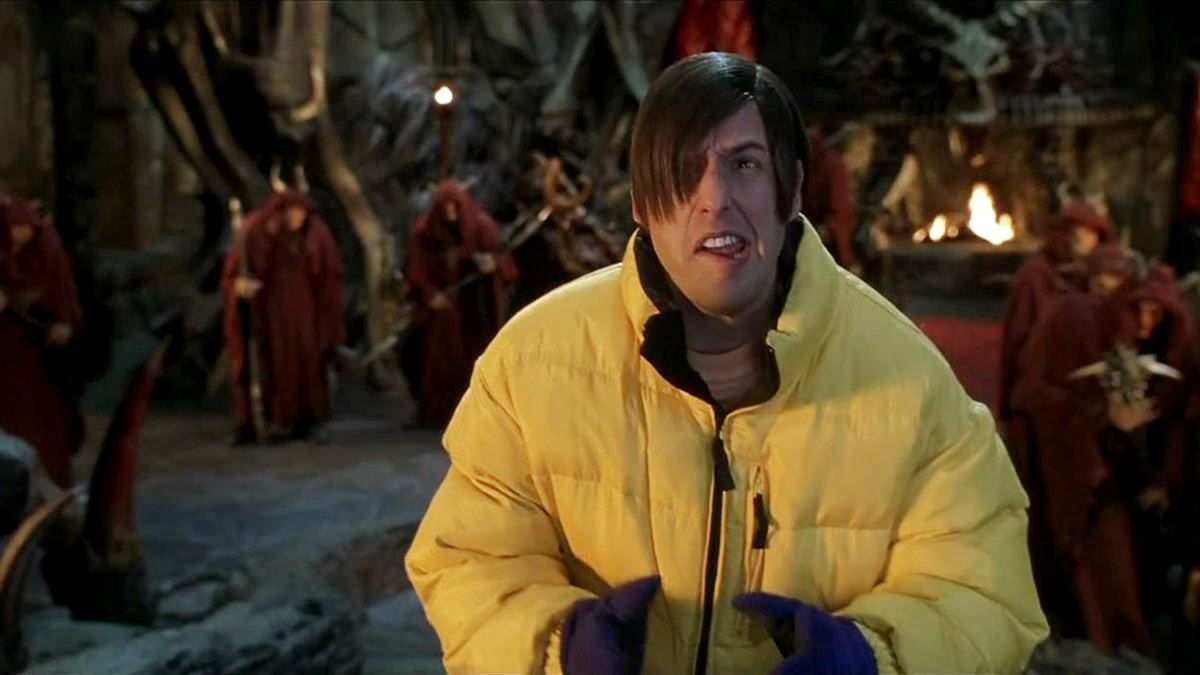 As with any Adam Sandler comedy, Little Nicky trades in vulgar humour – human and animal bodily function jokes, dwarf jokes, crossdressing jokes, blind jokes, dogs fucking and a number of jokes centred around a demon that is given a pair of breasts on its head as a punishment. One supposes that they should congratulate a mainstream film like this for having a major character who is gay and is at least accepted as part of the group – but the film does walk a dubious line where the character seems to be there solely to be taunted and called names like Liberace and Elton John.
What is amazing is the cast that Little Nicky manages to draw in – including cameos from the likes of Jon Lovitz, Rob Schneider, Michael McKean, Dana Carvey, the Harlem Globetrotters, Rodney Dangerfield, David Spade, Regis Philbin, footballer Dan Marinaro, Quentin Tarantino (as a blind doomsayer), a very funny appearance from Ozzy Ozbourne at the end (in the film's funniest gag) and a highly ignominious cameo from Henry Winkler (who turns up twice to be covered in bees).
Although the most ignominious of these must be Harvey Keitel, one of the great actors of our time, who appears as The Devil and has a series of thoroughly embarrassing scenes, including having to shove a pineapple up the ass of a Hitler look-alike dressed in a tutu. Please, Harvey, retain your dignity and say it was only for the money.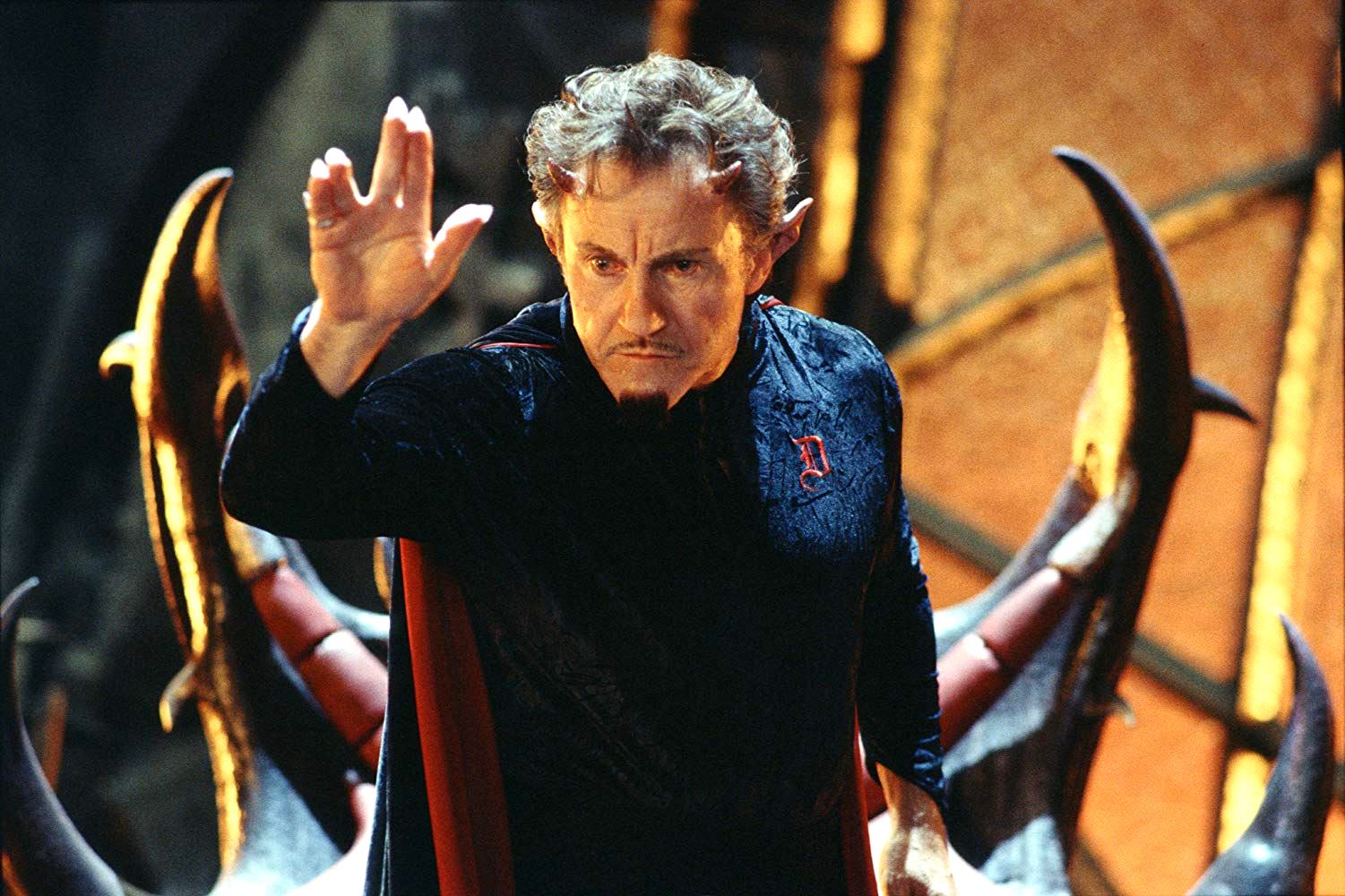 A film like Little Nicky doesn't want you to take any notion of eschatology seriously. It does fall into a certain trend of films begun with The Addams Family (1991) that invert traditional Family Values and see the kinky and perverse as normal. Little Nicky never goes so far as The Addams Family in seeing evil as superior to traditional definitions of good, although it does offer an amusing vision of the Christian afterlife – a frat boy underdog vision of Heaven and Hell where Hell isn't that serious a place, where Heaven is amusingly inhabited by angelic babes who have stepped out of Clueless (1995) and good is represented by the greeting card cuteness of fluffy bunnies and flowers. It is a world where the battle and indeed the borderlines between good and evil matter less than an all-pervading, all-inclusive party atmosphere where the only evil that blights having good old-fashioned vulgar fun is mean-spiritidness.
Director Steven Brill also directed Adam Sandler in Mr Deeds (2002), The Do Over (2016), Sandy Wexler (2017) and Hubie Halloween (2020) and has made other comedy efforts such as Without a Paddle (2004) and Drillbit Taylor (2008). His only other ventures into genre material were as the director of the controversial reshoots on Fanboys (2008) and the iBabe segment of Movie 43 (2013).
---
---