---
Crew
Director/Screenplay – Mark Steven Johnson, Based on the Marvel Comic Created by Gary Friedrich, Mike Ploog & Roy Thomas, Producers – Avi Arad, Michael De Luca, Gary Foster & Steven Paul, Photography – Russell Boyd, Music – Christopher Young, Music Supervisor – Dave Jordan, Visual Effects Supervisor – Kevin Mack, Visual Effects – Cafe FX (Supervisor – John F. Parenteau), Digital Dream (Supervisor – Jerry Pooler), Sony Pictures Imageworks, Special Effects Supervisor – Peter Stubbs, Makeup Effects – David Elsey, Additional Creature Effects – Crash McCreery, Production Design – Kirk M. Petrucelli. Production Company – Columbia/Marvel Enterprises/Relativity Media/Crystal Sky Pictures/Michael De Luca Productions.
Cast
Nicolas Cage (Johnny Blaze), Eva Mendes (Roxanne Simpson), Peter Fonda (Mephistopheles), Wes Bentley (Blackheart), Sam Elliott (The Caretaker), Donal Logue (Mack), Matt Long (Young Johnny Blaze), Brett Cullen (Barton Blaze), Gibson Nolte (Stuart), Laurence Breuls (Gressil), Daniel Frederiksen (Wallow), Mathew Wilkinson (Abigor), David Roberts (Captain Jack Dolan), Rebel Wilson (Girl in Alley), Peter Barry (The Mugger)
---
Plot
The teenage Johnny Blaze is an apprentice daredevil motorcycle rider who is part of a touring show with his father. He and Roxanne Simpson are very much in love and are planning to run away together. Johnny then discovers that his father has cancer. Mephistopheles appears to Johnny, offering to cure his father's cancer if Johnny signs a contract for his soul. Johnny does so and his father's cancer is cured – only for Mephistopheles to cause his father to be killed immediately after during a stunt. Several years later, Johnny has become a superstar with his increasingly more death-defying motorcycle exploits. Roxanne, who is now a tv reporter, reappears to interview Johnny and he realizes that he still loves her. Meanwhile, Mephistopheles has a quarrel with his son Blackheart who desires to find the Contract of San Venganza, which contains the souls of the 100 most evil people. Mephistopheles appears to Johnny, reminding him of their bargain. He causes Johnny to transform into the Ghost Rider, the Devil's bounty hunter, where by night Johnny's head becomes a flaming skull and he rides forth on a flaming motorcycle to claim the souls of evildoers. Mephistopheles agrees to give Johnny back his soul if he will prevent Blackheart from obtaining the Contract. Blackheart and his minions, all fallen angels, try to fight back by targeting Johnny's weakness – Roxanne.
---
Ghost Rider is based on the Marvel Comics comic-book. Ghost Rider is known for his distinctive appearance as a demonic avenger with a flaming skull head who rides a flaming motorcycle with wheels of fire. First created in Marvel Spotlight #5 in 1972, Ghost Rider received his own comic-book in 1973. The character's background as stunt motorcyclist Johnny Blaze and his deal with the demonic envoy Mephisto was expanded out through subsequent issues. Earlier in the 1940s, Marvel had created a Western horseback supernatural avenger also named Ghost Rider, who was then renamed Night Rider and Phantom Rider and was later retconned in the Marvel Universe to become an early version of Ghost Rider (such a character is played by Sam Elliott here). In 1990, a new Ghost Rider was introduced into the comics in the person of Daniel Ketch, who lasted until 1998 and was later brought into continuity with the Johnny Blaze series, revealing the two to be brothers.
This Ghost Rider film joins a host of Marvel Comics adaptations that have enjoyed big screen success over the last few years. These have included Blade (1998), X-Men (2000), Spider-Man (2002), Daredevil (2003), Hulk (2003), The Punisher (2004), Elektra (2005), Fantastic Four (2005), Man-Thing (2005), Iron Man (2008), Captain America: The First Avenger (2011), Thor (2011), The Avengers (2012), Guardians of the Galaxy (2014), Ant-Man (2015), Deadpool (2016), Doctor Strange (2016), Black Panther (2018), Venom (2018), Captain Marvel (2019), Black Widow (2021), Eternals (2021), Shang-Chi and the Legend of the Ten Rings (2021) and various sequels to most of these, as well as the tv series' Agents of S.H.I.E.L.D. (2013-20), Daredevil (2015-8), Agent Carter (2015-6), Jessica Jones (2015-9), Luke Cage (2016-8), The Defenders (2017), Inhumans (2017), Iron Fist (2017-8), The Punisher (2017-9), Runaways (2017-9), The Falcon and the Winter Soldier (2021- ), Hawkeye (2021- ), Loki (2021- ), WandaVision (2021- ), Moon Knight (2022- ), Ms Marvel (2022- ) and She-Hulk: Attorney at Law (2022- ). Indeed, Ghost Rider director/writer Mark Steven Johnson had previously directed Daredevil and wrote/executive produced Elektra.
The Ghost Rider project had been in development since the late 1990s with David S. Goyer, who is listed as one of the executive producers here, having written a screenplay purportedly as early as 1995. A version of the film was announced in 2000, with Stephen Norrington, who had made other comic-book adaptations such as the above-mentioned Blade and The League of Extraordinary Gentlemen (2003), as the director and Johnny Depp set to play Johnny Blaze. By 2001, Nicolas Cage, purportedly a huge fan of Ghost Rider, petitioned to take on the title role and Stephen Norrington departed to be replaced by Mark Steven Johnson. The project dithered about in development status for a number of years. (I remember sitting through a comic-book convention panel where David S. Goyer was one of the speakers and voiced despair of Ghost Rider ever seeing the light of day after dealing with studio executives asking questions about whether the flaming skull would incinerate the actor playing Ghost Rider).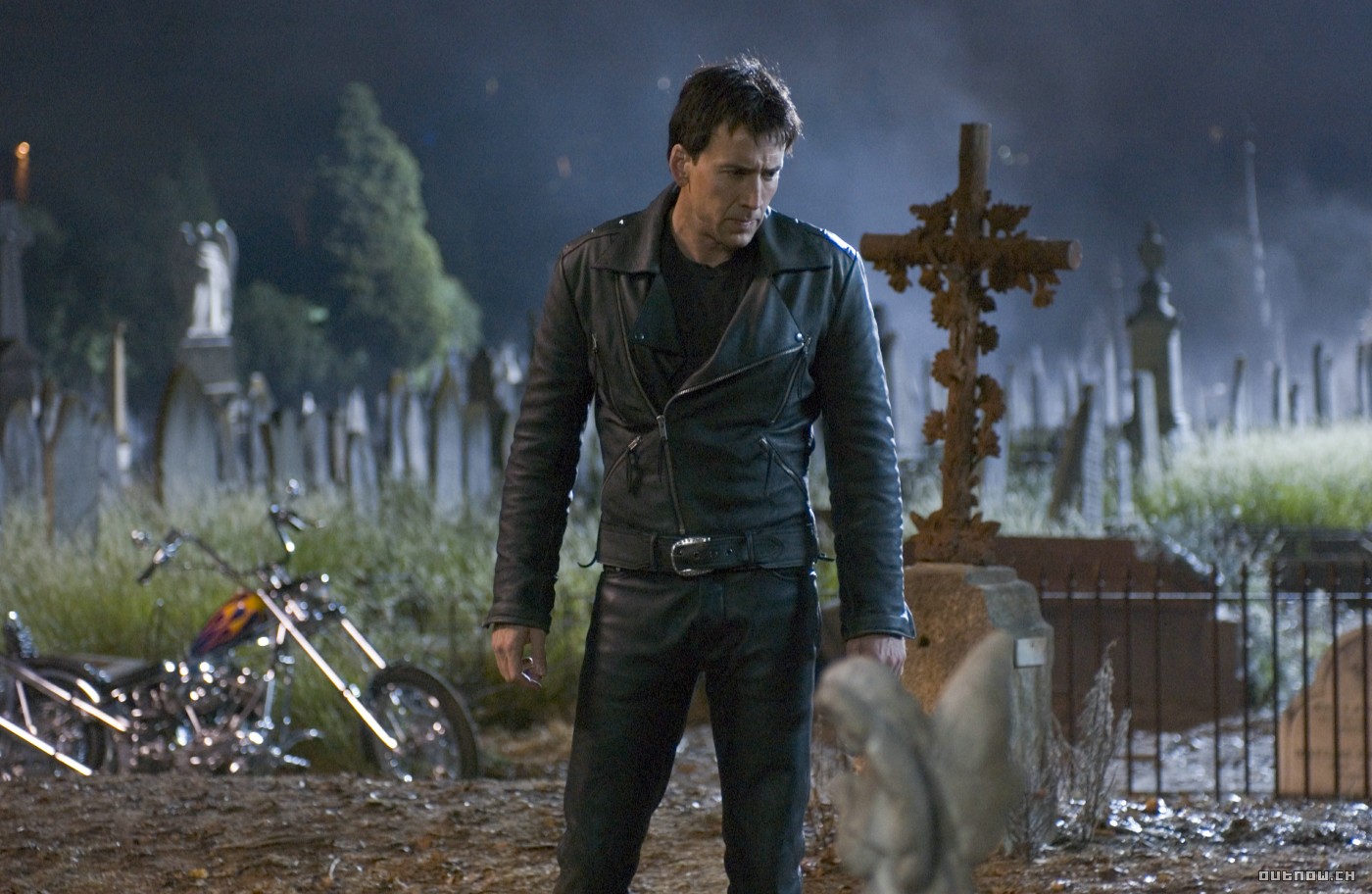 Ghost Rider finally emerges on screen here and is probably better than one expected it to be. Mark Steven Johnson is generally accurate to the details of the comic-book. There are one or two changes. In the Marvel origin story, Johnny's father Barton is killed during a stunt and then Johnny is adopted by the Simpson family and joins their travelling circus where he becomes attracted to their daughter Roxanne. In the comics, it is his stepfather, Craig 'Crash' Simpson, that Johnny sells his soul to save, only to see him killed in an accident immediately after, whereas the film blends Barton Blaze and Crash Simpson into one character. Also in the origin story, Johnny performs a Satanic ritual to raise Mephisto, whereas the film waters this down and has Johnny merely approached by Mephistopheles where he seems to accidentally prick his finger to spill a drop of blood onto the contract, something that seems to fudge the act of conscious volition that comes in conjuring a demon to sell one's soul and makes it more into an accident or an act of trickery upon Mephistopheles' part. The look of Ghost Rider is highly accurate, although the motorcycle is lacking its wheels made of flame for some reason. There is also no mention made of the demon Zarathos that possesses Johnny and becomes the Ghost Rider half of his personality. Mark Steven Johnson has also blended both versions of Ghost Rider – notably taking the Penance Stare from the Daniel Ketch version of Ghost Rider where evildoers are made to see the pain and suffering they have inflicted on each of their victims.
I did not like Mark Steven Johnson's Daredevil much. Daredevil felt like Johnson was making a comic-book superhero movie by the numbers and merely mimicking the moves of other superhero films. Daredevil was also lumbered by the miscasting of the wooden Ben Affleck. One expected fairly much the same of Ghost Rider, which was likewise burdened by the casting of Nicolas Cage – never the most expressive of Hollywood leading men and who has had the bad habit in recent years of trying to get himself cast in superhero films – remember the cringe-worthy idea touted at one point of Cage taking the title role in what eventually emerged as Superman Returns (2006)? (Cage is clearly a big comic-book fan – he even named his son Kal-el). Nevertheless, in the four years between Daredevil and Ghost Rider, Mark Steven Johnson has improved his style considerably and Ghost Rider does the comic-book poses with some imaginative flourish. Although ultimately, Ghost Rider's failing is that it is never more than that – the film is never a work of art, nor a work that has any depth beyond everything that we see up on the screen – but at least Johnson enervates the comic-book imagery well.
When one thinks about, the character of Ghost Rider is an absurd one – a demon superhero in a black leather jacket and burning skull who rides a flaming motorcycle. It is the sort of image that you could imagine more as a piece of airbrushed artwork on the side of a 1970s panel van than as a superhero. Like the comic-book, the film has to stride a delicate line between the potential absurdity of the central image and seriousness.
Where Ghost Rider tends to work, as opposed to its linear and never particularly surprising story and characters, is in the wildness of the comic-book imagery that Mark Steven Johnson conjures on the screen. The scene where Nicolas Cage and motorcycle transform into their demonic form for the first time and go for a ride through the city in a trail of fire, tearing up the street and blasting cars aside in their path is quite triumphal. There is an amazing sequence with the Ghost Rider motorcycle roaring vertically up the side of a glass skyscraper and then Nicolas Cage swinging out into the air in a breathtaking slow-motion leap on the end of his chains to race down the other side. There are other fine sequences with Ghost Rider roping a helicopter with his chains or jumping off a bridge and riding away across the water, as well as the image of he on his motorcycle and Sam Elliott on a flaming horse racing off across the desert at the end.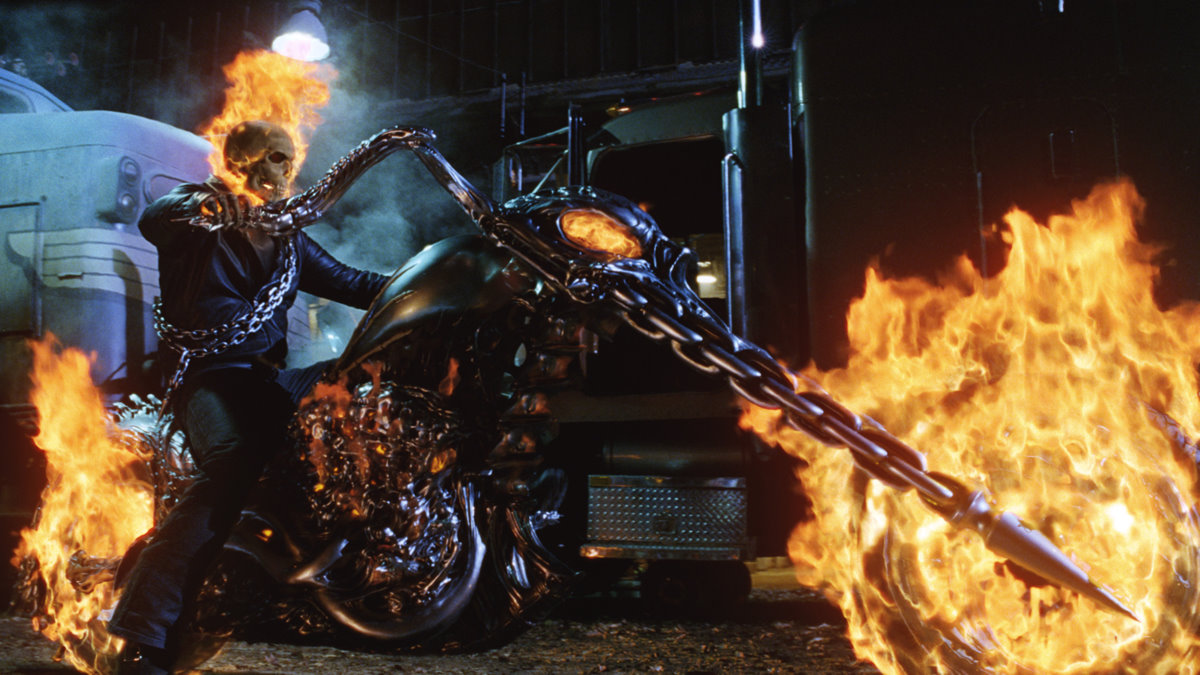 Ghost Rider does come with a certain disadvantage that has been forced by its timing. This being that, though Ghost Rider was the first (as far as I am aware) to conduct the demon superhero concept in comic-books, by the time the Ghost Rider film comes to the screen through its lengthy development limbo, the demon superhero concept has been superseded by other comic-book adaptations such as Spawn (1977), Faust: Love of the Damned (2000) and Hellboy (2004). Indeed, Mark Steven Johnson's screen story for Ghost Rider is surprisingly similar to the story for Spawn – the decent hero who is chosen by demonic forces to work as a supernaturally empowered agent of Hell but who rebels against his fate, as well as the scenes where he receives advice from an old timer who has uncanny knowledge of the situation. Like Spawn, Ghost Rider reduces demonology to little more than superhero pulp rather than any theological issue – Spawn had the title character wielding chains, machine-guns and, in an image that one would swear was taken from the Ghost Rider comic-book, transforming a motorcycle into a supernatural vehicle, while Ghost Rider deals in images like flaming choppers, supernaturally energized chains and shotguns and Ghost Rider even wearing a supernatural black leather motorcycle jacket.
Nicolas Cage proves only so-so in the title role. Apart from the occasional role where he shows he can act – Wild at Heart (1990), Adaptation (2002) – I have never been a huge fan of Nicolas Cage. Cage is certainly a reliable trouper but has more than his fair share of roles where he simply should have not taken the part – Zandalee (1991), City of Angels (1998), Captain Corelli's Mandolin (2001), The Wicker Man (2006), Next (2007), Season of the Witch (2011), Left Behind (2014), Pay the Ghost (2015), The Humanity Bureau (2017) and Jiu Jitsu (2020). When he does heroic roles, Cage seems to vie between a series of pseudo-Elvis poses, a cowboy drawl and an effort to seem intense that often verges on the laughable. Here Cage's poses in front of the mirror and various attempts to add depth to Johnny seem more ridiculous than they ever suggest any heroic stature.
Placed up against Cage as the love interest, Eva Mendes does little more than seem beautiful. Mark Steven Johnson also casts a number of the supporting parts with actors who have been chosen for their iconic status. Mephistopheles is cast with Peter Fonda – who better to play in a film like Ghost Rider than the original loner motorcycle hero from the cult classic Easy Rider (1969)? – while Sam Elliott, the grizzled veteran of countless Westerns, is perfectly cast as the aging Phantom Rider.
Ghost Rider: Spirit of Vengeance (2012) was a sequel with Nicolas Cage making a return performance in the title role. Ghost Rider, now played by Gabriel Luna, subsequently turned up in episodes on the fourth season of Marvel Agents of S.H.I.E.L.D..Ghost Rider was spoofed in Meet the Spartans (2008).
Director Mark Steven Johnson next went onto make the fantastical romantic comedy When in Rome (2010), the revenge film Killing Season (2013) and the caper film Finding Steve McQueen (2019), as well as the story for Christopher Robin (2018).
(Nominee for Best Special Effects and Best Makeup Effects at this site's Best of 2007 Awards).
---
---