(Djävulens Öga)
---
Crew
Director/Screenplay – Ingmar Bergman, Photography (b&w) – Gunnar Fischer, Music – Domenico Scarlatti, Art Direction – P.A. Lundgren. Production Company – Svensk Filmindustri.
Cast
Jarl Kulle (Don Juan), Bibi Andersson (Britt-Marie), Stig Jarrel (Satan), Stur Lagerwall (Pablo), Gertrud Fridh (Renata), Nils Poppe (Vicar), Ragner Arvadson (Guardian Demon), Gunnar Bjornstrand (Narrator), Axel Duberg (Jonas), Georg Funkquist (Count Armand de Rouchefoucauld), Gunnar Sjoberg (Marquis Giuseppe Maria de Maccopazza), Allan Edwall (The Ear Demon), Kristina Adolphson (Woman in Veil)
---
Plot
In Hell, Satan is troubled by a sty in his eye. It is realised that this is due to the purity of a vicar's daughter, which is offensive to him. Satan decides that this purity must be corrupted and so calls up Don Juan to perform the task of seducing her. Don Juan and his servant Pablo emerge in contemporary rural Sweden. An invisible demon accompanying them causes the rather thick vicar's car to break down. After they happen by to help, the vicar offers them a place to stay. Don Juan starts trying to woo the vicar's daughter Britt-Marie away from her fiance. Meanwhile, Pablo starts seducing the vicar's wife Renata, appealing to the passions she keeps hidden in her heart, while the demon tempts the vicar with knowledge of what is going on. Things are upset when Britt-Marie proves less responsive to Don Juan's charms than anticipated. After they share an innocent kiss, Don Juan instead ends up falling in love with Britt-Marie.
---
Ingmar Bergman was one of the great directors of the 20th Century. Bergman came to acclaim in the late 1950s with works like Smiles of a Summer Night (1955), the Cannes Award winning The Seventh Seal (1957) and Wild Strawberries (1957), which frequently explored weighty issues of religion and faith. From the mid-1960s, with films like Persona (1966), Cries and Whispers (1972) and Scenes from a Marriage (1973), Bergman's cinema began to concentrate on psychologically penetrating relationship dramas. (See bottom of the page for Ingmar Bergman's other genre films).
The Devil's Eye was Ingmar Bergman's first venture into outright comedy. After weightily philosophical and gloomy works like The Seventh Seal, Wild Strawberries, The Magician/The Face (1958) and The Virgin Spring (1959) wherein Bergman frequently questioned the ultimate meaning of it all and harshly condemned the hypocritical, the religious and the self-important, you might argue that Bergman needed to do something lighter to relieve all that intellectual solemnity.
The truth though is that The Devil's Eye is only another face of Ingmar Bergman's philosophical weightiness – he still sets up small town petty bourgeoisie ministers and their families so that he can rend apart the hypocrisy and suppressed passion in their lives (Bergman's own father was a Lutheran minister); as in The Magician, he is fascinated with individuals of seductive power and their ability to expose chinks in the armour of the supposedly virtuous; he still condemns Christian religion – the ending where Don Juan walks away with his pride intact and despises both God and the Devil for their games is the point where he clearly comes to stand in as Bergman's mouthpiece.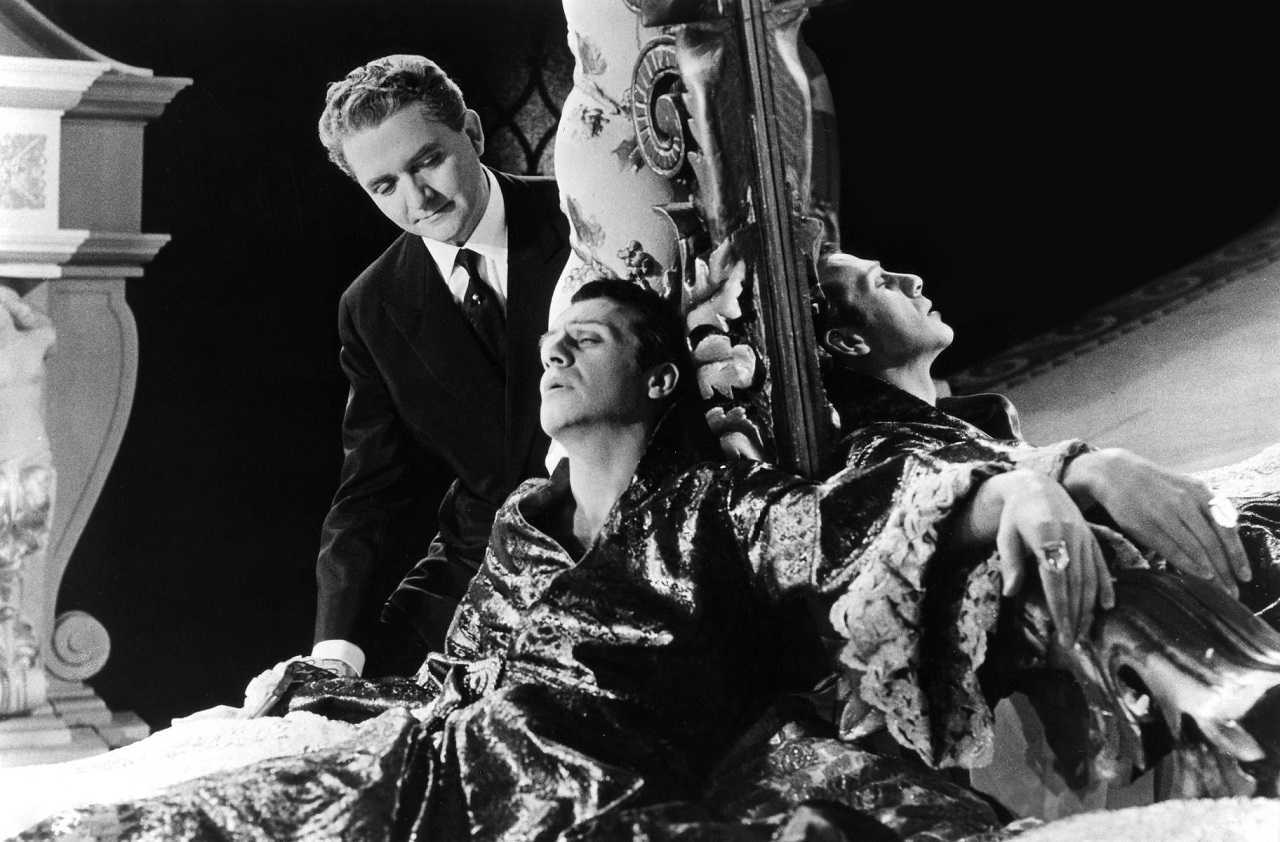 The sad truth about The Devil's Eye is that comedy is simply just not Ingmar Bergman's forte. Try as he might to make a comedy, Bergman does not seem able to make anything other than another philosophically weighty work about religion and hypocrisy. (Although to Bergman's credit The Devil's Eye was never a film he felt particularly enthused about making – he tells in his autobiography how he only agreed to make it so that the producer would back The Virgin Spring). Actual laughs are few and far between. That said, The Devil's Eye is not without its amusements. Jarl Kulle has a perfect languid aloofness as Don Juan – there is a wonderfully amusing scene in the first few moments where he succeeds in wooing a woman who has come to kill him, insisting that she still try to kill him even as she falls into his arms.
Once the film arrives at the central situation, there prove to be some amusing reversals of expectation – the wolfish Stur Lagerwall seducing the vicar's wife Gertrud Fridh; the rather dense vicar (Nils Poppe) managing to trick the demon (Ragner Arvadson) into becoming trapped in a cupboard; and predictably Don Juan falling for the vicar's daughter (Bibi Andersson). All but this last of these work well.
Oddly though, Don Juan's dilemma is something that Bergman fails to let us become engaged in. The struggle that Jarl Kulle portrays as Don Juan is all theatrical anguish – we see little of his fall or even the seduction itself. The other supporting stories are far more fully realised. That said, Bergman does end on an appealingly blurred moral resolution with the vicar's daughter lying to her new husband about he being the only man she has kissed and we see that the seduction has not entirely been a failure after all.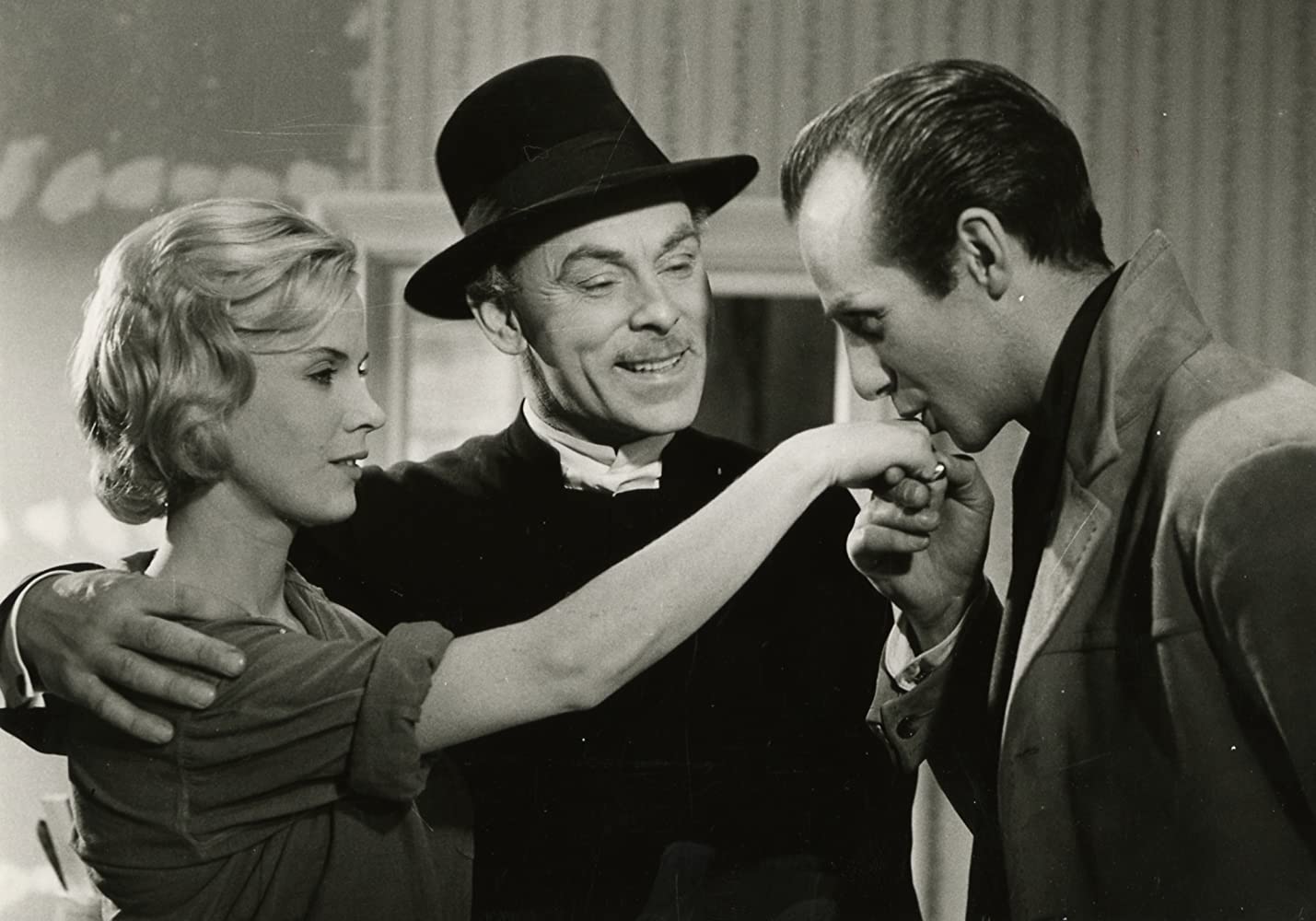 Bergman, who was a theatre director before becoming a filmmaker, has made The Devil's Eye a film that is decidedly theatrical in nature – costumes changes occur behind panels in puffs of smoke and there is a narrator who talks direct to the camera and even refers to what is going on as a play. (There are occasional similarities between The Devil's Eye and George Bernard Shaw's play Don Juan in Hell (1903), which was a series of debates over the merits of Heaven and Hell held between Don Juan and The Devil in the afterlife). In the end, The Devil's Eye proves only a minor Ingmar Bergman entry – an experiment where it seemed that Bergman proved that comedy wasn't his cup of tea – but one that proves, albeit lightweight and not unamusing upon occasion.
Ingmar Bergman's other ventures into fantastic cinema have been:– The Seventh Seal (1957), a profound meditation on religion and atheism as a knight sits down to play chess with Death; The Magician/The Face (1958) about a performing troupe who may or may not have real supernatural powers; the revenge film The Virgin Spring (1959); Hour of the Wolf (1968) about a tormented artist's hallucinations come to life; the adaptation of Mozart's fantasy opera The Magic Flute (1975); and the family saga/ghost story Fanny and Alexander (1982).
---
---