(Zhong Kui Fu Mo: Xue Yao Mo Ling)
---
Crew
Directors – Peter Pau & Zhao Tianyu, Screenplay – Raymond Lei Jin, Li Jie, Qin Zhen, Shen Shiqi, Eric Zhang & Zhao Tianyu, Producers – Ann An & Peter Pau, Photography (3D) – Peter Pau, Music – Javier Navarrate, Visual Effects Supervisors – Bernard O. Ceguerra, Kim Jongpill & Peter Pau, Visual Effects – Macrograph Inc., Pixomondo (Supervisor – Will Manning) & Studio MG Inc., Creature Design – Weta Workshop (Supervisor – Richard Taylor), Production Design – Lam Waikin & Kenneth Mak, Action Choreography – Jacky Yeung. Production Company – Desen International Media/Enlight Pictures/Wanda Media/Village Roadshow Pictures Asia/Warner Brothers (F.E.) Inc/K. Pictures/Shenzen Wus Entertainment Co., Ltd./Shenzen Tencent Video Culture Communication Co., Ltd./Beijing Tianhua Xiuxing Media Co., Ltd.
Cast
Chen Kun (Zhong Kui), Li Bingbing (Snow Girl/Little Snow), Winston Chao (Zhang Daoxian), Yang Zishan (Zhong Ling), Bao Beier (Du Ping), Jike Junyi (Yi Wei)
---
Plot
Under the guidance of the god Zhang Daoxian, the monk Zhong Kui has become a demon hunter. Zhang Daoxian persuades Zhong Kui to venture down into Hell and steal the dark crystal. Upon Zhong Kui's return to the city of Hu, Zhang Daoxian grants him as a reward the ability to transform into a demon with the use of a magical fan. Zhong Kui also loves the beautiful Snow Girl who previously appeared to him. Unknown to her, she is one of Hell's demons. She is now sent down to Hu is disguise as the head of a dance troupe with orders to steal back the dark crystal. Zhong Kui, the head of the city's army, is tempted by her but she initially denies that she is the woman he knew. They eventually fall back into one another's arms. However, demonic forces assail the city. As Zhong Kui goes forth to fight, he does not realise that he is fighting Snow Girl in her true form. As he pursues her, she comes to show him that what he believes is not the truth.
---
The Wu Xia film was created in Hong Kong in the 1980s. Come the 2000s, it has gone a major resurgence in China following international success such as Crouching Tiger, Hidden Dragon (2000), Hero (2002) and House of Flying Daggers (2004). In recent years, we have seen some extravagant Chinese works that employ the full gamut of CGI technologies to create lush, fantastical Wu Xia works with the likes of Detective Dee and the Mystery of the Phantom Flame (2010), Flying Swords of Dragon Gate (2011), The Sorcerer and the White Snake (2011), The Monkey King (2014) and sequel, and League of Gods (2016), among others.
Zhongkui: Snow Girl and the Dark Crystal is based on the story of the demon hunter Zhong Kui, which comes from Chinese mythology and is the better part of a thousand years old. The film is co-directed by Peter Pau, the cinematographer on Crouching Tiger, The Forbidden Kingdom (2008) and many of the original Wu Xia films going back to the 1980s.
Zhongkui: Snow Girl and the Dark Crystal is a stunning looking film. Every aspect from the sets, the costuming to the photography and effects have been designed to shout out their lushness and visual extravagance. As with many of the other Chinese-made fantasy films coming out in the last couple of years, it achieves a seamless blend of live-action, CGI and wholly fantastique action that is frequently out of this world.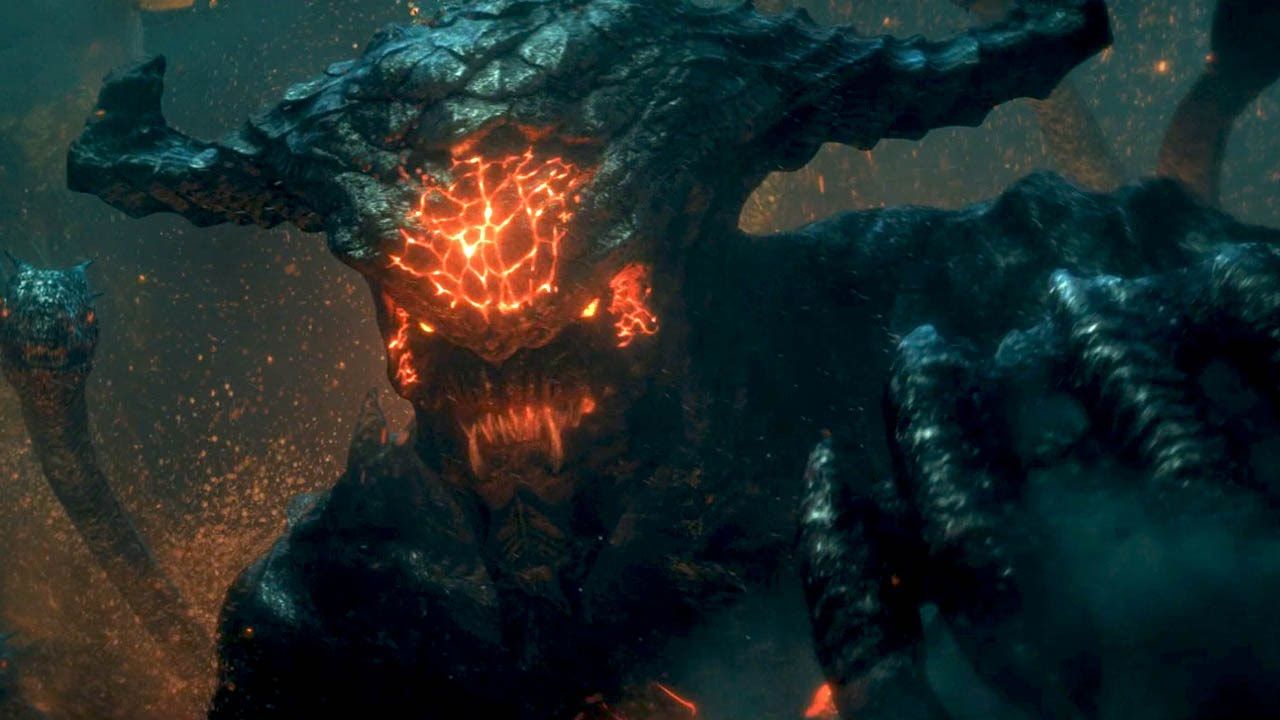 The sights we see from the opening few minutes – wide angle shots with demons sweeping across fields; a venture down into Hell; an entire city built atop a flowering of blossom trees – has a stunning conception that leaves most Western fantasy behind. In other scenes like where the demons invade the city en masse, you are wowed by the scale of the filmmaking that has been assembled.
The story itself is somewhat ordinary – one of impossible love separated across two opposing sides and the ways they come together despite. Neither this nor the performances of the actors is anything exceptional; it is meant to be the visuals that make the story. These fall down somewhat when it comes to Chen Kun's demonic form and Li Bingbing's ice maiden self. Both of these, which are characters that are heavily dependent on being relayed by CGI and are present for much of the film, look like digital avatars from a videogame and not at all like living, breathing characters.
It is here that the film starts to fall down as it simply hits a level of unrealism whereby you cease to care what is happening on screen, all that it becomes is a series of obvious digital figures fighting it out. It is a shame that the film had to fall down in this area when it does everything else so beautifully. The one fabulous scene where this does work is the one where Zhong Kui flees across the lake and Snow Girl blasts walls of ice from every direction to try and stop him and then the two come together at first fighting and then merging into one another's arm in mid-air.
---