---
Crew
Director – Lothar Mendes, Screenplay/Based on the Short Story by H.G. Wells, Producer – Alexander Korda, Photography (b&w) – Harold Rosson, Music – Michael Spolianski, Music Director – Muir Mathieson, Special Effects – Ned Mann, Production Design – Vincent Korda. Production Company – London Films.
Cast
Roland Young (George McWhirter Fotheringay), Ralph Richardson (Colonel Winstanley), Ernest Thesiger (Mr Maydig), Edward Chapman (Major Grigsby), Joan Gardner (Ada Price), Sophie Stewart (Maggie Hooper), Robert Cochran (Bill Stoker), Lawrence Hanray (Mr Bamfylde), Torin Thatcher (Observer), Ivan Brandt (Player), George Sanders (Indifference), Wally Lupino (Constable Which)
---
Plot
Three gods observe humanity and wonder what would happen if one human were given ultimate power. In a pub, haberdashery assistant George McWhirter Fotheringay is startled when he makes an idle wish that a lamp turn upside down whereupon it does. Fotheringay finds that he is able to manifest the whims of his desire. He tries to use his power to help people, although his efforts enrage many and have unforeseen side effects. Fotheringay then decides on using his abilities to stop war.
---
In 1937 H.G. Wells (1866-1946) was regarded as a Science-Fiction grandmaster, the author of The Time Machine (1895) and The War of the Worlds (1898). He was recruited by producer Alexander Korda, known for films such as The Private Life of Henry VIII (1933), The Scarlet Pimpernel (1934), Sanders of the River (1935), Rembrandt (1936),The Four Feathers (1939), The Thief of Bagdad (1940) and Jungle Book (1942). Korda produced Wells's original screenplay for the Utopian science-fiction film Things to Come (1936). They then reteamed for The Man Who Could Work Miracles, which was a spiritual follow-up of sorts to Things to Come.
Both Things to Come and The Man Who Could Work Miracles feature Wells on the favourite subject of his latter years – preaching against war and attempting to provide the solution for the ills of all mankind. It was a subject that Wells actually toured the world lecturing world leaders on. In approach though, the two films are diametrically opposed – Things to Come is H.G. Wells at his most pompously tub-beating; The Man Who Could Work Miracles starts out the same but appears almost as though the director rode across Wells's wishes and saw what an indigestibly preachy tract would result and promptly turned it into a comedy.
Although Wells felt betrayed by the adaptations of his works that were made within his lifetime by Hollywood – The Island of Lost Souls (1932) and The Invisible Man (1933) – where he was not involved, these ironically remain far more watchable films today than the straight adaptations of his work like The Man Who Could Work Miracles (from his 1898 novella of the same name) and Things to Come do.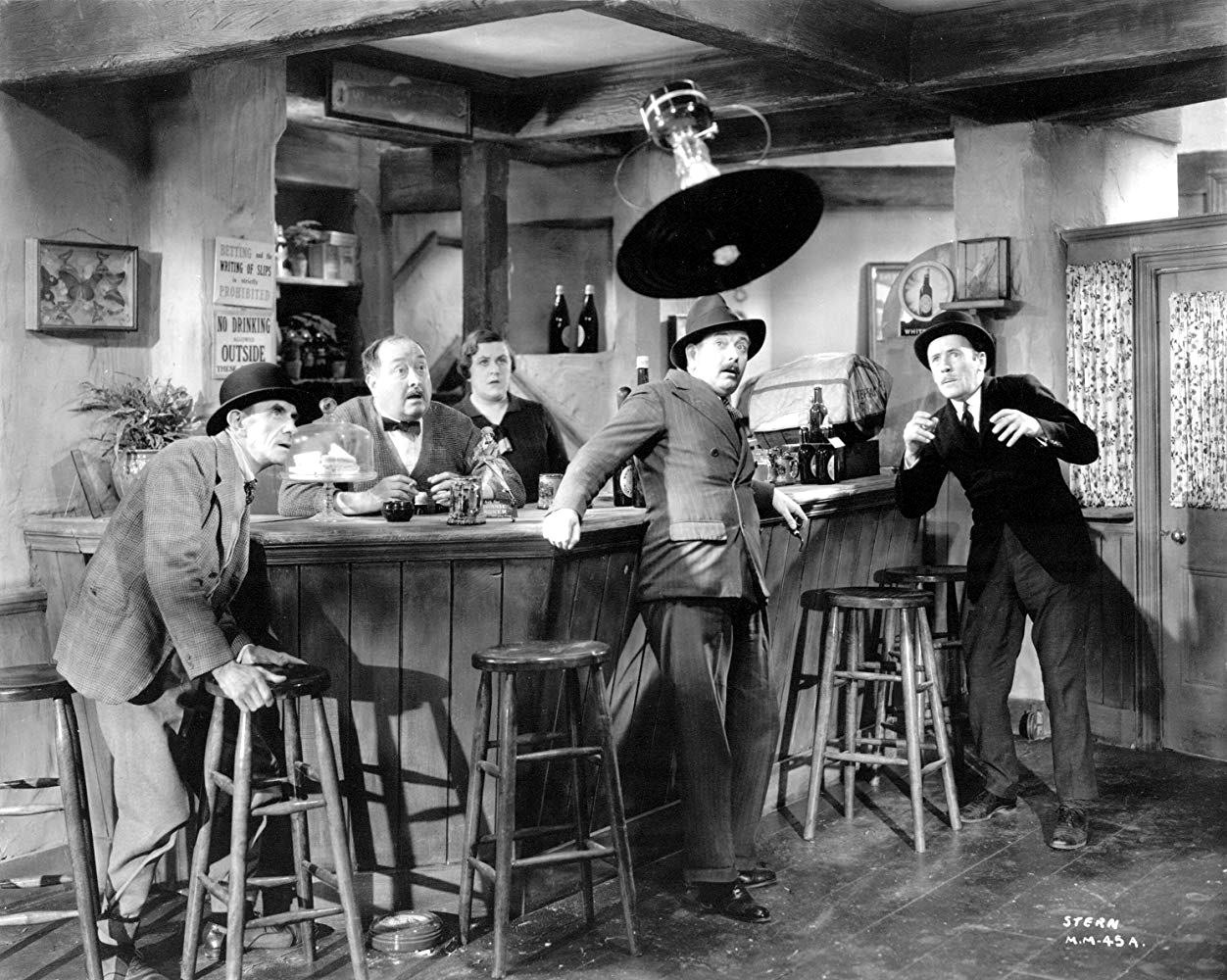 Even though it seems caught in an artistic struggle between H.G. Wells and director Lothar Mendes, The Man Who Could Work Miracles comes out likeably. Wells and Lothar Mendes seem to compensate for the other's shortcomings. The film is filled with typical Wellsian tub-beating didacticism – the opening line of dialogue, for instance, is the laughable, "Our brother, the bringer of power, is yonder, playing with his planet again."
Where Wells's script works amusingly is in its contrasting series of attitudes with Fotheringay as an innocent encountering various idealists – capitalists, altruists, conservatives – who attempt to impress upon him their view of what to do with his powers. Inevitably, in true Wellsian fashion the film, ends with Fotheringay hectoring the audience to demand an end to war before deciding in frustration he is better off without his miraculous powers.
Lothar Mendes wisely plays the entire thing as lightheartedly as possible. Unfortunately, he sometimes oversteps his hand and it becomes lowbrow knockabout farce. (Alas for Wells, The Man Who Could Work Miracles seems destined to be played as a comedy, there was another version planned of the story in the early 80s as a vehicle for Richard Pryor, although this never emerged).
There are some good effects with Roland Young growing bushes in the middle of the street, animating brooms to sweep up the store, and the great climactic showstopper sequence where he whisks the walls of the colonel's house away and builds a palace and then stocks it with armies, servants and world leaders. Roland Young plays Fotheringay as a Cockney twit and gives a performance that can best be described as peculiarly contorted.
---
Trailer here
Full film available online here:-
---