---
Crew
Director/Story – Seth MacFarlane, Screenplay – Seth MacFarlane, Alec Sulkin & Wellesley Wild, Producers – Jason Clark, John Jacobs, Seth MacFarlane, Scott Stuber & Wellesley Wild, Photography – Michael Barrett, Music – Walter Murphy, Visual Effects Supervisor – Blair Clark, Visua;l Effects – The Creative-Cartel, Iloura (Supervisor – Glenn Melenhorst) & Tippett Studio (Supervisor – Scott Liedtka), Special Effects Supervisor – Judson Bell, Production Design – Stephen J. Lineweaver. Production Company – Fuzzy Door/Bluegrass Films/Smart Entertainment.
Cast
Mark Wahlberg (John Bennett), Seth MacFarlane (Voice of Ted), Mila Kunis (Lori Collins), Joel McHale (Rex), Giovanni Ribisi (Donny), Sam J. Jones (Himself), Aedin Mincks (Robert), Bretton Manley (Young John), Patrick Warburton (Guy), Jessica Barth (Tammy-Lynn), Matt Walsh (Thomas Murphy), Bill Smitrovich (Frank Stevens), Patrick Stewart (Narrator), Norah Jones (Herself), Robert Wu (Wu Ming), Ralph Garman (John's Dad), Alix Borstein (John's Mom), Laura Vandervoort (Tanya), Ryan Reynolds (Guy's Boyfriend), Tom Skerritt (Himself)
---
Plot
Boston, 1985. Eight-year-old John Bennett receives a teddy bear for Christmas, which he names Ted. As a shooting star comes that night, John wishes that Ted would be his best friend forever. He wakes in the morning to find that Ted has come to life. Ted goes onto gain fame and celebrity. In the present-day, John is 35 years old and working a nowhere job at a car rental agency. He and Ted are still best friends and spend all their time partying, smoking weed and hanging out. John goes out to celebrate his fourth year anniversary with his girlfriend Lori Collins. As John becomes aware that maybe he should ask Lori to marry him, his friendship with Ted starts to cause problems with her. After Ted goes too far with a bunch of hookers, Lori makes John tell Ted to move out. Ted gets his own apartment and a job at a supermarket. However, after Ted persuades John to abandon Lori's work bash and come to his apartment for a party with 'Flash Gordon' star Sam Jones, this becomes the last straw and Lori walks out. Meanwhile, a creepy father has been following Ted and now abducts him for his own son to play with.
---
Ted was a feature-film and live-action writing/directing debut for Seth MacFarlane. MacFarlane is better known as creator of the animated tv series Family Guy (1999– ) and American Dad (2005– ). Both of these shows have attained controversy in varying degrees. Beyond that, MacFarlane is multi-tasking, as well as being a director, a writer (who came up through the Hanna-Barbera animation department) and voice actor on various shows, he has also released a musical album. Outside of that, he has made live-action acting appearances in episodes of Gilmore Girls (2000-7), Enterprise (2001-5), Bones (2005-17) and FlashForward (2009-10) and films like Hellboy II: The Golden Army (2008) and Tooth Fairy (2010).
Ted is decidedly non-PC in its humour. Seth MacFarlane throws in gags that court a racial offensiveness, others that are not exactly gay-friendly and a great many that aim for the crudest common denominator. Just like in the scene where Ted mimics various sexual acts to Jessica Barth at the supermarket checkout, you get the impression that Seth MacFarlane is like a giggly teenage boy trying to see what kind of outrages he can get away with before any of it goes too far. He is akin to a stand-up comic who keeps getting laughs from his audience by circling around foul-mouthed and scatologically-focused humour – but he makes the crucial mistake of thinking that saying something gross or that is considered taboo by polite society should be regarded as funny in itself. This can be side-splittingly funny when someone takes the time to construct a gag around it – see the works of John Waters, Sascha Baron Cohen and South Park (1997– ). That said, in the midst of all of this, MacFarlane does get off a number of sarcastically amusing lines that are often undeniably funny.
MacFarlane often plays into the tender anthropomorphic imagery surrounding the teddy bear – the scenes of Ted forlorn and alone get "awwws" from the audience – and the next second punctures this with a sarcastic or less than child-like line. There have been other films and tv series based around the concept of talking animals or puppets doing decidedly adult things – see the likes of Let My Puppets Come (1976), Marquis (1989), Peter Jackson's Meet the Feebles (1990), The Happytime Murders (2018) and the tv series Greg the Bunny (2002, 2005-6).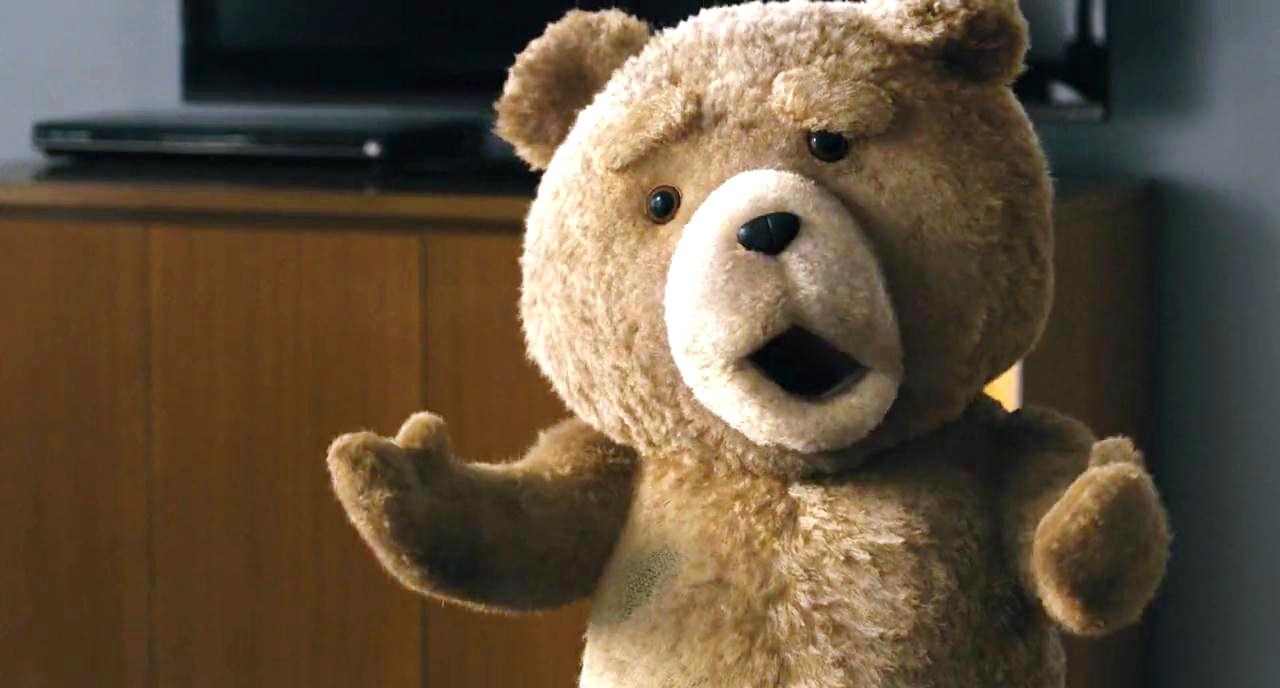 MacFarlane makes potshots at the 1980s sitcom ALF (1986-90) – but when you think about it, that is exactly what Ted reminds of. Substitute a teddy bear for a smartass orange-furred alien and Mark Wahlberg for a standard sitcom nuclear family and the two would be almost identical. In this respect, the character of Ted is very much the regular sitcom character of the scene-stealer whose entire purpose is to turn up and get laughs with their wacky, outrageous, rule-defying behaviour or by firing off smartass one-liners and insults at everybody else. See other examples like Robin Williams in Mork and Mindy (1978-82), Rowan Atkinson in the various Blackadder series, ALF, Jaleel White in Family Matters (1989-98), John Lithgow in 3rd Rock from the Sun (1996-2001) – even a more serious example like Hugh Laurie in House M.D. (2004-12).
For that matter, Ted feels more like it is a sitcom concept that it is a full-fledged film. Take the foul-mouthed teddy bear out of Ted and all that would be left would be a rather weak film – here the premise is the film. Beneath the gags, the film's story is an exceedingly traditional one – Mark Wahlberg has the familiar arc of the boy-man who makes a belated realisation that he needs to take life seriously (even if, for all his effort, the resolution of the film has him and girlfriend Mila Kunis settling for the status quo that existed at the start of the film). All of the characters from the longsuffering girlfriend to the asshole love rival are standard, albeit occasionally outfitted with expectation defying one-liners.
I have always been in two minds about Mark Wahlberg as an actor. He has done some fine acting – Fear (1996), Boogie Nights (1997) – but seems to prefer roles where he chooses the part of a hometown boy, loyal to the people of the working class hood he grew up, who is also streetwise and with one foot in its underworld, something that one suspects plays into a certain fantasy Wahlberg has of himself as the street kid who has made an honest life and family man of himself.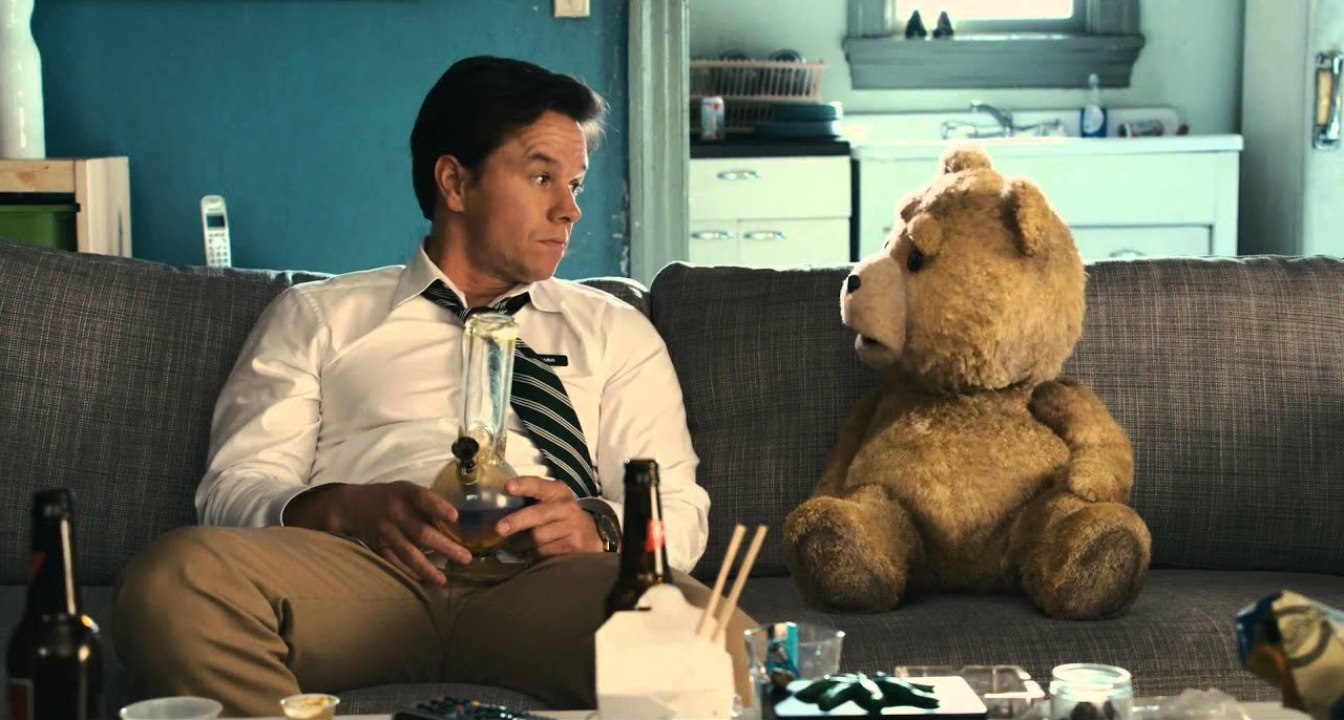 The one thing that seems lacking in Wahlberg's resume is anything in the way of comedy roles. Expectedly, Wahlberg gives the part of John here nothing more than the standard airing he would one of his serious roles. You cannot help but expect that Ted would have worked far better with a comedy actor, especially someone who specialises in playing parts of overgrown child-men like an Adam Sandler or a Seth Rogen.
The greatest fun the film seems to have is when it comes to its 1980s pop culture in-jokes – montage shots with Ted and the young John doing scenes from E.T. – The Extra-Terrestrial (1982) and numerous Star Wars references tucked away, including their attending Star Wars Episode I: The Phantom Menace (1999) with Ted dressed as Yoda. (Seth MacFarlane is apparently a big Star Wars fan and made the famous Blue Harvest episode of Family Guy that parodies Star Wars (1977) using the series characters). Mark Wahlberg has a cellphone that plays the theme song from Knight Rider (1982-6) as a ringtone. There is even a sequence where he attempts to perform a version of All Time High, the theme song from the James Bond film Octopussy (1983).
By far the greatest degree of pop adulation is reserved for Flash Gordon (1980) with the film even including an extended appearance from Sam Jones in full self-parody mode as himself and a dream sequence recreation with he and Mark Wahlberg flying through the skies of Mongo, not to mention a dubious racial sequence where Jones loses it because of a Chinese neighbour named Ming.
Even more fun is had with the celebrity cameos, including appearances from singer Norah Jones, Tom Skerritt who is name-dropped throughout and turns up at the end in an amusing throwaway gag, and especially Ryan Reynolds who has several rather funny unspeaking appearances as Patrick Warburton's mystery boyfriend.
Seth MacFarlane and Mark Wahlberg returned with a sequel Ted 2 (2015). Ted was parodied in The Hungover Games (2014).
Seth MacFarlane next went on to direct/star in the Western comedy A Thousand Ways to Die in the West (2014). He has also created/produced/starred in the SF tv series The Orville (2017- ) and produced the Clive Barker adaptation Books of Blood (2020).
---
---