---
Crew
Director – Ethan Spaulding, Screenplay – Jeremy Adams, Based on the Videogame Mortal Kombat Created by Ed Boon & John Tobias, Producer – Rick Morales, Music – John Jennings Boyd & Eric V. Hachikian, Animation – Studio Mir, Animation Director – Paeng You Won. Production Company – Warner Brothers Animation.
Voices
Joel McHale (Johnny Cage), Jennifer Carpenter (Lieutenant Sonya Blade), Jordan Rodrigues (Liu Kang), Patrick Seitz (Scorpion/Hanzo Hasashi), David B. Mitchell (Lord Raiden), Aritt Butler (Shang Tsung), Darin De Paul (Quan Chi), Steve Blum (Sub-Zero), Ike Amadi (Jax Briggs), Robin Atkin Downs (Kano/Shinnok), Grey Griffin (Satoshi Hasashi/Kitana), Fred Tatasciore (Demon Torturer), Kevin Michael Richardson (Goro)
---
Plot
The samurai Hanzo Hasashi comes under attack by Sub-Zero who kills Hanzo's wife and son and leaves him for dead. In the present day, Lord Raiden gathers various people, including the Shaolin monk Liu Kang; Sonya Blade, a member of the US Special Forces; and Johnny Cage, a fading Hollywood action star who believes he has been called for another role. The group meet in Shanghai and depart on a junk through The Veil that separates Earth from other realms. There they learn they have been chosen by Raiden as Earth's champions in the Mortal Kombat tournament hosted by Shang Tsung. Hanzo meanwhile has been tortured by demons in the Netherrealm but makes an escape. He goes to confront Quan Chi, who leads the Netherrealm in the absence of the demon Shinnok. Quan Chi instead offers Hanzo the opportunity to represent Netherrealm in the Mortal Kombat, which will give him the opportunity to seek vengeance against Sub Zero. Hanzo agrees and takes the name Scorpion. As the tournament begins, the various fighters are placed up against opponents human and otherwise with the fate of the Earth hanging in the balance of the outcome.
---
Mortal Kombat (1992) was a computer game, initially released to video arcades and not long after for home computers. In the game, players could adopt roles as various fighters and would engage in a series of furious combat moves up against opponents as they passed through increasingly tougher levels. The game was massively popular and at the time of this film's release there have been ten follow-up games, plus several ancillary games. The popularity of the game has also seen the release of several soundtrack albums, a collectible card game and even a live touring stage show in 1995.
Among the spinoffs was Mortal Kombat (1995), Paul W.S. Anderson's not-too-bad film adaptation, although any further sequels were killed off by the universally disliked follow-up Mortal Kombat: Annihilation (1997). There was also a short-lived live-action tv show Mortal Kombat: Conquest (1998-9), which ran for 22 episodes, and the animated tv series Mortal Kombat: Defenders of the Realm (1996). Subsequent to this there was a live-action film reboot of the franchise with Mortal Kombat (2021).
While the film reboot was going through development hell, we in the meantime had this animated film from Warner Brothers Animation. It is directed by Ethan Spaulding, a former storyboard artist who emerged as a director on the tv series Avatar: the Last Airbender (2005-8) and then made several Scooby-Doo video releases with Scooby-Doo! Camp Scare (2010), Scooby-Doo! Legend of the Phantosaur (2011) and Scooby-Doo! Return to Zombie Island (2019). Spaulding ventured into Warner Brothers' DC Universe Original Animated Movies with Son of Batman (2014), Batman: Assault on Arkham (2014) and Justice League: Throne of Atlantis (2015), as well as made the alternate history superhero film Freedom Fighters – The Ray (2018).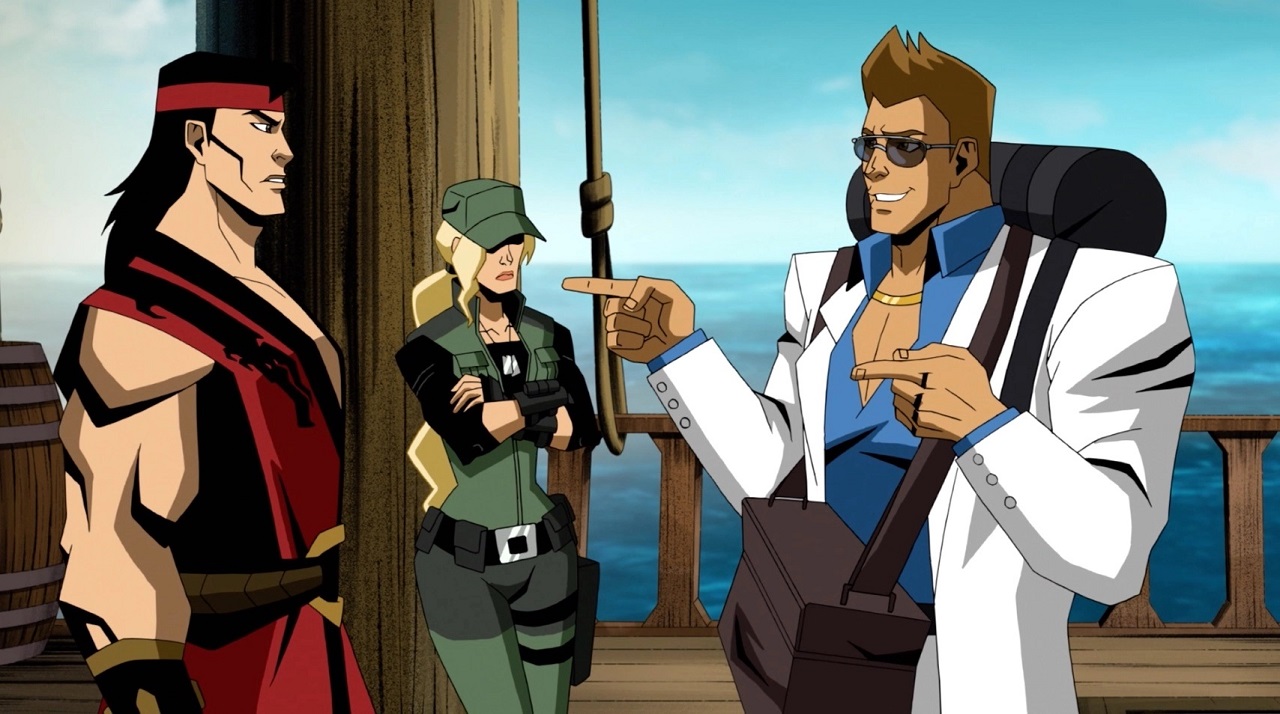 Mortal Kombat Legends: Scorpion's Revenge leaves your jaw on the floor from its opening scene. This starts with Hanzo Hasashi, who will subsequently become Scorpion, out with his son before an abrupt assault by Sub-Zero's forces. The attack takes place with lightning fast swordplay and acrobatics but what leaves you wide-eyed in your seat is the over-the-top violence of the scene. Blood is spilt by the animated bucketload, limbs are severed, guts are spilled out, and heads are hacked off or sliced open leaving exposed brains. We even get shots repeated throughout the film where we see x-rays of skulls and skeletal structures as they are penetrated in slow-motion by assorted weapons. These first eight minutes of the film wade in with such an excess of ultra-violence that you are left flabbergasted.
This is in keeping with the game, which has been banned in several countries for its violence. It is also Warner Brothers Animation signalling that they are no longer making films just for kids – the film went out with an R-rating. Warners' DC animated films have for some time now been pushing an envelope in terms of making adult references and dealing with much darker and more complex subject matter than you would get in a regular kid's film. Here we even get an ongoing joke about Sonya Blade kicking Johnny Cage in the balls.
The plot is not too different from the same one that we had in the original 1995 film – fairly much the same complement of fighters (Johnny Cage, Sonya Blade, Liu Kang) who are assembled by Lord Raiden and taken to participate in the Mortal Kombat on Shang Kung's island where they face assorted kombatants in a battle for the fate of the Earth. There are more of the game's regular characters present here in supporting roles – this is a film that pays more respect to game canon than the live-action films did. Added to this is another whole plot about Scorpion, his backhistory and desire for revenge against Sub-Zero.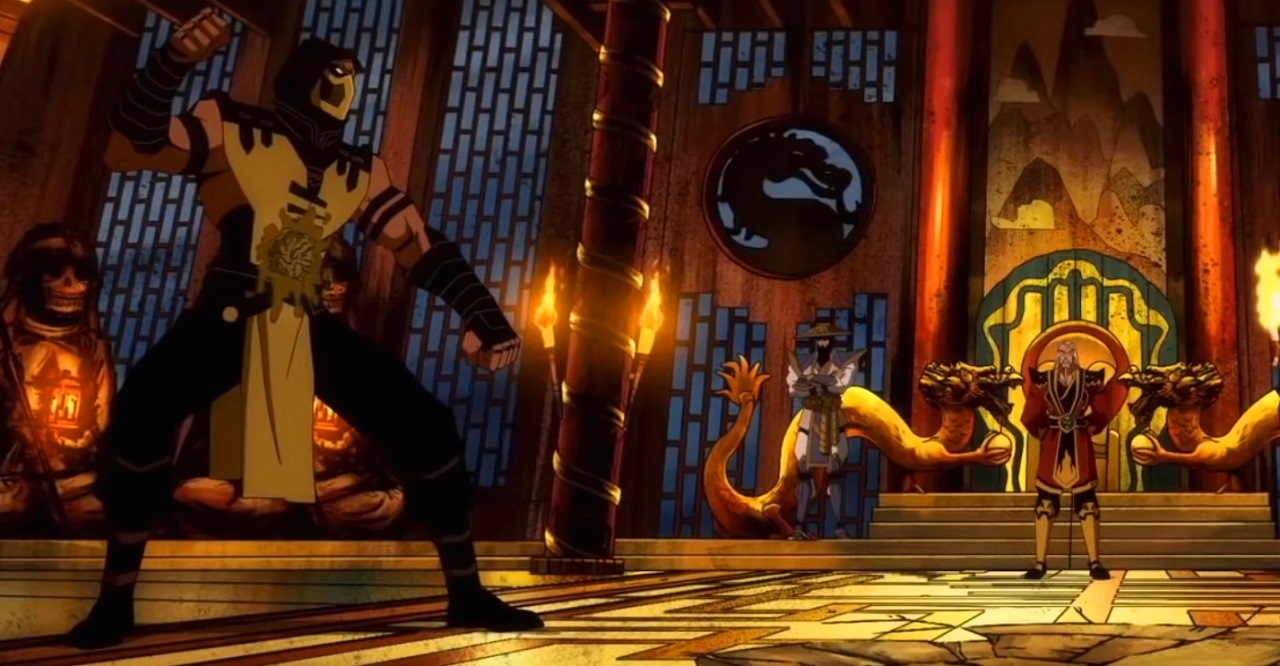 In many other ways, Scorpion's Revenge is superior to the live-action films. The plot is nothing too complicated. On the other hand, the script deals with characters like Sonya Blade, Scorpion and Johnny Cage with far more roundedness of depth and backstory than any of the other films have done. The scene-stealer of the show gets to be Johnny Cage who is now played as a cocksure Hollywood star past his glory days who becomes a Buzz Lightyear character of sorts and with some amusement fails to realise that he is not on a movie set until some way into the film.
The action moves fast and with some entertainingly over-the-top moves, not to mention frequent buckets of ultra-violence. Some of the sequences we get – especially the battle up against the Black Dragons or the jaw-dropping opening scene – would look stunning if they were directed in live-action.
Ethan Spaulding and several of the voice cast returned with a sequel Mortal Kombat Legends: Battle of the Realms (2021).
---
---