---
Crew
Director – Gregory Hoblit, Screenplay – Toby Emmerich, Producers – Toby Emmerich, Gregory Hoblit, Bill Carraro & Howard W. Koch Jr, Photography – Alar Kivilo, Music – Michael Kamen, Visual Effects – Rhythm and Hues (Supervisor – Bill Westenhofer), Special Effects Supervisor – Martin Malivoire, Makeup Effects – John Caglione & Bill Myer, Production Design – Paul Eads. Production Company – New Line Cinema.
Cast
Dennis Quaid (Frank Sullivan), Jim Caviezel (John Shepherd), Andre Braugher (Detective Satch DeLeon), Shawn Doyle (Detective Jack Shepherd), Elizabeth Mitchell (Julia Sullivan), Noah Emmerich (Gordo Hersch), Melissa Errico (Samantha Sullivan), Daniel Henson (Young John)
---
Plot
After his wife leaves him, Queens police detective John Sullivan consoles himself by digging out his father's old ham radio. Due to a freak set of atmospheric conditions caused by the Aurora borealis and sunspot activity, John finds himself talking to someone in 1969 – and that the person he is talking to is none other than his late father. John is able to use his knowledge of the past to save his father from the fire that will kill him in several days time. However, John finds that in changing the past, he has altered the present that he lives in, such that his mother was murdered by a serial killer known as The Nightingale. Separated by thirty years and using John's unique knowledge of events to come, he and his father team up to track down and stop the Nightingale Killer before he kills John's mother in the past.
---
Gregory Hoblit is a veteran of some of the best tv series of the last two decades including the likes of Hill St Blues (1981-7), L.A. Law (1986-94) and NYPD Blue (1993-2005) (between which Hoblit has won seven Emmy Awards). Hoblit branched out as a feature film director with two solidly satisfying entries – the courtroom psycho-thriller Primal Fear (1996) and the underrated body-swapping demon effort Fallen (1998). And within the space of three films, Gregory Hoblit proved that rarity as a director – one who places an emphasis not on directorial showmanship or star power but, with a modesty rare in Hollywood, on a good solid story – although Hoblit did fail to sustain such promise with his subsequent films, the Bruce Willis war film Hart's War (2002), the thriller Fracture (2007) and the internet thriller Untraceable (2008).
Frequency has a nifty story concept – what if freak weather conditions allowed a man to talk thirty years into the past with his late father? The revelation of Jim Caviezel's respondent's identity is no surprise as this has been given away by the film's trailer. For a time, as father and son sit around talking about baseball scores and Caviezel saves Dennis Quaid's life, Frequency seems to be sliding down a long trail into sentimental feelgood drama. Indeed, this is the way that Frequency was sold – the audience it brought in was more one that ritually goes to each year's Academy Award nominees and regards Tom Hanks and Meryl Streep as its poster children.
Luckily though, this is not all that Frequency has up its sleeve and before the sentimentality starts to set in in any unwelcome way, the film takes a turn for the darker in a series of sharp dogleg twists that keep one compulsively glued right to the end. Moreover, Frequency is not merely a thriller that uses an science-fiction rationale but one that makes excellent and intelligent integral conceptual use of the science-fiction element. (Even if the rationale for what is happening is swept under the carpet with a few vague references to super-string theory and multi-dimensional geometry).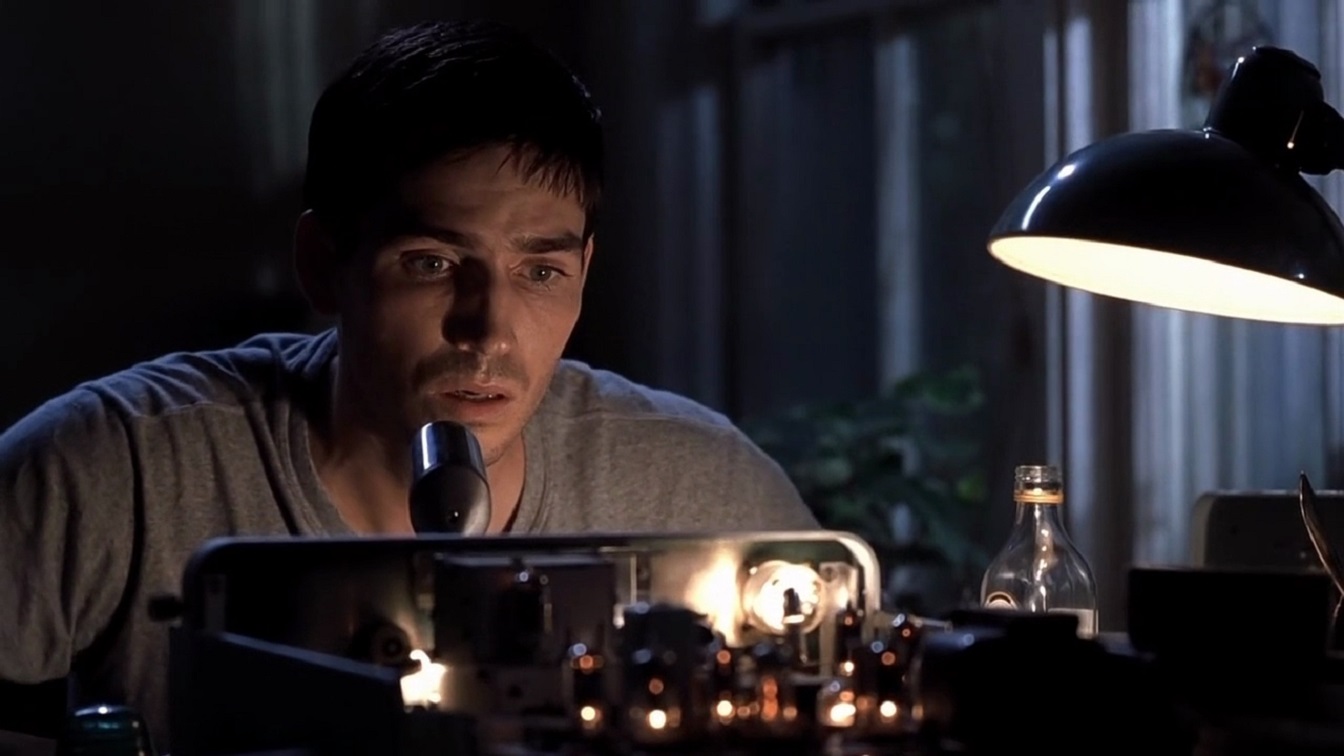 The personal alternate timeline theme has been conducted often in science-fiction (as opposed to the historical alternate history, which has not) – usually to conduct unimaginative stories featuring evil mirror opposites of the continuing characters in tv series such as Star Trek (1966-9), Star Trek: Deep Space Nine (1993-9) and Doctor Who (1963-89, 2005– ). The late 1990s saw an upswing in the personal alternate history in films such as Too Many Ways to Be No. 1 (1997), Sliding Doors (1998), Twice Upon a Yesterday (1998), Run Lola Run (1998) and Me Myself I (1999) but conducted more as fantasy than science-fiction. The Back to the Future trilogy made good science-fiction use of the personal alternate history – most notably Back to the Future Part II (1989) – but Frequency is the most sophisticated variant so far.
The story's ease with the rippling changes affected is remarkably adept – there is a wonderfully chill moment where Jim Caviezel turns from having saved his father's life to find his mother has now been murdered, his wife no longer recognises him and that his good friend Andre Braugher has become sullen and battle-scarred. Gregory Hoblit directs with great subtlety. This is a film that needs several viewings to pick up many of the small, unobtrusive details and changes packed away in the background – the photo with the dalmatian that keeps changing; the apparently unimportant visit to the apartment near the crime scene, which signals that the killer is dead in this timeline, something that will not be changed until Dennis Quaid's apparently equally unimportant visit to the hospital to see his wife after surviving the fire.
Hoblit's cross-temporal cuts are often dazzling, none the more so than the climax that has both father and son being attacked by the killer while sitting at the radio, but separated by thirty years in time, the ongoing fight in one era affecting what is happening in the other – a sequence where Hoblit saves one last good surprise for the last minute outcome. The film ends on a rather traditional sentimental view that happiness in life is a united family but this is one misstep that one might otherwise forgive in the preceding pleasure of a rare and intelligent science-fiction thriller.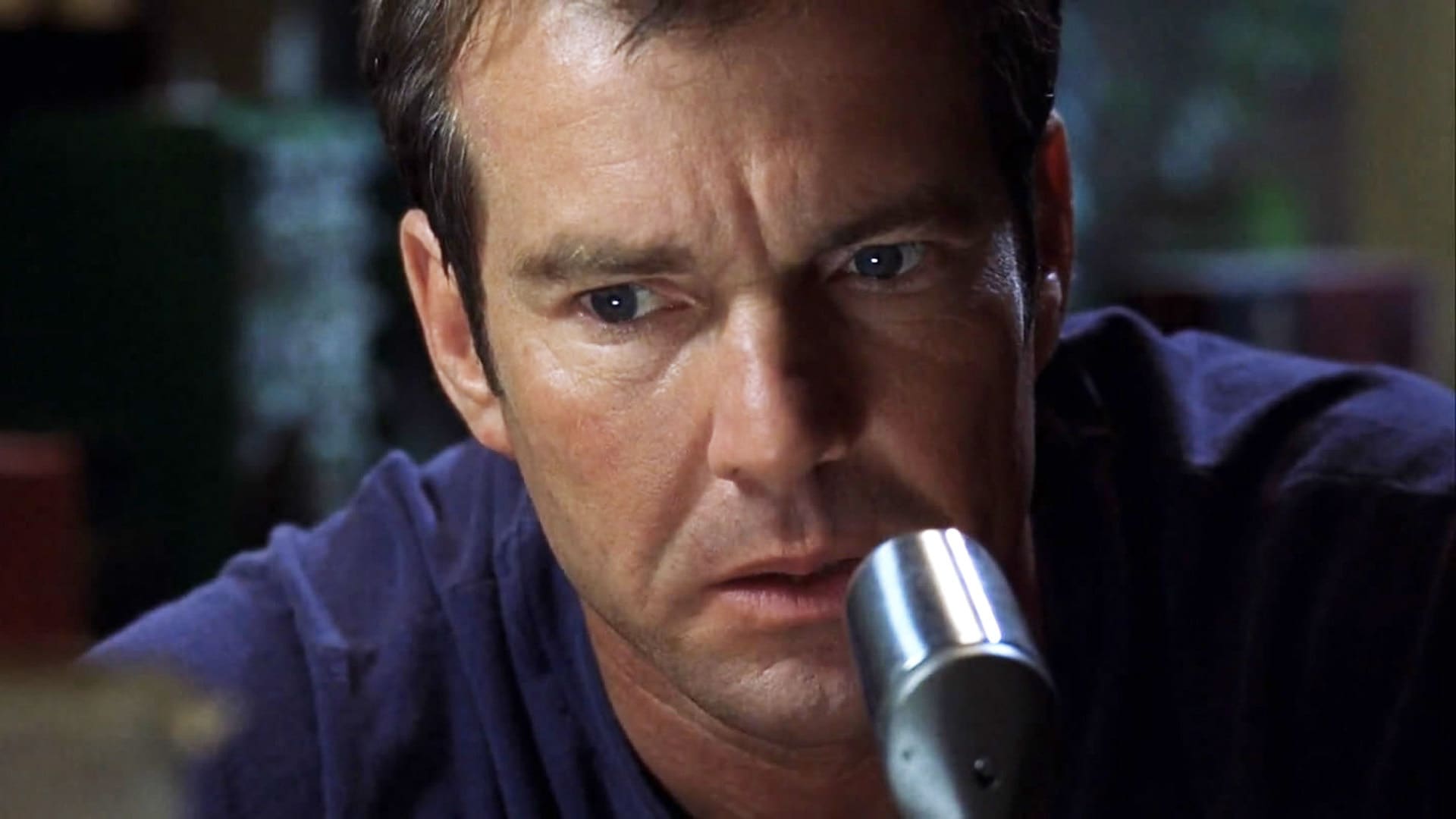 And just to disprove that screenwriters never amount to much on the totem pole, Frequency's screenwriter Toby Emmerich went from this to becoming the CEO of New Line Cinema in the same year. Emmerich later went onto writer a further science-fiction film with The Last Mimzy (2007).
The film was remade as the tv series Frequency (2016-7) in which the father and son have been replaced by a wife (Peyton List) talking to her late husband (Riley Smith) across time but this was cancelled after fourteen episodes.
Similar premises have appeared in the South Korean Ditto (2000), which plays the cross-time radio communication premise as a high school romance; the South Korean romantic film Il Mare (2000) with a man and a woman exchanging love letters across time, which was remade as The Lake House (2006) starring Keanu Reeves and Sandra Bullock; The Caller (2011) in which Rachelle Lefevre has telephone conversations across time with a disturbed woman who then starts interfering with her timeline; the Korean The Phone (2015) where a man finds he can make phone calls to his wife in the past; the Korean Time Renegades (2016) in which two men in different time periods are able to dream through the other's eyes; the Spanish Mirage (2018) where a woman ends up changing her own timeline after preventing a boy's death during a cross-time video connection; and Don't Let Go (2019) where David Oyelowo receives cellphone calls from his murdered niece in the past.
(Nominee for Best Original Screenplay at this site's Best of 2000 Awards).
---
---