---
Crew
Director/Screenplay – Jacob Aaron Estes, Story – Drew Daywalt & Jacob Aaron Estes, Producers – Jason Blum, Bobby Cohen & David Oyelowo, Photography – Sharone Meir, Music – Ethan Gold, Visual Effects – Rez-Illusion (Supervisor – Jamison Goei), Special Effects Supervisor – Josh Hakian, Makeup Effects – Liz McCracken & Alex Noble, Production Design – Celine Diano. Production Company – Blumhouse.
Cast
David Oyelowo (Detective Jack Radcliff), Storm Reid (Ashley Radcliff), Mykelti Williamson (Detective Bobby Owens), Alfred Molina (Captain Howard Keleshian), Brian Tyree Henry (Garret Radcliff), Shinelle Azoroh (Susan Radcliff), Byron Mann (Sergeant Roger Martin)
---
Plot
Jack Radcliff, a detective on the LAPD, tries to be there for his twelve-year-old niece Ashley who is often the subject of his brother Garret's neglect. Jack then answers a police call that takes him to Garret's home only to find Garret, his wife Susan and Ashley murdered. The police investigation calls it a murder-suicide by Garret, a former drug user who had convictions. In the aftermath, Jack is startled to receive phone calls from a very much alive Ashley. He realises that she is communicating from the past where it is still several days before the murder for her. He tries to get her to find evidence as to what was going on and the people that Garret was involved with in the lead-up and to prevent the murders from occurring.
---
Don't Let Go was a film from the near-ubiquitous Blumhouse (see below for Blumhouse's other films). It was a writing/directing outing for Jacob Aaron Estes who had won some acclaim for Mean Creek (2004) and went on to make The Details (2011). In genre material, Estes also wrote the script for Rings (2017).
It takes some way in to Don't Let Go before you work out what is going on – I initially thought I was watching a ghost story but the film is actually a cross-time communications story. It borrows the basics of Frequency (2000), which had father and son Dennis Quaid and Jim Caviezel communicating across time by radio and in so doing changing the present. The same concept has played out in other films like the South Korean Il Mare (2000) and its English-language remake The Lake House (2006) where a couple exchange love letters across time; The Caller (2011) where Rachelle Lefevre makes telephone calls into the past; the South Korean Time Renegades (2016), a murder mystery between two eras; and the Spanish Mirage (2018) where a cross-time video connection creates a parallel timeline. The work that comes the closest to this was the South Korean The Phone (2015) where a man finds he can make phone calls to his wife in the past and tries to change events.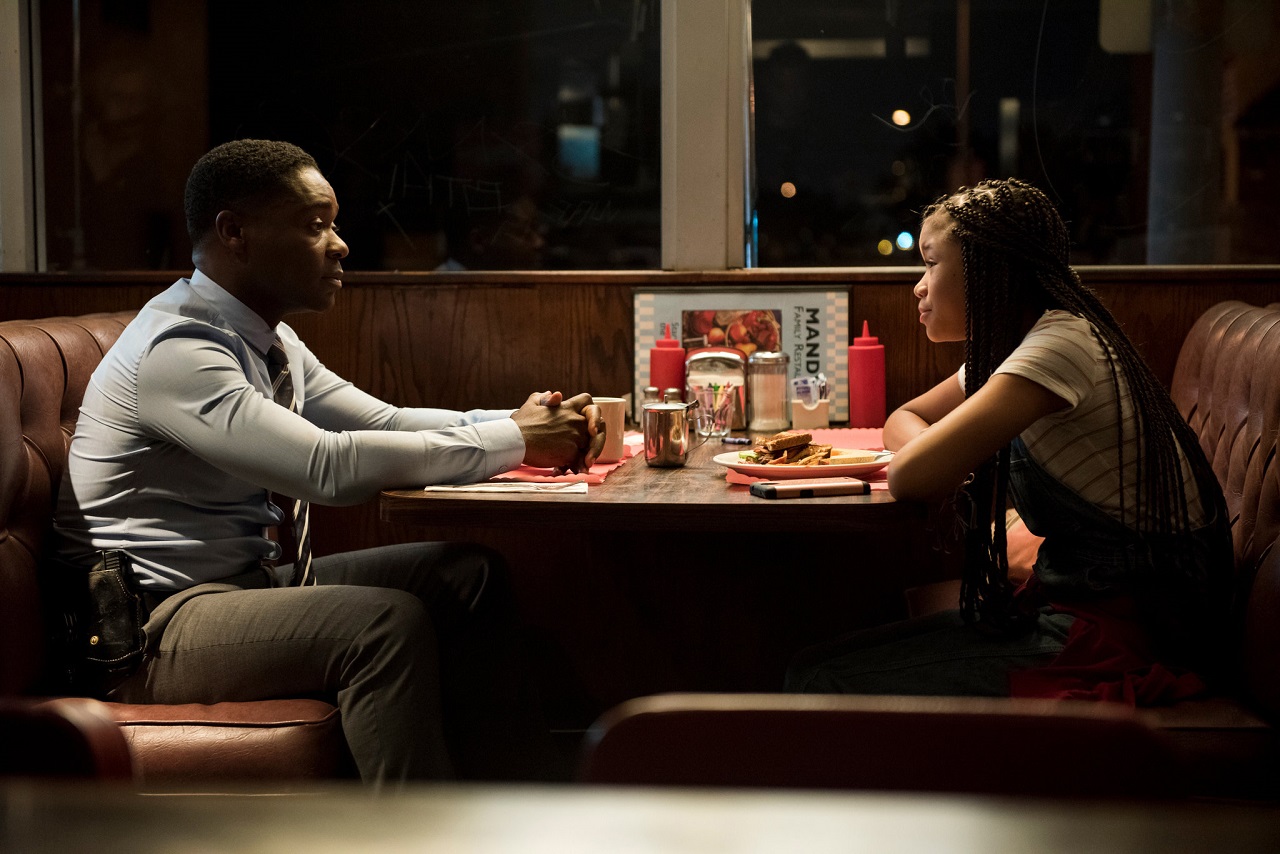 Unlike Frequency, Jacob Aaron Estes seems less interested in the changing timelines than in simply writing a murder mystery. Nevertheless, things become decidedly interesting once David Oyelowo starts to receive phone calls from Storm Reid. It takes some time to work out that these are phone calls across time but the double story develops an undeniable fascination. There is a particularly good scene that contains some fine acting from David Oyelowo and Storm Reid where both are in a diner at different times and she demands to know the truth about what happened and he gets her to demonstrate what is happening by placing some chewing gum under the table.
On the other hand, the film is less interested in time travel than simply being a mundane detective story. As such, it progresses to a fairly predictable end where there are no real surprises produced as to who the killer is. Here the time travel aspect and the changing of the timeline seems of far less eventual interest to Estes than the story of two people communicating and his mundane matters of seeing his detective story play out.
Jason Blum and his Blumhouse production company have produced a number of other genre films including:- Hamlet (2000), Paranormal Activity (2007) and sequels, Insidious (2010) and sequels, Tooth Fairy (2010), The Bay (2012), The Lords of Salem (2012), The River (tv series, 2012), Sinister (2012) and sequel, Dark Skies (2013), Oculus (2013), The Purge (2013) and sequels, the tv mini-series Ascension (2014), Creep (2014), Jessabelle (2014), Mercy (2014), Mockingbird (2014), Not Safe for Work (2014), Ouija (2014) and sequel, 13 Sins (2014), The Town That Dreaded Sundown (2014), Unfriended/Cybernatural (2014), Area 51 (2015), The Boy Next Door (2015), Curve (2015), The Gallows (2015), The Gift (2015), Jem and the Holograms (2015), The Lazarus Effect (2015), Martyrs (2015), Visions (2015), The Visit (2015), The Darkness (2016), Hush (2016), Incarnate (2016), The Veil (2016), Viral (2016), Amityville: The Awakening (2017), Get Out (2017), Happy Death Day (2017), The Keeping Hours (2017), Split (2017), Stephanie (2017), Bloodline (2018), Cam (2018), Delirium (2018), Halloween (2018), Seven in Heaven (2018), Truth or Dare (2018), Upgrade (2018), Black Christmas (2019), Ma (2019), Prey (2019), Sweetheart (2019), Black Box (2020), The Craft: Legacy (2020), Fantasy Island (2020), Freaky (2020), The Hunt (2020), The Invisible Man (2020), Nocturne (2020), You Should Have Left (2020), Black As Night (2021), The Black Phone (2021), Dashcam (2021), Firestarter (2022), M3gan (2022), Mr Harrigan's Phone (2022), Nanny (2022), Soft & Quiet (2022), Run Sweetheart Run (2022), Sick (2022), They/Them (2022), Torn Hearts (2022), Unhuman (2022), The Exorcist (2023), Five Nights at Freddy's (2023) and There's Something Wrong With the Children (2023).
---
Trailer here
---