---
Crew
Director/Screenplay/Design – Adam Elliot, Producer – Melanie Coombs, Photography – Gerald Thompson, Music – Dale Cornelius, Visual Effects Supervisor – Michael Allen. Production Company – Screen Australia/Melodrama Pictures/Film Victoria/SBS Television Australia/Adirondack Pictures.
Voices
Toni Collette (Mary Daisy Dinkle), Philip Seymour Hoffman (Max Jerry Horowitz), Barry Humphries (Narrator), Eric Bana (Damien Papadopolous), Bethany Whitmore (Young Mary), Renee Geyer (Vera Lorraine Dinkle)
---
Plot
Melbourne, Australia, 1976. Eight year-old Mary Daisy Dinkle grows up with a father who works in a teabag factory and spends all his time in the shed making stuffed birds and a mother who shoplifts and spends too much time drinking sherry. One day at the post-office, a curious Mary chooses a name from the New York phone directory at random – that of Max Jerry Horowitz. She writes Max a letter, telling a little about herself, but principally to ask if babies are made the same way in America as they are in Australia where she believes they come from the bottom of a beer glass. Max is a lonely 44 year-old man who lives in his apartment and has no friends, apart from an imaginary companion Mr Ravioli and a series of goldfish that keep dying. He has a psychiatric history and suffers from Asperger's Syndrome, which leaves him with great difficulty in understanding people and adjusting to change. He writes back, in turn telling Mary about his life. A correspondence grows between the two of them over the years, with Max coming to offer Mary advice about how to deal with life and Mary being Max's one and only friend.
---
Mary and Max is a debut feature film from Australian animator Adam Elliot. Elliot first appeared with a trilogy of shorts, Uncle (1996), Cousin (1998) and Brother (1999), all of which concern dysfunctional families beset by tragedies, eccentric family members who lead lonely lives and characters with various mental/physical disabilities such as cerebral palsy and asthma. However, it was the short film Harvey Krumpet (2003), about a man born with Thalidomide mutations and suffering from Tourette's Syndrome, that won Adam Elliot much acclaim, including an Academy Award for Best Animated Short. All of these shorts are available on YouTube and well worth watching.
The poster for Mary and Max announces that it is "based on a true story." Maybe they could more accurately have added the word "somewhat" before that, nevertheless Adam Elliot tells how the film is based on a twenty-year mail correspondence he struck up with Max, a lonely, atheistic, Jewish man living in New York who suffered from Asperger's Syndrome. Mary is in essence Elliot himself who also grew up in Mount Waverley (a suburb of Melbourne). The film starts in 1976 and passes through the 80s and 90s, which is earlier than the period that Elliot started his correspondence – but then one suspects if the film had been set in the era of the instant communication provided by the internet, it would have lost much of its efficacy. (The earlier setting does lead to some anachronisms such as Stephen Hawking being regarded as a famous scientist in the early 80s, a point when Hawking was not a household name).
In trying to find a soundbite comment to sum up Mary and Max, you might liken it to 84 Charing Cross Road (1987) – the live-action story of a true-life Transatlantic friendship that grew out of a correspondence between a New York woman and a British bookseller – as conceived by Aardman Animation. The basic concept is similar to Aardman's Creature Comforts (1990, 2003-5) shorts where Aardman went out and taped members of the British public giving their views on life and had these enacted out by plasticine animated animals.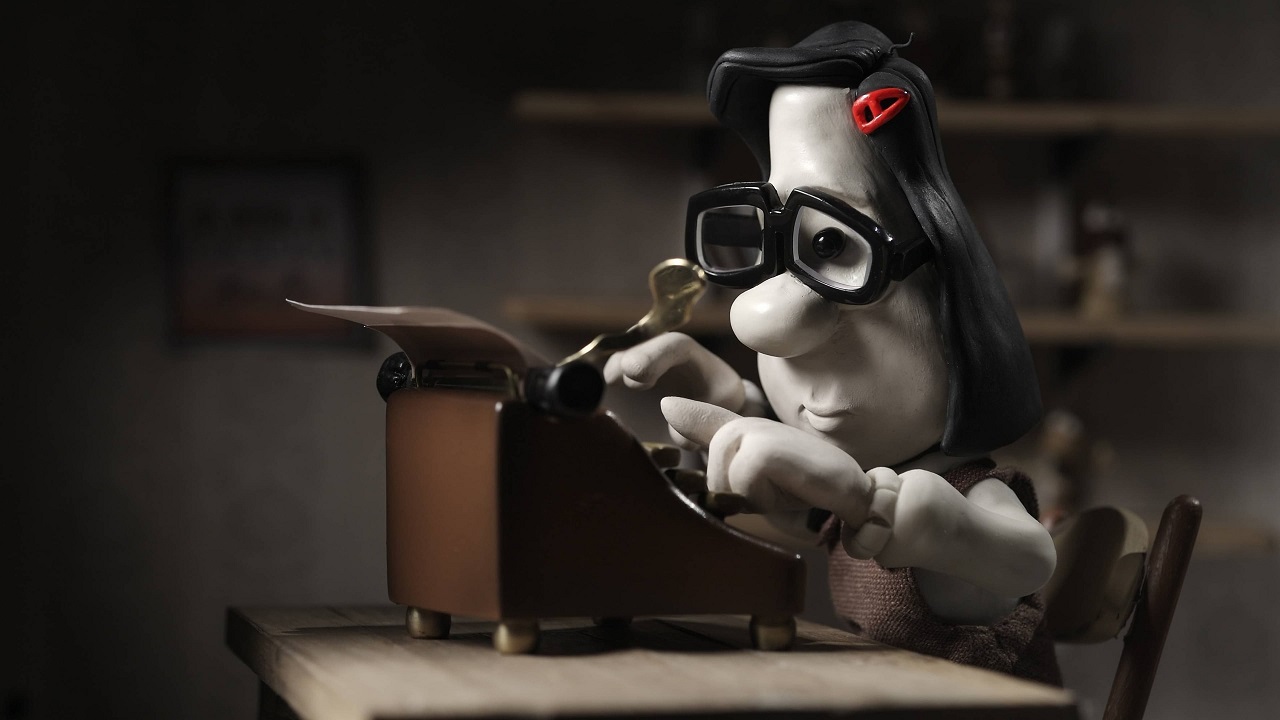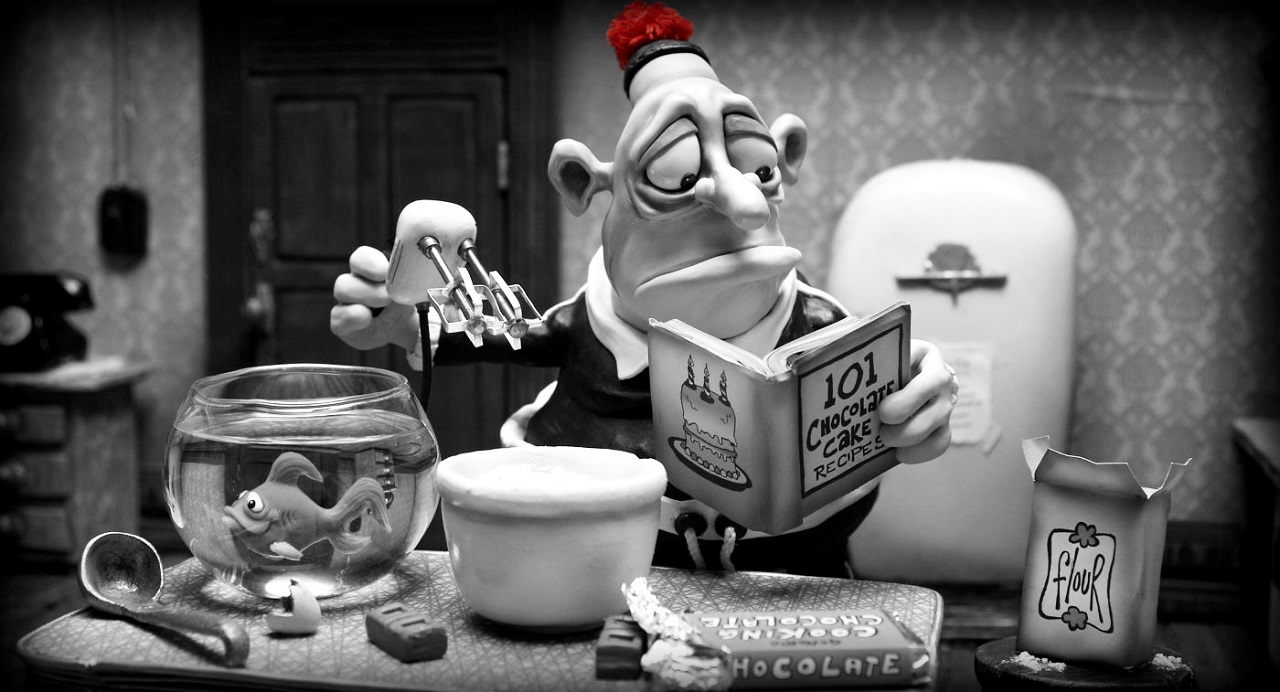 In the amount of animation that this author usually watches in having to fill the fantasy sections of this site, you quickly become tired of the predictable formulas that material slips into. You could easily say that something like 98% of all the characters in animation are stock caricatures that are lacking in original depths. This is certainly not something that could be said about Mary and Max.
In terms of its look, the nearest that the film comes to is the darkly stylised world of Tim Burton's Corpse Bride (2005) – particularly the scenes in New York, which have all been designed in a gloomy uniform black-and-white with occasional flashes of red – or perhaps also of the exaggeratedly stylised realism of The Triplets of Belleville (2003).
Adam Elliot seems to specialise in characters with real world problems and disabilities, and of looking at the tragedies of ordinary life through a dark lens. He delights in investing his characters with an appealingly eccentric array of quirks and details – Max with his line of ill-fated goldfish, imaginary companions, recipes for chocolate hot dogs and book of expressions; Mary's mother with her sherry bottle and predilection for shoplifting; the wheelchair-bound next-door neighbour who is afraid to go outdoors because in Mary's malapropisms he suffers from 'homophobia'. Especially charming in the early scenes is Mary's take on the adult world around her and the delightful questions she asks Max.
A substantial part of the winning charm of either character is the voice actors cast, most notably Phillip Seymour Hoffman who is near perfect as Max. The end the film reaches is a perfectly heart-rending one. It is rare that an animated film can manage to invest its characters with such a depth of quirkiness, humour and tenderness that leaves you caring about figures that are essentially inert lumps of plasticine.
(Winner in this site's Top 10 Films of 2008 list. Nominee for Best Original Screenplay and Best Production Design at this site's Best of 2008 Awards).
---
---