(Naboer)
---
Norway/Denmark/Sweden. 2005.
Crew
Director/Screenplay – Pål Sletaune, Producer – Turid Øversveen, Photography – John Andreas Andersen, Music – Simon Boswell, Makeup Effects – Veselemøy Fosse Ree, Production Design – Jack Van Domburg. Production Company – Memfis Film International/Zentropa Entertainmentss/Nordisk Film/Norsk Filmfond/Eurimages/Svenska Filinstituet/Det Dansk Fiminstitut
Cast
Kristoffer Joner (John), Julia Schacht (Kim), Cecilie Mosli (Anne), Anna Bache-Wiig (Ingrid), Michael Nyqvist (Åke), Øystein Martinsen (Peter Reis)
---
Plot
John has broken up with his girlfriend Ingrid and she harshly tells him to stop moping and get over it. Returning home, John's neighbour Anne asks his help in coming into the neighbouring apartment she shares with her sister Kim to help move some furniture. They appear to know a good deal about him and Ingrid, which they claim to have heard through the walls. Anne asks John to look after Kim while she goes out because Kim is afraid after a man broke in and attacked her. However, Kim plays games with John, telling him a sexual story that leads into rough sex in which the two punch and beat one another. Things start to blur together and John has difficulty discerning what is real as Ingrid then claims that he also enjoyed having rough sex and hurting her. What happened starts to distort and change and seems to draw in both Ingrid and her new boyfriend too.
---
Pål Sletaune is a Norwegian director who first appeared with Junk Mail (1997) about a sociopathic mailman, which did the round of international festivals to some acclaim. Sletaune went onto other darkly funny films such as You Really Got Me (2001) and, subsequent to Next Door, the Noomi Rapace starring horror film Babycall (2011).
The spirit of Roman Polanski hangs over Next Door, in particular Polanski's apartment horror films Repulsion (1965) and The Tenant (1976). From Repulsion, there is the sense of being trapped inside an apartment where the dividing line between reality and the central character's hallucinations has blurred, and from The Tenant, the sense of the apartment building as a paranoid psychological space. The apartment here even has the nifty effect of changing its topography where the hallways move from square with straight-lines to curving depending on the protagonist's mental state or the flip from subjective to objective viewpoint.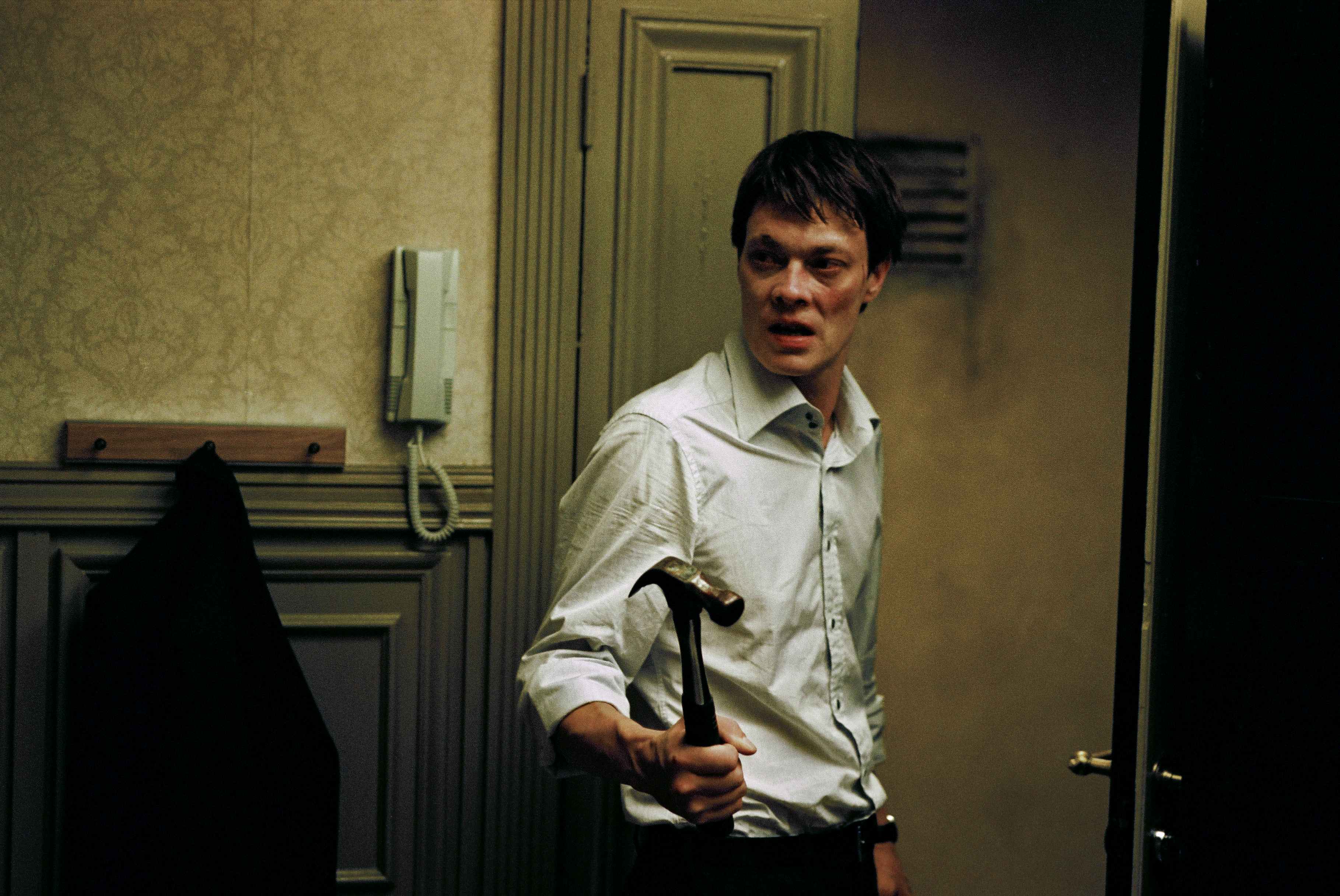 The film soon develops an air of intense strangeness where we go from Kristoffer Joner breaking up with girlfriend Anna-Bache Wiig to his meeting neighbour Cecilie Mosli who asks him to help shift some furniture, which turns out to involve him moving a dresser to block the door (where his questions about how he will get out again are brushed aside by the two girls). The girls have uncanny knowledge about his relationship with his ex, which they claim to have obtained by hearing what was going on through the wall.
Things become even stranger – Cecilie Mosli begs Kristoffer to stay with her sister Julia Schacht who is afraid to be alone after a repairman burst in and assaulted her (although Schacht later denies this happening). While they are there, as he sits opposite, Schacht asks him to close his eyes as she recounts a story of three men in overalls who came and forcibly had sex with her, taking her bent over the couch. The talk between the two of them becomes openly sexual, whereupon they start caressing one another and then her abruptly hitting him, he responding by punching her and this becomes more aggressive, which alternates with the two of them getting turned on and having sex. By this point, Next Door is starting to head into some genuinely WTF territory.
Next Door then starts to get reallllly weird. Following the rough sex scene, Anna-Bache Wiig turns back up and tells Kristoffer Joner how she has come to the conclusion that he poured a hot pot of coffee over her arm and that he did it because he was turned on by doing so, that it was not the accident he claimed. She then reminds him of how he used to get turned on by her making up stories of having sex with other men where her story turns out to be the same one that Julia Schacht had recounted of being taken by three workmen over a couch earlier. There is an even more WTF moment where Kristoffer Joner returns to the apartment and sees Julia Schacht telling the same story to another man (Michael Nyqvist) sitting on the couch opposite. This man later turns out to be Ingrid's new boyfriend Michael Nyqvist, later of The Girl with the Dragon Tattoo (2009) fame.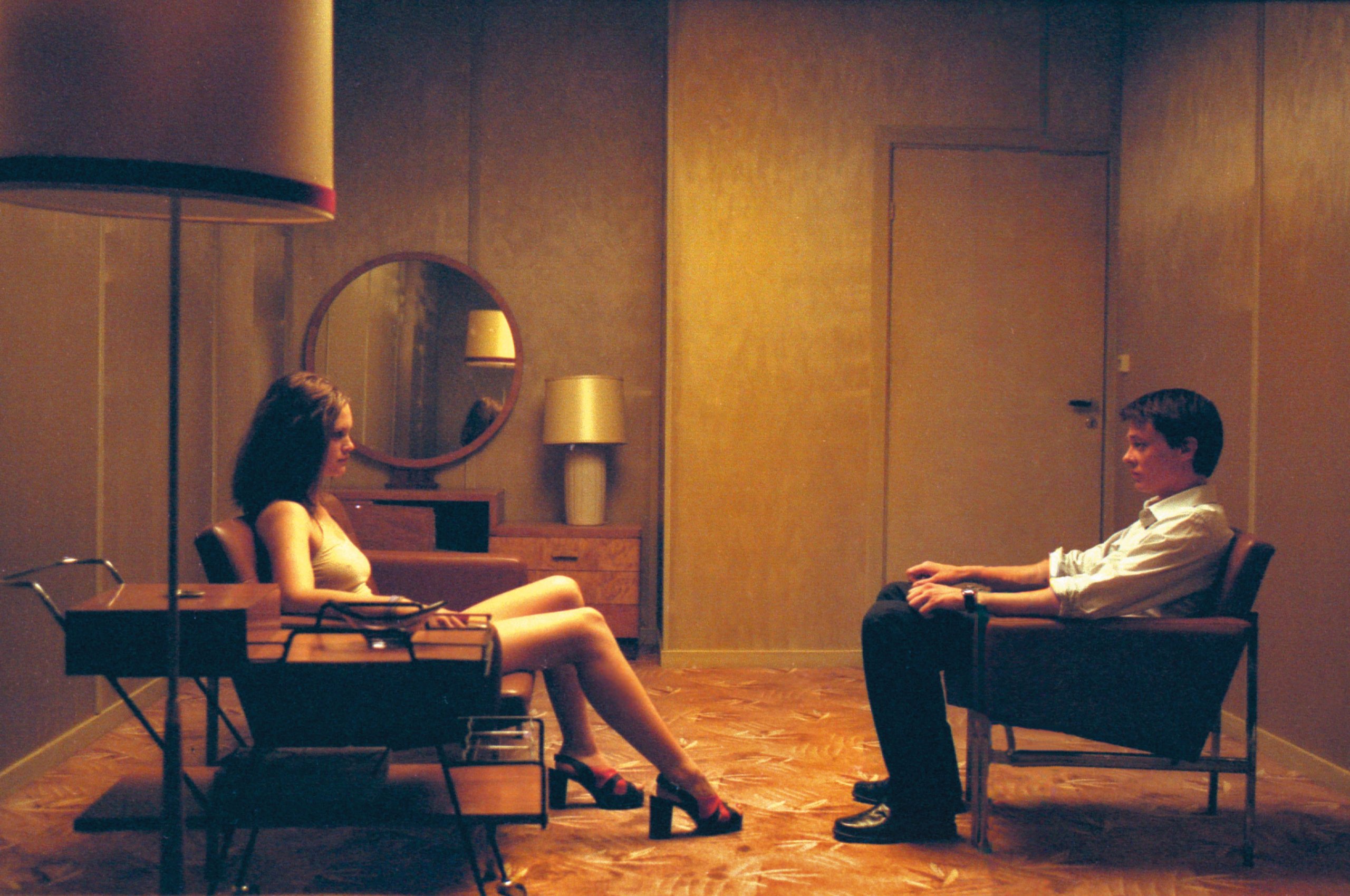 As one keeps watching, there is the rather pleasurable sense of a film that keeps turning around on itself and weaving everything that happens into a complete pretzel shape. There are things that constantly make you stop and wonder what is going on – Cecilie Mosli is seen having eaten the same meal that Kristoffer Joner just finished; one room of the girls' apartment is filled with his belongings. Over all of this is the uncertainty about how much of this is going on is inside his head and the increasing feeling that he may have done something terrible to Anna-Bache Wiig.
[PLOT SPOILERS] And then there is the totally WTF moment where he suddenly finds that there is no apartment next to his. The film reaches an eminently disturbing ending with the police and apartment manager outside breaking down the door to get in to his apartment, while inside an unfazed Kristoffer Joner undresses for bed as he says to Ingrid "You know I wouldn't do anything to hurt you?" and she saying "Of course not" as we then see him getting into bed with her corpse.
---
---