---
Crew
Director/Screenplay – Mark Hartley, Producers – Craig Griffin & Michael Lynch, Photography – Karl Von Moller, Music – Stephen Cummings & Billy Miller, Animation Supervisor – Marcus Cobbledick. Production Company – Film Finance Corporation of Australia/City Films Worldwide/Madman Films/The Melbourne International Film Festival Premiere Fund/Magnolia Pictures.
With
Phillip Adams, Glory Annen, Victoria Annoux, Ian Barry, Briony Behets, Steve Bisley, Jamie Blanks, Graeme Blundell, Russell Boyd, Richard Brennan, Tom Burstall, Dan Burstall, Rob Copping, Barry Crocker, Lynette Curran, Jamie Lee Curtis, Cassandra Delaney, Everett de Roche, Ross Dimsey, David Eggby, Bob Ellis, Alan Finney, Richard Franklin, Belinda Giblin, Rebecca Gilling, Antony I. Ginnane, Deborah Gray, David Hannay, Gregory Harrison, Rod Hay, Sandy Harbutt, Rod Hardy, Carla Hoogeveen, Alan Hopgood, Dennis Hopper, John Michael Howson, Barry Humphries, John Jarrett, Barry Jones, Brian Jones, Stacy Keach, Ted Kotcheff, John D. Lamond, Nina Landis, George Lazenby, Chris Lofven, Greg Lynch, Bill Margold, Ross Matthews, Don McAlpine, Bob McCarron, Hal McElroy, Greg McLean, Gus Mercurio, George Miller, Vincent Monton, Philippe Mora, Judy Morris, Russell Mulcahy, Rod Mullinar, Grant Page, Susan Penhaligon, Steve Raislback, Candy Raymond, Cheryl Rixon, Joanne Samuel, Fred Scehpisi, John Seale, Ken Shorter, Lynda Stoner, Quentin Tarantino, Jeremy Thomas, Henry Thomas, Jack Thompson, Sigrid Thornton, Brian Trenchard-Smith, James Wan, Roger Ward, Gary Wapshott, John Waters, Leigh Whannell, Tony Williams, David Williamson, Simon Wincer, Arna Maria Winchester, Uri Windt, Norman Yemm, Susannah York
---
Not Quite Hollywood: The Wild, Untold Story of Ozploitation! was the first full-length film from Australian director Mark Hartley. Throughout most of the 2000s, Hartley had directed and edited a series of documentary shorts to accompany dvd releases of various Australian classics, many of which fall into the same area he explores here. Not Quite Hollywood proved a word-of-mouth success in international festival release. Hartley subsequently went on to direct other Documentaries with Machete Maidens Unleashed! (2010), about the Filipino exploitation genre of the 1970, and Electric Boogaloo: The Wild, Untold Story of Cannon Films (2014) about filmmakers Menahem Golan and Yoram Globus. He also ventured into non-documentary filmmaking as director of Patrick (2013), a remake of one of the films discussed here, and the original thriller Girl at the Window (2022).
In Not Quite Hollywood, Mark Hartley charts the rise and fall of the Australian exploitation film that flourished between the mid-1970s and the mid-80s. I had never heard the genre called Ozploitation before this and it would appear that Hartley's film has actually given use to the term and has caused it to become widespread elsewhere. Hartley and his various interviewees chart the rise of Australian cinema, which rarely existed as a genre before the 1970s. It took the success of international filmmakers who came to Australia – Hartley cites examples such as Nicolas Roeg with Walkabout (1970) and Ted Kotcheff with Wake in Fright (1971) – to give Australian filmmakers a sense that they could portray themselves on the screen. The popularity of serious dramatic Australian films like The Picnic at Hanging Rock (1975) and My Brilliant Career (1979) was accompanied by another whole genre of Australian exploitation films.
Hartley spends the first section dealing with the rise of the Australian sexploitation film. He and his various interviewees find the beginnings of this in the loosening of censorship standards and public mores that came about in the early seventies. There is discussion of an oddity called The Naked Bunyip (1970), a sex quasi-documentary where the censor ordered the cutting of many scenes, which the filmmakers instead showed as blanked out and represented by an animated bunyip on screen – only for the bunyip to become a hit with audiences.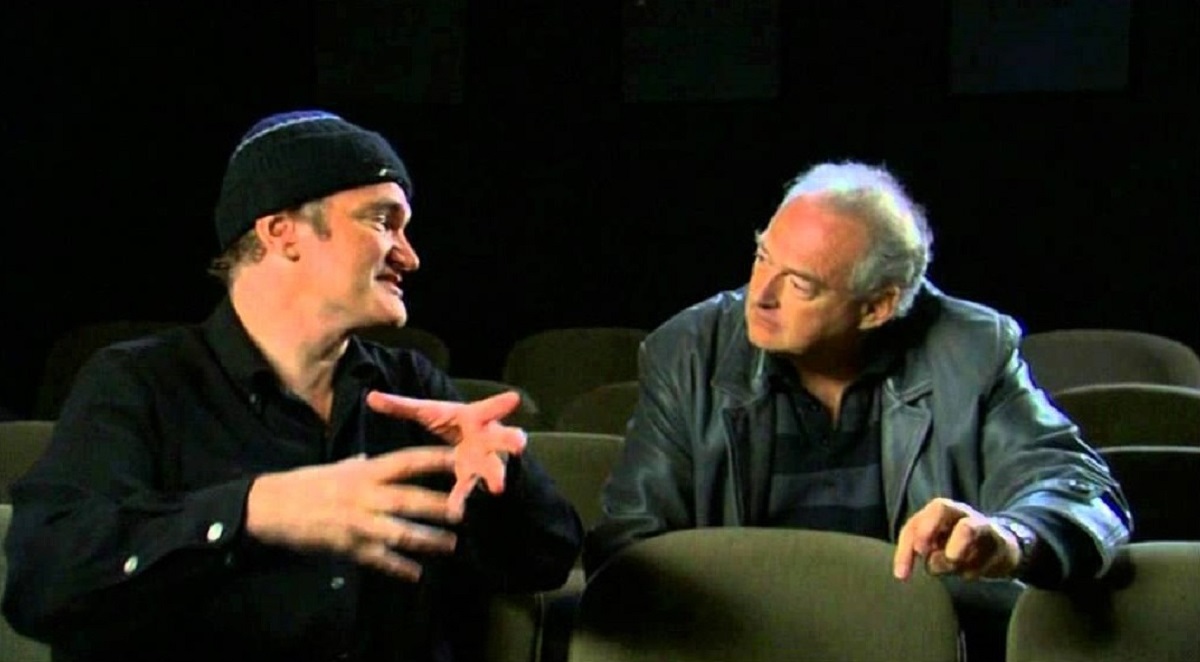 Things opened up with the success of the Barry McKenzie comedies, The Adventures of Barry McKenzie (1972) and Barry McKenzie Holds His Own (1974), which celebrate a sexism, homophobia (the film was even released with a mock 'No Poofters Allowed' certificate) and racism, not to mention multiple vomiting scenes, that kind of takes you aback. It is said that creator/star Barry Humphries was seeking to mock the Ocker (Australian redneck) society but the films ended up being celebrated by the very targets of his satire. Other films like Stork (1971), Alvin Purple (1973) and the tv series No 96 (1972-7), a soap opera that featured regular nudity, quickly followed. Some of the interviewees from this period, including Barry Humphries himself, are cheerfully unrepentant. As is said of Alvin Purple director Tim Burstall: "He was scum, a crab louse on the Australian film industry. On the other hand, some of us will always owe him everything."
The sections that concern us the most are the middle ones dealing with the rise of the Australian horror and action films. Quentin Tarantino is one of the interviewees – he at one point confesses to being so excited by Australian car chase movie it makes him "want to beat off" – and gets the most screen time of all those interviewed. Tarantino proves a surprisingly well-informed interviewee, championing the names of obscure directors like Brian Trenchard-Smith, screenwriter Everett de Roche, producer Anthony I. Ginnane and films like Long Weekend (1978), Patrick (1978), Roadgames (1981) and Dead-End Drive-In (1986), even obscurities like the killer crocodile film Dark Age (1987) and Fair Game (1988). The film also gives us tributes to forgotten figures like Terry Bourke, director of Night of Fear (1972), Inn of the Damned (1975) and Lady Stay Dead (1981).
It was during this time (the late 1970s/early 1980s) that producer Anthony I. Ginnane made a concerted effort to create a series of Australian-made genre films that emulated Hollywood models resulting in efforts such as Harlequin (1980), Race for the Yankee Zephyr (1981) and The Survivor (1981). Much appreaction is given for Russell Mulcahy's enormously underrated Razorback (1984) where various people debate whether it was a work of style over substance. Everyone gives praise for Richard Franklin's Roadgames and the remarkable things it does.
The third section deals with the Australian action film. At length are recounted the hilarity of the antics of Dennis Hopper on the set of Mad Dog Morgan (1976) where he was drunk for substantial parts of filming and went so wild he even ended up being deported from the country – something that an interviewed Hopper clearly recalls and confirms. Or how everybody involved with The Man from Hong Kong (1975) agrees just how awful star Jimmy Wang Yu was – the claim is made that he held white women in such contempt that he ate flies before his love scenes with Rebecca Gilling. Much time is given over to Mad Max (1979) – although surprisingly nothing whatsoever to the massive hit of its enormously influential sequel Mad Max 2 (1981). An interviewed George Miller tells how he found his influences while working as a doctor in Sydney and there is discussion of its groundbreaking action scenes and shooting techniques.
One of the funniest sections is the account of the making of Turkey Shoot (1983), which nearly everybody speaks of with disdain. We learn that due to budget cuts, director Brian Trenchard-Smith tried to compensate by adding copious splatter and taking a camp approach. Steve Railsback claims that the producers spent an inordinate amount of time at the racetrack (quite whether they were spending the budget money or trying to recoup it is not made clear). There are even claims made that real bullets were being fired during action scenes, although this is denied by Trenchard-Smith.
What comes out is just how much of a Wild West this era of filmmaking was. Carla Hoogeveen talks about how on Night of Fear director Terry Bourke told her the rats would be kept behind a glass cage and then when it came to shooting tried to say the glass wasn't working, or how on the shoot for Lady Stay Dead in the scene where the actress's head was held down in a fishtank, he ignored her request to be pulled out and kept shooting. During the action section, there is reasonable detail about the practices of the Australian stunt industry during this period and stories of shoots that were done on open roads without any real concern for safety.
---
---