---
Crew
Director/Screenplay – Charlie Kaufman, Based on the Novel by Iain Reid, Producers – Anthony Bregman, Charlie Kaufman, Robert Salerno & Stefanie Azpiazu, Photography – Lukasz Zal, Music – Jay Wadley, Visual Effects Supervisors – Michael Huber & Alex Lemke, Visual Effects – Branch & Shade VFX (Supervisor – Bryan Godwin), Special Effects Supervisor – Fred Kraemer, Production Design – Molly Hughes. Production Company – Likely Story Productions/Projective Testing Service.
Cast
Jessie Buckley (Young Woman), Jesse Plemons (Jake), Toni Colette (Mother), David Thewlis (Father), Guy Boyd (Janitor), Colby Minife (Yvonne), Abby Quinn (Tulsey Town Girl#3), Hadley Robinson (Tulsey Town Girl#l/Laurey), Gus Birney (Tulsey Town Girl#2l/Aunt Eller), Jason Ralph (Yvonne's Boyfriend)
---
Plot
Jake and a girl have been dating for about six weeks. They drive to visit his parents. Throughout the journey, she is thinking about ending the relationship. They arrive but she finds the dinner increasingly surreal, including Jake's parents shifting in age. She is insistent that they go back that night rather than stay over. As they set out amid blizzard conditions, Jake suggests stopping off in the town of Tulsey to buy cream freezes. He then suggests diverting to his old school to toss the containers away but ventures into the building and does not return. Searching for him, the girl encounters an aging janitor.
---
Charlie Kaufman has become one of the few screenwriters that could be said to have a cult following. Kaufman first gained attention with the hit of Spike Jonze's Being John Malkovich (1999), which twisted audiences around with its sublimely wacky play of ideas. Kaufman followed this with scripts for George Clooney's hilarious directorial debut Confessions of a Dangerous Mind (2002) about gameshow host Chuck Barris's supposed double life as a CIA agent; Spike Jonze's Adaptation. (2002) where the process of adapting a novel into a screenplay in a meta-fiction that kept merging the filmed story and another narrative concerning Nicolas Cage playing both Kaufman and Kaufman's (fictional) idealised twin brother self (who also received co-screenwriter credit); and Eternal Sunshine of the Spotless Mind (2004) for Michel Gondry, an ingenious and mind-bending weave of memory and science-fictional devices. Kaufman made his directorial debut with Synecdoche, New York (2008), a conceptually audacious meta-fiction where Philip Seymour Hoffman constructs a theatre project that keeps merging into his own life. He followed this with the stop-motion animated Amonalisa (2015).
The film is based on the book I'm Thinking of Ending Things (2013), which was a debut novel for Canadian journalist Iain Reid. The book received good reviews, was placed on several Top 10 lists for the year and was nominated for The Shirley Jackson Award. Like the film, the book concerned a guy Jake and an unnamed girl on a trip to meet his parents. These are interspersed with scenes where people discuss somebody who came from an unhappy background and worked as a school janitor and met a horrible end, before an ending where these stories merge together. All of Charlie Kaufman's films feature protagonists who are lonely and miserable losers who retreat into a world where the fictional or dreamed comes to occlude real life so it could be said that the book was tailor-made for Charlie Kaufman's sensibilities.
As might be expected with any Charlie Kaufman film, we are in for a brain teaser. You can take the film on a purely narrative level where Jessie Buckley (a character who doesn't even have a name) accompanies Jesse Plemons, a guy she has been dating for six weeks or so, on a trip back to visit his parents. The dinner is strange and uncomfortable. It is a blizzard outside and she is insistent that she has to go back to the city that night. They do so but against her protest he insists in diverting off to his old high school to dispose of two cream freezes but then vanishes.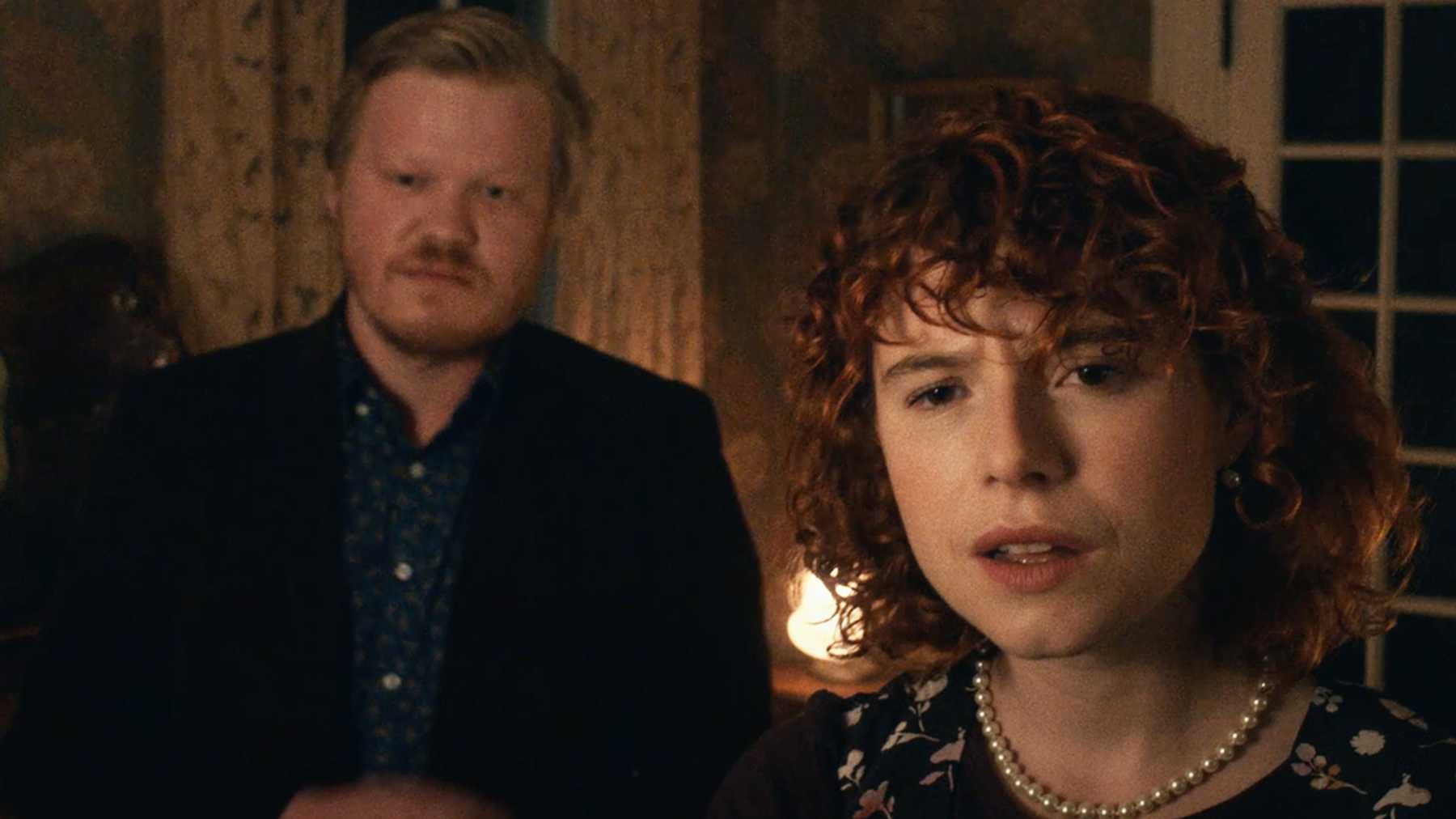 Those at least are the most straight-forward aspects of the story and something that someone more literal-minded would say the film is about. The discussion throughout is naturalistic, ranging through assorted philosophical matters and discussions of quantum physics to cultural name-droppings of Tolstoy and William Wordsworth, deconstruction of Andrew Wyeth's Christina's World (1948) and a heated debate over the sexual politics of Baby, It's Cold Outside (1944). She recites an extraordinarily bleak poem – Bonedog (2015) by Eva H.D. This is also contrasted to Jessie Buckley's voiceover musings about whether there is any future to the two of them where she repeats the title phrase.
On the other hand, things seem distinctly off. The journey to visit the parents and dinner is filled with oddly disjunct things – Jessie noting how they passed an abandoned house with a brand new swing set outside; how they just seem to abruptly arrive at the house or dinner seems instantly ready; how everybody sits at the table and occasionally fills their plates but never seem to actually eat anything; or how Jessie's job description seems to shift from an artist to a waitress to studying quantum physics. During the visit, she answers a phonecall but it is not from a woman on the caller ID but a male voice who seems to be trying to deliver an important message. There is all manner of disturbing imagery – frozen sheep carcasses lying in the barn and Jesse Plemons telling the story of pigs with their bodies eaten away by maggots; or the question of exactly what it behind the cellar door with the claw marks on it – which suggests we are heading into horror territory.
David Thewlis and in particular Toni Collette gives increasingly weird performances in what must surely be the weird, embarrassing dinner table conversation to end all weird, uncomfortable dinnertable conversations. We have definitely entered a point of surrealism as both Thewlis and Collette start switching about in age from sixty or so when they are first introduced to a state of advanced dementia and then youthful. Or when Jessie Buckley thinks a picture of young Jake looks like her and when she does finally enter the cellar and finds it filled with the same paintings that she said were hers but are attributed to Jake.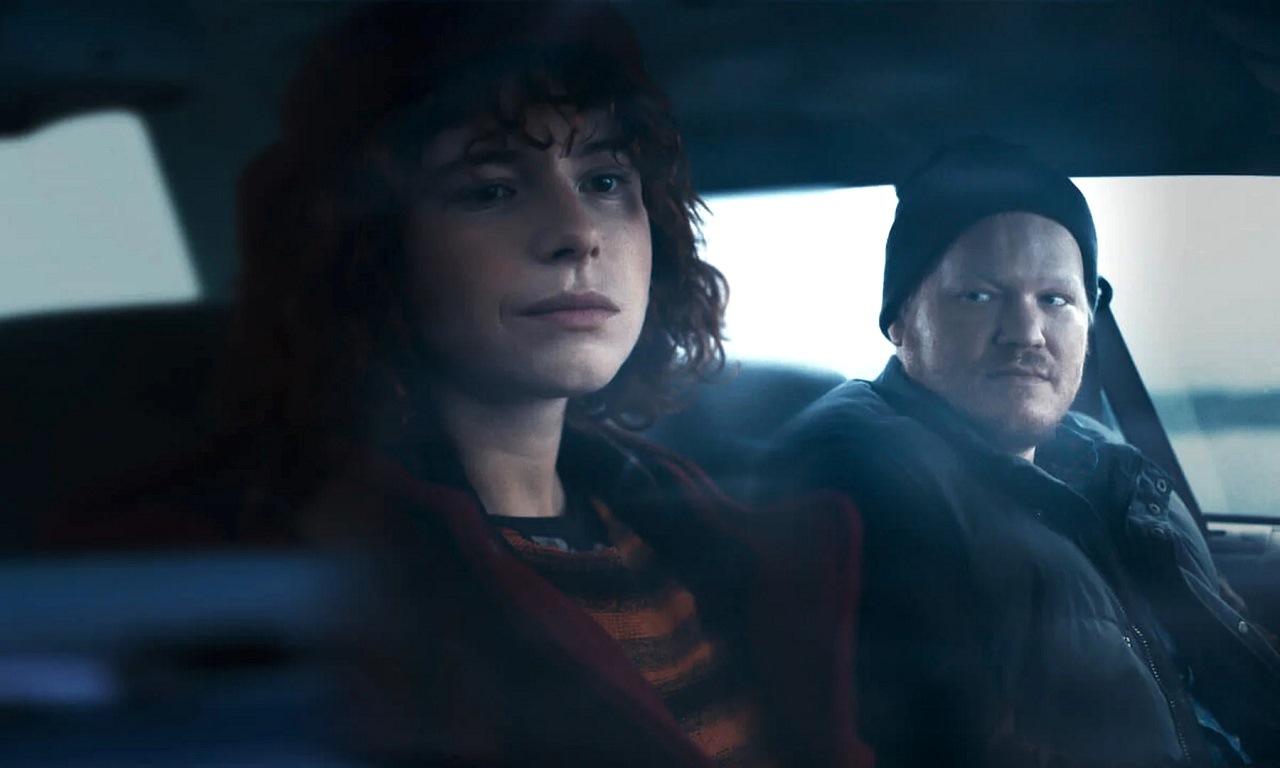 These are interspersed with scenes of a janitor at the high school we will later visit. We see him sitting down in one of the classrooms to watch a film (credited as 'directed by Robert Zemeckis' in another of Charlie Kaufman's playful meta-fictions) or watching rehearsals for a school musical as he cleans. You are not quite sure how all this figures into the proceedings.
It is during the return journey that the film heads into outright surreal territory. Of the girl at the ice cream stand who suddenly gives Jessie Buckley a warning. Or how Jessie sitting in the passenger seat of the car abruptly switches place with the girl from the video that the janitor has been watching. Or when we finally do arrive at the school and we see the dumpster filled with dozens of identical cream freeze containers as though Jessie Plemmons had brought her or other girls there multiple times – again suggesting that we are more in for a horror movie. As she talks to the janitor, he hands her the same pair of house slippers that Jake offered her back at the farmhouse.
During the trip to the school, Jessie Buckley has been increasingly debating their relationship and its import has whittled down from six weeks together to someone who asked for her number at a bar trivia evening to even someone who just looked at her. This is followed by an entirely surreal scene where her and Plemons are replaced by a young couple who dance a graceful series of ballet moves through the hallways of the school before the janitor tries to intervene and it ends in a mock murder – replete with streams of red streamers to represent spurting blood. Finally we see an aged Plemons receiving a lifetime award surrounded by the faces of every character we have seen.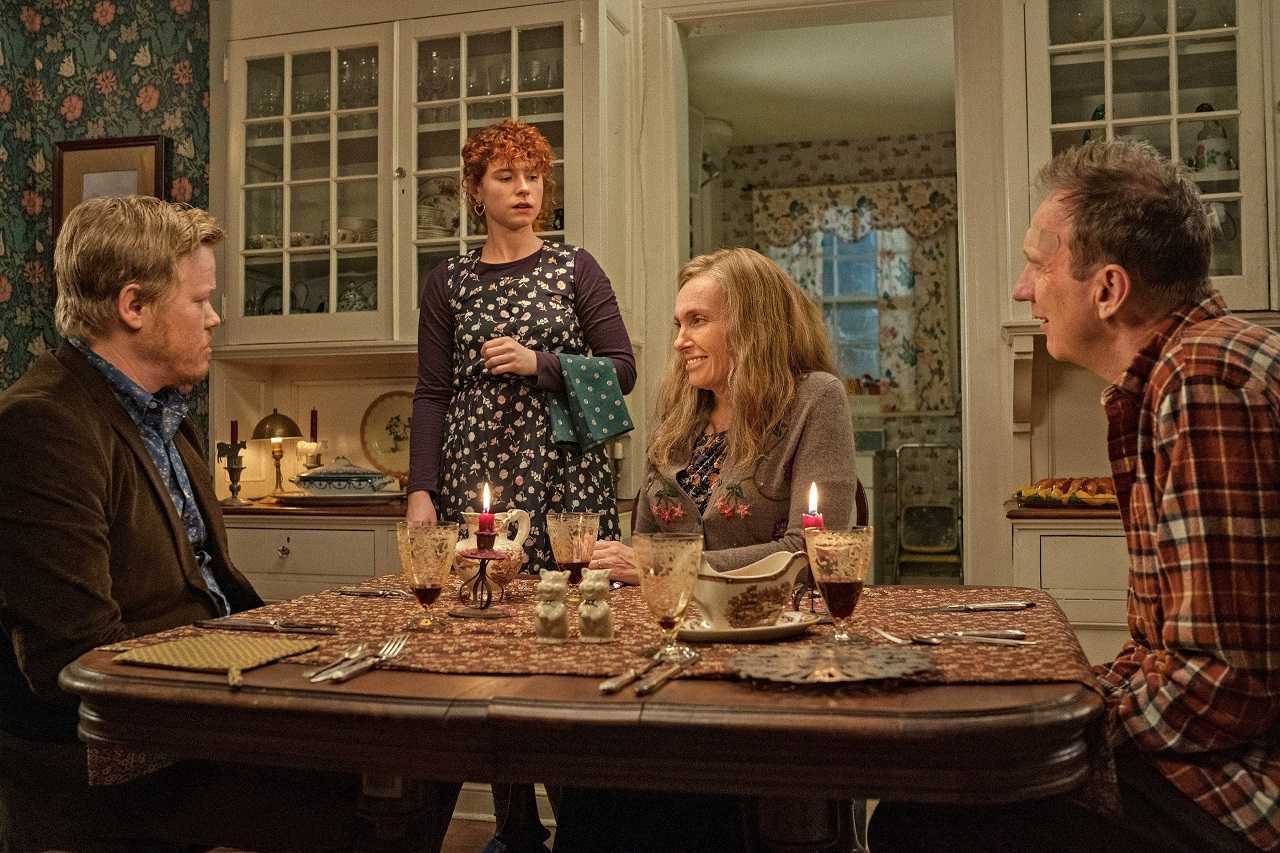 The upshot of the film is a big huh. The writing in it is often brilliantly penetrating but it is also Charlie Kaufman's most wilfully obscure film to date. Quite what it means is a major scratch of the head. I finally found some answers by turning to Iain Reid's novel. Reid serves as a producer on the film so you can assume that it adheres to his vision. Charlie Kaufman follows general faith to the book but it often feels as though he has deliberately obscured Reid's narrative.
From the book, it would appear that Jessie Buckley's unnamed character was someone that Jake imagined he was in a relationship with, all based on what may have been only a glance at her in a bar on a trivia night. Things are confused considerably by making Jessie Buckley the point-of-view character and we being privy to her inner thought processes (although this follows what is in the book). In the book, the janitor was the elder Jake who wrote a series of notebooks in which it eventually became apparent she was a girl he wished he had given her his number to at the trivia night and everything else was him imagining things that had progressed from there. Kaufman eliminates the janitor's notebooks and the scenes where the girl stabs herself and merged with him ending in his death.
The farmhouse scenes would seem to be about Jesse Plemons' memories of his family at various ages having blurred together and in and out of his daydream of what life could have been like with Jessie. The book is more direct about these being the possible fantasy of a man who has led a life alone. These shiftings of memory also seem to play out in the scenes from the Robert Zemeckis film and the musical rehearsal, as we see mirrorings of these also merging into his daydream. Although quite what the enacted murder dance was about I am not clear – the book had another whole level of explanation that the janitor may have been responsible for a violent incident at the school so maybe this was some echo of that.
(Winner in this site's Top 10 Films of 2020 list. Nominee for Best Adapted Screenplay and Best Actress (Jessie Buckley) at this site's Best of 2020 Awards).
---