---
Crew
Director – Todd Phillips, Screenplay – Todd Phillips & Scott Silver, Producers – Bradley Cooper, Emma Tillinger Koskoff & Todd Phillips, Photography – Lawrence Sher, Music – Hildur Gudnadottir, Visual Effects Supervisor – Edwin Rivera, Visual Effects – Scanline VFX (Supervisor – Mathew Giampa) & Shade VFX, Special Effects Supervisor – Doug Facciponti, Production Design – Mark Friedberg. Production Company – Warner Brothers/Village Roadshow/Bron Creative/Joint Effort.
Cast
Joaquin Phoenix (Arthur Fleck), Robert De Niro (Murray Franklin), Frances Conroy (Penny Fleck), Zazie Beetz (Sophie Dumond), Brett Cullen (Thomas Wayne), Glenn Fleshler (Randall), Sondra James (Dr Sally), Bill Camp (Detective Garrity), Shea Whigham (Detective Burke), Leigh Gill (Gary), Douglas Hodge (Alfred Pennyworth), Brian Tyree Henry (Carl), Josh Pais (Hoyt Vaughn), Dante Pereira-Olson (Bruce Wayne)
---
Plot
In Gotham City, Arthur Fleck is struggling to make it as a clown, believing he was born to make people laugh, but is failing badly. He is suffering mental health issues but these remain largely ignored by an over-stressed system. After Arthur is beaten up by a group of kids, his co-worker Randall gives him a gun. However, Arthur drops the gun during a children's hospital performance and is resultingly fired from the job. Returning home on the subway, Arthur is attacked and beaten by three stockbrokers but pulls the gun and shoots them. Arthur's mother, a former employee of Wayne Industries, is obsessed with contacting Thomas Wayne to get some aid for them. Arthur reads a letter she has written to Thomas and is shocked to find that she refers to him as Thomas's son. He tries to contacts Thomas Wayne but his mother is dismissed as someone with a history of psychiatric disorder. When Arthur's failed attempts at a stand-up act are mocked on air by talkshow host Murray Franklin, Arthur sinks deeper into the freedom offered by becoming the murderous clown he calls Joker.
---
The Joker has become the No 1 villain of the Batman universe ever since his appearance in Batman #1 (1940) and is considered the greatest of all comic-book villains. There is dispute over who created the character. Both Bob Kane and Bill Finger, the creators of Batman, claim the figure was based on the character of Gwynplaine in The Man Who Laughs (1928), although illustrator Jerry Robinson claims to have conceived the character inspired by a Joker playing card. The Joker quickly became a major foil for Batman, although the establishment of the Comics Code Authority saw the character watered down to merely a malicious prankster for many years – it was not until the 1970s and in particular the graphic novel revolution of the 1980s that The Joker made a return to being the psychopathic clown he was originally intended as.
The Joker did not receive an origin story until 1951 where we learn that he was a laboratory worker who was forced to act as the criminal Red Hood and jumped into a chemical vat to avoid Batman, afterwards emerging with skin bleached white, green hair and frozen rictus grin. This was expanded upon in Alan Moore's classic graphic novel The Killing Joke (1988), elements of which have been borrowed from by Joker, where he was a failing stand-up comic who entered a life of crime to help his pregnant wife. On the other hand, there have been other versions of the Joker's origin – as he says in The Killing Joke, he likes things to be multi-choice – and DC has always made a point of not confirming any one of these as the definitive story.
The Joker has made numerous appearance on films and tv from Cesar Romero in tv's Batman (1966-8) and the film Batman (1966), Jack Nicholson in Batman (1989), Heath Ledger's Academy Award winning outing in The Dark Knight (2008), the best forgotten Jared Leto in Suicide Squad (2016) and Cameron Monaghan as what was meant to be The Joker but couldn't for copyright reasons in Gotham (2014-9), as well as a host of animated incarnations, the best of which was the Mark Hamill voiced Joker in tv's Batman (1992-4).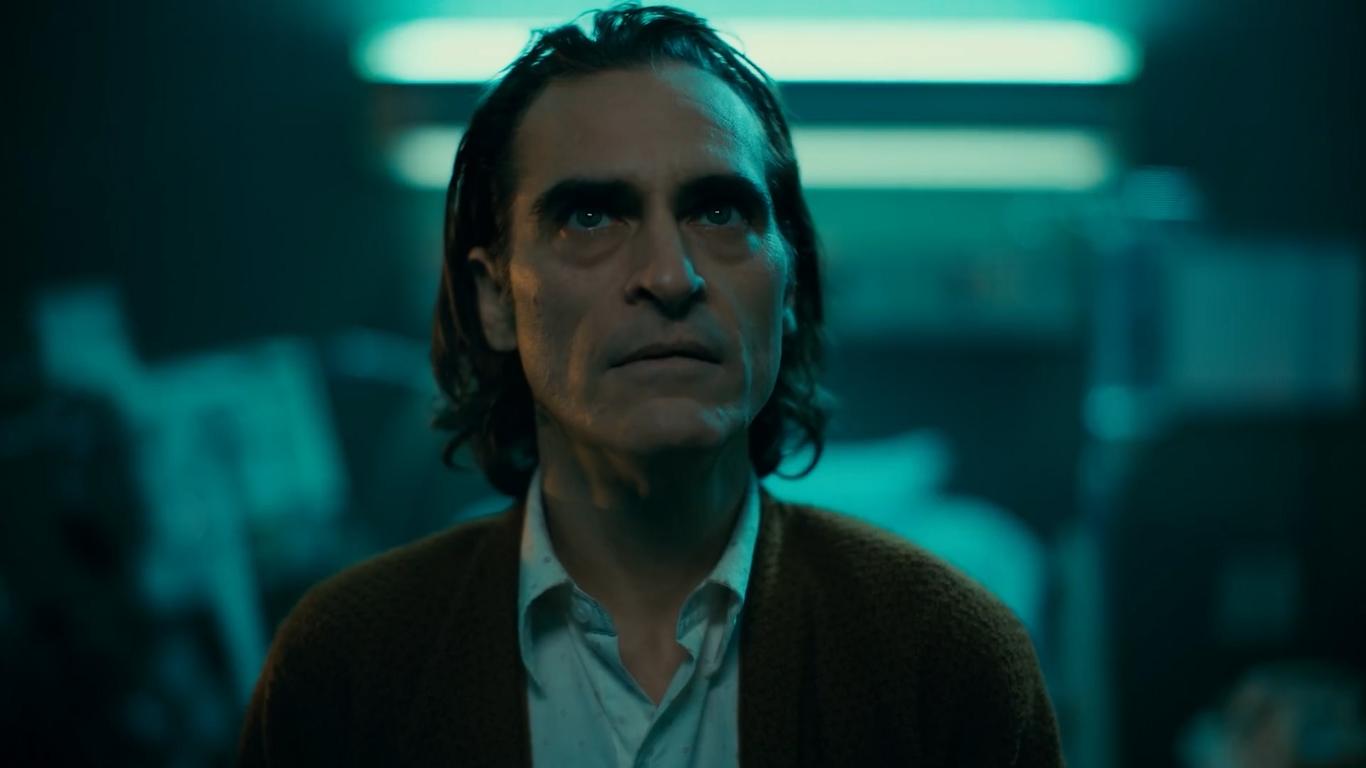 After taking a long time to catch up with the juggernaut that is Marvel, DC Comics has been having reasonable success on the big screen in the 2010s with the likes of Man of Steel (2013), Batman V Superman: Dawn of Justice (2016), Suicide Squad, Justice League (2017), Wonder Woman (2017), Aquaman (2018), Shazam! (2019), Black Adam (2022), The Flash (2023) and Blue Beetle (2023). In fact, I would argue that DC are being far more adventurous than anything Marvel are doing at the moment. Largely they have succeeded by giving creators the freedom to interpret material and not having much concern for how it ties in to wider in-universe continuity. Joker, for instance, comes without any overt connection to any of the other DCEU films. It does feature Thomas Wayne, Alfred and a young Bruce Wayne – not to mention depicts the shooting of the Waynes and holds several visual motifs that pay homage to Frank Miller's classic depiction of the scene in The Dark Knight Returns (1986).
I can't say I was enthused about either the idea of a Joker origin story, which DC canon had explicitly avoided confirming, or of director Todd Phillips. Prior to this, Phillips had specialised in directing comedy with the likes of Road Trip (2000), Old School (2003), Starsky & Hutch (2004), School for Scoundrels (2006), Due Date (2010) and War Dogs (2016). Although the one film that propelled Phillips to fame was the massive hit of The Hangover (2009), plus its two sequels The Hangover Part II (2011) and The Hangover Part III (2013). These made star Bradley Cooper to an A-list name and Joker comes co-produced by both Phillips and Cooper via their Joint Effort production company.
Despite one's misgivings, Joker surprised everybody. It premiered and was massively critically acclaimed. It earned over a billion dollars worldwide, passing Deadpool (2016) and sequel to become the highest grossing R-rated film of all time. As the year ends, it is being touted for various Best of the Year lists and Joaquin Phoenix's performance floated for awards consideration.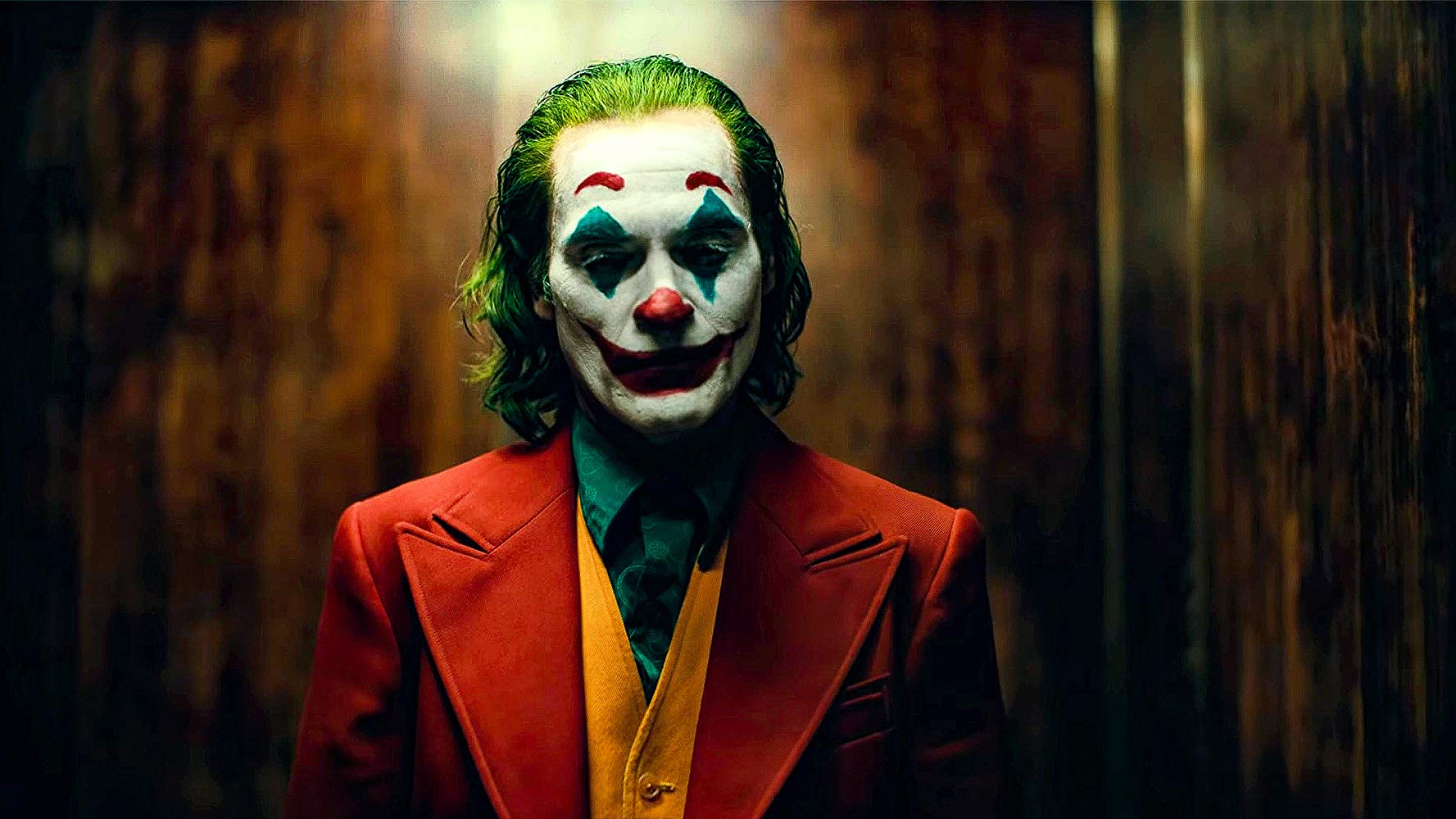 The film's success was accompanied by a lot of kneejerk reactions from the chattering idiot classes. Claims that the film is too violent for audiences (it is no more than any horror film and surely the fact it goes into release with an R-rating gives adequate warning to anyone) and the old shibboleth that it will inspire mass shootings and violence. These seem comments made by people who have in all likelihood never watched anything beyond dutiful attendance at the year's Academy Award winners but feel they have to hold an opinion anyway. More interesting was Todd Phillips' statement that he was inspired to make the film after feeling that he could no longer make comedy amid a culture where everybody is being constantly offended by something and that this had killed the ability to create humour anymore. There were also various interpretations that the film tapped into the mindset of those who go on shooting rampages and the whole White Male Rage and incel community and variously that it was either a manifesto or an exposure of the mindset.
Joker doesn't feel like a comic-book or a superhero film. The show is mundanely grounded in the stuff of psychological motivations, workplace and financial frustrations. What we have is less the epic superhero battles of Aquaman and Avengers: Endgame (2019) and more the grittily grounded real world superheroics of late, lamented Marvel tv shows like Daredevil (2015-8), Jessica Jones (2015-9) and Luke Cage (2016-8). It takes zero stretch of the imagination to think of Joaquin Phoenix's Joker as a foil on one of these shows.
Although if anything, where Joker falls is in the company of a film like Martin Scorsese's Taxi Driver (1976), an immensely disturbingly film about brooding psychosis and alienation from modern life – which also included the hero having an imagined relationship with a female companion – before erupting into violence. There seem undeniable parallels between Joaquin Phoenix turning up at rallies where Thomas Wayne is running for mayor and Robert De Niro's Travis Bickle's plans to assassinate a politician. There was also Scorsese's later The King of Comedy (1983) with De Niro as a delusional failed stand-up comic who goes to extremes just to be noticed. In seeming homage to either role, Todd Philipps has cast Robert De Niro as the talkshow host here.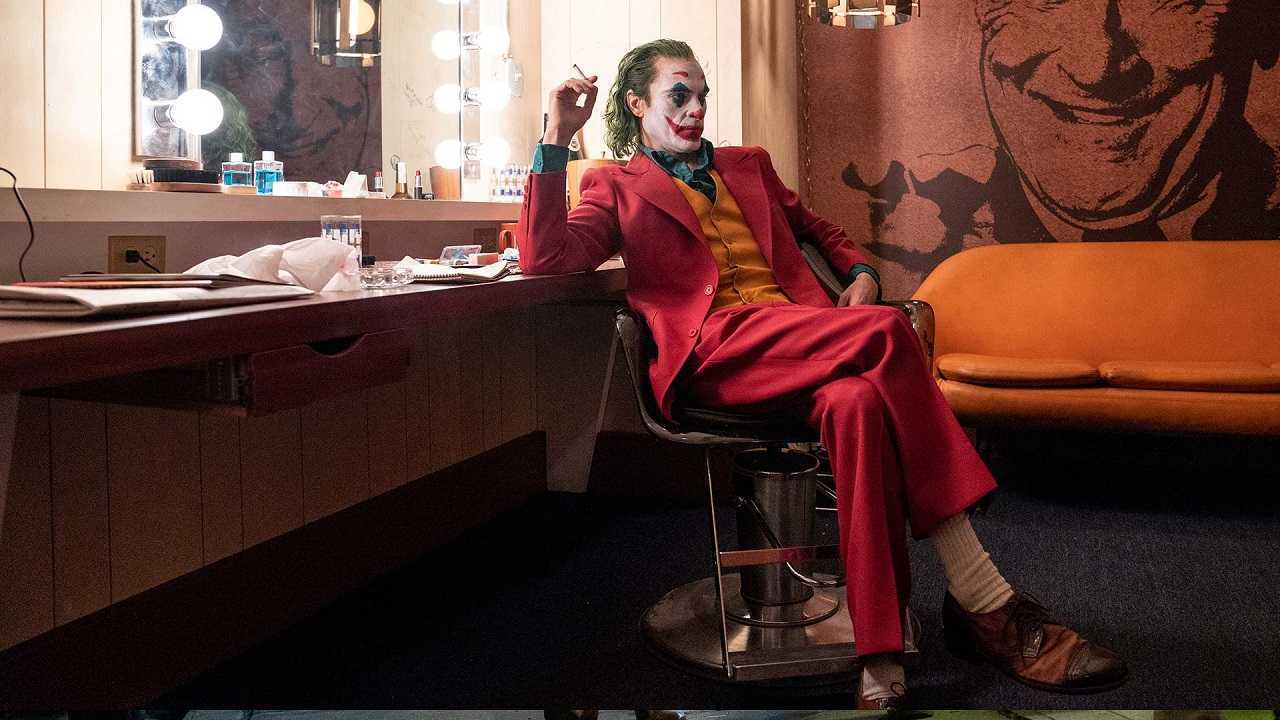 The issue I would have with Todd Phillips is that he is making a film that is more a personal message to him than he is necessarily making one about the DC Comics villain called The Joker. He has rooted The Joker in a history of mental illness, systemic neglect, parental abuse and eventually rage shooting. It is a portrait of the classic comics super-villain as a loser, inept and failed in every facet of his life, What we don't seem to get in any of this is The Joker as insane genius and the glee with which he loves conducting crimes for the pure malice of it. Can you really see Joaquin Phoenix creating mad capers and taunting Batman with atrocious puns for the hell of it? The Joker we have here is one whose crime spree would end up with him tripping over his clown shoes and shocking himself with his own electric buzzer.
Joker is primarily a film about rage. Arthur Fleck is an average person struggling for significance in his professional/creative life and constantly failing, cast aside by an indifferent mental health system, beaten and humiliated in the streets by youths and yuppies. Even his sole bright spark of hope in a relationship with Zazie Beetz is revealed as delusional. And in the greatest cruelty, his sole moment in the spotlight of fame is one that is designed to make fun of his public failing on stage.
The film becomes an eruption against one individual's insignificance. It is never perhaps as much a political film as those who see is as manifestos for school shooters and the incel movement try to make it out to be nevertheless you can see where their arguments lies. If anything, it is a film about rage against the system, society and its casual cruelties and the powerlessness of individuals. It is the rage of the underdog. Surprisingly enough, it is also a film about class rage. Even Thomas Wayne, who is usually held up as a venerated patriarch, does not get off lightly and the film portrays both him and Alfred as caught up in positions of privilege and coldly dismissive of others – the film doesn't exactly leave it clear whether Thomas is Albert's actual father, whether his mother was delusional or there was a cover-up to get rid of her. When the film does erupt into violence – especially the jolt that comes during Joker's appearance on tv – the results are quite shocking.
(Winner in this site's Top 10 Films of 2019 list. Winner for Best Actor (Joaquin Phoenix) at this site's Best of 2019 Awards).

---
---