---
Crew
Director/Screenplay – George Seaton, Story – Valentine Davies, Producer – William Perlberg, Photography (b&w) – Lloyd Ahern & Charles Clarke, Music – Cyril Mockridge, Music Supervisor – Alfred Newman, Photographic Effects – Fred Sersen, Makeup – Ben Nye, Art Direction – Richard Day & Richard Irvine. Production Company – 20th Century Fox.
Cast
Edmund Gwenn (Kris Kringle), John Payne (Frederick Gailey), Maureen O'Hara (Doris Walker), Natalie Wood (Susan Walker)
---
Plot
Macy's Department Store's annual Christmas Parade is about to start when its Santa is found rolling drunk. A replacement is quickly found in a kindly old man. He proves perfect in the part and is afterwards invited to become Macy's in-store Santa. Problems are then caused when he starts telling customers that better bargains can be found in other stores and insisting that his real name is Kris Kringle. An officious psychiatrist has him locked up. In order to defend his innocence, Kris must go into court and prove that he is the real Santa Claus.
---
It is no particular surprise that Miracle on 34th Street has gone on to become a seasonal American classic, alongside other Christmas perennials like The Wizard of Oz (1939) and It's a Wonderful Life (1946). It is indisputably a feelgood film and compared to many other mawkish mediocrities passed off as such classics proves likeable enough.
The central premise is spun out with a gentle amusement, although it is not until the court battle that the film finds its feet and starts to play the idea out with some dramatic relish. Director George Seaton moves through the plot with an efficient pace for the most part. There is the occasional moment where he manages to get away with sneaking in a few droll comic sketches – like Shelheimer's feeding his wife triple martinis resulting in a routine with her picking up the phone the wrong way round, or a scene where Natalie Wood introduces Edmund Gwenn to the joys of bubblegum blowing and he promptly pops it all over his beard.
Edmund Gwenn makes a jolly if stuffy Santa Claus. He won a Best Supporting Actor Academy Award for the role. (The film also won awards for Screenplay and Story and was nominated for Best Picture). Nine year-old Natalie Wood shines with an intelligent sparkle that heralds much for her coming stardom.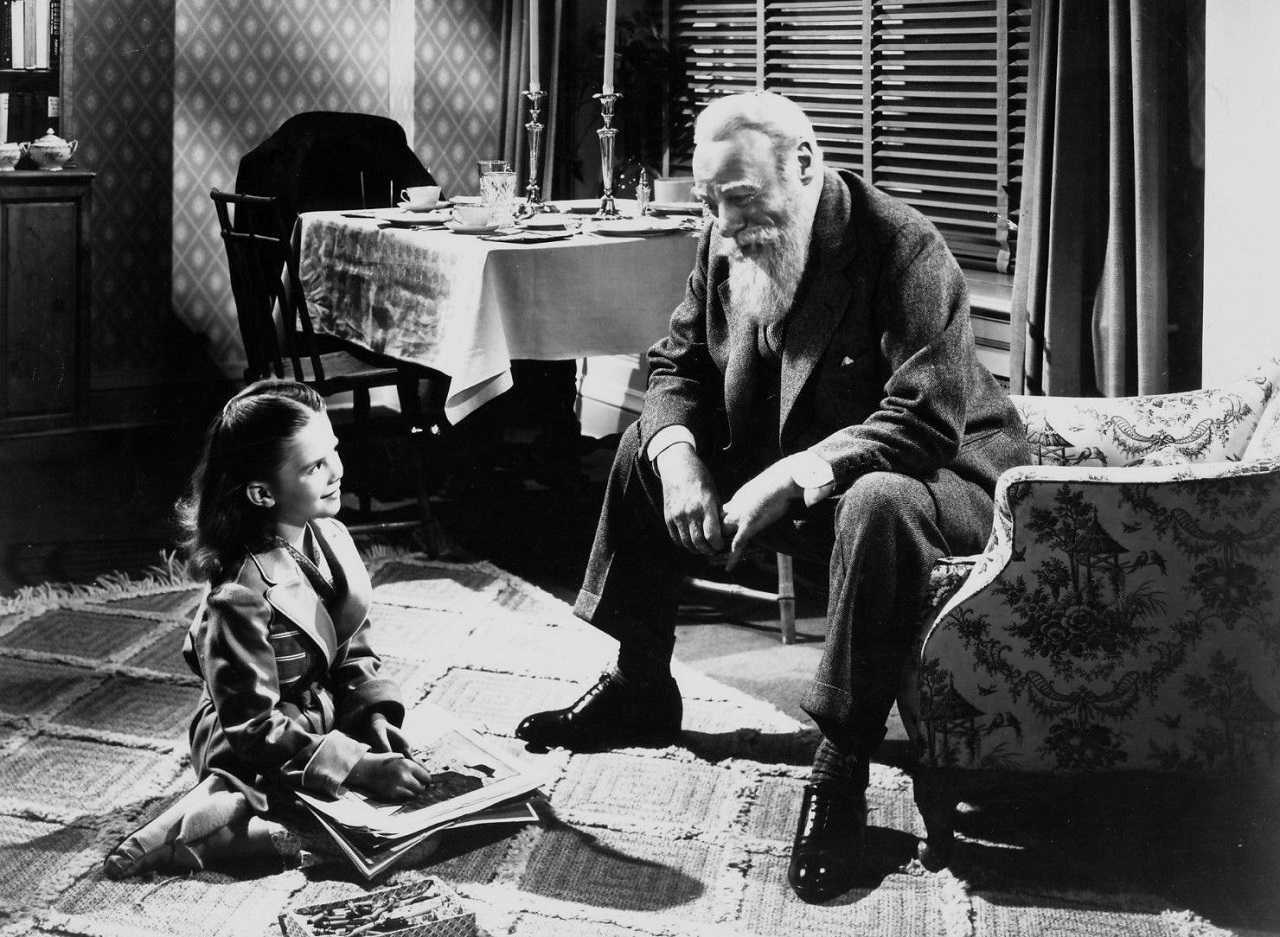 The film's only disappointment is its fade-out at the end on the vague suggestion that Edmund Gwenn might be Santa Claus – after the time it spends arguing for his right to be such, this is surely an anti-climax. On the other hand, if one reads the ambiguity the other way, it lends to the more interestingly subversive reading, that the film is instead about the American public's own constitutionally-guaranteed right to be eccentric. Indeed, Miracle on 34th Street is not unlike another great classic from the era, Harvey (1950), which argued in favour of the joys of thorough eccentricity and the fact that people with eccentric and outrightly lunatic beliefs had a better centeredness of sanity than those who took life seriously.
The film was badly remade as a 60 minute tv special Miracle on 34th Street (1959) starring Ed Wynn as Kris Kringle; and the tv movie Miracle on 34th Street (1973) with Sebastian Cabot as Kris Kringle. There was also the cinematically released Miracle on 34th Street (1994) starring Richard Attenborough as Kris Kringle, however this subverted the film into a heavy dollop of Family Values and Christian feelgood sentiment.
---
---