---
Crew
Director/Screenplay – Garth Jennings, Co-Director – Chris Lourdelet, Producers – Janet Healy & Chris Meledandri, Music – Joby Talbot, Animation Directors – Patrick Delage & Pierre LeDuc, CGI Supervisor – Boris Jacq, Production Design – Eric Guillon. Production Company – Illumination Entertainment.
Cast
Matthew McConaughey (Buster Moon), John C. Reilly (Eddie), Reese Witherspoon (Rosita), Taron Egerton (Johnny), Seth MacFarlane (Mike), Scarlett Johansson (Ash), Tori Kelly (Meena), Garth Jennings (Miss Crawly), Nick Kroll (Gunter), Jennifer Saunders (Nana Noodleman), Peter Serafanowicz (Big Daddy), Beck Bennett (Lance), Nick Offerman (Norman), Jennifer Hudson (Young Nana), Rhea Perlman (Judith), Jay Pharaoh (Meena's Grandfather), Leslie Jones (Meena's Mother), Laraine Newman (Meena's Grandmother)
---
Plot
The koala Buster Moon owns a theatre but every one of the musical productions he has put on has been a flop. Nearing the end of his financial resources, he announces that his next production will be a singing competition. However, his secretary makes a typo and the flyers go out all over town announcing that the prize money will be $100,000 instead of $1000. Contestants gather from all over the city. Buster narrows the final selection down to Rosita, a pig housewife who is exhausted by caring for a family of 25 piglets; the mouse street musician Mike who is in trouble with debts to the mob; the porcupine teenagers Ash and Lance, a boyfriend and girlfriend who are in a band together and audition only for her to be selected and he not; Johnny, a gorilla who loves to sing but is afraid of defying his father who heads a criminal gang; as well as the elephant Meena who suffers from stage fright and is hired as the theatre's cleaner. As the show gets underway, Buster desperately tries to keep it afloat but is afraid to tell the animals that the chest of prize money is empty.
---
Illumination Entertainment had a hit a few years ago with their debut feature Despicable Me (2010). For the next few years, Illumination put out other films, including the part live-action Hop (2011) and the Dr Seuss adaptation The Lorax (2012), neither of which were particularly good. Otherwise they stayed with the familiar and milked Despicable Me for all they could with Despicable Me 2 (2013), Minions (2015), Despicable Me 3 (2017) and Minions: The Rise of Gru (2022). From there, one was prepared to dismiss Illumination as one-hit wonders. That is at least until The Secret Life of Pets (2016) and Sing, both of which were released five months apart, started to prove they had what it took once again. These were followed by another Dr Seuss adaptation The Grinch (2018) and The Secret Life of Pets 2 (2019).
Sing comes with a surprisingly simple premise. It takes the popularity of reality tv singing competitions that we have had in recent years with shows such as American Idol (2002– ), The X Factor (2004– ), America's Got Talent (2006– ), The Voice (2011– ) et al. It tells a familiar story about the hopes and ambitions of the novices as they enter the competition – but sets the film in a world akin to the one we had in Zootopia (2016), a facsimile of the present-day world that just happens to be inhabited by talking animals. There is little more to the film than the basic idea of an American Idol-like competition but cast with talking and singing animals.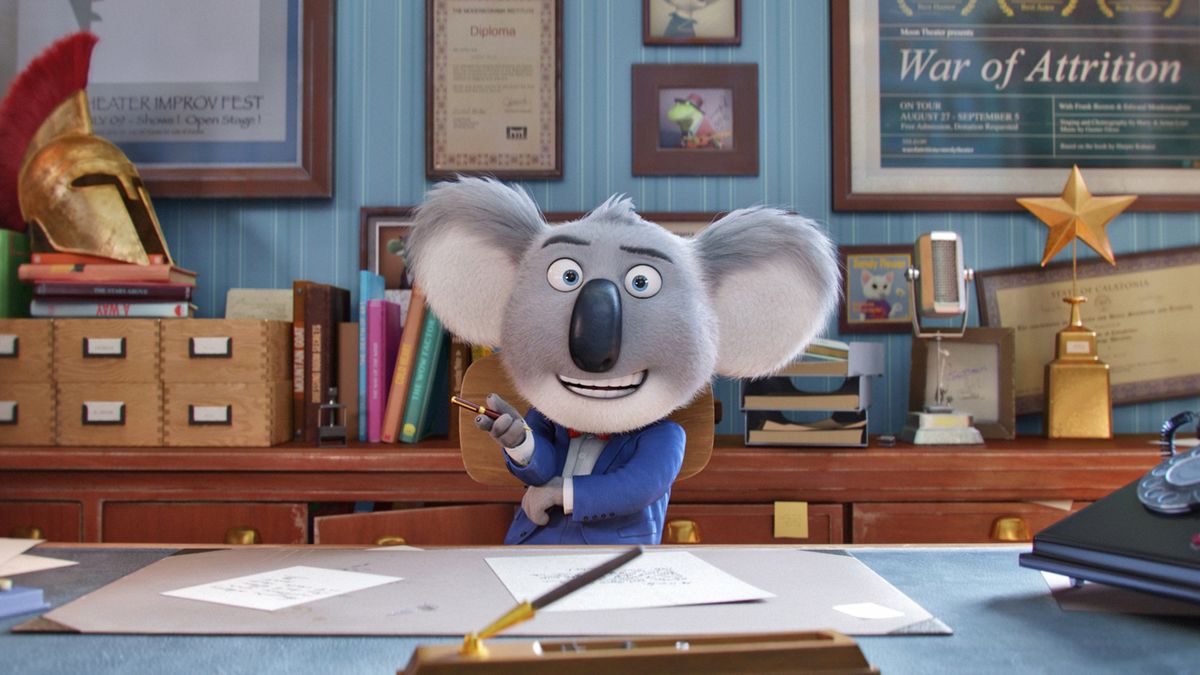 A few years ago, we had the musical sensation of Moulin Rouge (2001), which inspired the idea of the so-called jukebox musical based around the reworking of popular songs. A number of other films have tried the jukebox musical format with the likes of Across the Universe (2007), Rock of Ages (2007) and Mamma Mia (2008).
One of the stranger sensations to build on top of this has been the animated jukebox musical where reworkings of popular songs have been incorporated into animated films as in the likes of Happy Feet (2006), Gnomeo & Juliet (2011), Strange Magic (2015) and Trolls (2016). Among these, Sing boasts a record 64 songs, ranging from Frank Sinatra, Cat Stevens, Leonard Cohen, Elton John, Stevie Wonder and The Beatles to modern artists like Drake, Carly Rae Jepsen, Katy Perry, Taylor Swift and Kanye West.
I have lowered expectations of animated films – Trolls, which was released one month earlier, being a perfect example of how inane and utterly formulaic the genre has become. I sat down to watch Sing with little in the way of expectation and was surprised at just what an effortlessly engaging film it ended up being. It is an amazingly confident film that bursts with a huge amount of natural and happy energy from every pore. The musical numbers end up being showstoppers when the film arrives at its climactic finale, not the least of which is Mike doing a rendition of Sinatra's My Way (1969) at the same time as he is being blown away, while Meena's finale literally brings the house down.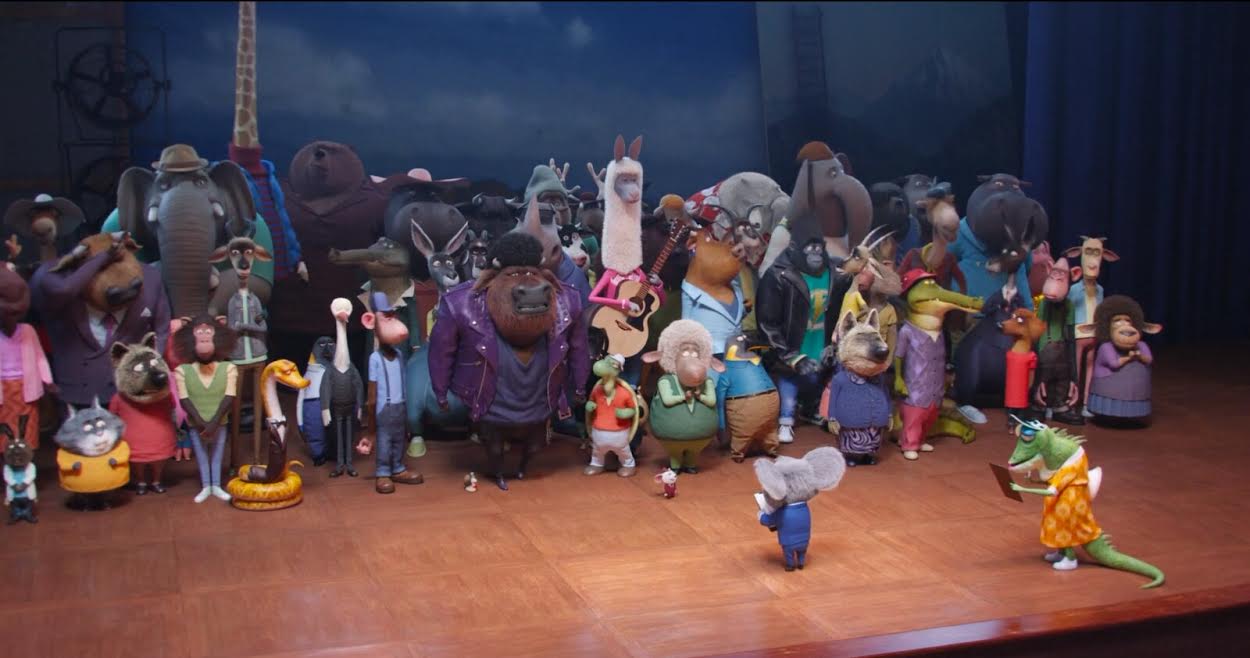 The film is not without its share of demented moments – there is a rather funny scene when a down-and-out Buster accompanied by Eddie attempts to make ends meet as a car window washer. It is certainly a great deal more than I expected from director Garth Jennings whose only previous film I had seen was the incredibly disappointing big screen version of The Hitchhiker's Guide to the Galaxy (2005).
The characters are near perfectly etched, all of them engaging with nary a misstep. I did not realise until reading the credits that it was Matthew McConaughey as the koala producer Buster. The move from McConaughey's usual rugged, outgoing persona to what is essentially a kid who means well is quite a surprising stretch (even if in any other film Buster would be regarded as a conman). All of the other voice actors are well cast with A-listers like Reese Witherspoon and Scarlett Johanssen essentially taking a backseat in supporting roles. Seth McFarlane does well as the mouse street singer a few steps ahead of the mob and with a great line in Sinatra numbers. Director Garth Jennings also voices the role of the geriatric crocodile secretary with a glass eye.
Sing 2 (2021) was a sequel, reuniting Garth Jennings and most of the voice cast.
---
---