---
Crew
Director – Shawn Levy, Screenplay – Robert Ben Garant & Thomas Lennon, Based on the Book by Milan Trenc, Producers – Michael Barnathan, Chris Columbus & Shawn Levy, Photography – Guillermo Navarro, Music – Alan Silvestri, Visual Effects Supervisor – Jim Rygiel, Visual Effects – Rainmaker Animation and Visual Effects (Supervisors – Bruce Woloshyn), Rhythm and Hues (Supervisor – Dan Deleeuw), Special Effects Supervisor – William 'Bill' Orr, Makeup Effects – Maestro Studio FX, Production Design – Claude Par'. Production Company – 20th Century Fox/Ingenious Film Partners/1492 Pictures/21 Laps,
Cast
Ben Stiller (Larry Daley), Robin Williams (Teddy Roosevelt), Carla Gugino (Rebecca Haupman), Dick Van Dyke (Cecil Fredericks), Mickey Rooney (Gus), Bill Cobbs (Reginald), [uncredited] Owen Wilson (Jedediah), Steve Coogan (Octavius), Jake Cherry (Nicky Daley), Ricky Gervais (Dr McPhee), Mizuo Peck (Sacajewea), Kim Raver (Erica Daley), Patrick Gallagher (Attila the Hun), Rami Malek (Akmenrah), Paul Rudd (Don), Anne Meara (Debbie), Pierfrancesco Favino (Christopher Columbus), Brad Garrett (Voice of Easter Island Head)
---
Plot
Larry Daley has a bad employment history. Desperate to do something for his son Nicky's school career day, Larry accepts a job as night watchman at New York's Museum of Natural History. The three aging night watchmen who have been made redundant depart, leaving Larry a handwritten list of instructions. On his very first night there, Larry is startled to find that all the museum exhibits come to life. Soon he is dealing with ambulatory dinosaur skeletons, rampaging Huns, Neanderthals, lions, monkeys and warring miniature Roman centurions and cowboys. Moreover, a monkey tears up the instructions left for dealing with everything. However, a wax Teddy Roosevelt come to life and gives Larry help restoring order by morning, leaving him with the warning that if any of the exhibits ever escape into the outside world they will turn to dust.
---
Night at the Museum was a reasonable Christmas 2006 box-office success – in fact, it was the second-highest grossing film of the year. The film was produced in a collaboration between 20th Century Fox and director Chris Columbus of Home Alone (1990) and Harry Potter movies fame. The director chosen was Shawn Levy, who had previously made a host of forgettably bland mainstream American comedies and family fare including Big Fat Liar (2002), Just Married (2003), Cheaper By the Dozen (2003) and the one film that had one gritting their teeth as to how Night at the Museum would turn out – the disastrous Steve Martin revival of The Pink Panther (2006).
Night at the Museum received a negative critical reception in the US but proved a runaway family favourite despite. The film is probably not entirely deservous of such a slagging – at best, one could call it an amiable way to spend 108 minutes. There is a certain cuteness to the basic concept – of the various exhibits at a museum coming to life by night and mixing it up and/or going to war. We get to see a very well animated dinosaur skeleton chasing one of its own bones around the halls like a dog; war between miniature Roman centurions and cowboys; an Easter Island moai that talks in goo-goo baby talk; animate statues and jade tigers; and various cavemen, monkeys and mummies come to life.
At times, Night at the Museum reminds of Jumanji (1995), which likewise had a series of improbable things (various aspects of jungle adventure) let loose, much chaos ensuing and the hero left having to bring everything back to normal again. (Both Night at the Museum and Jumanji also incidentally feature Robin Williams). There is a good deal of fun to be had in watching the various characters from different eras colliding and in some of the effects.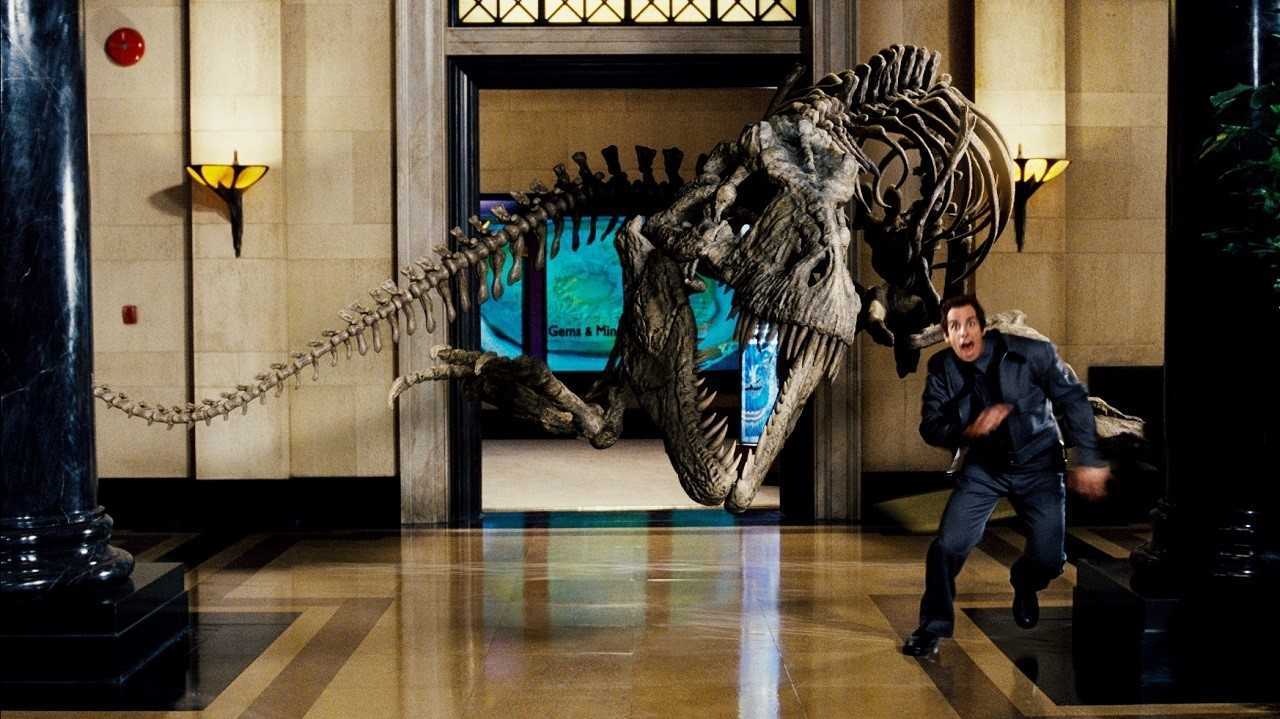 However, Night at the Museum's central problem is eventually that it is a cute concept that fails to feel fully developed as a movie. The first two-thirds offer an amiable series of scenes with Ben Stiller dealing with the various exhibits come to life but it becomes increasingly apparent that is about all there is to the film. The last third of the film has to contrive (in a not-terribly-convincing twist) some villainy in order to give the comic running-arounds some drive and bring the film to a big climax.
Night at the Museum was put together as a starring vehicle for Ben Stiller. Ben Stiller has become a comedy staple since he first came to A-list stardom in There's Something About Mary (1998). I must admit that Stiller's comedy roles in the likes of Mystery Men (1999), Meet the Parents (2000), Zoolander (2001), Dodgeball: A True Underdog Story (2004), Starsky & Hutch (2004) and The Heartbreak Kid (2007) have left me cold. On the other hand, his far more serious work in intelligent but usually overlooked films like Your Friends & Neighbors (1998) and particularly Permanent Midnight (1998) is not too bad at all.
Certainly, Night at the Museum is unlikely to go down as one of Ben Stiller's more memorable performances. He takes the opportunity to play to the gallery and gives a performance that has some astonishingly silly moments, including making noises over a public address system or engaging in baby talk and making faces to a monkey.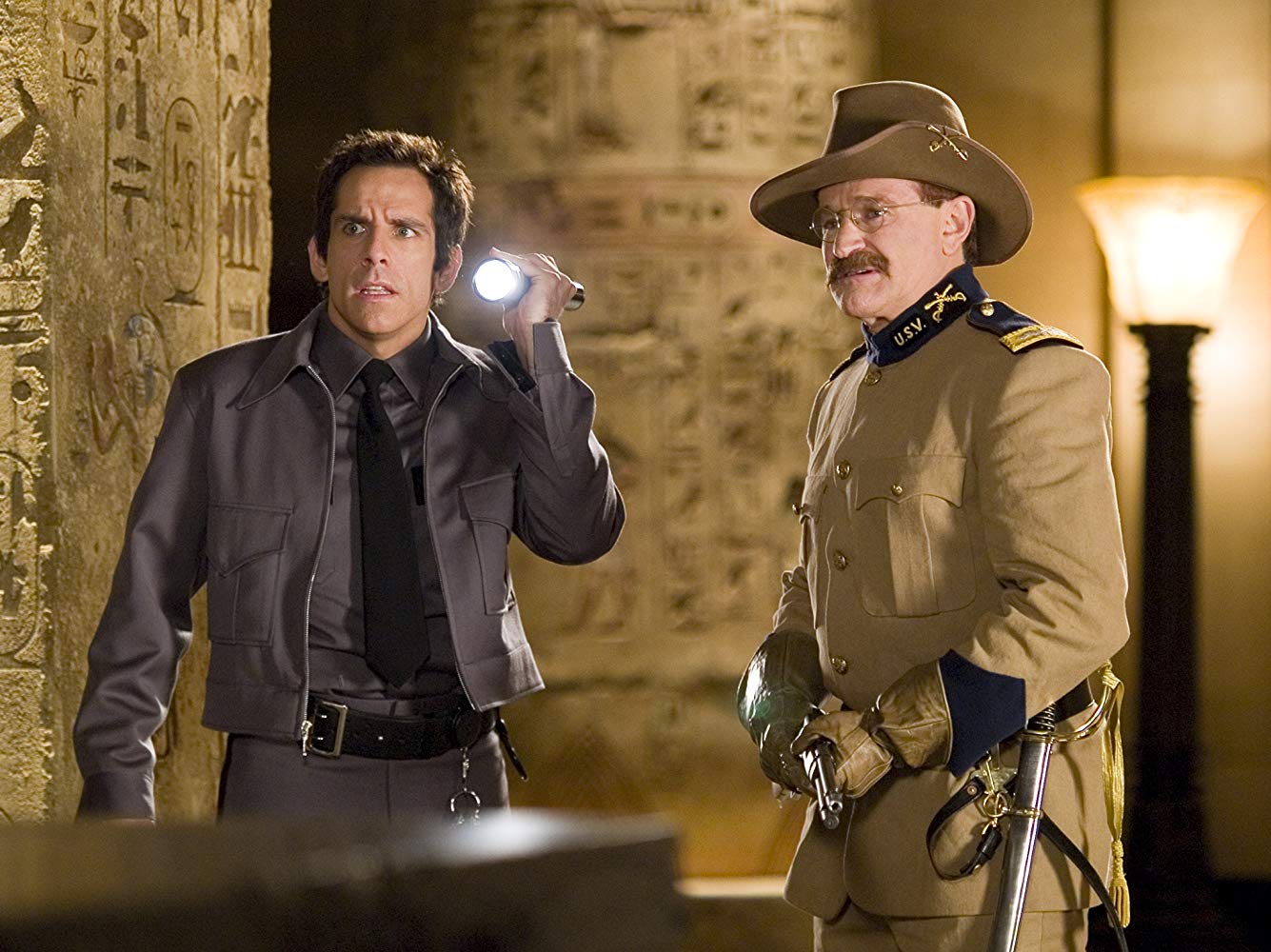 Stiller's frequent collaborator Owen Wilson also uncreditedly turns up as a miniature cowboy where Wilson's laidback surfer drawl style of acting only proves irritating. The one who does well out of the show is Robin Williams who gives the best performance he has in some time as a proud and no nonsense man-of-action Teddy Roosevelt.
Ben Stiller, director Shawn Levy and most of the supporting characters reunited for two sequels Night at the Museum 2 (2009) and Night at the Museum: Secret of the Tomb (2014). Night at the Museum was parodied in Disaster Movie (2008).
In genre material, Shawn Levy later went onto make Real Steel (2011) about boxing robots, Free Guy (2021) where Ryan Reynolds discovers he is a character inside a videogame and the time travel film The Adam Project (2022). Levy has also produced the alien invasion comedy The Watch (2012), the Young Adult The Darkest Minds (2018) and Denis Villeneuve's Arrival (2016) and the tv series Stranger Things (2016– ) and Shadow and Bone (2021– ).
(Nominee for Best Special Effects at this site's Best of 2006 Awards).
---
---