(Camille Redouble)
---
Crew
Director – Noemie Lvovsky, Screenplay – Maud Ameline, Noemie Lvovsky, Pierre-Olivier Mattei & Florence Seyvos, Producers – Philippe Carcassonne & Jean-Louis Livi, Photography – Jean-Marc Fabre, Music – Joseph Dahan & Gaetan Roussel, Visual Effects Supervisor – Mikael Tanguy, Special Effects Supervisor – Olivier Zeneski, Production Design – Frederique Lapierre. Production Company – F Comme Film/Cine @/Gaumont/France 2 Cinema/Canal +/Cine +/France Television.
Cast
Noemie Lvovsky (Camille Vaillant), Samir Guesmi (Eric), Yolande Moreau (Camille's Mother), Michel Vuillermmoz (Camille's Father), Denis Podalydes (Alphonse Da Costa), India Hair (Alice), Judith Chemla (Josepha), Julia Faure (Louise), Jean-Pierre Leaud (Monsieur Dupont the Watchmaker), Vincent Lacoste (Vincent), Micha Lescot (Theatre Teacher), Mathieu Amalric (The Sadistic French Teacher)
---
Plot
Camille Vaillant has reached forty, is trying to eke out a living as an actress but is only getting extra roles, drinks too much and is bitter about the split from Eric, her husband of twenty-five years. She goes to a New Year's party, on the way stopping to have a watch repaired where the watchmaker insists on winding it one second early. As the hour of the New Year comes in, she abruptly collapses. She wakes up to find she is back in 1985 and is about to turn sixteen again. She is overjoyed at seeing her parents alive again. She tries to fit in at school, while avoiding the young Eric – only for he to take this as her playing hard to get and become more determined to woo her. She tries to change what she knows will be the future – the painful split from Eric, the knowledge of her mother's avoidable death soon after her birthday – but this proves harder than she thinks.
---
Noemie Lvovsky is a French director-writer-actress. Camille Rewinds is her fifth film as director, following Forget Me (1994), Life Doesn't Scare Me (1999), Les Sentiments (2003) and Let's Dance (2007), all of which are non-fantastic relationship dramas of one sort of another. Her one subsequent film Tomorrow and Thereafter (2017) does have some minor fantastic elements. Lvovsky has also made a number of acting appearances in other people's films and has been nominated three times for a Cesar Award (France's equivalent of the Academy Awards).
Camille Rewinds is the first of Naomie Lvovsky's films that one has seen. It rapidly becomes apparent that she has uncreditedly appropriated the plot of Francis Ford Coppola's Peggy Sue Got Married (1986), which had dissatisfied forty year-old housewife Kathleen Turner waking up from a fall to find herself back in her graduating high school year and deciding to undo the choices that led to her unhappy life. About the only major difference is that Noemie Lvovky's Camille is a less glamorous and more realistic than Kathleen Turner – with an alcohol problem, struggling for employment and embittered about her divorce (whereas Peggy Sue had only separated).
Otherwise the plot arcs of the two films remain very similar – in both, the heroine is driven crazy as the man she will marry woos her, falling for it at the same time as she resists on the grounds of knowing how it will turn out, while she also dallies with and falls for the scientist guy who tries to explain it to her. The end of both films also has the heroine deciding to live her life anyway and settling down with the guy she originally married. The other amusing difference is that while Kathleen Turner's heroine looked back from the 1985 to 1960 as the year of her youth, the film here has Noemie Lvovsky looking back from the present-day to 1985 (the year Peggy Sue was shot) as the formative year of her youth.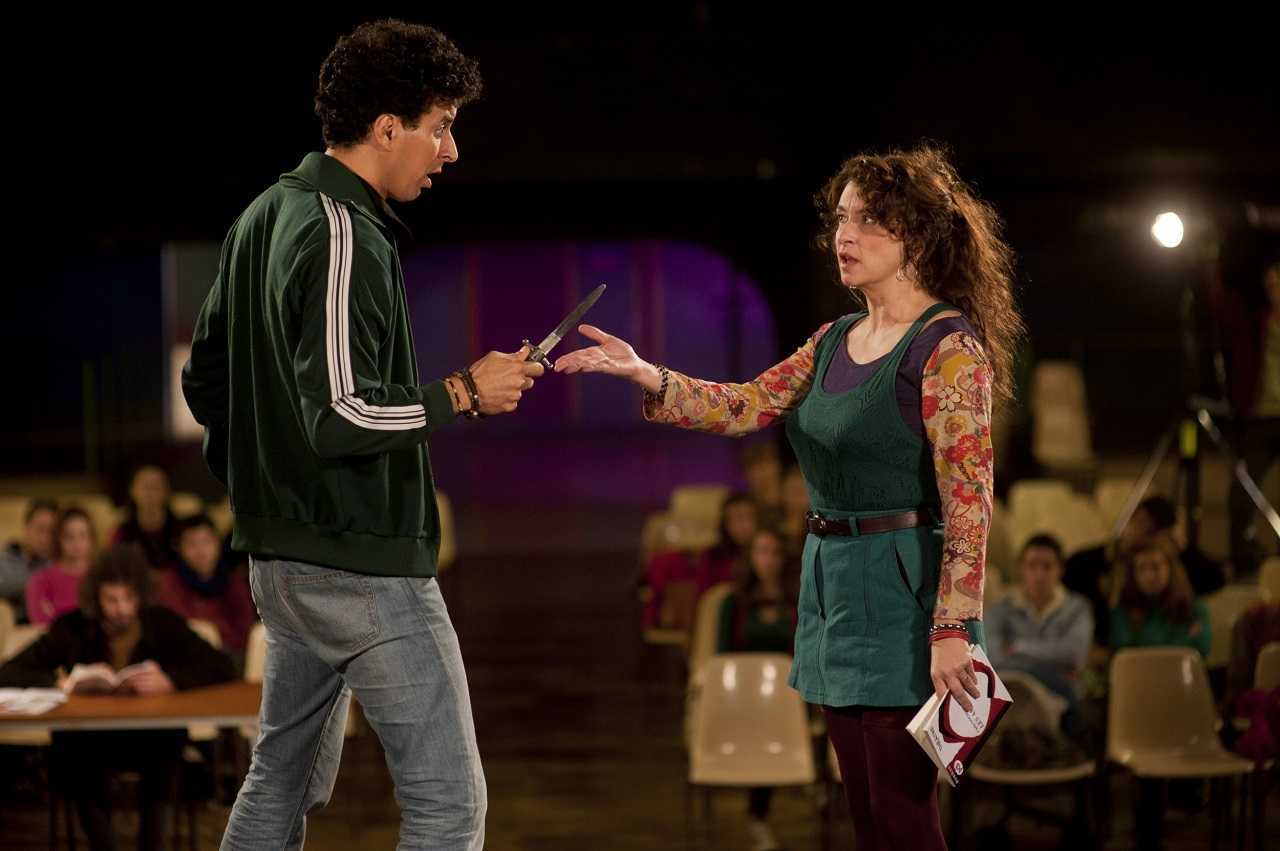 I suspect I would have liked Camille Rewinds more if I had not seen Peggy Sue Got Married. Noemie Lvovsky has a crinkly likeable presence. You have to commend her on taking the part and playing it as a plus-size woman not afraid to let the cellulite and wrinkles show. It is if you like a more honest middle-aged woman than Kathleen Turner played.
On the other hand, Lvovsky never truly stands out as a great comic performer. The film has undeniable moments where it produces laughs – especially where a more knowing Lvovsky tries to seduce a teenage boy and take his virginity, while Mathieu Amalric has amusement in his scene as a chauvinist teacher – but the film never seems to sparkle around Lvovsky's presence, sense of comic timing or her delivery of lines.
The other odd thing is that she seems almost entirely disinterested in playing up any of the time travel/culture adjustment aspect, which never extends beyond some of the costuming and a scene over a jukebox talking about what popular singers of the era will still be around in 2012.
---
---