aka Dead Snow 2: Red Vs Dead
(Død Snø 2)
---
Norway/UK/USA/Iceland. 2014.
Crew
Director – Tommy Wirkola, Screenplay – Stig Frode Henriksen, Vegar Hoel & Tommy Wirkola, Producers – Kjetil Omberg & Terje Strømstad, Photography – Matt Weston, Music – Christian Wibe, Visual Effects Supervisor – Bryan Jones, Visual Effects – All Villains Wear Black (Supervisor – Bryan Jones), Troll VFX (Supervisor – Juuso Kaari), Special Effects Supervisors – Haukur Karlsson & Rick Marr, Makeup Effects Supervisor – Steinar Kaarstein, Production Design – Liv Ask. Production Company – Nordisk Film/Tappeluft Pictures/The Fyzz/Eikeland & Haug/XYZ/Saga Film.
Cast
Vegar Hoel (Martin Hykkerud), Ørjan Gamst (Captain Herzog), Martin Starr (Daniel), Jocelyn DeBoer (Monica), Ingrid Haas (Blake), Stig Frode Henriksen (Glenn Kenneth Torvonen), Hallvard Hollmen (Gunga), Kristoffer Joner (Sidekick Zombie), Amrita Acharia (Reidun), Derek Mears (Lieutenant Stavarin), Christian Rubeck (Policeman), Carl-Magnus Adner (Bobby), Bjarte Jøstheim (Priest), Jesper Sundnes (Nazi Doctor)
---
Plot
Martin survives the ordeal with the Nazi zombies but it is not over. A further attack by the Nazi zombie commandant Herzog causes him to crash off the road. Taken to hospital, he comes around horrified to find that the doctors have sewn Herzog's severed arm onto his stump, thinking it his. Moreover, he then finds that the arm has a life of his own. When a kid comes in to investigate the arm on behalf of the American group Zombie Squad, Martin takes the opportunity to escape. The Nazi zombies are on the move with Herzog using his power to resurrect the dead and turn them into a Nazi army. Joined by the geeky members of the Zombie Squad, Martin determines that the zombie menace cannot be ended until Herzog fulfils his original mission from World War II – to attack the nearby town of Tilvik. He realises that the only way to defeat Herzog's army is to create an army of his own by using the power in his grafted arm to resurrect a battalion of Soviet prisoners who were executed by the Nazis and set them against their old nemeses.
---
Norwegian director Tommy Wirkola made a splash on the international horror stage with his Nazi zombie film Dead Snow (2009). Dead Snow's reputation grew, not because it was a good film but largely, it would seem, because it came drenched in gore. It was enough for Wirkola to be given the budget to make the mainstream released English-language Hansel and Gretel: Witch Hunters (2013), which turned into an absurdly over-the-top joke that clearly wasn't taking itself seriously and ended up on this site's Worst of 2013 list (and that of a good many other critics too). To recover, Wirkola has returned to Norway and familiar ground to deliver Dead Snow 2 (billed as Dead Snow 2: Red vs Dead on some international posters but not the credits of the film). Mindedly, Wirkola has also announced Hansel & Gretel 2 around the same time, clearly showing he has taken none of that film's failure to heart.
As Dead Snow 2 starts in, it feels like it is heading down the same disappointing roads as Wirkola's other films – ridiculously conceived scenes that lack any sort of internal believability; lots of fannish in-jokes and reference; and an emphasis on black humour and splatter effects at the forefront. A perfect example of this might be when the Nazi commandant (Ørjan Gamst) spontaneously develops magic hands that allows him to touch anybody who is dead (or even the ground where they are buried) and not only bring them back to life but apparently also resurrect them with an ideological loyalty to the Nazi cause.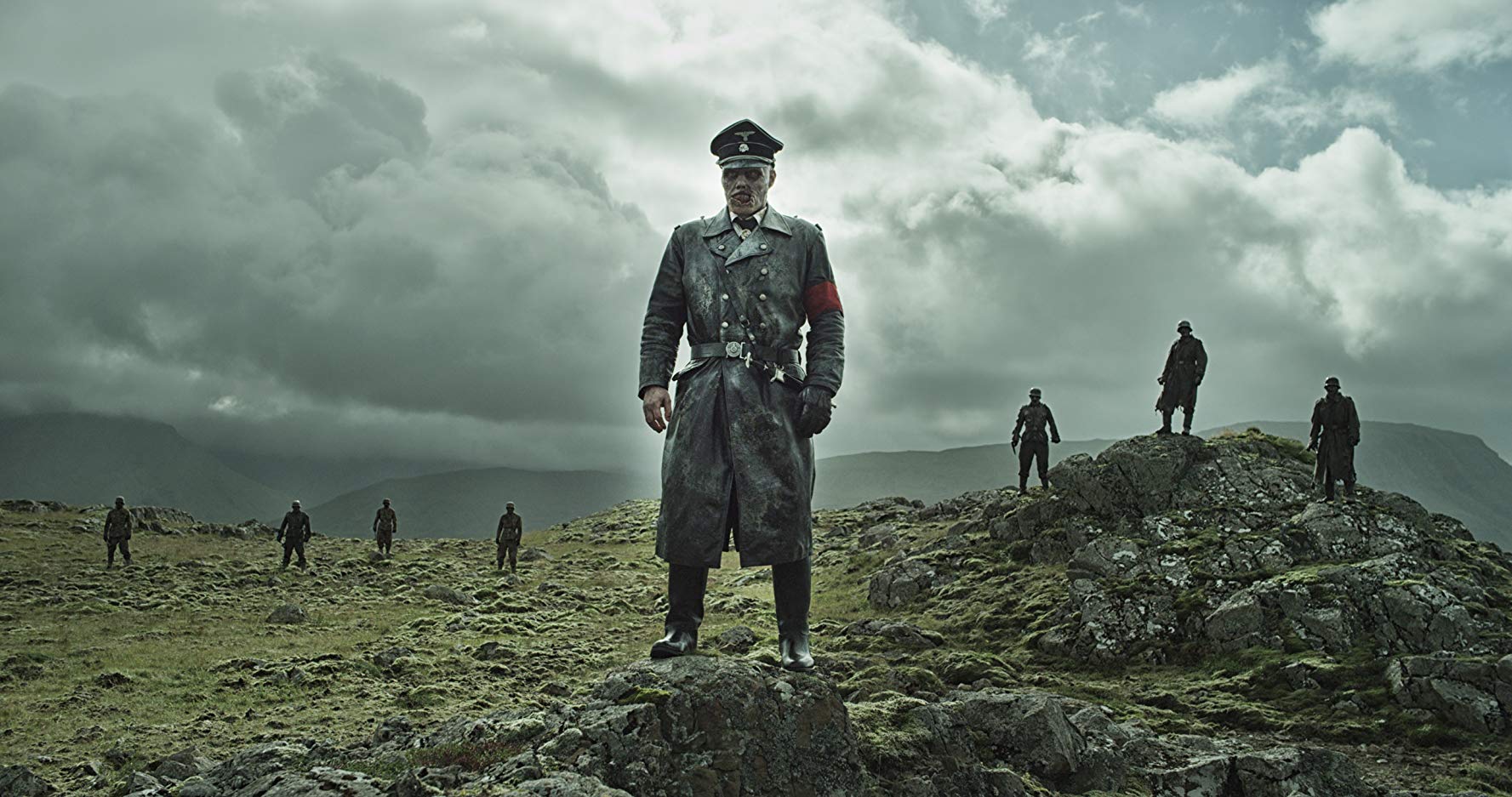 Things become even more ridiculous when Vegar Hoel, the hero who survived the first film, wakes up in hospital and finds the doctors have sewn the commandant's severed arm back on thinking it his lost arm (clearly, an incompetent surgeon who doesn't even notice the difference between necrotic and living tissue before attaching an arm). Vegar Hoel then gets a visit from a young boy (Carl-Magnus Adner) who sees the attached arm – the same attached arm that a surgeon saw fit to surgically reattach – and deduces that it is a zombie arm and sends a picture to a geek group called Zombie Squad who have apparently been sitting around just waiting for evidence of the existence of zombies in order to go into action. Based on a single cellphone picture sent by a young boy, the group decide to fly halfway around the world to combat the zombie threat.
You can see from this that we have a film that makes no effort whatsoever to pay lip service to any basic notions of credibility. Later scenes have Vegar Hoel finding that the commandant's attached arm can raise the dead too but turn them into good guys. The bizarre logic that the film operates on has him resurrecting a troupe of executed Soviets from the World War II era to take on and defeat the Nazi zombies.
All of this demonstrates that Tommy Wirkola has little credible capability as a screenwriter. That said, Dead Snow 2 becomes somewhat more watchable than the first film. For one, it is made with a better budget and more professional polish than its predecessor – the gore and splatter effects are particularly well accomplished. The film does get some amusement out of its genre in-jokes. Wirkola doesn't spend the film referencing other zombie and horror films this time. When Vegar Hoel receives his Nazi arm and it starts demonstrating a life of its own, the film seems to be heading in the direction of quoting The Evil Dead II (1987), although this surprisingly turns out not to be the case. There is however the trio of nerds known as Zombie Squad who are constantly making fannish in-jokes, in particular the character played by Joceyln DeBoer who seems to find a way to respond to everything that happens with a Star Wars quote or analogy, which leads to some amusing jokes comparing the Norway they arrive in to Hoth from The Empire Strikes Back (1980), where the ice planet scenes were shot.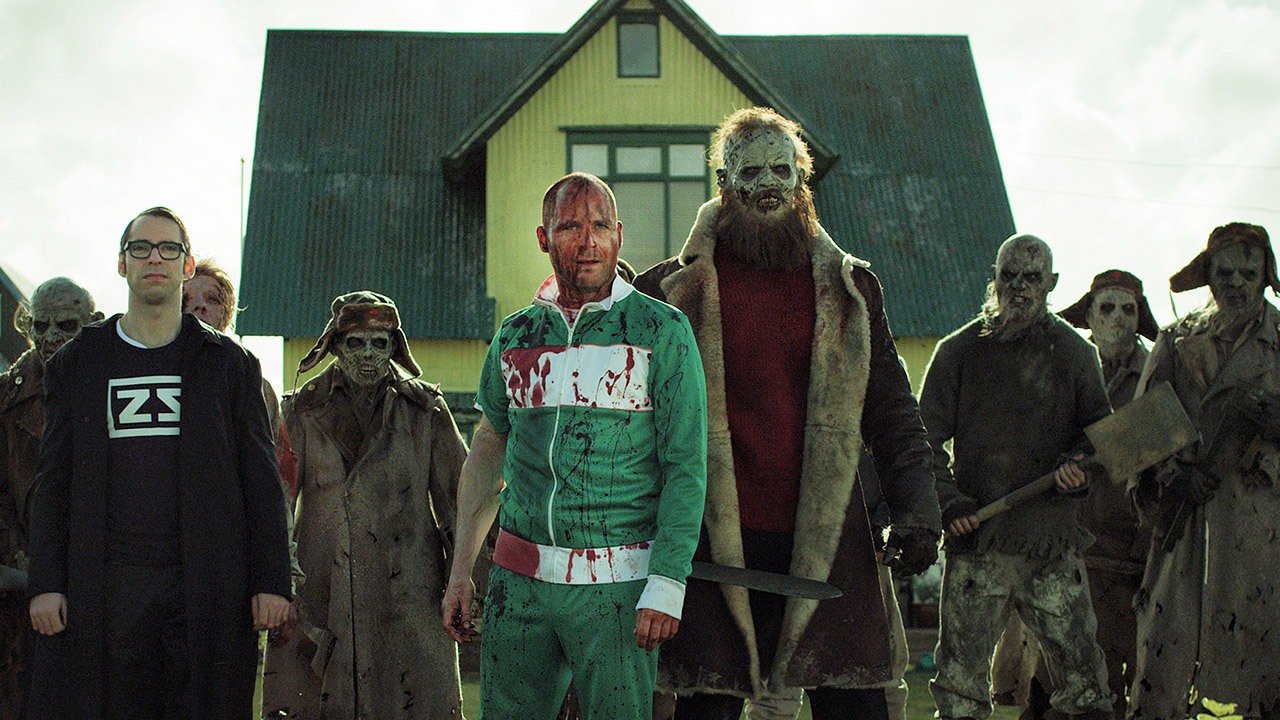 Expectedly, Tommy Wirkola has a field day with the splatter effects. There is the outrageously entertaining scene where the Nazi zombies tear apart a victim and then use their unravelled intestines to siphon fuel across the courtyard from a bus to get their tank running. There is an equal degree of blackly sarcastic humour to scenes – a woman fleeing in a wheelchair topples over and gets her head stomped by zombies; two women fleeing with children in prams are blown up by a shell; after the car is stalled in a snowdrift, the zombie sidekick (Kristoffer Joner) is shoved under the wheels to provide traction.
Tommy Wirkola reserves his entertaining best for the blood-soaked showdown between Nazi and Soviet zombies, which comes with absurdly cartoonish images such as the zombie doctor returning downed combatants to the fray by stuffing their spilt innards with straw and replacing severed legs with toilet plungers, or where zombies are killed by their intestines being flung up over a power line and they then fried to death.
(Nominee for Best Makeup Effects at this site's Best of 2014 Awards).
---
---