(La Femme du Veme)
---
Crew
Director/Screenplay – Pawel Pawlikowski, Based on the Novel by Douglas Kennedy, Producers – Caroline Benjo & Carole Scotta, Photography – Ryszard Lenczewski, Music – Max De Wardener, Visual Effects – Mikros Image (Supervisor – Cedric Fayolle), Makeup Effects – Alexis Kinebanyan, Production Design – Benoit Berouh. Production Company – Haut et Court/Film4/SPI International Poland/The Bureau/UK Film Council/Canal +/Orange Cinema Series/Haut et Court Distribution/Artificial Eye/Memento Films International/Colicup/Backup Films/La Banque Postale Image 4/Sofecinema 6.
Cast
Ethan Hawke (Professor Tom Ricks), Kristin Scott Thomas (Margit Kadar), Joanna Kulig (Ania), Samir Guesmi (Sezer), Delphine Chuillot (Nathalie), Julie Papillon (Chloe Ricks), Geoffrey Carey (Laurent), Mamadou Minte (Omar), Wilfred Benaiche (Lieutenant Coutard)
---
Plot
American English professor and novelist Tom Ricks arrives in Paris. He and his French wife Nathalie have separated and she refuses to let him in to see their young daughter Chloe. Tom falls asleep on a bus and awakes to find that his bags have been stolen. He begs help in a cafe and is given a tiny room upstairs by the owner Sezer, as well as a job as a watchman. Invited to a literary party, Tom meets the elegant and mysterious Margit Kadar. She leaves him her number to call. He does and she draws him into a passionate affair. At the same time, Tom becomes involved with Ania, the young waitress in the cafe downstairs. Tom's neighbour acts threateningly but Tom then finds his murdered body. During the police investigation, Tom claims his alibi was that he was with Margit. He is baffled when they then insist that nobody has lived at her address for fifteen years.
---
The Woman in the Fifth is from director Pawel Pawlikowski. Pawlikowski is a Polish emigre who first began making documentaries in the UK. Pawlikowski moved into fictional film in the late 1990s and his films have gained a reasonable name, including the likes of The Stringer (1998), Last Resort (2000), My Summer of Love (2004) and the subsequent Ida (2013) and Cold War (2018) – all of which are non-genre. The Woman in the Fifth was his most high profile film to date. The film is adapted from a 2007 novel by American writer Douglas Kennedy.
The Woman in the Fifth comes with impeccable arthouse credentials. Pawel Pawlikowski has inveigled Ethan Hawke to play the leading role. Not only that, Hawke manages to deliver most of his performance in French (as well as brings peculiar real-life associations in that he too has had an intermittent career as a novelist). There is also Kristin Scott Thomas in the role of the alluring mystery woman. Elegance and the height of sophistication is something that Kristin Scott Thomas does simply by turning up and it is a surprise that she has never done a femme fatale role like this before.
Pawel Pawlikowski directs with distinctive European stylism. Much is made of the Parisian locations – the old-style apartment buildings, the streets, cafes, the metro buzzing in the background. The film's very subject matter – a foreigner living in Paris, a strange apartment and its neighbours, the protagonist's obsession with a woman who comes to take over the man's life and becomes an alter ego inside his head, not to mention a Polish emigre director shooting in France – reminds of Roman Polanski and his deeply strange venture into sinister apartments with The Tenant (1976).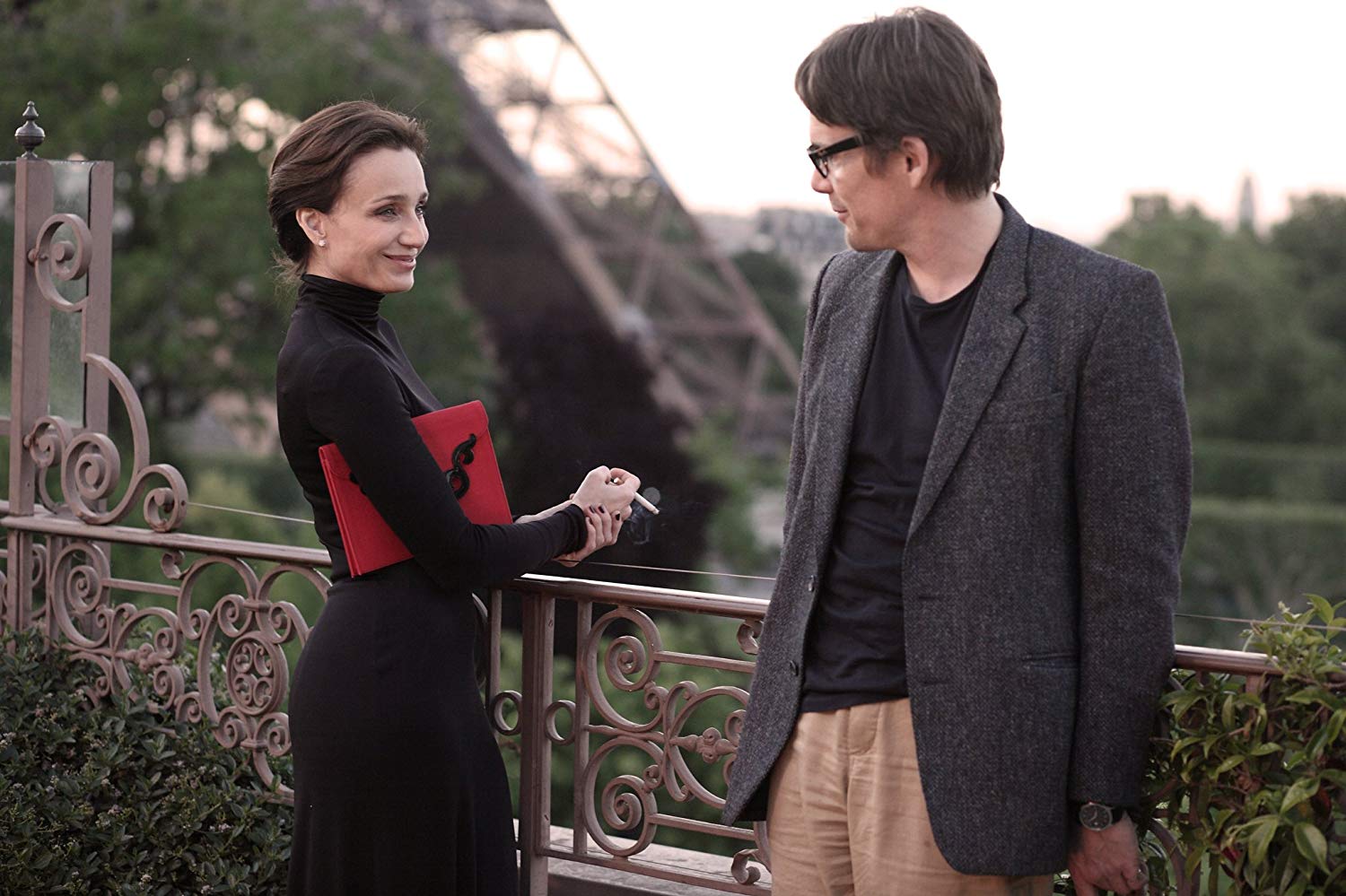 Pawlikowski never aims for the intense paranoia that Polanski conjured, just a cool detachment. There is an oblique aloofness to the film – the mystery job that Ethan Hawke is given involving giving codes to arrivees and letting them through to other locked rooms where we are never told what is happening holds something undeniably Kafka-esque. The film is slow and all concentrated on mood – in tone, it is very European and quite different to the commercial release it has been given in the US.
I enjoyed Pawel Pawlikowski's establishment of mood and building mystery. Where I felt disappointed with The Woman in the Fifth was when it actually entered into genre territory. Pawlikowski has stated in interviews about how the film exists in a place where the narrator's observation is unreliable. Maybe. Contrarily, I felt that the main twist revelation that it offers up was one that had been done before by a great many other genre films, usually of the horror variety. [PLOT SPOILERS]. Here we learn that Kristin Scott Thomas only exists inside Ethan Hawke's head. The exact cause of him imagining her existence is something we can only speculate about – alienation in a foreign city, the estrangement from his daughter.
You get the feeling that The Woman in the Fifth wants to burst out into being a horror film but considers such a label beneath itself. Certainly, it finishes about the point where a horror film would only be just warming up – it leaves everything at one murder and the probable abduction and abandonment of the daughter (the latter in particular being dealt with in such an indirect way that we are uncertain what happened). A great many other films like Fight Club (1999), High Tension (2003), Identity (2003), A Tale of Two Sisters (2003), Secret Window (2004), Martyrs (2008), Pandorum (2009), The Uninvited (2009) and Silent House (2011) have pulled this kind of twist in recent years. The big twist revelation no longer feels like an original surprise anymore, nor one that The Woman in the Fifth takes in any sufficiently interesting directions.
---