---
Crew
Director – Carl Reiner, Screenplay – Larry Gelbart, Based on the Novel by Avery Corman, Producer – Jerry Weintraub, Photography – Victor J. Kemper, Music – Jack Elliott, Art Direction – Jack Senter. Production Company – Warner Brothers.
Cast
John Denver (Jerry Landers), George Burns (God), Teri Garr (Bobbie Landers), Paul Sorvino (Reverend Willy Williams), William Daniels (Mr Summers)
---
Plot
Supermarket manager Jerry Landers receives a letter in the mail asking him to come to an interview with God. God, a bespectacled old man in windcheater, plaid shirt and fishing cap, tells Jerry that He wishes him to preach His message to the world – that people should get together to solve the world's problems. However, Jerry's attempts to communicate this message are not very successful – he is ridiculed by the media, mobbed by cranks and fired from his job. God then tells Jerry to tell charismatic preacher Reverend Willy Williams that he is a fraud. When Williams responds by suing Jerry, Jerry's only recourse is to call God to the stand as a witness in court.
---
Oh, God! was a modest comedy hit of the 1970s. It was perhaps construed as an attempt to give equal time to the other side after the considerable success The Devil had had at the box-office throughout the decade with the likes of Rosemary's Baby (1968), The Exorcist (1973) and The Omen (1976).
Oh, God! is an oddly anachronistic film – one hesitates to use the word satire. It really belongs more in the heyday of the light fantasy in the 1940s. It is an amiable, well-turned fantasy, although equally an easy and uncontroversial one. The God shown here is the decidedly ecumenicised God of the humanist movement rather than the Baptist movement – there is pointedly no mention of Devil, hellfire or sin throughout. In fact, in the film's most controversial standing, the evils of the piece are actually seen as being the charismatic religious movement.
George Burns makes for a gently, charming God – his most impressive miracle is a series of card tricks and he dismisses all the rest as Hollywood special effects, and as an article for faith to convince Jerry, he only creates a rainstorm inside his car so as not to spoil everyone else's day. It is a gentle and rather easy religious vision that, for all it's being mounted as a satire, has nothing particularly challenging to say about religion and only takes aim at a fairly innocuous target.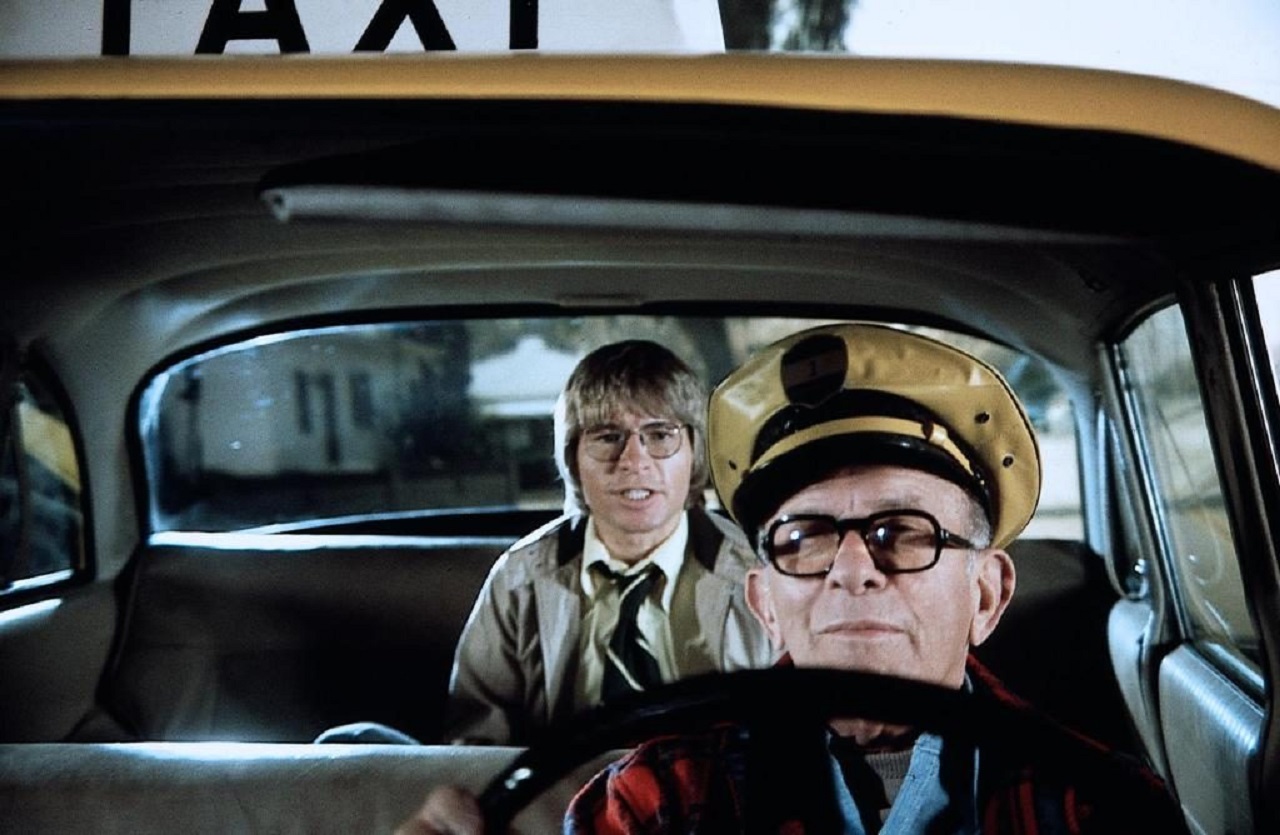 While John Denver's All-American boy/man persona suits the film, his nervously whiny, stammering performance does not and remains the film's singular pill of discontent. Teri Garr is cast in the same role of the longsuffering wife doubting her husband's fantastical encounter that she also underwent in the same year's Close Encounters of the Third Kind (1977) and plays appealingly.
The film was written by Larry Gelbart, the well-known comedy writer and creator of tv's M.A.S.H. (1972-1983) and author of the play A Funny Thing Happened on the Way to the Forum (1963). It was directed by former comic Carl Reiner, who had a long history as a writer, producer and performer in comedy variety shows going back to the 1950s. To more modern audiences, he is better known as the father of Rob Reiner and for the role of Saul Bloom in the Ocean's Eleven films. Reiner subsequently went onto direct a series of collaborations with Steve Martin – The Jerk (1982), Dead Men Don't Wear Plaid (1982), The Man with Two Brains (1983) and All Of Me (1984). He also ventured into genre material with the psycho-thriller spoof Fatal Instinct (1993).
There were two lame sequels, both featuring George Burns, Oh God Book II (1980) and Oh God, You Devil (1984).
---
---