---
Crew
Director – Rob Reiner, Screenplay/Based on the Novel by William Goldman, Producers – Rob Reiner & Andrew Scheinman, Photography – Adrian Biddle, Music – Mark Knopfler, Special Effects – Nick Allder, Production Design – Norman Garwood. Production Company – Act III Communications.
Cast
Cary Elwes (Westley), Robin Wright (Buttercup), Mandy Patinkin (Inigo Montoya), Chris Sarandon (Prince Humperdinck), Christopher Guest (Count Rugen), Andre the Giant (Fezzik), Wallace Shawn (Vizzini), Billy Crystal (Miracle Max), Carol Kane (Valerie), Peter Falk (The Grandfather), Fred Savage (The Boy), Peter Cook (Clergyman), Mel Smith (Albino)
---
Plot
A grandfather reads a fairytale to his grandson who is sick in bed. In the story, the farmboy Westley professes love for his mistress, the Lady Buttercup, but soon afterwards disappears. She mourns for five years but then agrees to marry the prince regent Humperdinck, although does not love him. Just before the marriage, she is kidnapped by opportunistic rogues but is saved by the infamous pirate Roberts who then reveals himself to be Westley. They ecstatically reunite but are then captured by Humperdinck. Humperdinck agrees to Buttercup to release Westley but instead puts him to the torture and continues with his plans to marry her. What Buttercup does not know is that Humperdinck is secretly planning to kill her on the wedding night so as to find an excuse to declare war on the neighbouring kingdom.
---
Nowadays, Rob Reiner is one of the top mainstream filmmakers in Hollywood with films like When Harry Met Sally (1989), A Few Good Men (1992) and The American President (1996). Reiner is the son of famous comic and sometimes director Carl Reiner. Reiner first came to notice as an actor whose most notable part was playing Archie Bunker's son Meathead in tv's All in the Family (1971-8). Reiner made his directorial debut with the witty rock spoof This is Spinal Tap (1984) and followed that with the excellent teen film The Sure Thing (1985) and then the superb childhood nostalgia film Stand By Me (1986), based on a Stephen King novella, which still remains his best film. The Princess Bride was Rob Reiner's fourth film.
The Princess Bride is adapted from a 1973 novel by William Goldman. Goldman was one of the great Hollywood screenwriters, having authored films such as Butch Cassidy and the Sundance Kid (1969), All the President's Men (1976) and Marathon Man (1976) and a number of genre contributions that are listed below. Goldman wrote the original novel as a meta-fictional parody of the fairy-tale – the story was one that had been told to the fictitious J. Morgenstern in his childhood and was now being edited and only the 'good bits' kept by Goldman. In the film, this becomes a framing device where grandfather Peter Falk is reading the story to his grandson Fred Savage while he is ill, which allows various meta-fictional interruptions and comments upon the cliches at suitable intervals.
The result is a highly entertaining film. Rob Reiner and William Goldman manage to both have their cake and eat it too in slyly mocking the cliches and ever after sentiments, while at the same time believing in the true love adages to winning effect. Reiner has set out to create one of the ultimate screen sword duels and shows off, offering up some of the most dazzlingly over-the-top swashbuckling since the heyday of Errol Flynn.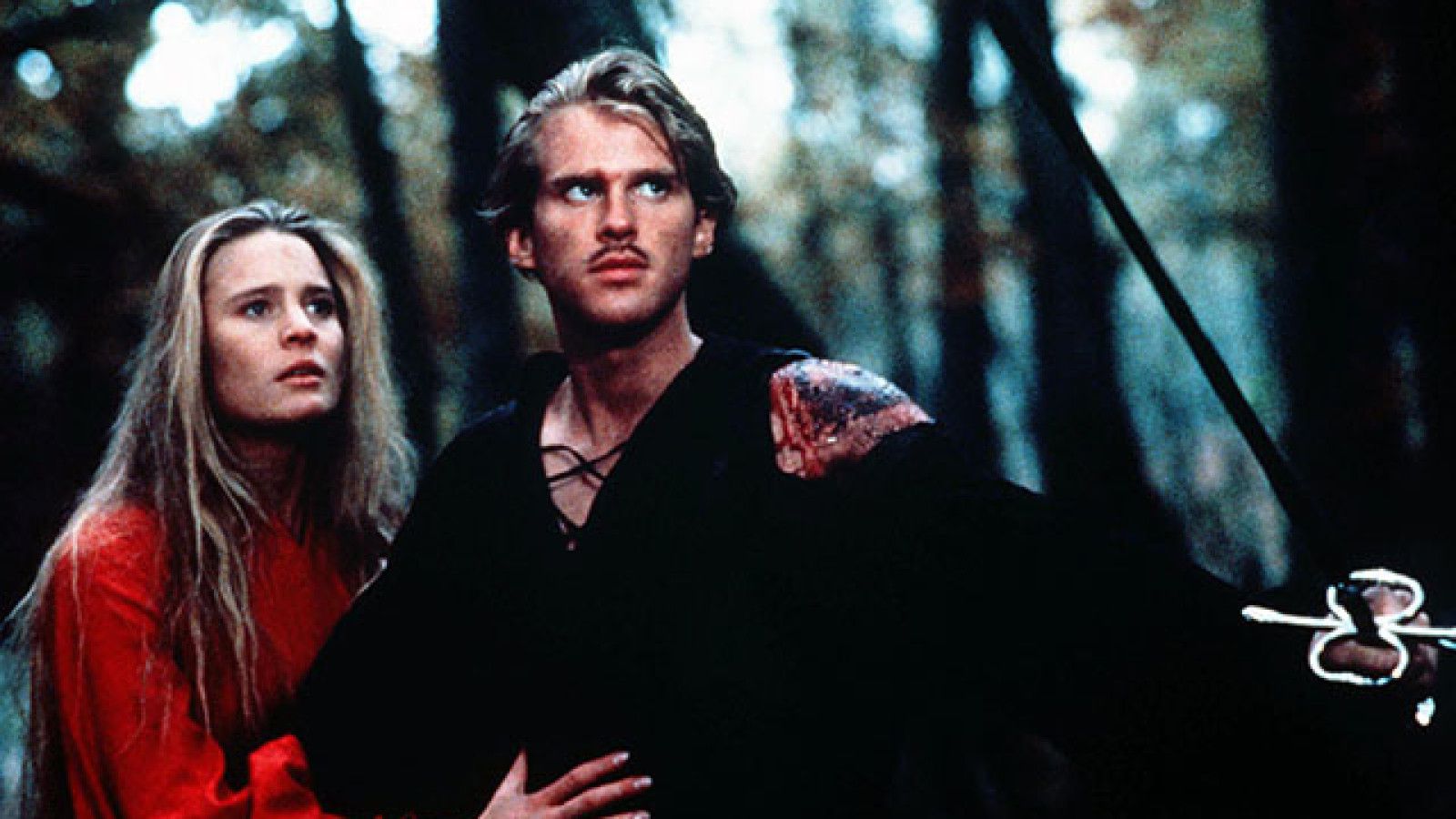 Equally, William Goldman's dialogue spars and thrusts with flamboyant regard – the bantering between Cary Elwes and Mandy Patinkin during their sword duel and especially the game played between Elwes and Wallace Shawn of outguessing which is the poison goblet is sublime. The Princess Bride, by managing to straddle a delicate line between both parodying and taking seriously the romantic sentiment of the fairytale, works enormously well. There is a wonderfully ebullient joy to it all – I don't know a single person who has ever managed to not enjoy The Princess Bride.
The casting is superb. Cary Elwes has a wonderfully courteous, handsome and perfectly elocuted presence and a perfectly droll line in understatement – while Elwes has remained consistently employed since the film, it is a mystery why he did not go onto become a major sex symbol as a result of The Princess Bride. Opposite him is Robin Wright who is good but a little quiet and never fully fills the role with the larger-than-life romantic beauty the film clearly aims for.
The scene-stealer of the show is Mandy Patinkin as the flamboyant Spanish swordsman Montoya – Patinkin has never been better or appeared to have had more fun on screen than he has here. Credit also must be given to Wallace Shawn who plays with canny affability as a bandit and former wrestler, the late Andre the Giant, who has immense likeability, even if total unintelligibility.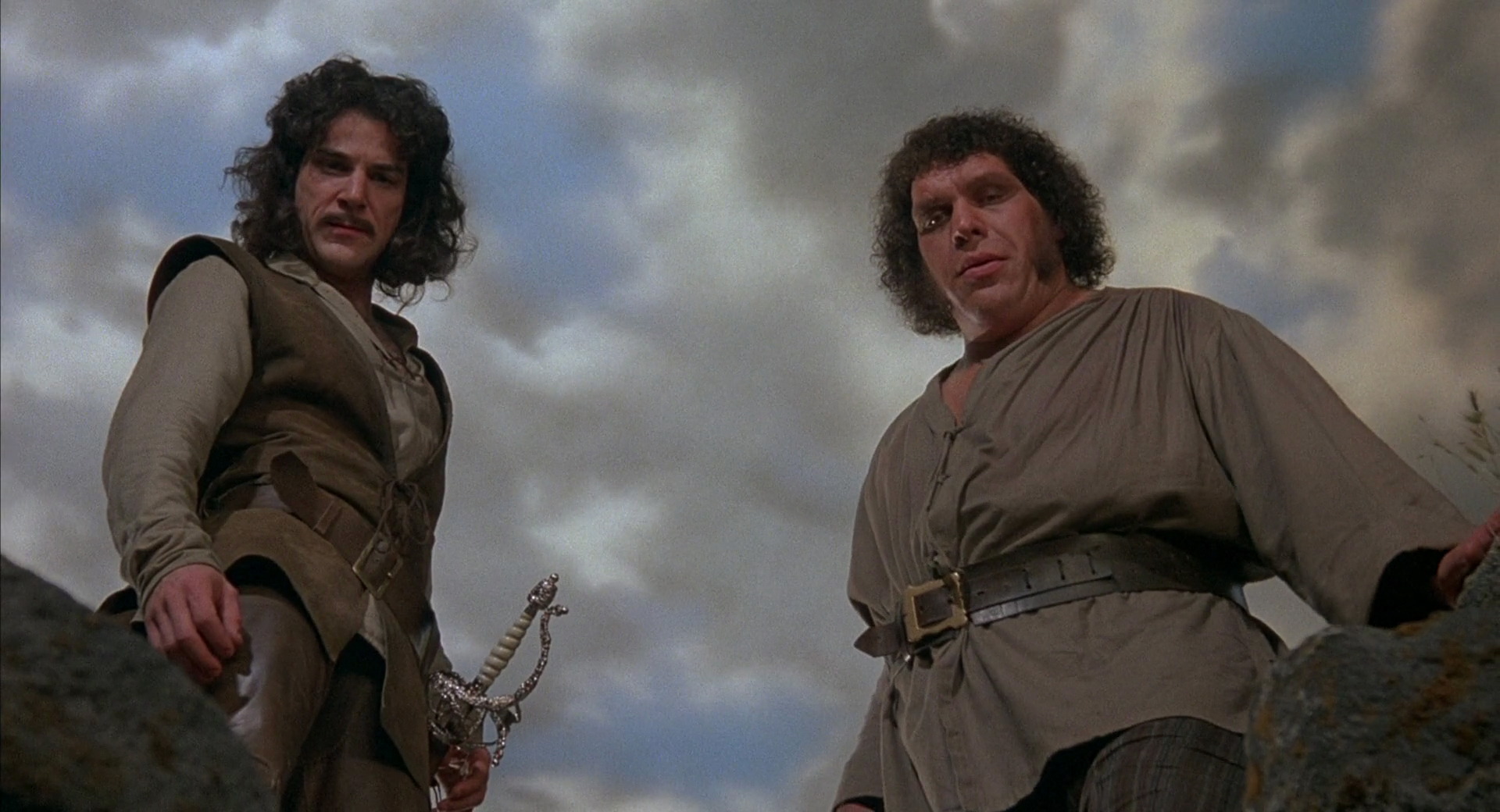 If The Princess Bride has any faults, it is in the flatness of both its fantasy and milieu – in Rob Reiner's failing to use other than the most mundane of scenery or sets. While the film is a fairytale, it is one where Rob Reiner does not appear interested in any elements of the fantastique. The ROUSs are unconvincing and the scenes with the magician are entirely upstaged by Billy Crystal's incongruously out-of-place Jewish schtick. The film also remains (perhaps deliberately) confused in its time period – one gets reference to Australia and convicts (which puts it at least into the late 18th Century) and there is an Anglican service, yet gunpowder and firearms are not yet in use.
Rob Reiner's other genre films are the Stephen King adaptation Misery (1990) about a writer imprisoned by a psychopathic fan, and the absurdist children's fable North (1994). Reiner's production company Castle Rock (itself named after a town in Stephen King's novels) has become a major Hollywood production company and has produced several King adaptations including Misery, Needful Things (1993), The Shawshank Redemption (1994), Dolores Claiborne (1995), The Green Mile (1999), Hearts in Atlantis (2001) and Dreamcatcher (2003), and other genre efforts such as the remake of Lord of the Flies (1990), the cryogenic sleeper film Late for Dinner (1991), the lame time travel comedy The Spirit of 76 (1991) from Rob Reiner's son, Mel Brooks' spoof Dracula: Dead and Loving It (1995), Kenneth Branagh's Hamlet (1996), Lost Souls (2000), Eddie Murphy's sf flop The Adventures of Pluto Nash (2002), the Sandra Bullock psycho-thriller Murder By Numbers (2002) and The Polar Express (2004).
William Goldman wrote a surprising number of other genre films, including the adaptation of Ira Levin's The Stepford Wives (1975), Magic (1978) about a malevolent ventriloquist's dummy (also from his own novel), the adaptation of Rob Reiner's Misery (1990), John Carpenter's Memoirs of an Invisible Man (1992), and two further Stephen King adaptations for Castle Rock with Hearts in Atlantis (2001) and Dreamcatcher (2003). The serial killer comedy No Way to Treat a Lady (1968) was also adapted from William Goldman's book.
---
---