USA. 2017.
Crew
Director – Kelly Asbury, Screenplay – Stacey Harman & Pamela Ribon, Producers – Mary Ellen Bauder Andrews & Jordan Kerner, Music – Christopher Lennertz, Animation – Sony Pictures Imageworks Canada Inc. & Sony Pictures Imageworks Inc., Senior Animation Supervisor – Alan Hawkins, Visual Effects Supervisor – Michael Ford, Production Design – Noelle Triaureau. Production Company – Sony Pictures Animation/The Kerner Entertainment Company.
Voices
Demi Lovato (Smurfette), Rainn Wilson (Gargamel), Danny Pudi (Brainy Smurf), Joe Manganiello (Hefty Smurf), Jack McBrayer (Clumsy Smurf), Mandy Patinkin (Papa Smurf), Michelle Rodriguez (Smurfstorm), Ellie Kemper (Smurfblossom), Julia Roberts (Smurfwillow), Ariel Winter (Smurflily), Dee Bradley Baker (Monty), Frank Welker (Azrael), Bret Marnell (Snappy Bug/Handy Smurf), Kelly Asbury (Nosey Smurf), Jake Johnson (Grouchy Smurf), Gabriel Iglesias (Jokey Smurf)
---
Plot
While all the other Smurfs have names that are defined by a particular characteristic, Smurfette is feeling left out because she does not know what her characteristic is. When one of Brainy Smurf's experiments goes wrong, Smurfette is flung through the woods. She sees another Smurf hiding in the foliage but they flee leaving only a hat. Smurfette is then captured by Gargamel who becomes curious about the hat. Using his magic cauldron, Gargamel determines it comes from a previously unknown village of Smurfs on the other side of the Forbidden Forest. He and his minions set out to find the lost village. The other Smurfs rescue Smurfette and then set out, determined to get to the lost village before Gargamel and warn the other Smurfs.
---
Created by the Belgian cartoonist Pierre Culliford who went by the name of Peyo, the small, cute blue-skinned Smurfs first appeared in 1958 in the comic-strip Johan et Pirlouit (Johan and Peewit) (1952-67) but were greeted with such popularity that they gained their own comic-strip in 1959. Their popularity grew until they were translated into multiple languages and sold much spinoff merchandise, including toys. There had previously been an animated film with Smurfs and the Magic Flute (1976) but most of the world became familiar with them with through the Hanna-Barbera animated tv series The Smurfs (1981-90), which caused the Smurf phenomenon to go worldwide. In recent years, the Smurf phenomenon underwent a revival with The Smurfs (2011), a live-action film from Sony Pictures Animation combining actors with CGI animated Smurfs. This was innocuous enough but when most of the same personnel recombined for a second outing, the result was the inane The Smurfs 2 (2013).
For this third Smurfs film, Sony Pictures have decided to dispense with the live-action element and have simply made a wholly CGI animated film. Which makes a certain sense – animation rather than in live-action is the medium where The Smurfs feel more at home. Raja Gosnell, who directed the two live-action Smurfs films, is back in an Executive Producer capacity. The director's chair has been handed over to Kelly Asbury who was co-director of DreamWorks' Spirit: Stallion of the Cimarron (2002) and Shrek 2 (2004), before becoming a solo director with the independently-made Gnomeo & Juliet (2011) and UglyDolls (2019).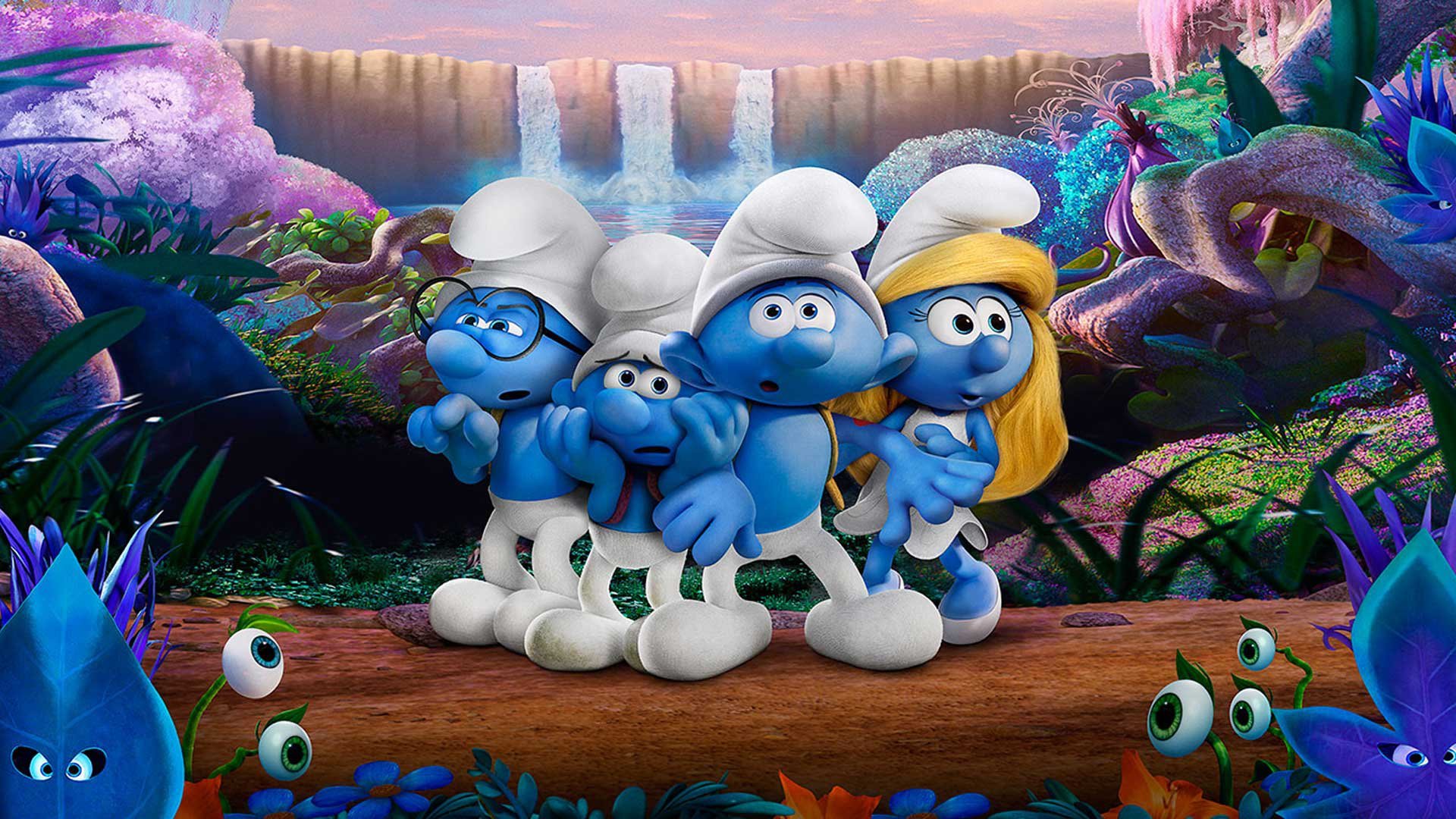 As such, Kelly Asbury gets the Smurfs in all their inane, annoying glory down pat. There is much in the way of pratfoolery and silliness around the Smurf village and all the regular elements with 'Smurf' being used as a catch-all adjective. There is not too much in the way of the modern pop culture one-liners and in-joking that has wrecked films like the recent Trolls (2016). We do get several okay pop songs and a few other dance numbers, which are give or take depending on one's taste.
Given that the script is written by two women, the focus is now on Smurfette as the central character and her feelings of being left out as the only girl and non-naturally created Smurf, as well as the discovery of an all-girl Smurf village. (Give the disparity of sexes and that either village seems to not mind living in single sex seclusion oblivious to the other, this does lend to some interesting speculation about how Smurf gender roles and sex works. You would assume they are sexless but the ending montage shows two of them kissing, which suggests such may not be the case).
Once the film has the Smurfs set out on their quest through the Forbidden Forest to find the Lost Village, it becomes considerably less interesting. The journey has been construed as nothing more than a series of colourful set-pieces where the Smurfs variously get molested by plants that kiss, swallow and start fistfights with them; get lost in a mine and encounter a horde of Glowbunnies and tame one of them; and ride the rapids of a river that flows through mid-air. These sequences are designed for maximum colour and 3-D eye candy appeal intended to give a kinetic rush to the moppet audiences but not a whole lot more than that. Beyond these things and a happy, positive upbeat ending that negates a tragic sacrifice simply because someone is a good person, the film is no more than the visual equivalent of candyfloss.
---
---