(Lola Rennt)
---
Crew
Director/Screenplay – Tom Tykwer, Producer – Stefan Arndt, Photography – Frank Griebe, Music – Tom Tykwer, Reinhold Heil & Johnny Klimek, Production Design – Alexander Manasse. Production Company – X Film Creative Poole/Arte/Bavaria Film/Westdeutscher Rundfunk
Cast
Franka Potente (Lola), Moritz Bleibtreu (Manni), Herbert Knaup (Lola's Father), Nina Petri (Jutta Hansen)
---
Plot
Lola receives a panicky phone call from her boyfriend Manni. Manni has to pay 100,000 marks from a drug deal to a gangster by midday or else he will be killed – however, Manni has accidentally left the money behind in a bag on the train and it has been taken by a homeless person. He has twenty minutes to find some other means of getting the money – if he cannot in that time, he intends rob a supermarket at gunpoint. Lola runs across town to her banker father's office to borrow the money. However, she finds her father with another woman and he throws her out. She tries to stop Manni robbing the store, only to be shot by police. As she lies dying, Lola realizes events do not have to happen that way and reruns alternate versions of the same events, seeking a better outcome.
---
Run Lola Run is another entry in the burgeoning mini-genre of alternate timelines stories that popped up in the late 1990s. It follows the likes of Smoking/No Smoking (1993), the Hong Kong gangster film Too Many Ways to Be No. 1 (1997) and came out at the same time as a host of women's films on the same subject – Sliding Doors (1998), the tv movie Twice Upon a Time (1998), Twice Upon a Yesterday (1998) and Me Myself I (1999), as well as one guy film, the Brazilian Possible Loves (2001). An equal influence could have been the hit of Groundhog Day (1993) and its theme of someone stuck on a loop repeating the same events.
Run Lola Run became a cult hit in Germany and in arthouse release in the West, largely it seems due to its score, which was designed to appeal to the drum-and-bass crowd. Director Tom Tykwer frenetically assaults one with schizophrenic visuals – slick, snaking camerawork, split screen, speeded-up action, rapid-fire zooms, changes of film stock, even witty little animated sequences. It's the anything-goes co-opting of MTV visuals – the opening, for example, is a highly inventive shot that cuts from a quote from a footballer to a football flying up into the air and coming down on a crowd that forms into the film's title. Tom Tykwer also gets much witty mileage out of little freeze-frame montages that flash forward to tell the stories of the various people that Lola bumps into.
That said, Run Lola Run also ends up a slight film. It is more enjoyable overall than the bland Sliding Doors but unfortunately the alternate timelines genre has by now lost its novelty and Run Lola Run fails to do anything substantially different with it. There are some individually amusing sequences such as where Lola takes her father hostage in the second story or where she ends on a winning streak at the casino in the third. However, the film's only real novelty is in spinning the same events out with a series of variations, not unlike one of the Choose Your Own Adventure books.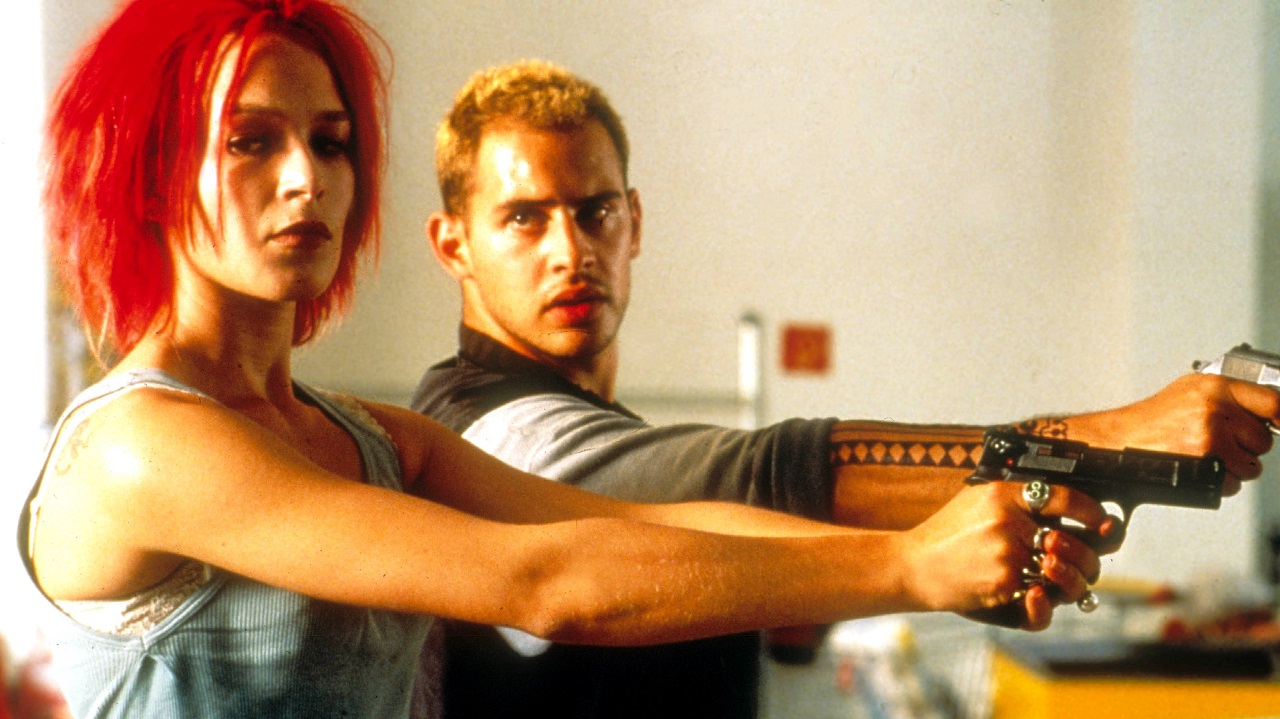 Films like this, when they create stories about wide variations resulting from different choices, need to make it very clear which choices it is that end up affecting different outcomes – alas, in some of Run Lola Run's sequences, it is never clear what it is that brings some of the wildly differing outcomes about. For all its status as a culty, original film, Run Lola Run's only real success is one born of an aggressively busy directorial assault and a niche soundtrack than it substantially is of presenting ideas of originality or depth.
On the basis of Run Lola Run, Tom Tykwer became a celebrated name in arthouse cinema and went onto make The Princess and the Warrior (2000), Heaven (2002) and The International (2009). Tykwer's returned to genre material with Perfume: The Story of a Murderer (2006) about a serial killer who is driven by a hyper-acute sense of smell; Soul Boy (2010) set in the African slums concerning a boy who finds his father has lost his soul in a gambling game; and collaborated with The Wachowskis on the epic cross-historical Cloud Atlas (2012). He also made A Hologram for the King (2016), which sounds like it should be a science-fiction film but isn't.
---
---