---
Germany/Netherlands/USA. 2000.
Crew
Director – Uli Edel, Screenplay – Karey Kirkpatrick & Larry Wilson, Based on the Books by Angela Sommer-Bodenburg, Producer – Richard Claus, Photography – Bernd Heinl, Music – Nigel Clarke & Michael Csanyi-Wills, Visual Effects Supervisor – John Gower, Visual Effects – Digital Renaissance, Cow Effects – Santa Barbara Studios, Special Effects – Die Nefzers (Supervisor – Uli Nefzer), Prosthetic Effects – Crawley Creatures, Production Design – Joseph C. Nemec III. Production Company – Comet Film/Cometstone Productions/New Line Cinema/Avrora Media/Stonewood Communications.
Cast
Jonathan Lipnicki (Tony Thompson), Rollo Weeks (Rudolph Sackville-Bagg), Tommy Hinkley (Bob Thompson), Pamela Gidley (Dottie Thompson), Jim Carter (Rookery), Richard E. Grant (Frederick Sackville-Bagg), Alice Krige (Freda Sackville-Bagg), John Wood (Lord McAshton), Dean Cook (Gregory Sackville-Bagg), Anna Popplewell (Anna Sackville-Bagg), Harry Jones (Caretaker)
---
Plot
Young Tony Thompson has just moved from San Diego to Scotland with his father who is designing a golf course for Lord McAshton. Tony starts to have dreams about vampires. He is made a laughing stock and bullied when he talks about his dreams at school. The young vampire Rudolph then flies into his room and Tony harbours him from the vampire hunter Rookery. A friendship grows between the two, with Tony resolving to help Rudolph and his family find the lost Stone of Attamon that will allow them to become human on the coming night of the comet. Meanwhile, Rookery enlists the resources of Lord McAshton in hunting down Rudolph and his family.
---
The Little Vampire is adapted from a series of popular children's books from German children's author Angela Sommer-Bodenburg. Since 1976, the series has consisted of (so far) twenty-one books. These have been published in thirty languages, although have only been sporadically printed in the US. The books have been twice adapted into a live-action tv series in Germany, in 1986 and 1993. Here the first of the books has been adapted in this German-Dutch-American co-production.
One cannot say they expected a great deal from The Little Vampire. The juvenile vampire is not exactly a promising genre. Such a concept is faced with either de-fanging the vampire in terms of horror a la Grampire/My Grandfather is a Vampire (1992) or making it a spoof a la Mom's Got a Date with a Vampire (2000). Contrary to expectation, The Little Vampire emerges likeably. Its' chief virtue is in constructing the story as one about friendship between a boy and the Other a la E.T. – The Extra-Terrestrial (1982). Jonathan Lipnicki, the cute bespectacled kid from Jerry Maguire (1998) and Stuart Little (1999), is adorable – and well paired with Rollo Weeks as Rudolph.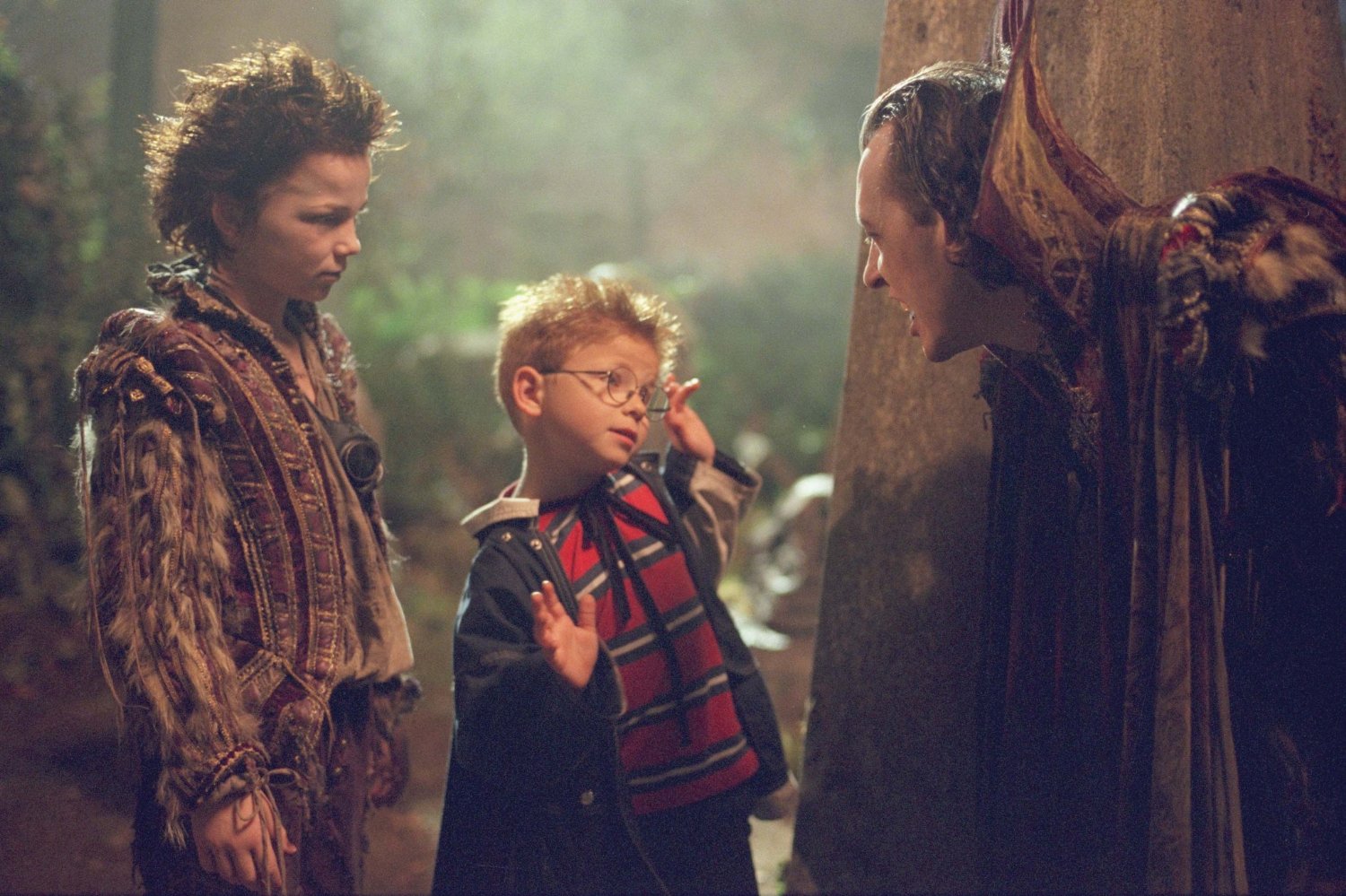 German director Uli Edel has made works as diverse as the powerful drug addiction drama Christiane F (1981), the ultra-trashy Madonna erotic thriller Body of Evidence (1993), various fantasy works for tv with The Mists of Avalon (2001) and The Ring of the Niebelungs (2004), the acclaimed arthouse hit The Baader Meinhof Complex (2008), the tv mini-series biopic Houdini (2014) and the horror film Pay the Ghost (2015). He directs with an appealingly gentle sense of wonder. Especially charming is the film's sense of humour – droll lines like "We must invite Rudolph and his parents over for dinner," "Rudolph's parents would rather have you for dinner," or the scenes getting comeuppance on the two bullies. At its most amusingly surreal, the film offers up visions of flying vampire cows.
The villain of the show does become one-dimensional but it's that sort of film. It does strain credibility to have someone – Rudolph – being three hundred years old and still perceived as a kid (a point that Interview with the Vampire: The Vampire Chronicles (1994) potently addressed). On the whole though, The Little Vampire proves likeable.
Producer Richard Claus and screenwriter Larry Wilson later conducted a remake of the film with the animated The Little Vampire (2017), employing Jim Carter and Alice Krige to voice the same roles they do here, while there was a further animated French-language remake Little Vampire (2020).
---
---