---
Canada. 2010.
Crew
Director/Photography – Carl Bessai, Screenplay – Arne Olsen, Producers – Carl Bessai, Richard de Klerk, Jason James & Irene Nelson, Music – Jeff Danna, Visual Effects – Artifex Studios Ltd (Supervisor – Adam Stern), Special Effects Supervisor – Rob Paller, Production Design – Hank Mann. Production Company – Rampart Films/Raven West Films/Resonance Films.
Cast
Dustin Milligan (Kyle Halsted), Amanda Crew (Sonia Logan), Richard de Klerk (Michael Weeks), Benjamin Ratner (Bob Simpson), Alexia Fast (Charlotte Halsted), Michael Adamthwaite (Tiko Taylor), John Tench (Mr Weeks), Tom Scholte (Sergeant Gerald Tibbs), Manoj Sood (Mr Singh), Michael Kopsa (Mr Greeber), Gabrielle Rose (Peg Halsted), Hrothgar Mathews (Ed Logan)
---
Plot
Kyle, Sonia and Mike are three drug addicts who have become friends as they go through the rehab process. They are granted their first day out in the community but each experiences failure – Kyle tries to see his younger sister but she refuses to talk to him; Mike is harshly rejected when he goes to see his father in jail; and Sonia is unable to bring herself to go and see her dying father in hospital. The next morning all three of them wake up to find everything happening exactly as it was the previous day. They use the opportunity to have fun and then wake in the morning to find the same day has started over again. On subsequent days, this leads to much troublemaking, including vandalism and armed robbery, as they realise there is no consequence for anything they do. They discover that even if they are killed, they still wake up alive again the next morning. When Kyle finds that this means that Mike is taking the opportunity to rape minors and shoot cops, he tries to put a stop to it, only for Mike to come hunting him and Sonia.
---
Repeaters comes from Canadian director Carl Bessai who has gained increasing prominence over the last few years with works such as the horror films Severed (2005) and Embrace of the Vampire (2013) and non-genre efforts such as Unnatural & Accidental (2006), Normal (2007), Mothers & Daughters (2008), Cole (2009), Fathers & Sons (2010) and the subsequent likes of Sisters & Brothers (2011) and No Clue (2013). All of these show Carl Bessai with an increasingly assured commercial hand and an ability to dabble in numerous genres.
Repeaters is essentially a variant on Groundhog Day (1993), which had Bill Murray inexplicably forced to repeat the same day over and over. There were a number of other films that came out repeating Groundhog Day's basic timeloop scenario with the likes of 12:01 (1993), Retroactive (1997), Run Lola Run (1998), Naken (2000), The Last Day of Summer (2007), Source Code (2011), Edge of Tomorrow (2014), ARQ (2016), Before I Fall (2017), Happy Death Day (2017), Naked (2017), Boss Level (2020), Palm Springs (2020) and The Map of Tiny Perfect Things (2021), even two entire tv series with Day Break (2006-7) and Russian Doll (2019- ). For greater detail about Timeloop Films see Timeloop Films.
Repeaters, which has a script from Arne Olsen, the author of Red Scorpion (1989), Power Rangers: The Movie (1995), All Dogs Go to Heaven 2 (1996) and Hybrid (2007), goes through all the basics of the Groundhog Day scenario – the scenes with the protagonists going wild knowing they will face no consequences, their dying yet being resurrected the next day, their frustration at making breakthroughs with people and then having to start from scratch the next day and so on.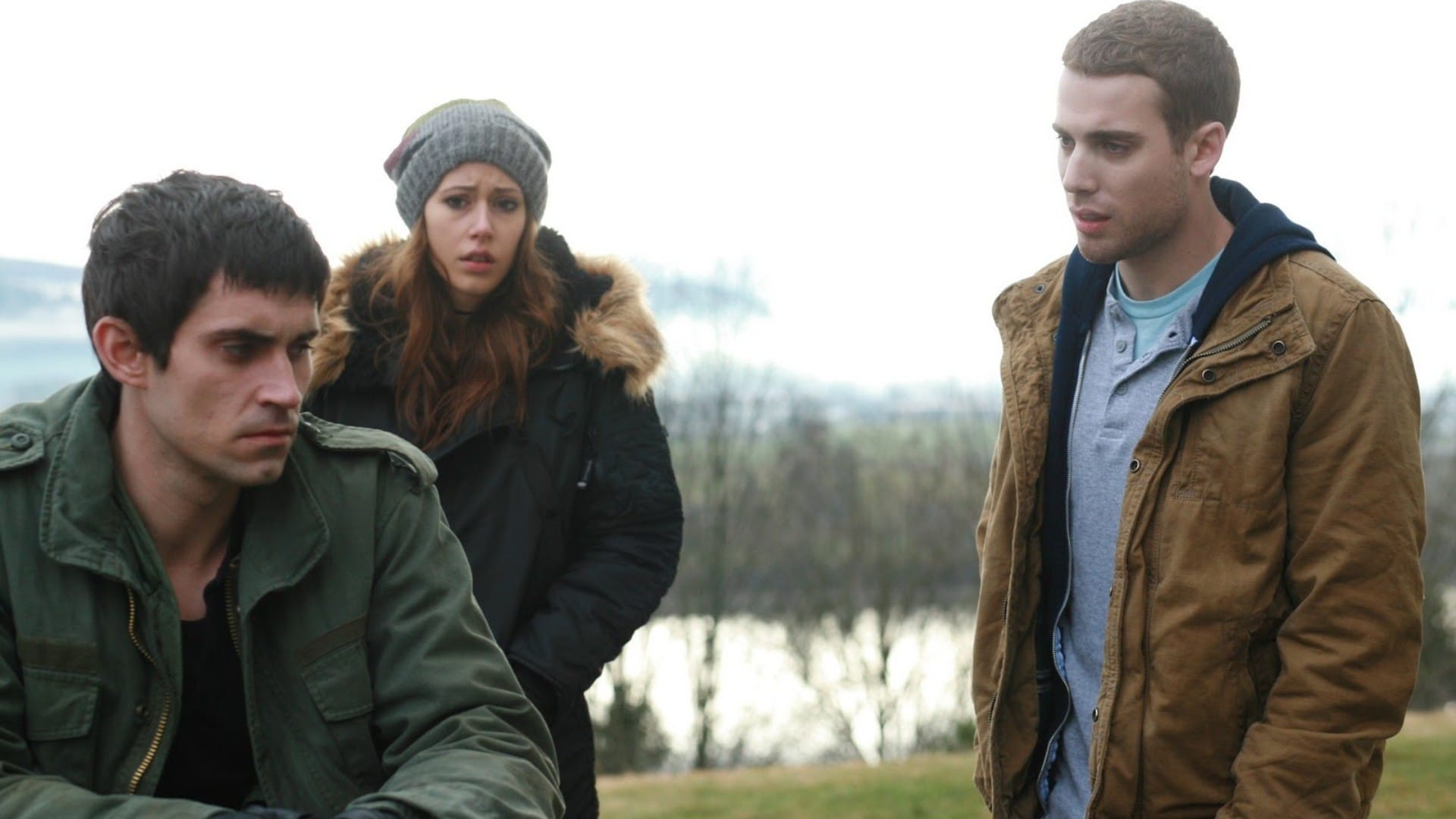 On the other hand, Groundhog Day was a romantic comedy whereas Repeaters takes the scenario into much darker soul-scouring places. Carl Bessai pushes scenes with far more of a pleasingly irresponsible and anarchic edge than Groundhog Day's light romantic comedy approach ever did – scenes of the guys conducting armed robbery, stealing cars, vandalizing houses, forcing drug dealers to eat cowshit at gunpoint and the likes. Moreover, Repeaters gives us not one but three people caught up in the timeloop and throws some novelty into the scenario by creating a hero and a villain and making part of the film be a chase as the two try to eliminate and outsmart each other. Like Groundhog Day, no explanation is offered for what caused the timeloop in the first place – it just ends when the forces that be deem that the good guys have earned their release.
There is a theme throughout Repeaters of redemption, reconciliation and earning the forgiveness of those we have harmed. Carl Bessai, Arne Olsen and the actors drive these points home in ways that are strong and heartfelt. Essentially, the film says that life is filled with choices and is a process of either triumphing over these and owning one's mistakes or surrendering to the dark side. This is something that could be taken from the textbook of the recovery process – it seems certain that someone involved in the film has gone through rehab before. Indeed, it is these scenes that make up the emotional backbone of the film more so than the overly familiar ones about the characters adjusting to the timeloop. The only minor complaint here might be that we never fully understand why Richard de Klerk's character goes off the rails – he does, it feels, more to provide a counterpoint to Dustin Milligan's eventual triumph over his odds than through any motivated reason.
Carl Bessai also shoots the film himself, achieving some frequently beautiful shots. The only complaint is his use of tedious blurred shakycam shots during the action scenes.
---
---