---
Crew
Director – Keith Gordon, Screenplay – Dennis Potter, Based on his TV Mini-Series, Producers – Bruce Davey, Mel Gibson & Steven Haft, Photography – Tom Richmond, Music Supervisor – Ken Weiss, Digital Effects – Whodoo EFX Inc, Special Effects Supervisor – David Peterson, Makeup Effects – Greg Cannom & Keith Vanderlaan, Production Design – Patricia Norris. Production Company – Haft Entertainment/Icon Productions.
Cast
Robert Downey Jr (Dan Dark), Robin Wright Penn (Nicola/Nina/Blonde), Mel Gibson (Dr Gibbon), Jeremy Northam (Mark Binney), Katie Holmes (Nurse Mills), Adrien Brody (First Hood), Jon Polito (Second Hood), Carla Gugino (Betty Dark/Hooker), Alfre Woodard (Chief of Staff), Saul Rubinek (Skin Specialist), Amy Aquino (Nurse Nozhki)
---
Plot
Dan Dark, a writer of cheap detective novels, is hospitalised with an extreme case of psoriasis that has crippled his joints and left his body covered with sores. At the same time, Dan suffers from hallucinations and blurs in and out of daydreams of the gumshoe detective world of one of his novels 'The Singing Detective'. Bitter and misanthropic, he is assigned to psychologist Dr Gibbon. Gibbon tries to analyse a copy of 'The Singing Detective' in terms of Dark's past and his troubled relationship with his mother. At the same time, Dark's estranged wife Nicola comes to visit, asking about his screenplay for 'The Singing Detective' that a film company wants to buy the rights to. Dark suspects that she and her lover, the villainous Mark Binney, who also appears as a character in the detective world and his childhood memories, are trying to steal the screenplay and sell it themselves. In Dark's daydreams, the world of 'The Singing Detective' starts to blur in and out of memories of his childhood and paranoid fears about Nicola.
---
Britain's Dennis Potter (1935-94)is possibly the greatest writer to ever work in the televised medium. Potter wrote classic works like Brimstone and Treacle (1976), Pennies from Heaven (1978), Blue Remembered Hills (1979), Cream in My Coffee (1980), Lipstick on Your Collar (1993), Karaoke (1996) and Cold Lazarus (1996), as well as various films like Pennies from Heaven (1981), Brimstone and Treacle (1982), Dreamchild (1985) and Track 29 (1988).
A substantial part of Dennis Potter's work can be classified as fantasy. A recurrent theme in his work is characters who have dreams in the idiom of musicals and pulp fiction and whose dream lives reflect and are as strong as the real world, or where the dividing line between reality and dream or fiction is frequently in danger of blurring. In Pennies from Heaven and Lipstick on Your Collar, characters weave elaborate daydreams out of 1930s musical numbers; in Dreamchild, the aging Alice Liddell, once the model for Lewis Carroll's Alice in Wonderland, is haunted by the characters from the books; in Blackeyes (1989), the female lead in a trashy pulp novel rebels against the sexist role she is cast in; in Karaoke, the script a tv writer is writing has uncanny parallels in real life; while in Cold Lazarus, residents of the future ransack the same writer's memories as entertainment.
The most brilliant of Dennis Potter's works was the tv mini-series The Singing Detective (1986), which has frequently attracted comments like "one of the greatest works ever produced for the televised medium". The Singing Detective concerns a writer hospitalised with psoriasis (something that Potter himself was) reading one of his old pulp detective novels and how the story comes to reflect and echo the people around him and then delve down into his psychological past and show how it was reflected in the novel. The story was a deeply autobiographical one on Potter's part.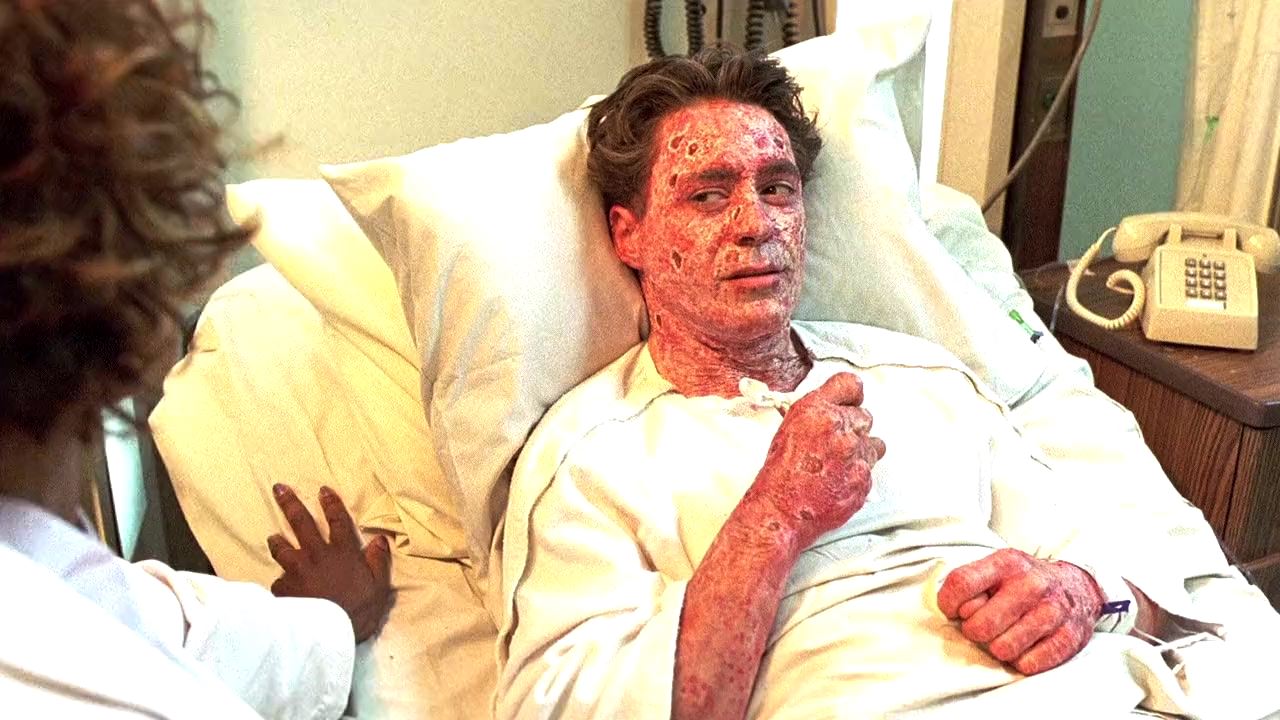 This film version of The Singing Detective comes from a script that Dennis Potter himself authored before his death from cancer in 1994. The script has been kicking around Hollywood for several years, before being taken up by Mel Gibson's Icon Productions and brought to the screen here. The director's chair has been handed over to Keith Gordon. Gordon began in the film industry as a teenage actor and is known to genre audiences for roles as bespectacled teens in films like Dressed to Kill (1980) and Christine (1983). Gordon stepped behind the camera initially with the script for the peculiar (although non-fantastic) Static (1986) about a man who builds a machine that can reputedly see Heaven. Gordon started to direct with films like The Chocolate War (1988) about life in a Catholic boys' boarding school, the war film A Midnight Clear (1992), episodes of the Cyberpunk mini-series Wild Palms (1993), the Kurt Vonnegut adaptation Mother Night (1996) and the almost ghost story Waking the Dead (2000), and subsequent to this various tv work.
It is probably inevitable that the Hollywood film version of The Singing Detective is inferior to the tv original but that fails to prepare one for how disastrously so, despite the fact that Dennis Potter wrote the film version and two of his children co-produce the film. The tv series was groundbreaking in its time – it pushed the envelope in terms of small-screen censorship (it was one of the first tv shows to use the F word), while its extraordinarily ambitious blending of fantasy, pastiche and autobiography was unlike anything the medium had seen before. Sadly, the film version is even more conservative than its original was on the small screen seventeen years earlier – elements like the ejaculation scene with the nurse that were outré in 1986 are replayed by Keith Gordon as a fantasy sequence laden with crude Freudian visual puns.
Moreover, the film reduces Dennis Potter's rich layers of daydream, pastiche and autobiography to merely bursts of random surrealism. Here the detective tale is only a handful of scenes with no narrative thread, whereas in the series they had their own entire story. The mother, the wife and Jeremy Northam's Binney shift and change roles throughout but unlike the original, where you eventually saw that the roles they had in the fantasy had a direct relationship to the author's past and present, it is not clear here what any of the shifting identities mean. The plot here is so murky that it is not even clear at the end whether Robin Wright Penn's wife was conspiring with Jeremy Northam to steal the screenplay or not.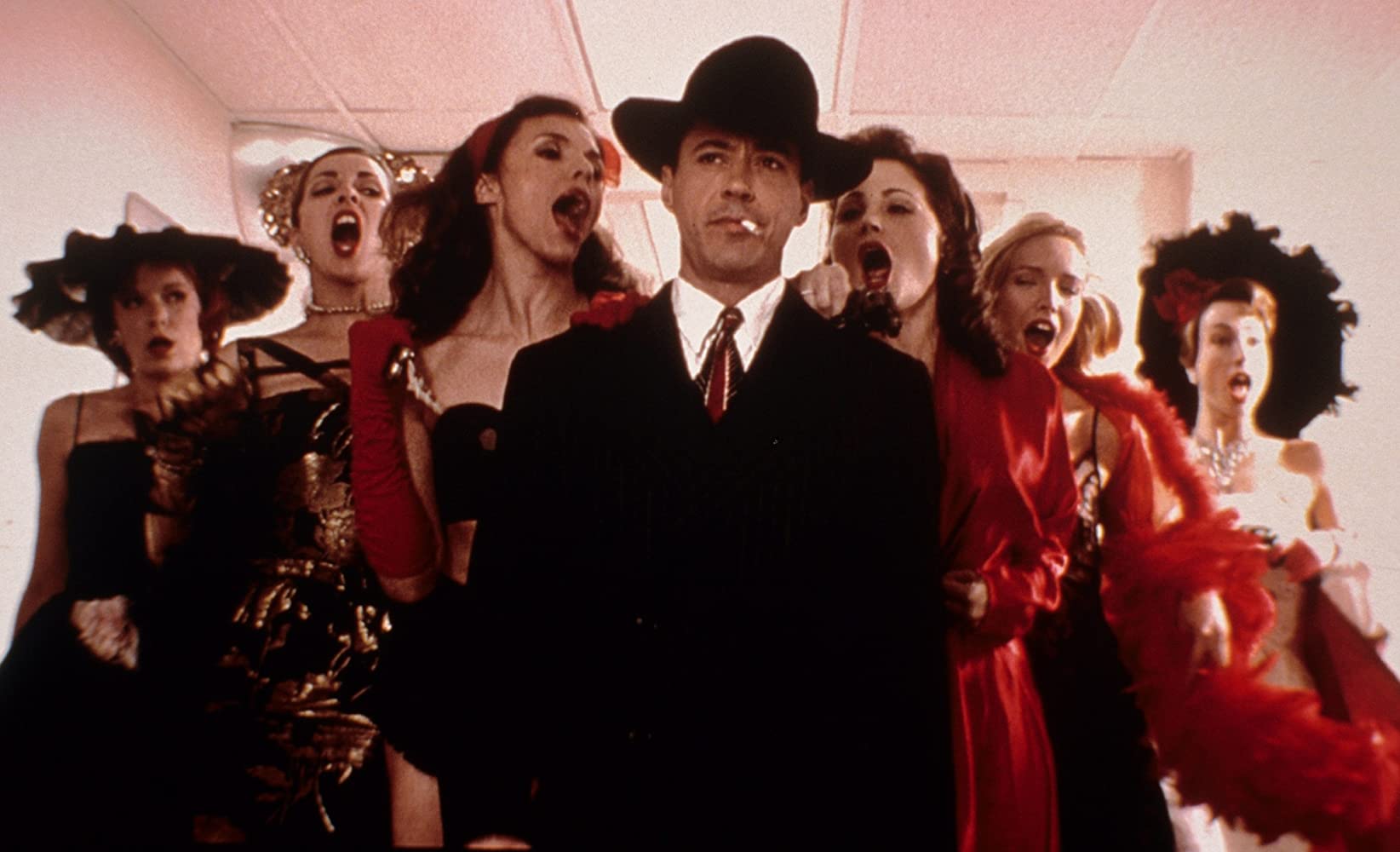 Part of the problem with The Singing Detective is that Keith Gordon, in all his films that I have seen so far, has proven to be a poor director. The climactic scene where the two hoods confront both the imaginary and the hospitalised Robert Downey Jr verges on the laughable. The evocations of film noir milieu look cheap – like a tawdry 1940s detective thriller conducted on a B budget. Robert Downey Jr doesn't make for a convincing worldweary gumshoe – he looks more someone going to a costume party dressed as a 1940s detective and does not seem to naturally fit the suit and fedora.
Moreover, in all the bursts of musical and film noir pastiche, there is rarely ever the sense that any of it means anything. Keith Gordon's greatest crime is that he fails to emotionally engage with the story of unveiling psychological revelation that Dennis Potter was trying to tell. The story feels like it takes place in a vacuum – there is no sense of why Robert Downey Jr is a misanthrope, why he believes his wife is conspiring against him or how the character's buried past relates to anything.
While Robert Downey Jr is passable in the hospitalised role, it often feels more like he is reciting dialogue rather than giving a performance. He seems a world removed from Michael Gambon's masterful performance in the original tv series where Gambon allowed every vitriolic insult to roll off his tongue and gave the impression of genuinely inhabiting the role(s) he was playing. Mel Gibson certainly gives an oddball performance as the psychologist, almost unrecognisable outfitted in Coke bottle glasses and looking for all the world looking like an aging and gone-to-seed Robin Williams. This is one supposes what amounts to character acting for Gibson.
Certainly, Greg Cannom and Keith Vanderlaan do a superlative job in creating Gibson's makeup and in particular the sores that cover Robert Downey Jr from head to foot. However, the crucial failing of The Singing Detective is that it feels more like an initial read-through of the script by the cast and director than it does a finished film – where you are impressed by the occasional technical proficiency of the people on show but rarely by the sense that they have brought anything to life with impassioned feeling.
---
---