---
Crew
Director – Michael Polish, Screenplay/Producers – Mark Polish & Michael Polish, Photography – M. David Mullen, Music – Stewart Matthewman, Visual Effects Supervisor – Dave Emerson, Special Effects – Mike Regan & Gary Tunnicliffe, Production Design – Del Polish & Ihcelle Spitzig. Production Company – Romano-Shane Productions/Departure Entertainment/Prohibition Productions.
Cast
James Woods (Walter O'Brien), Nick Nolte (Father Harlan), Duel Farnes (Irwin), Robin Sachs (Cup of Tea), Anthony Edwards (Happy), Daryl Hannah (Flower Hercules), Ben Foster (Cod), Mark Polish (Willis O'Brien), Peter Coyote (Eddie), Jon Gries (Arnold), Rick Overton (Rudolph), Graham Beckel (Marvin), Joshuin Barker (Matt), Marshall Bell (Mr Stalling), Kyle MacLachlan (Mr Hope), Michelle Hicks (Mrs Hope), Claire Forlani (Mrs Hadfield)
---
Plot
The small Montana town of Northfork is about to be flooded as part of a new dam project. Most of the civilian populace have been relocated. A group of men are hired to persuade those who still remain to leave with each man being promised a prime piece of lakeside real estate if they manage to move sixty-five people each. The men go from house to house, offering each family a pair of authentic angel wings if they go. Meanwhile, the town's priest Father Harlan tends an ill young boy Irwin and tries to find a family to take him with them. Irwin wanders into a house in the middle of a plain where he encounters four heavenly beings who are searching for an angel. Irwin claims he is an angel, showing the scars where his wings were removed and his feathers as proof.
---
Twin brothers Mark and Michael Polish first appeared with Twin Falls, Idaho (1999), a strong and striking film about conjoined (Siamese) twins. With Michael directing, Mark in acting appearance and both writing the script and producing, the brothers went onto a series of strong and original works, including Jackpot (2001), The Astronaut Farmer (2006), Manure (2009), Stay Cool (2009), For Lovers Only (2011), Big Sur (2013), Amnesiac (2014), 90 Minutes in Heaven (2015), Hot Bot (2016) and Terror on the Prairie (2022) , although Mark has become less involved and Michael worked on his on during the 2010s. Northfork was their third film.
Northfork is a considerable oddity. In fact, it seems about as non-commercial as a film can get. There is no clear plot, just a series of elliptical vignettes set around the common locale of the town that is about to be flooded. Most of the film never takes place in terms of clearcut happenings but floats around angel imagery in a series of analogies, allegories and symbols that are sometimes difficult to decipher.
Indeed, this angel imagery – the heavies offering the people they are trying to remove a genuine set of angel wings; the mysterious visitors who appear in a house that seems to exist on a different plane; and the young boy who claims to be an angel and offers them his removed wings, some feathers and scars of a removed halo as proof – seems to frequently be all that drives the film. Certainly, the various plotlines between Nick Nolte's priest, the young boy and the angels, and the men travelling door to door never intersect much.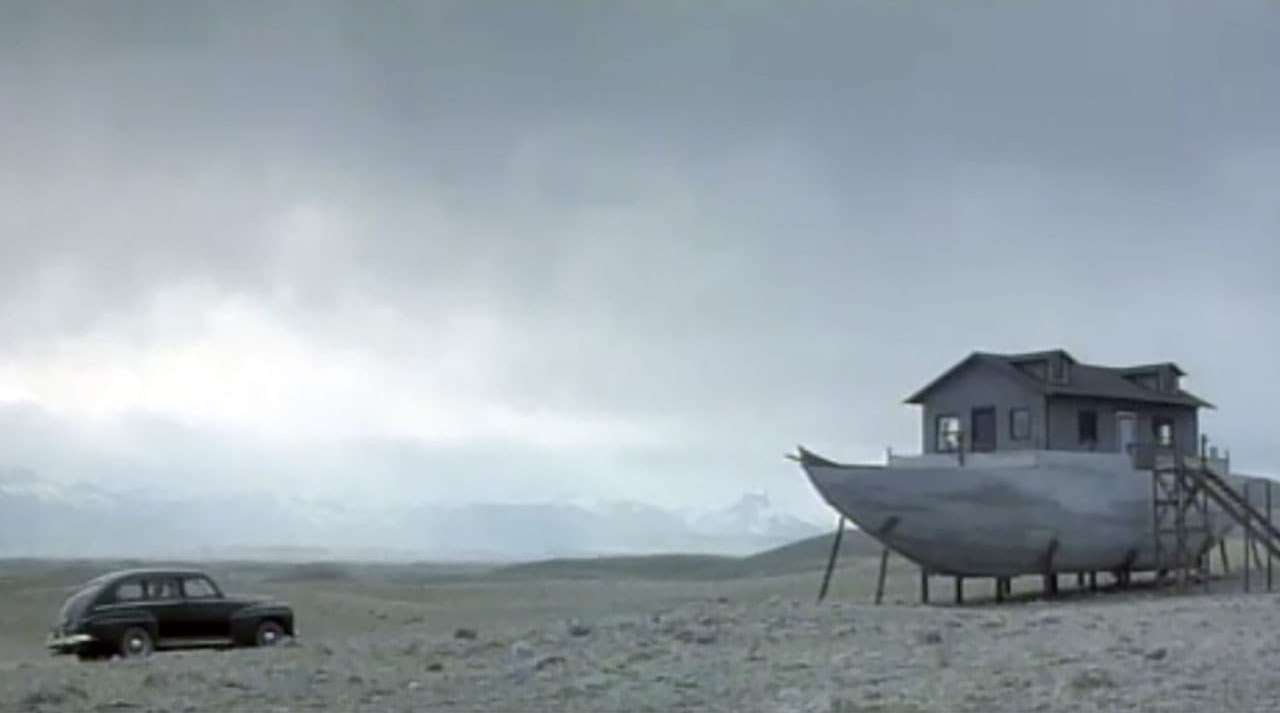 What Northfork feels like is maybe Robert Altman's Brewster McCloud (1971) played serious and relocated in something akin to a rural Midwest milieu. The pace is slow, the photography cool and measured, while the spaces the film takes place in are interior ones – yet the sense of what each scene is about remains elusive. There are strange and striking images – Nick Nolte gives a sermon in a church that has been built with no back and is open to the bare fields outside; the young boy goes to the house of the mysterious visitors and outside there is a strange four-legged creature that seems like it is walking on stilts; in their door to door search, James Woods and Mark Polish come across a family that has built a house that resembles Noah's Ark.
At times, Northfork feels like a Coen Brothers film that never gets started – some of the scenes like where James Woods spells out to the Stalling family about ignoring a sign from God, where the company men meet and greet each other by name, or the silliness between the messengers with a dart gun – feel like they want to keep opening up into the mercilessly dark humour the Coens specialise in – only the playing here is too muted. The ellipticism of the plot and its series of non-happenings is frustratingly mellow. I am all for films that don't spell everything out but this is a film that leaves you only throwing your hands up in trying to guess what its makers were trying to say.
Despite such a frustrating and vague film, The Polish Brothers managed to sign on an amazing cast, including names like Nick Nolte, James Woods, Anthony Edwards, Daryl Hannah, Kyle MacLachlan, Peter Coyote, Ben Foster and Claire Forlani. James Woods even takes an executive producer credit. It surely shows the acclaim that the Polish Brothers have accrued that they can call on such an amazing cast line-up with only their third film – and moreover, one that was only made on a $1.8 million budget (and where financing collapsed part way through shooting meaning they had to find the rest themselves). James Woods and Nick Nolte in particular give fine performances.
---
---