---
Crew
Director – Joel Zwick, Screenplay – William H. Cosby, Jr. & Charles Kipps, Producer – John Davis, Photography – Paul Elliott, Music – Richard Gibbs, Music Supervisor – Dave Jordan, Animation Supervisor – Chris Bailey, Animation – Warner Bros Animation (Supervisor – Bert Klein), Visual Effects – Warner Bros Visual Effects (Supervisor – Brad Kuehn), Special Effects Supervisor – David Blitstein, Fat Albert Body Suit – KNB Effects Group, Inc., Production Design – Nina Ruscio. Production Company – Davis Entertainment Company/SAH Enterprises.
Cast
Kenan Thompson (Fat Albert), Kyla Pratt (Doris Robertson), Dania Ramirez (Lauri Robertson), Jermaine C. Williams (Mushmouth), Aaron A. Frazer (Old Weird Harold), Marques D. Houston (Dumb Donald), Shedrack Anderson (Rudy), Alphonso McAuley (Bucky), Keith D. Robinson (Bill), Omari Grandberry (Reggie), J. Mack Slaughter, Jr (Arthur), Bill Cosby (Himself)
---
Plot
Doris Robertson is a shy and friendless teenager at a Northern Philadelphia inner city school. While watching Fat Albert and the Cosby Kids on tv, Doris's tears of loneliness fall on the remote and open up a doorway on the tv screen to the world of Fat Albert's junkyard. Seeing a girl with a problem, Fat Albert and his gang climb through the tv set into the real world where they now find themselves in flesh and blood rather than cartoon bodies. As they set about helping Doris, they experience awkwardness in trying to deal with the real world.
---
Fat Albert and the Cosby Kids (1972-85) was one of the essentials of juvenile animation in the 1970s. Fat Albert originated in the 1960s as a stand-up routine from series creator Bill Cosby. This was developed out into an animated tv special Hey, Hey, Hey, It's Fat Albert (1969) wherein Bill Cosby voiced the role of Fat Albert and several of the other ongoing characters. This was then spun out into a tv series Fat Albert and the Cosby Kids, which lasted for 110 thirty-minute episodes. The series centred around the title character and his gang of hangers-on who lived in a junkyard in an inner city neighbourhood. Fat Albert was a do-gooder who was always intervening to help people. It was the only children's show out there that tackled urban poverty and African-American issues during the 1970s.
In the 00s, Fat Albert joined a host of films from the 1960s-70s that were remade as feature films. With the success of The Flintstones (1994), there was a sub-genre of films that specialised in conducting live-action remakes of cartoon series. This has included the likes of George of the Jungle (1997), Mr Magoo (1997), Dudley Do-Right (1999), Inspector Gadget (1999), The Adventures of Rocky and Bullwinkle (2000), Josie and the Pussycats (2001), Scooby-Doo (2002), Alvin and the Chipmunks (2007), Transformers (2007), Underdog (2007), Speed Racer (2008), Dragonball: Evolution (2009), The Last Airbender (2010), Yogi Bear (2010), The Smurfs (2011) and Jem and the Holograms (2015).
Bill Cosby is still involved with Fat Albert and, though aging, makes a live-action cameo as himself as well as co-writes the script. Though Bill Cosby was one of the top tv stars of the 1980s in the hit sitcom The Cosby Show (1984-92), there seems to be some unwritten rule that any film that features Cosby is bound to be a disaster – look at the likes of The Devil and Max Devlin (1981), Leonard Part 6 (1987) and Ghost Dad (1990). The Fat Albert film was no different to these. This was a few years before the scandals came out about Cosby's drug-rape allegations and made him persona non grata so there was no overt reason why these films failed other than simply an inability to transfer his charms from the small screen to the big screen.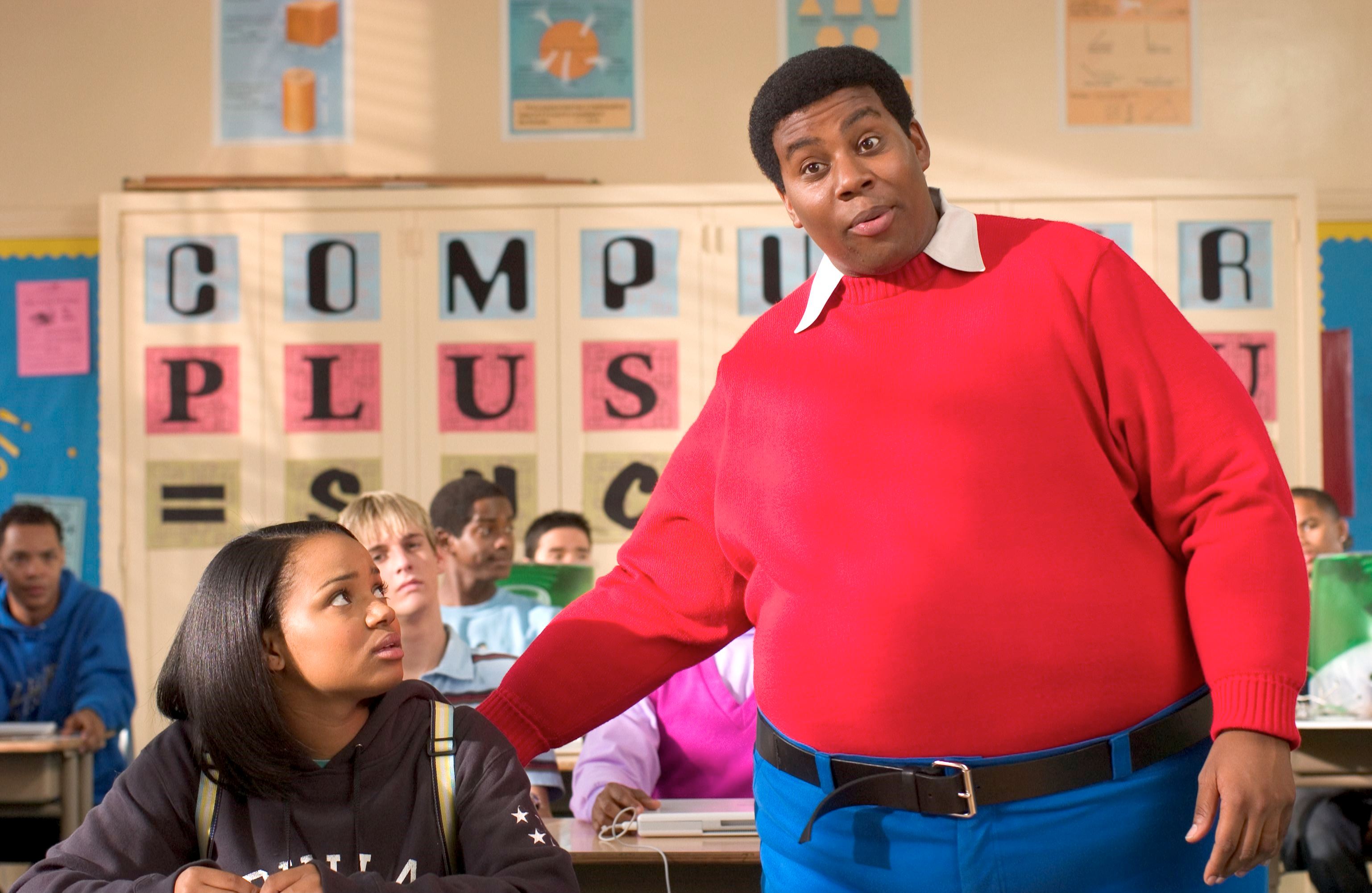 There is the feeling that Fat Albert has been resurrected and remade because it is a property that, like most of these abovementioned tv show remakes, comes with a built-in audience. The problem is that having done so nobody realistically thought through how the idea might actually work. Looking to the success of The Flintstones, someone clearly wanted to remake the series in live-action. However, what this results in is a group of actors playing simple-minded idiots and running around in pyjamas. In animation, one could get away with this; as a live-action film, the result is asinine. The film's response to this is the same one taken by the film remake of The Brady Bunch (1995) – that of playing up the contrast between the tv series and the more cynical modern world and taking much opportunity to get sarcastic laughs out of the characters looking stupid. What the filmmakers have done is made a film that is designed to appeal to those who enjoyed the original – and then sat down and mocked it. All of which only demonstrates that Fat Albert was one property that should have been left alone in the first place.
The Brady Bunch at least worked because it got some sarcastic laughs out of its deconstruction but Fat Albert only emerges as moronic and simple-minded. There are some lame sequences with the Cosby Kids going to school and especially with Kenan Thompson doing silly runs and following Kyla Pratt around an athletics track (all in front of some shabby back projection screens). There is the cringe-inducing scene where Kenan Thompson gets to perform a rap version of the theme song Hey, Hey, Hey, It's Fat Albert.
To the film's credit, it does sort of try to get the characters to grow up towards the end – Fat Albert gets a romance of sorts, Dumb Donald removes his hat and sits down to start learning, while Mushmouth starts to speak proper English. Kyla Pratt, best known for her role as Eddie Murphy's daughter in Dr Dolittle (1998) and sequels, is bland and forgettable in the lead, although stand-up comic Kenan Thompson, outfitted in a huge body suit, has a certain likeability as Fat Albert.
Certainly, the film does play with an element of fantasy, which the animated tv series never did. The characters are all (it is never explained why) meta-fictionally self-aware ie. know that they are animated characters inside a tv show. There is a portal between the fictional and real worlds (by the device of Kyla Pratt's tears dropping on a tv remote). And later Kenan Thompson's Fat Albert goes to visit Bill Cosby in person to seek his advice as creator of the show on how to stop himself from fading away after staying in the real world too long.
Director Joel Zwick was a specialist usually in tv comedy series who has been at work since the 1970s. His most famous film outing was the hit My Big Fat Greek Wedding (2002). His one other venture into genre material was the inane psychic powers comedy Second Sight (1989).
---
---