---
Crew
Director – Piers Haggard, Teleplay – Dennis Potter, Producer – Kenith Trodd, Photography – Ken Westbury, Designer – Tim Harvey, Choreography – Tudor Davies. Production Company – BBC.
Cast
Bob Hoskins (Arthur Parker), Cheryl Campbell (Eileen Everson), Gemma Craven (Joan Parker), Kenneth Colley (The Accordion Man), Hywel Bennett (Tom), Freddie Jones (Headmaster Warner), Dave King (The Inspector), Jenny Logan (Irene), Arnold Peters (J. Barrett), Ronald Fraser (Major Archibald Paxville), Peter Bowles (Prosecuting Counsel), Nigel Havers (Conrad Baker), Spencer Banks (Maurice Everson), Michael Bilton (Dad Everson), Philip Jackson (Dave Everson), Philip Locke (Farmer), Will Stampe (Barman), Tony Caunter (Cafe Proprietor), Carleton Hobbs (Judge), Bill Dean (Alf Starkey), Roger Sloman (Ted), Roy Holder (Bert), Mike Savage (Arnold), Roy Boyd (Horace), Yolanda Palfrey (The Blind Girl, Amy Farr), Peter Cellier (Bank Manager), Tony London (Youth), Roger Brierley (Estate Agent), Bella Emberg (Mrs Corder)
---
Plot
England, 1935. Arthur Parker lives in an unhappy marriage with his wife Joan who has no interest in sex and constantly rebuffs his advances. Arthur is struggling to make a living as a sheet music salesman. He has a love of popular songs and bemoans how life is not filled with the sentiments they hold. On a trip to Gloucestershire, Arthur becomes entranced with the beautiful Eileen Everson, a schoolteacher in the Forest of Dean. On successive trips away from home, he woos Eileen, lying to her that he is not married. Eileen becomes pregnant and is forced to leave her teaching job. She travels to London where, soon penniless, she is forced to sell herself into prostitution. Arthur meanwhile has borrowed from his wife's inheritance to set up a gramophone record shop but this is struggling and not making money. A chance meeting with Eileen in a pub is cause for the two reuniting and deciding to run away to be together. The dream soon dissolves as Eileen is forced to return to prostitution to make enough money for them to survive. At the same time, a series of coincidences and Joan's statement to police about her husband's fixation with sex, leads them to believe that Arthur is responsible for the murder of a blind girl in Gloucestershire. With him listed as a wanted man, Arthur and Eileen are forced to go on the run.
---
To my mind, Dennis Potter (1935-94) is the greatest writer to have ever emerged in the televised medium. Beginning in the 1960s and up until his death, Potter delivered an extraordinary series of tv plays, mini-series and occasionally films that include the likes of Brimstone and Treacle (1976), The Singing Detective (1986) and Lipstick on Your Collar (1993), among others. (See below). These brim over with uniquely Potter-esque themes of characters having their lives exposed in harsh and unsentimental ways; a nebulous line between fiction and autobiography on Potter's part; and of seeing banal everyday life and daydream, fiction, memories of childhood or the sentiments in Golden Oldie songs blur together.
The extraordinariness of what Dennis Potter was doing becomes apparent from the opening scene here. We have a banal British working class domestic scenario as husband and wife Bob Hoskins and Gemma Craven wake in the morning, he gets frisky and asks for sex only to be rebuffed where it becomes apparent that this is characteristic of their marriage. This frank discussion of sexuality was quite out there for the time on British television (unhappy marriages and lack of sexual fulfilment would become one of the regular themes of Dennis Potter's work). However, what makes the scene startling is when Hoskins opens the curtains onto an unreal sunrise and abruptly breaks into a lip-synched rendition of a Golden Oldie romantic tune (in a female voice) and he and Craven cuddle up together, something that is the complete opposite of the exchange we just had.
The unexpectedness of contrast between the banal ordinariness of working class life and an unhappy marriage and the rosy unreal sentiment of 1930s love songs and the choreographed routines is startling. You have to also remember that this was well before the era of Moulin Rouge (2001) and Rock of Ages (2012) and their lip-synched versions of popular songs and how innovative this would have been back in the day. Not to mention that Potter further throws things on their head by having men breaking into lip-synched versions of tunes that are being sung by women and vice versa.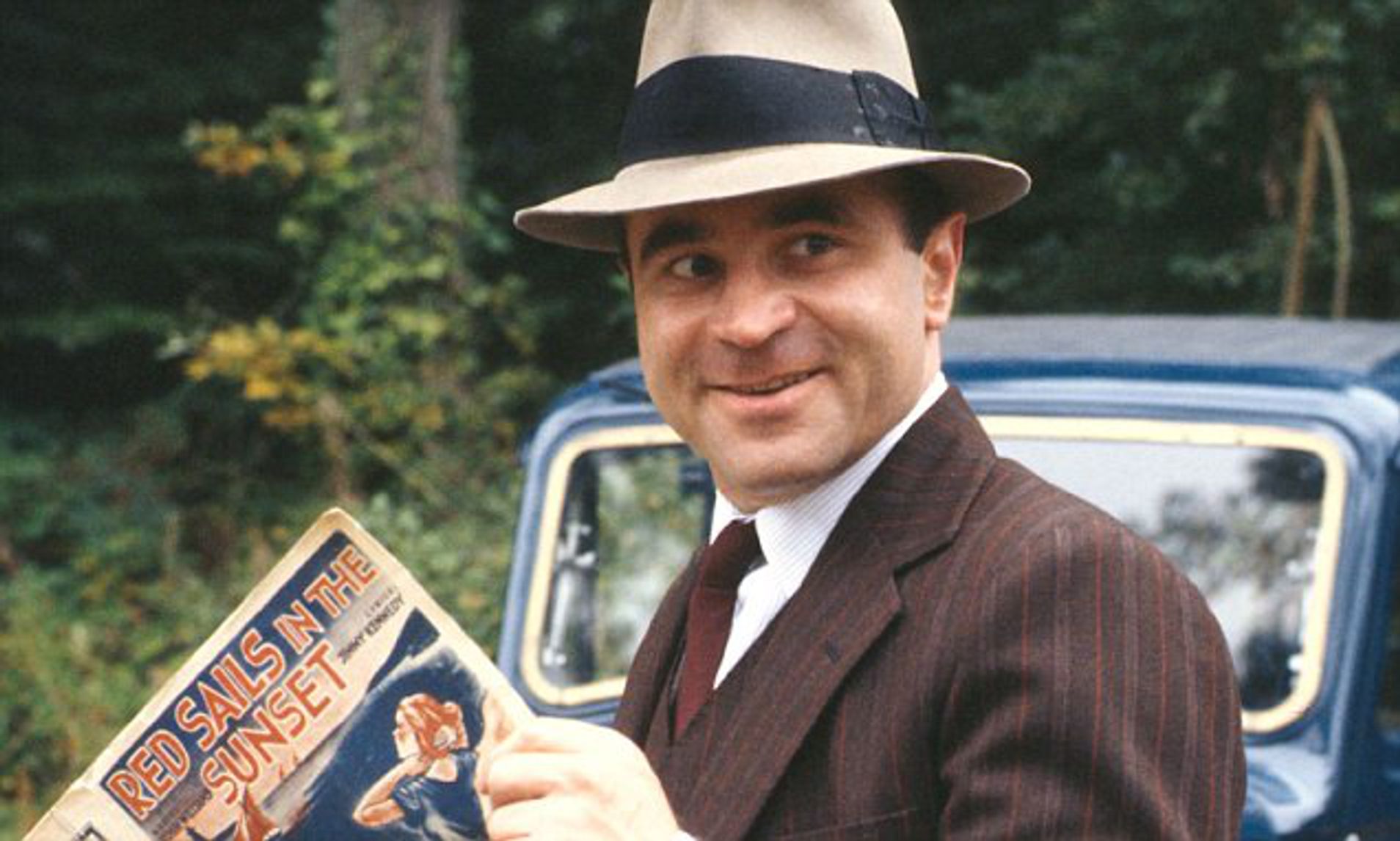 Other episodes feature similar contrasts – between the harsh authoritarianism of Freddie Jones's headmaster and Cheryl Campbell breaking into a song and dance with the schoolchildren as chorus; fights and scenes of domestic violence that abruptly break into song. It is these contrasts that form the core of Pennies from Heaven. It is a work that is founded in exposing the gulf between the rosily unreal sentiments of romantic songs of the era (which Potter sees as all really being about sexual desire) and the bitter downbeaten realities of life during The Depression (even if such is never named in the series). It is a series about the longing for an impossible romantic ideal and the disillusionment of ever finding it in an imperfect world. Bob Hoskins has an amazing soliloquy in the second episode over a breakfast table before a group of uncomprehending sales colleagues where he tries to describe being in love and the embodiment of the songs up against the horrible reality of trench warfare he experienced during service in World War I.
A regular series of themes in Dennis Potter's writings was the wretched unhappiness of people in relationships and the doomed lack of sexual fulfilment that his protagonists are searching for. Pennies from Heaven is also a mini-series that exposes the ridiculous quaintness of sexual attitudes during the 1930s. Looking back from the perspective of the 2010s and the relatively wider freedom sexuality we now enjoy, what is depicted seems an absurdly unreal world. Just the scene where Gemma Craven and her friend Jenny Logan discuss men in a tearooms – the signs that are listed as symptomatic of infidelity, how a mutual friend is regarded as cheap because "she slept with three other men before she got married", and Jenny Logan's shrug about Craven's disinterest in sex "none of us like it." Or the way in which the police inspector (Dave King) responds to Gemma Craven's talk of Hoskins's sexual desire, where she shamefully confesses how he asked her to walk around the house without any underwear on, as proof of his guilt as a killer – "A man like that might be capable of anything. He sounds a very sick chap indeed."
In between this, Potter also manages to throw in a surprisingly savage indictment of the British public school system (another recurrent Dennis Potter theme) where Freddie Jones has a speech where he commiserates with Cheryl Campbell about the dreams and innocence of children and then abruptly turns around and justifies why these must be crushed to prepare them for working class lives in the pits.
Dennis Potter was noted for bleeding thinly disguised autobiographical material into his written works – the mini-series' setting of the Forest of Dean is where he grew up and features in many of his works. Pennies from Heaven was largely drawn from his own unhappy sexless first marriage to Margaret Morgan. If Pennies from Heaven represents Potter's feelings on an unhappy marriage, it is also a work that is just as equally rent with guilt over adultery to the point of self-loathing – Bob Hoskins' song salesman goes from someone who has a physical ache to find the idealised love that is spoken of in the songs and pursues a vision of it to a man who has contemptible lack of responsibility for his own actions and an impractical dreamer without any clue of how to make his dreams come true in the real world. In one prize image, while they are on the run, we see him sitting in their room piecing together a jigsaw and saying he wants to finish it while Cheryl Campbell is reminding him they need money and so shrugs and decides to go and earn it on the streets herself.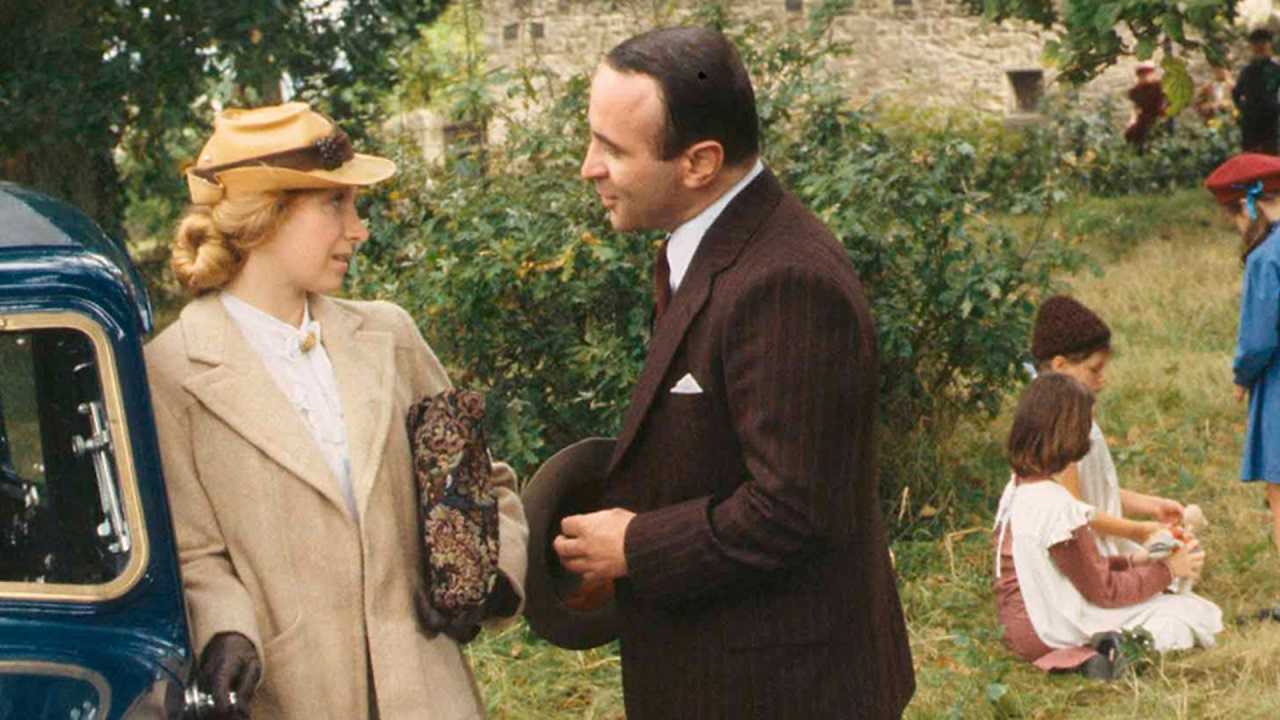 What Bob Hoskins' character is reduced to throughout the course of the story – a man dreaming of romantic fulfilment away from an unhappy marriage to a wanted fugitive on the run forced to rely on his woman for survival and eventually hanged as a wrong man for his sexual desire – seems a self-image of Potter's that, if it is in any way autobiographical, is utterly wretched and guilt ridden about the sins he has committed and lies told in the pursuit of sexual fulfilment. In many ways, Potter's outlook is not unakin to a conservative one – given a slightly different emphasis of direction and writing, Pennies from Heaven could easily have served as an hysterically overwrought anti-VD film from the 1930s – how sexual licentiousness and unfaithfulness leads to ruin, a life of prostitution, rejection from the community and eventually a man being regarded as a criminal and hanged.
Dennis Potter was accused of being sexist (although I would defend him on that one). Like Henry Miller, he was simply writing about sex and the ways in which men desire women as opposed to trying to objectify women. An equal and contrary side of the argument could be that Potter was a feminist sympathiser and deplored the way that men treated women well before such a thing was openly being talked about in society. To this extent, Cheryl Campbell is set up as an image of angelic beauty and it becomes distressing the way that we see her used by Bob Hoskins who lies to get with her and then abandons her after having his way with her, whereupon she becomes a social scion, fired from the school where she works for getting pregnant, and progressively reduced to poverty and prostitution as her only means of getting by.
Piers Haggard was not the best director for Potter's material – compare his standard tv play set-ups here against the considerable visual polish that Jon Amiel demonstrated in Potter's masterwork The Singing Detective (1986) a mere eight years later. The show comes in the small-screen videography that was typical of a BBC tv play of the 1970s – slow set-ups that let the drama in a scene happen before the watching camera rather than the camera being an active participant and visually driving the drama as you would get in a film.
However, you should also remember that within this staid tv play direction, the elements of surrealism – Bob Hoskins dancing in a barn, the way the courtroom transforms into a casino with the judge's bench as a bar, or scenes where posed actors fade into what look like authentic record covers from the era – were innovative and ground-breaking. The mini-series was boundary pushing for its time in terms of taboo lines (as many of Potter's works were) – being one of the first televised works to use the 'F word' (which has just occurred on the BBC during a live interview with the Sex Pistols in 1976) in the last episode where one of the policeman makes a punning play between fakirs and fuckers.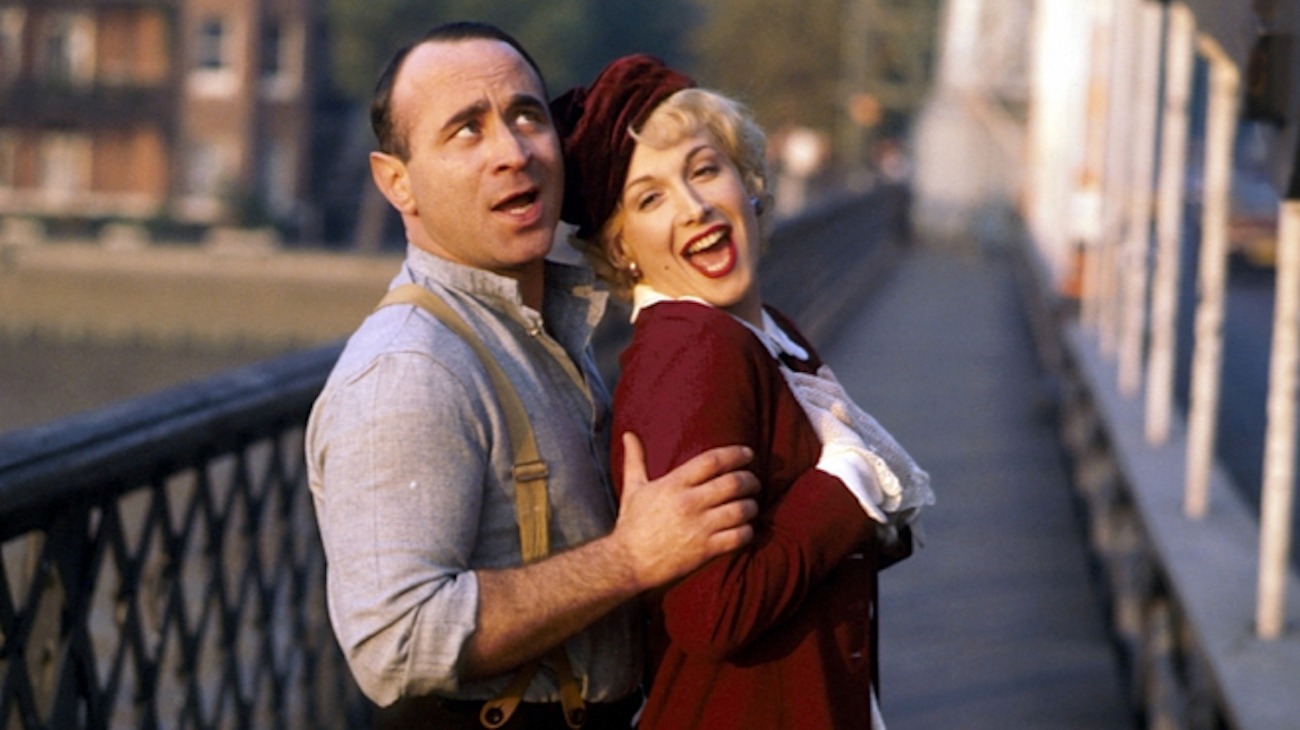 Pennies from Heaven was Bob Hoskins' big breakout role as an actor before international stardom in films like The Long Good Friday (1979), Brazil (1985), Mona Lisa (1986) and Who Framed Roger Rabbit? (1988). He approaches it with his woodchipper Cockney accent that quite takes you aback with its roughness. It was also a breakout role for Cheryl Campbell who never quite went onto the fame that Hoskins did. She has been cast to deliberately reflect a vision of angelic and longsuffering loveliness, although equally manages to sizzle when it comes to doing a stripper number before Hoskins.
The mini-series was subsequently remade as the film Pennies from Heaven (1981) with the story translated to America (a move that makes far more sense that England) and recast with Steve Martin in the Bob Hoskins part and with Bernadette Peters as Eileen. Dennis Potter was employed to write the screenplay, which follows the mini-series closely, albeit condenses the material, while a bigger budget allowed much more elaborate staging of the musical fantasy numbers. The film was misunderstood and a financial flop, although did see Potter nominated for a Best Screenplay Oscar. The tv version here is the superior of the two.
Dennis Potter's other genre works are:– the tv play Alice (1965), part an adaptation of Alice in Wonderland (1865), part an examination of the relationship between Lewis Carroll and Alice Liddell; the highly controversial tv play Son of Man (1969), a Passion Play that depicts Jesus Christ as racked with anxiety and doubt; the tv play Angels Are So Few (1970) about a housewife who receives a visit from a man who claims to be angel; the meta-fiction Follow the Yellow Brick Road (1972) where a man believes he is a character in a tv show; the controversial tv play Brimstone and Treacle (1976/1987) about a man who claims to be The Devil; the tv play Blue Remembered Hills (1979) where Potter conducted the unique device of depicting his childhood during the War with adults cast in the roles of children; Brimstone and Treacle (1982), a film remake of the tv play; Dreamchild (1985) about the life of the aging Alice Liddell; The Singing Detective (1986) where a man in a hospital bed, his buried past and the plot of a cheap detective novel blur together into a dazzling meta-fiction; the bizarrely surreal Track 29 (1988) with Gary Oldman as Theresa Russell's possibly imaginary lost son; the mini-series Blackeyes (1989) where the character in a trashy sex novel comes to life to protest her exploitation; Lipstick on Your Collar (1993), a work very similar to Pennies from Heaven where the people in a government office in the 1950s express their fantasies in musical numbers; the tv play Midnight Movie (1994) where an old horror movie screening on tv and a mysterious unsolved murder in the present blur together; Cold Lazarus (1996), the final work written by Potter where the memories of dead writer are ransacked by the people of the future; and The Singing Detective (2003), the posthumous film adaptation of his tv mini-series.
Director Piers Haggard is the great-grandson of the adventure writer H. Rider Haggard, author of multiply filmed books like King Solomon's Mines (1885) and She (1887). Piers Haggard made his directorial debut with the occult film Blood on Satan's Claw (1971). He has since floated around the genre in film and tv with efforts such as the Quatermass/The Quatermass Conclusion (1979), The Fiendish Plot of Dr Fu Manchu (1980), Venom (1982) and The Breakthrough/The Lifeforce Experiment (1994), as well as much work in British tv plays and episodic television.
---
Episode 1 available here
There's also a whole bunch of other musical tracks from the show if you follow this link:- YouTube Playlist
---