---
Crew
Director – John Lasseter, Co-Director – Brad Lewis, Screenplay – Ben Queen, Story – Dan Fogelman, John Lasseter & Brad Lewis, Producer – Denise Ream, Music – Michael Giacchino, Supervising Animators – Shawn Krause & Dave Mullins, Art Direction – Jay Shuster. Production Company – Pixar Animation Studios.
Voices
Larry the Cable Guy (Mater), Owen Wilson (Lightning McQueen), Michael Caine (Finn McMissile), Emily Mortimer (Holly Shiftwell), Eddie Izzard (Sir Miles Axlerod), John Turturro (Francesco Bernoulli), Thomas Kretschmann (Professor Zündapp), Joe Mantegna (Grem), Peter Jacobson (Acer), Bonnie Hunt (Sally), Bruce Campbell (Rod 'Torque' Redline), Patrick Walker (Mel Dorado), Tony Shalhoub (Luigi), Jenifer Lewis (Flo), Richard Kind (Van), Paul Dooley (Sarge), Katherine Helmond (Lizzie), Stanley Townsend (Victor Hugo/Ivan)
---
Plot
Mater the tow truck is excited when his best friend Lightning McQueen takes a break from a string of Grand Prixes and returns to Radiator Springs. While Lightning is dining with Sally, Mater sees the British alterative oil entrepreneur Sir Miles Axelrod on a tv talkshow proposing the idea of a World Grand Prix to promote his Allinoil formula. The Italian racing car Francesco Bernoulli comes on and insults Lightning so Mater calls the show and stands up for Lightning. Goaded, Lightning agrees to join the race. Sally persuades Lightning to take Mater along with him for the trip. In Japan, where the race is about to start, Mater wanders into a bathroom where an American secret agent is being beaten up by the hench-cars of the evil Professor Zündapp. British secret service agent Finn McMissile sends his associate Holly Shiftwell in to rendezvous with the American agent and she mistakes Mater for him. Mater becomes caught in the midst of a plot where both sides believe him to be a spy posing as a tow truck. It is up to Mater to stop Professor Z's plot to employ a ray that destroys all vehicles using Allinoil in an effort to discredit the formula so that the world will be forced to revert to the use of regular gasoline.
---
Ever since their arrival on cinema screens with Toy Story (1995), Pixar have become the premiere animation company in the world. They have turned out an unbroken string of hits – A Bug's Life (1998), Monsters, Inc. (2001), Finding Nemo (2003), The Incredibles (2004), Cars (2006), Ratatouille (2007), Wall-E (2008), Up (2009), Brave (2012), The Good Dinosaur (2015), Inside Out (2015), Coco (2017), Onward (2020), Soul (2020), Luca (2021) and Turning Red (2022) – all of which seem to do no wrong, being loved by both children and adults, getting rave reviews and doing phenomenally well at the box-office.
Cars 2 was the fifth film directed by Pixar founder John Lasseter. In 2006, Lasseter also became the Chief Creative Officer at Disney. This came as a gesture of conciliation after the heated breakdown of talks between Pixar and Disney regarding how much control the studio retained over the copyright on Pixar's films. One of the things that Lasseter promised when he accepted the role was a return to integrity in the Disney name, including putting an end to the cynical process of churning out usually cheaply-made sequels to Disney's classic films that became a growth industry in the 1990s – see the likes of The Return of Jafar (1994), Fantasia 2000 (1999), The Little Mermaid II: Return to the Sea (2000), Lady and the Tramp II: Scamp's Adventure (2001), Return to Never Land (2002), Atlantis: Milo's Return (2003), The Jungle Book 2 (2003), The Emperor's New Groove 2: Kronk's New Grove (2005), Bambi II (2006), Brother Bear II (2006), The Fox & the Hound 2 (2006) and others.
There is some irony about this in that as soon as Pixar settled their dispute and regained their copyright, the first thing they started doing is making the very sequels to their own films that Lasseter had decried with the likes Toy Story 3 (2010), Cars 2, Monsters University (2013), Finding Dory (2016), Incredibles 2 (2018), Toy Story 4 (2019) and Lightyear (2022). Indeed, Pixar has not released an original film since 2009's Up and one wonders if they are not now entering into a period where they have become more focused on creating commercial franchises a la DreamWorks and their various Shrek, Madagascar and Kung Fu Panda series.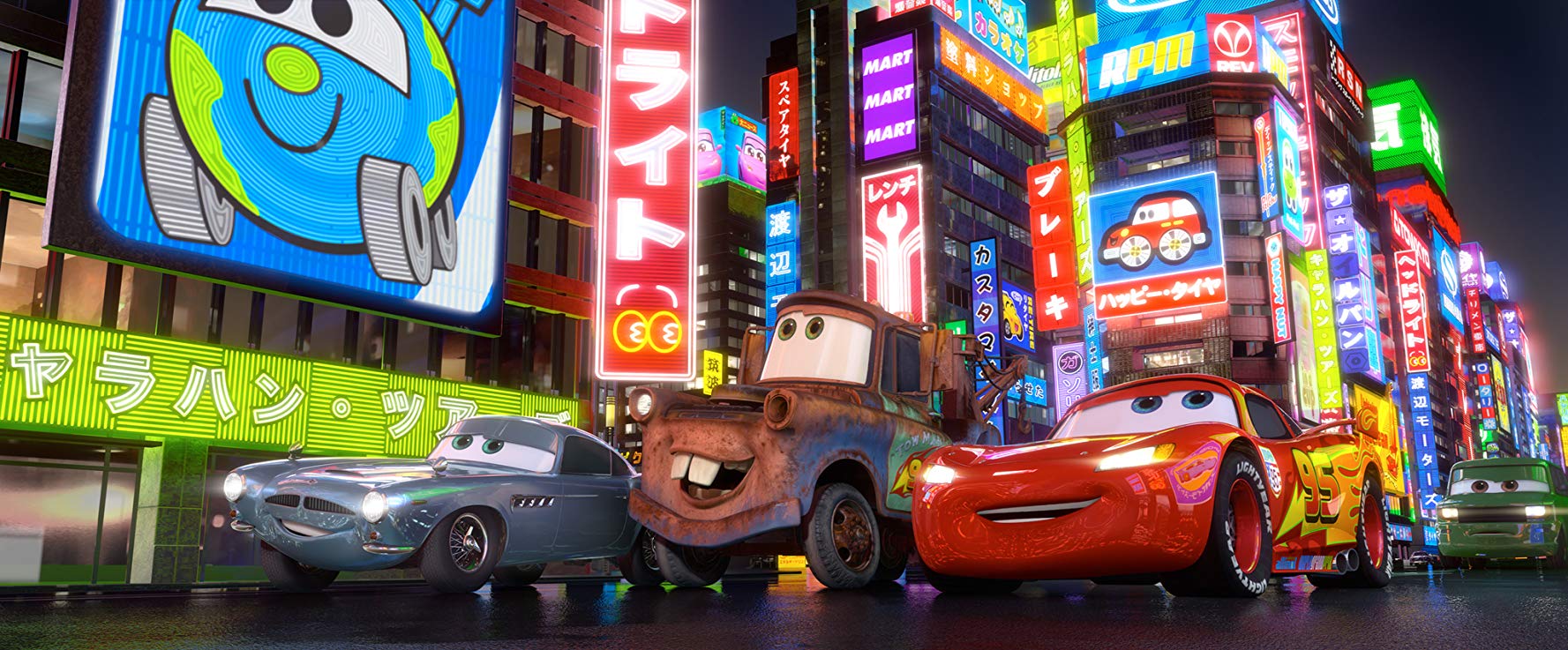 Cars 2 kicks in well from its opening sequence, which is designed as a parody of a James Bond film – albeit enacted by cars. Here the spy is a member of the British Secret Service and naturally is the classic Bond car, an Aston Martin voiced by Michael Caine. The sequence features the appealingly absurd image of Caine's Aston Martin climbing the strut of an oil rig and then creeping across the top of the rig on cables while producing guns and cameras out of its body, before diving into the ocean and sprouting submarine fins and turbines to make an escape. The presence of Michael Caine also lends associations to Caine's role in the Harry Palmer films during the 1960s, which were intended as rival to the Bond series – see Billion Dollar Brain (1967) for details.
There is a deliberately international feel to Cars 2. The idea apparently came to John Lasseter during the international promotion for Cars where he kept looking at driving behaviours in different countries he visited and wondering how a character like Mater would cope with them. More importantly, this allows the film to serve up a wider variety of international vehicle characters – the mad scientist is a German Zündapp Janus, the 1950s mini-car that was noted for looking the same at the front and the back, albeit with the addition of a monocle; in a cute cameo, The Queen of England is represented by a stately Rolls Royce Silver Shadow (who knights Mater with the aerial from her front hood); while elsewhere Pixar apparently created different scenes for different countries featuring characters designed after local cars.
There are some charming touches – the visit to Japan features kimono-wearing geisha cars, even vehicular sumo wrestling. The visit to England features vehicles wearing bobbies' helmets and beefeater hats; the French vehicles wear berets; the Italian interlude contains a serenade of dancing Fiat 500s and so on. Not to mention that Pixar have expanded the range of vehicles on display to include everything from submarines, tugs, warships, helicopters and trains to a variety of planes.
Among the new characters, the show is stolen by two star voicing turns – Emily Mortimer as the smart and sexy Jaguar, where Mortimer delivers the role with the sort of posh English accent that can be determined to get men worked up (I can't believe I am writing that about an animated car); and from John Turturro who is positively hilarious as a fierily egotistical and posturing macho Italian Formula 1 racing car.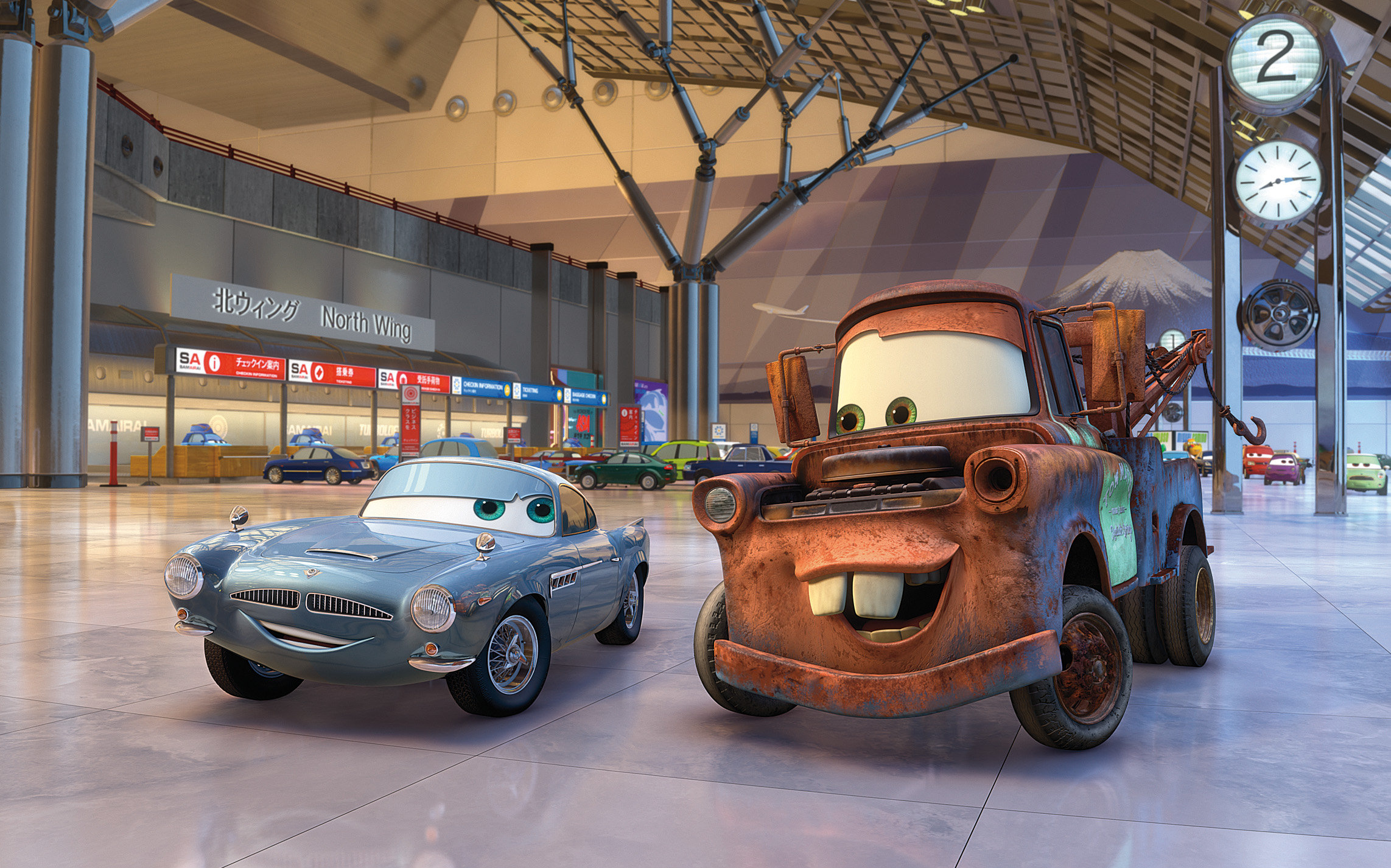 Cars 2 is certainly a different film from Cars. While many of the central characters make reappearances, the story has moved away from Radiator Springs apart from a handful of bookend opening and closing scenes. The reasons for this may well have been the death of Paul Newman in 2008. John Lasseter refused to recast the part. The film does offer up a tribute to Newman (or at least the character of Doc Hudson) during a visit to Hudson Hornet museum in Radiator Springs.
In fact, what we have now seems to be more of a story focused around Mater than it does the first film's protagonist Lightning McQueen – Lightning has a largely supporting part in this film. It may simply be that Lightning McQueen's story – the hotshot who learns to appreciate the traditional, slower things in life – was as all it could be in the first film and Pixar could not see anything new to add to this.
The first film had a strong and effective character arc about Lightning McQueen learning to value the more laidback ways of the small town he ends up trapped in. Cars 2 has abandoned that and is largely a spy caper. The tone of the two films is very different – Cars was mostly founded in the cuteness of its concept and beneath that had a genteel, contemplative and eventually surprisingly serious message about tradition; Cars 2 is just a fun spoofy adventure, which adds spies, black-hat villains and a scheming mad scientist to the mix.
The sequel does have an odd message that is eventually arguably against alternative fuel sources (although this does involve a confusing set of motivations for the villain of the show). The plot does have a surprising number of similarities to Disney's Herbie Goes to Monte Carlo (1977), which featured the talking Volkswagen entering a European Grand Prix where it became caught up in a comedy caper after a stolen diamond was placed inside his gas tank.
This was followed by Cars 3 (2017). Disney subsequently spun the world of Cars off with Planes/World of Cars: Planes (2013) and Planes: Fire & Rescue (2014).
---
---