(Le Tout Nouveau Testament)
---
Belgium/France/Luxembourg. 2015.
Crew
Director – Jaco Van Dormael, Screenplay – Thomas Gunzig & Jaco Van Dormael, Producers – Daniel Marquet, Olivier Rausin & Jaco Van Dormael, Photography – Christophe Beaucarne, Music – An Pierle, Special Effects Supervisor – Emilien Lazaron, Makeup Effects – Fabrik Antisik & Saskia Verreycken, Production Design – Sylvie Olive. Production Company – Belga Films/Le Pacte/Orange Studio/Eurimages/Film Fund Luxembourg/Centre du Cinema et de L'Audiovisual de la Federation Wallonie/Fonds National de Soutien a la Production Audiovisuelle du Grand-Duche de Luxembourg/La Wallonie/Fonds Ausiovisuel de Flandre (VAF)/Screen Flanders/L'Agence de Government Federal Belge/Casa Kafka Pictures Movie Tax Shelter/BNP Paribas Fortis Film Finance/Terra Incognita Films/Climax Films/Apres le Deluge/Juliette Films/Caviar/Voo et Be TV/RTBF (Television Belge)/OCS.
Cast
Pili Groyne (Ea), Benoit Poelvoorde (God), Yolanda Moreau (God's Wife), Catherine Deneuve (Martine), Marco Lorenzini (Victor), Francois Damiens (Francois), Laura Verlinden (Aurelie), Serge Laviviere (Marc), Didier de Neck (Jean-Claude), Romain Gelin (Willy), Anna Tenta (The German), Johan Heldenbergh (The Priest), David Murgia (Jesus Christ), Kiko Morales (Gorilla), Gaspard Pauwels (Kevin), Johan Leysen (Martine's Husband), Anne-Pascale Clairembourg (Willy's Mother)
---
Plot
God lives in an apartment in Brussels with his wife and young daughter Ea. God is bad tempered, treats his wife rudely and spends all his day locked in his office devising rules to make life miserable for humans. After receiving a beating from her father, Ea decides she wants to follows the footsteps of her elder brother Jesus and escape to the outside world. Jesus appears, advising her to go through the portal in the washing machine. First, Ea steals her sleeping father's office keys where she uses his computer to send everybody in the world a text message telling them the date they are going to die. She emerges into the outside world and sets about to gather six apostles, as well as a chronicler to write a Brand New Testament, which she decides will be the apostles' stories rather than her own. The world is still reeling from everybody finding the dates of their deaths. Ea gathers her apostles and listens to their stories, helping make simple changes to improve their lives. However, an angry God follows through the washing machine, now finding himself in an outside world where he is subject to the very same rules he designed to make humanity miserable.
---
The Brand New Testament was the fifth film for Belgian director Jaco Van Dormael. Van Dormael had previously made Toto the Hero (1991), The Eighth Day (1996) and previously broached genre material with the conceptually ambitious alternate timelines film Mr. Nobody (2009).
There is a wickedly irreverent and at times downright blasphemous idea to The Brand New Testament. Namely that God, played by Benoit Poelvoorde – who will always be remembered as the serial killer in the early Found Footage black comedy Man Bites Dog (1992) – is alive and well and living in an apartment in Brussels. This God is less a traditional old man in long flowing robes and white beard than a scruffy, unshaven middle-aged man who wears a shabby bathrobe and spends all his time mean-spiritedly devising new rules to torment people.
In some of the more outrageous moments, this is also a God who is bad-tempered to his wife and in one eye-opening scene is seen giving his daughter a thrashing with his belt. When the latter half of the film gets God into the outside world, Van Dormael takes a great deal of glee in making Poelvoorde subject to the same rules as everyone else. Variously, we also get to see God mugged in the streets and even beaten up by a priest.
The film is also full of sly jokes – God laments the fact that his son left and never came back, while admonishing daughter Pili Groyne to take her proper place at the dinner table "not at my right hand." Jesus is also wont to pop up and give advice to Pili, hiding as a religious ornament on the shelf who comes to life to chat to her when nobody is looking.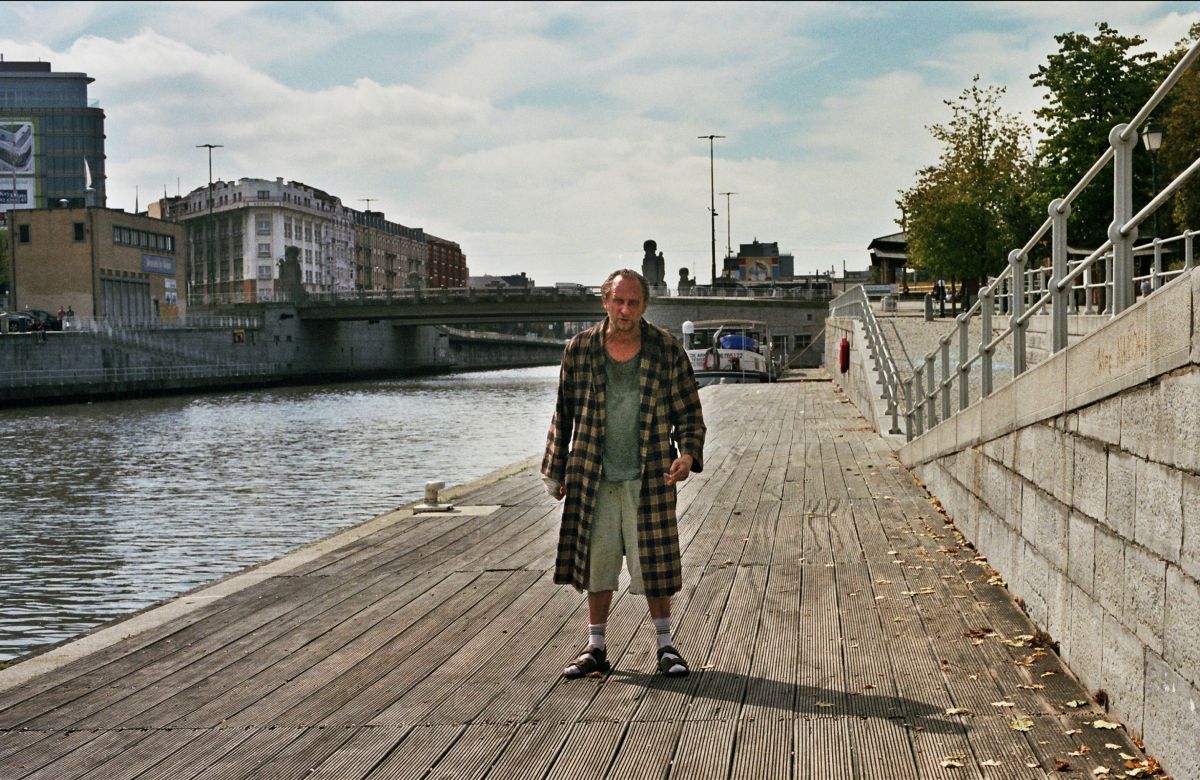 Van Dormael has a good deal of blackly comedic fun once he unleashes the death dates. In particular, Gaspard Pauwels has a rather funny role as a character who keeps turning up and conducting a series of death-inducing stunts, knowing that he will live for another 75 years. The film becomes something quite different once it gets Pili Groyne into the outside world. After this point, it is less focused on God and more on Pili Groyne collecting her disciples and their lives. Each of the disciples is introduced in terms of their quirky backstory and we see the way in which Pili intersects with and changes their lives. These scenes are less black comedy than they tap the vein of Gallic whimsy you get in the works of Michel Gondry and Jean-Pierre Jeunet.
Jaco Van Dormael has an unusual directorial style. As in Mr. Nobody, he is constantly opening up the linear narrative with flashbacks and asides. One of the more quirkier effects is the cut aways he offers to give us literal depictions of metaphors that people speak of – a smell being like a dead camel in a brewery, someone's voice like pearls falling down a staircase, a sound like thirty men cracking nuts and so on.
There are some often quite magical scenes – Laura Verlinden and her dream of a dancing hand; Pili Groyne talking to the birds on a park bench; or the image undeniably borrowed from Cashback (2006) of Serge Laviviere wandering through a supermarket of nude women. And then there are images that are downright surreal – such as Catherine Deneuve abandoning her husband to conduct a romance with a gorilla. This does result in what feels like two different films with quite different tones. That said, Van Dormael does manage to wind all the plot strands together for an appealingly off-the-wall end.
---
---