---
Crew
Director – Scott Derrickson, Screenplay – C. Robert Cargill, Scott Derrickson & Jon Spaihts, Based on the Comic Book Created by Steve Ditko & Stan Lee, Producer – Kevin Feige, Photography (3D) – Ben Davis, Music – Michael Giacchino, Visual Effects Supervisor – Stephane Ceretti, Visual Effects – Crafty Apes, Framestore, Industrial Light and Magic (Supervisors – Mark Bakowski & Richard Bluff), Lola VFX (Supervisor – Trent Claus), Luma Pictures, Method Studios, Perception, Rise Visual Effects Studios & Technicolor Visual Effects, Special Effects Supervisor – Paul Corbould, Production Design – Charles Wood. Production Company – Marvel Studios.
Cast
Benedict Cumberbatch (Dr Stephen Strange), Tilda Swinton (The Ancient One), Chiwetel Ejiofor (Karl Mordo), Rachel McAdams (Dr Christine Palmer), Mads Mikkelsen (Kaecilius), Benedict Wong (Wong), Michael Stuhlbarg (Dr Nicodemus West), Benjamin Bratt (Jonathan Pangborn), Scott Adkins (Lucian)
---
Plot
Stephen Strange is a brilliant but arrogant surgeon. One evening, his car skids off the road in the rain. Strange survives and comes around to find that the bones in his hands have been shattered. He demands the best surgery, searching out experimental treatments but to little avail. He is left unable to write his name without his hands trembling, let alone being able to pick up a scalpel. He hears the story of a man who made a full recovery from paralysis and is told to seek out Kamar-Taj in Kathmandu. Strange travels there and is accepted into the secret monastery led by The Ancient One who demands that he relinquish rational ways of knowing and embrace the otherworldly. There Strange begins to learns about the various dimensional planes, astral projection and being able to conjure magic energy. Gaining greater skill, Strange begins to challenge the rules. At the same time, they face the threat of Kaecilius, a former pupil of Kamar-Taj who has stolen forbidden spells, and is now determined to open the way to the Dark Dimension and release the demon Dormammu.
---
Doctor Strange is a Marvel Comics superhero. Although where most of Marvel's superheroes are caped and masked superhumans, Doctor Strange is a magician. Strange first appeared in Strange Tales #110 in July 1963 and proved popular enough that this was retitled Doctor Strange in 1968. Strange has remained a regular part of the Marvel line-up since, where his backstory as an arrogant surgeon who loses the use of his hands, undergoes mystical training in Tibet to eventually become the Sorcerer Supreme and his ongoing battles with occult forces have been elaborated out. He regularly interacts with (has even occasionally fought against) other characters in the Marvel universe. Although there had been magician heroes before – Zatara and his daughter Zatanna, the radio/serial hero Chandu the Magician (1932) and, most famously, Mandrake the Magician – what was distinctive about Doctor Strange was its move away from a stage magician as hero concept to an esoteric superhero. As a result, Doctor Strange became a comic-book filled with arcane states of mind, astral planes and elemental forces. Steve Ditko's wildly colourful and frequently psychedelic artwork gained the comic-book a cult following.
Doctor Strange had appeared on screen before in the not bad tv movie Dr. Strange (1978), which was one of a package of Marvel Comics titles brought up for television (something that also spawned the The Amazing Spiderman (1977-9) and The Incredible Hulk (1977-81) tv series). There Strange was played by Peter Hooten, but the film failed to attract sufficient interest to be picked up as a series. Doctor Strange has appeared in episodes of other Marvel animated tv series and has often been suggested as a film property. Wes Craven was associated with a film adaptation throughout the 1990s and Guillermo Del Toro in the early 2000s. The only actual Dr Strange film during this period has been Doctor Strange (2007), one of a series of occasional animated spinoffs from the Marvel Cinematic Universe. There was also Full Moon's Doctor Mordrid (1992), which did a fine, low-budgeted capturing of the essence of the comic-book in all but name.
Doctor Strange now emerges on screen as part of the Marvel Comics Universe. Marvel Comics adaptations had gained a good deal of success on screen throughout the early 2000s films such as Blade (1998), X-Men (2000), Spider-Man (2002), Daredevil (2003), Hulk (2003), The Punisher (2004), Elektra (2005), Fantastic Four (2005), Man-Thing (2005) and Ghost Rider (2007). Marvel then consolidated their properties into a shared world they called The Marvel Cinematic Universe (The MCU), which began with Iron Man (2008) and continued through the successive likes of Thor (2011), The Avengers (2012), Guardians of the Galaxy (2014), Ant-Man (2015), Black Panther (2018), Captain Marvel (2019), Black Widow (2021), Eternals (2021), Shang-Chi and the Legend of the Ten Rings (2021) and sequels to almost all of the above, as well as the tv series' such as Daredevil (2015-8), Jessica Jones (2015-9), Luke Cage (2016-8), The Defenders (2017), Iron Fist (2017-8), The Punisher (2017-9), The Falcon and the Winter Soldier (2021- ), Hawkeye (2021- ), Loki (2021- ), WandaVision (2021- ), Moon Knight (2022- ), Ms Marvel (2022- ) and She-Hulk: Attorney at Law (2022- ).
Doctor Strange's appearance in the MCU had been tipped in a throwaway line in Captain America: The Winter Soldier (2014). (This does kind of create a continuity clash in that that film took place two years earlier where S.H.I.E.L.D. already had Strange under observation whereas here the date that everything begins is said to be 2016). One must compliment (?) Doctor Strange in that it is also a film that is not constantly finding the need to drop continuity Easter Eggs – apart from a post-credits appearance from Chris Hemsworth's Thor, there is nothing else that ties in to any of the other films as though perhaps the filmmakers were aware of how much the MCU had becomes an insider joke and determined to make this a standalone effort.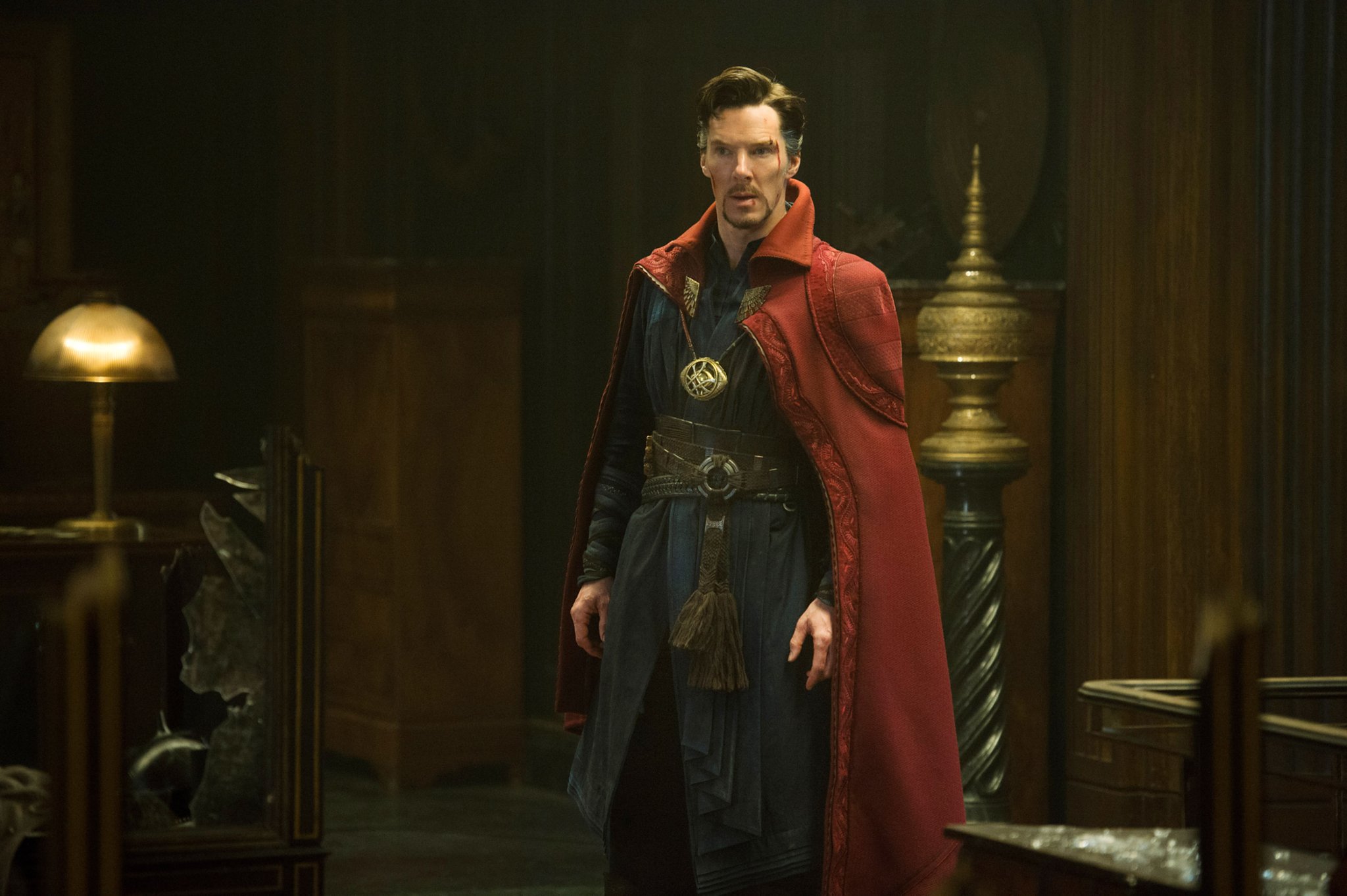 I had mixed feelings about the selection of Scott Derrickson as director. In comparison to Wes Craven and Guillermo Del Toro who both made you excited about the possibilities, Derrickson has been a frustrating hit and miss director. He first appeared with the okay Hellraiser: Inferno (2000). He then went onto the commercial success of The Exorcism of Emily Rose (2005) wherein Derrickson's proclivities as an evangelical Christian became evident, wildly distorting the original true story and turning it into a faith over rationalism legal debate. I had more of a liking for Derrickson's follow-up, the remake of The Day the Earth Stood Still (2008), than most did, while I found his next, the horror film Sinister (2012), which was well critically received, to be overrated. The subsequent Deliver Us From Evil (2014), a return to true-life possession and exorcism stories, was better than Emily Rose. Doctor Strange has at least gained Derrickson the best notices and biggest box-office of his career so far. He followed this with the horror film The Black Phone (2021) and the Dreamkill episode of V/H/S/85 (2023). Derrickson has also written Urban Legends: Final Cut (2000), and produced the Christian horror film The Visitation (2006), the horror film Kirsty (2014), Sinister 2 (2015) and Doctor Strange in the Multiverse of Madness (2022), as well as wrote/produced Devil's Knot (2013) based on true story of the West Memphis Three.
The film does play free with some of the mythos of the comic-book. One of these is the issue that loomed over the film before it opened of whitewashing – something that killed Gods of Egypt (2016) earlier in the year. The film seems stuck in an unenviable position of either whitewashing or having to go with racial stereotypes. In the comic-book, The Ancient One is a cliche figure of the all-powerful aging Eastern mystic who talks in inscrutable epigrams. However, his replacement by Tilda Swinton has less to do with avoiding racial cliches or rewriting for popular appeal than it is to do with kowtowing to the all-important Chinese box-office in that Kamar-Taj is said to reside in Tibet, which is of course a territory that China has occupied since 1950 and has vehemently resisted all efforts by its native people to assert their national sovereignty. For the film, Kamar-Taj has been displaced a few hundred miles over the border from Tibet into neighbouring Nepal.
We get a few other changes – Wong is upgraded from Dr Strange's manservant to a fellow novice, while Chiwetel Ejiofor plays another associate called Mordo who in the comic-books is meant to be a Transylvanian nobleman called Baron Mordo and crucially is a super-villain. Mordo's origin arc was as a pupil to The Ancient One who goes rogue so clearly this is a storyline that is being set up for future sequels (something that is suggested by the second post-credits scene).
I have to commend Scott Derrickson. He does better with Doctor Strange than I expected he would. He plays around with some of the elements but mostly gets the look, feel and mythos right. There are all the trappings of the comic-book – the Eye of Agamotto, the Cloak of Levitation (which almost becomes its own character and steals just about every scene it appears in), the Sanctum Sanctorum (which is designed as though it came direct from the comic panel). Most of all though, the film excels in the visual depiction of the astral plane, especially during the journey that Tilda Swinton sends Benedict Cumberbatch on at the outset and subsequent sequences, which perfectly tap the psychedelic esoterica and mind-tripping visions that the comic-book used to specialise in.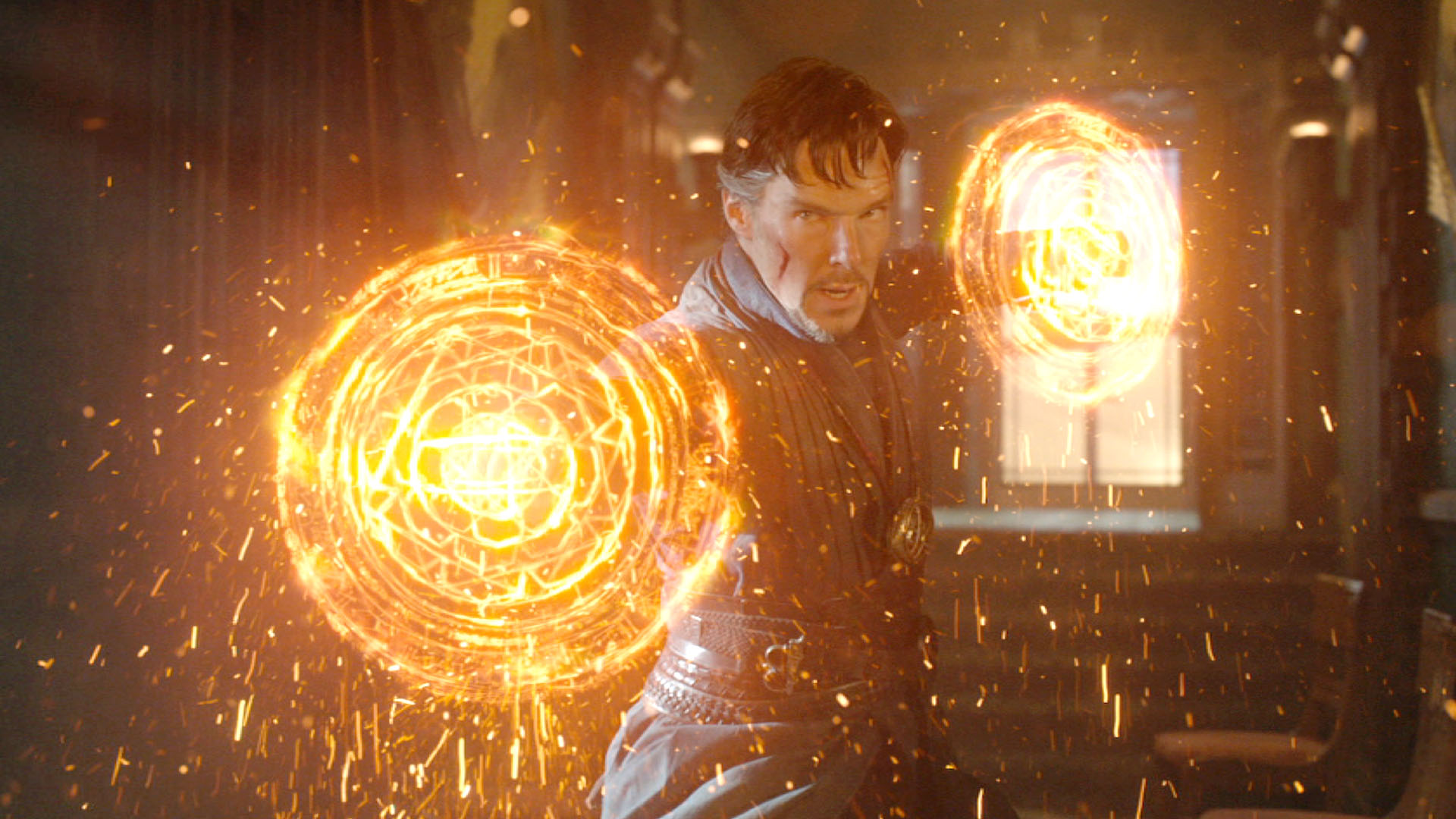 I also liked Derrickson's conception of the character. He has made an effort to get away from the cliche of the sorcerer tossing off coloured power blasts or chanting arcane phrases – something that dogged the 2007 animated film. Instead we get a conception of magic in terms of harnessed forces and energy coigns, of insta-portals created in mid-air and doorways that lead to different landscapes. The visual effects are top quality, even if the dimensional folding owes a little too much to Inception (2010). Derrickson and the various effects companies create some enthralling sequences – the aforementioned astral journey; the chase and fight through the Sanctum Sanctorum and into the mirror universe with Mads Mikkelsen folding the landscape around in every direction until it looks like the characters are fleeing/falling through a collage of M.C. Escher paintings; or the climactic sequence where Benedict Cumberbatch fights Mads Mikkelsen through a Hong Kong street scene where the mass destruction is being run in reverse and then creates a timeloop to trap Dormammu.
The one thing that anchors the film and without which it would not work is Benedict Cumberbatch who slips into the title role as though he were born to it. Cumberbatch has made a meteoric rise, ticking all the boxes of fan favourite and women's pin-up to enjoy enormous success as both a popular and a seriously acclaimed actor, even being nominated at all of the major awards (Academy, Golden Globes, Emmys, BAFTAs) within only the space of the five years since he first appeared virtually out of nowhere in the tv series Sherlock (2010– ).
As Doctor Strange, Cumberbatch has the difficult position of portraying an arrogant, self-important surgeon in the opening scenes and then having to switch about and become essentially an everyman who is struggling to abandon a Western rationalist way of thinking and absorb into Eastern mysticism, while also making the journey sympathetic and humorous to us. That he straddles such a range is all to Cumberbatch's credit. When the Cloak of Levitation settles on his shoulders and flaps up behind him with awesome cool, it is the superhero origin story morphing into the mature familiar character and feels something perfectly earned.
Doctor Strange in the Multiverse of Madness (2022) was a sequel. Benedict Cumberbatch subsequently returned as Doctor Strange in Thor: Ragnarok (2017) and Spider-Man: No Way Home (2021) and joined The Avengers in Avengers: Infinity War (2018) and Avengers: Endgame (2019).
(Nominee for Best Actor (Benedict Cumberbatch), Best Special Effects and Best Production Design at this site's Best of 2016 Awards).
---
---