---
Crew
Director/Screenplay – Richard Linklater, Producers – Tommy Palotta, Jonah Smith, Anne Walker-McBay & Palmer West, Music – Glover Gill, Performed by The Tosca Tango Orchestra, Animation Director/Art Direction – Bob Sabiston. Production Company – Fox Searchlight Pictures/The Independent Film Channel Productions/Thousand Words/Detour Productions.
Voices
Wiley Wiggins, Ames Asbell, Peter Atherton, Jeanine Attaway, Marta Banda, Louis Black, Steve Brudniak, John Christensen, Bess Cox, Carol Dawson, Julie Delpy, Steve Fitch, Kregg A. Foote, Guy Forsyth, Aklilu Gebrewold, Glover Gill, Adam Goldberg, Brent Green, Erik Grostic, Charles Gunning, Ethan Hawke, Eamon Healey, Lara Hicks, Jason T. Hodge, Otto Hoffmann, Tiana Hux, David Jewell, Alex Jones, Nicky Katt, Kim Krizan, Mona Lee, Timothy Levitch, E. Jason Liebrecht, Lorelei Linklater, Richard Linklater, Louis Mackey, Leigh Mahoney, Edith Mannix, David Martinez, Mary McBay, Lisa Moore, Charles Murdock, Sara Nelson, Violet Nichols, Ryan Power, Steven Prince, Hymie Samuelson, J.C. Shakespeare, Steven Soderbergh, Robert C. Solomon, David Sosa, Ken Webster, R.C. Whittaker, Bill Wise
---
Plot
A young man has a dream in which he encounters people who argue their various philosophical viewpoints. He wakes up – only to then discover he is still dreaming and cannot wake up. As the dream continues, he begins to debate on what the nature of dreaming itself is.
---
Texas-based Richard Linklater first emerged to attention with his second film, the cult indie hit Slacker (1991), an hilarious mockumentary that consisted of a series of picaresque encounters with the eccentrics that inhabit Austin, Texas. Linklater quickly went on to create acclaimed films like Dazed and Confused (1993), Before Sunrise (1995) and sequels, subUrbia (1996), The Newton Boys (1998), The School of Rock (2003), Fast Food Nation (2006), Me and Orson Welles (2008) and Boyhood (2014). Throughout these, Linklater has established himself as a unique and distinctive voice, charting as he does both the lives of Gen X people caught between the banality of boring lives and their generation's quest for philosophical meaning.
Waking Life was Richard Linklater's most experimental work up to that point. Linklater and a small crew quickly shot the film on video and then handed it over to a team of animators who painstakingly traced over the live-action (a process known as 'rotoscoping'). The result is one of the most unique artistic animation experiments ever conducted.
Making an animated film consisting of philosophical musings may well seem an artistic indulgence – and there are times some of the slightly loopy, New Agey ideas make it emerge more as Wanking Life – but you cannot argue with the beauty of the result. There is little in common with either the high-art of modern Disney or their classic outlined two-dimensional figures, nor the computer-animated visuals of Pixar and imitators. Rather Waking Life feels like an impressionistic oil colour having been brought to three-dimensional life. While sometimes the shifting, swaying backgrounds, tends to make one feel like they are standing on the deck of a ship at sea and a little seasick, the result is unlike any animated film made before.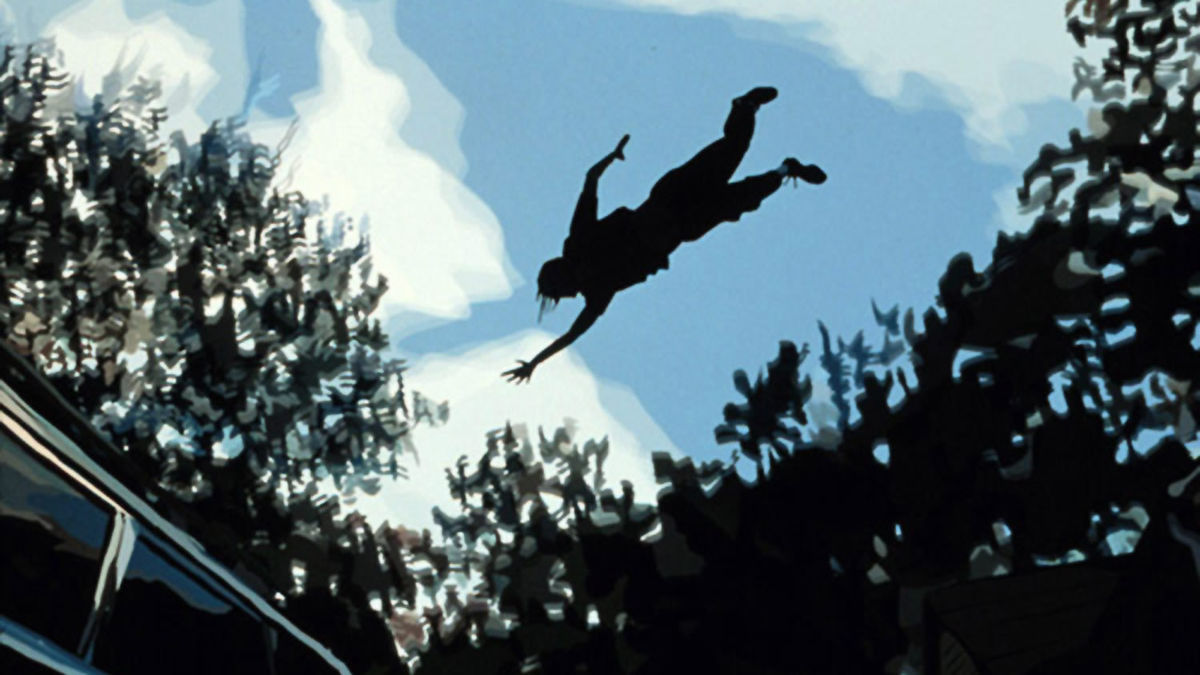 Waking Life is also a renaissance of Richard Linklater themes. In fact, you could draw comparisons between Richard Linklater and another director who charts the ordinary lives of the same generation of people, Kevin Smith, and his Jay and Silent Bob Strike Back (2001), which came out around the same time and was similarly construed as a picaresque through the themes that made up the particular director's cult
.Waking Life is a return to the format of Linklater's Slacker with a single man walking through a town encountering people who expound forth. The difference between Slacker and Waking Life is that Slacker was a mock documentation of oddball eccentricities and ramblings, whereas Waking Life is more a documentation of philosophical attitudes. Waking Life is Slacker seemingly informed by Linklater's later Before Sunrise, which was essentially a two-person existential dialogue tripping through the meaning of life and the poetry of grandly meaningful ideas. Before Sunrise's two stars Ethan Hawke and Julie Delpy even turn up in bed here having a conversation where she wonders if she is merely not an old woman remembering her life in her dying moments and he entertains the possibility of paradigm shifts communicated through group telepathy.
Watching Waking Life is not unakin to what one might call '3 AM Moments' – that particular time when a party is winding down and people are starting to sober up and conversation drifts to the deep and meaningful. Linklater certainly covers the gamut of opinion, discoursing with postmodernism, phenomenology, reincarnation, linguistic existentialism, free will and quantum physics, the mind-body question, sitting down to have a 'Holy Moment'. Even down to someone in a jail cell brooding with rage against those who put him there to the individual angry with the world who sets himself on fire. It is clearly Linklater's purpose to chart as many varied viewpoints as possible without ever arguing for or against any of them.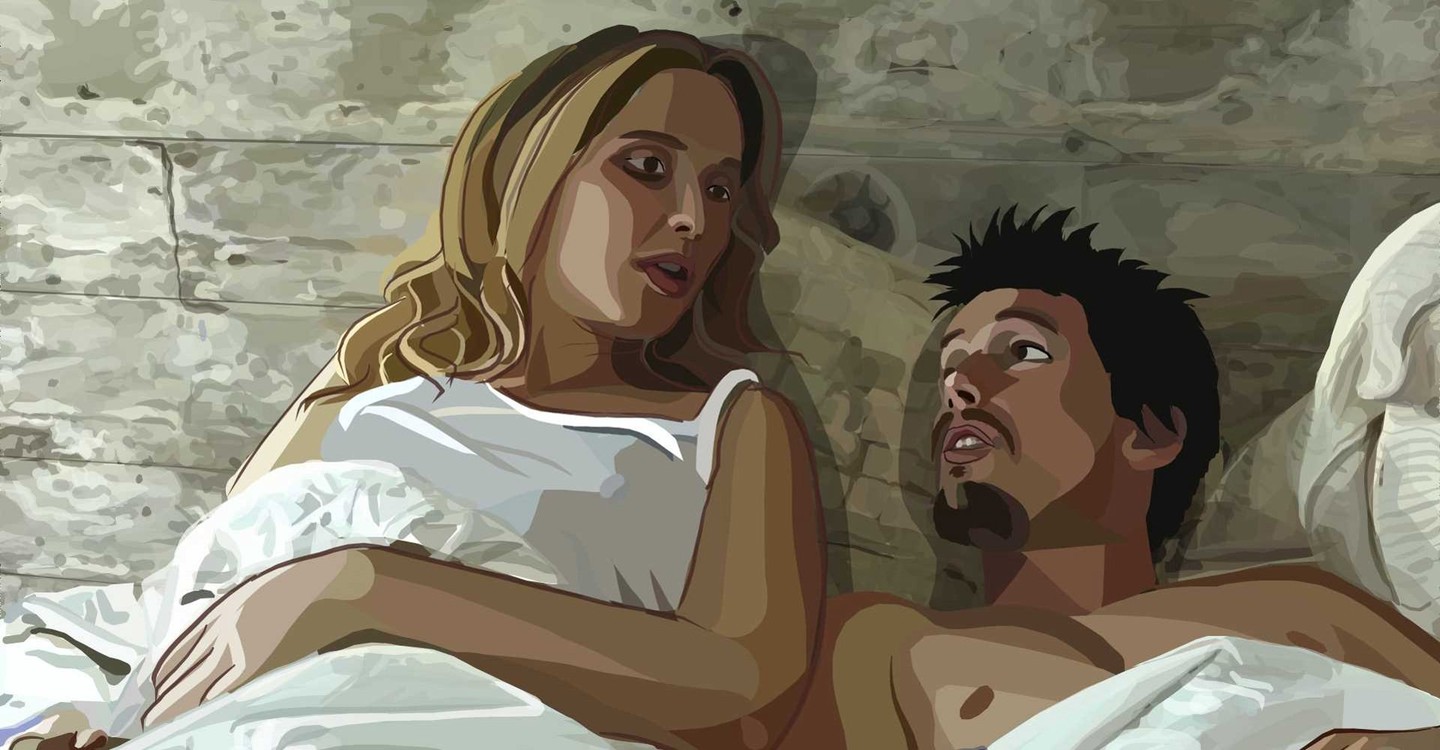 Of course, the main difference between Waking Life and the usual 3 AM Moment are the literacy with which people put their point-of-view, as opposed to real-life where it more ends up a case of someone dogmatically arguing an incoherent point-of-view. The results here are sometimes wittily inconsequential – the film indulges in odd jokes, most clumsily one about gun advocates – but is always provocative, dazzling and frequently brilliant. If you want an idea of just how unique and intelligent Waking Life is – try and name one other populist, even arthouse film out there, that not only mentions Sartre and Kierkegaard, but also engages in literate discourses on either.
Waking Life is at its most hauntingly poetic when Richard Linklater weaves it into a labyrinth of dream, of a dreamer becoming aware he is in a dream state and constantly questioning it. There is a beautiful scene where the central character wakes up and then encounters someone who describes themselves as a 'dream lubricator' who shows how you can tell you are dreaming, only for the hero to try it and then find he is still dreaming.
The film is filled with some beautifully thoughtful moments where the central character tries to ask a woman in his dream what it is like to be a dreamed character, before ending on a haunting story from a character playing a pinball machine (voiced by Linklater himself) who tells a story about Philip K. Dick and how he believed that everything was a dream we were having from 50 A.D. and the belief that we are all in a single moment whose only choice is between choosing or denying eternity.
Richard Linklater went on to make two further animated film with the Philip K. Dick adaptation A Scanner Darkly (2006) and the quasi-autobiographical Apollo 10½: A Space Age Childhood (2022).
(Winner in this site's Top 10 Films of 2001 list. Winner for Best Original Screenplay at this site's Best of 2001 Awards).
---