---
Crew
Director/Story – Pedro Morelli, Screenplay – Matt Hansen, Producers – Andrea Barata Ribeiro & Niv Fichman, Photography – Adrian Teijido, Music – Kid Koala, Visual Effects Supervisor – Marcelo Souza, Animation Design – Adams Carvalho & George Schell, Prosthetics – Caligari Studio, Production Design – Elisa Sauve. Production Company – Rhombus Media/02 Filmes.
Cast
1:– Alison Pill (Emma Boyles), Tyler Labine (Bob), Michael Eklund (Moustache Guy). Rick Roberts (Plastic Surgeon), Cle Bennett (Carl Stromway). 2:– Gael Garcia Bernal (Edward Deacon), Jennifer Irwin (Marissa), Don McKellar (Horowitz). 3:– Mariana Ximenes (Michelle), Jason Priestley (Dale), Claudia Ohana (Alice), Patrick Garrow (Norman)
---
Plot
1:– Emma Boyles works in a factory making inflatable rubber sex dolls. When her co-worker/boyfriend Bob makes a comment about her having small breasts, she decides to get a set of implants. Immediately after, she regrets the decision due to the unwarranted attention her enlarged chest brings. However, she does not have the money for a second operation. That is until she finds a package of cocaine accidentally delivered to her mailbox. Bob has a friend in the US who will buy it and they come up with a scheme to transport it in a custom sex doll being sent to a customer in Buffalo. The scheme is thrown awry when the customer comes to personally pick the doll up and they must break into his house to retrieve the stashed drugs. 2:– Emma is also writing a graphic novel about Edward Deacon, a Hollywood film director who has irresistible sexual charm. Frustrated about her breast implants, Emma rewrites Edward with a miniscule penis. Horrified at the abrupt change, Edward finds his charms have vanished and he is now unable to perform. The studio executive Marissa is not happy with his latest film and demands the ending be reshot. Travelling to Brazil for reshoots, Edward is horrified when he finds the life-affirming drama he intended is being taken over and turned into an action film. However, he no longer has the charm to be able to influence Marissa. 3:– The central character in Edward's film is the Brazilian model Michelle who is offered a contract to write a book (which is the story of Emma). Her boyfriend Dale does not believe she can do it and in frustration Michelle returns to Brazil where she begins to discover herself.
---
Zoom was the second film for Brazilian director Pedro Morelli who had previously made Entre Nos/Between Us (2013). Zoom was made as a Canadian-Brazilian co-production. Morelli also has on board as a producer the more high-profile Brazilian director Fernando Meirelles, known for The Constant Gardener (2005) and the fine Blindness (2008), a previous Canadian-Brazilian film, which also features several of the same cast here.
Meta-fiction is the idea where works of fiction become more than simple narrative stories – where the writer breaks down the fourth wall and has characters address the reader/audience or the story being read/viewed becomes woven into the story being told, even the idea where fictional characters have an ontological reality, recognise their nature and/or can step outside of the narrative.
We have seen a few examples of meta-fiction applied to film – literary-based works like Providence (1977), Je Tu Il (1981), The Neverending Story (1984) and sequels, I, Madman (1989), The Baby of Mâcon (1993), The Dark Half (1993), In the Mouth of Madness (1995), Stranger Than Fiction (2006), Written By (2009), Ruby Sparks (2012) and Goosebumps (2015). The most celebrated meta-fictionist on film was Britain's Dennis Potter in tv works like Double Dare (1976), The Singing Detective (1986) and Blackeyes (1989), all of which blur the line between reality and fiction in ingenious ways. A modern equivalent of Potter is Charlie Kaufman in works like Adaptation. (2002) and Synecdoche, New York (2008).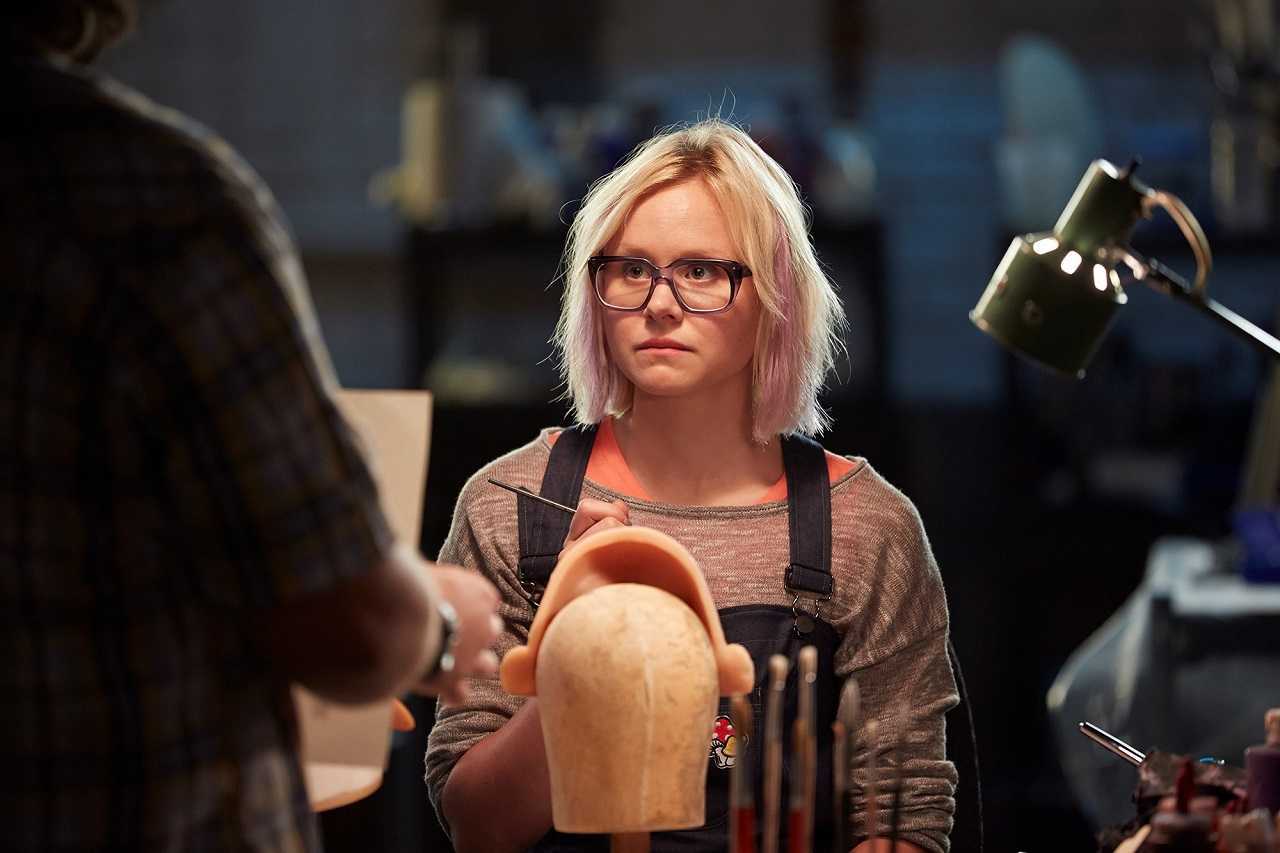 There has also been the translation of meta-fiction to the medium of film – something that this author has named 'meta-film'. The first work here was Woody Allen's The Purple Rose of Cairo (1985), which had the hero of a 1930s film step out of the screen into the real world, although the earlier The French Lieutenant's Woman (1981) used meta-film in non-fantastic ways. Similar ideas appear in films like The Icicle Thief (1989), Last Action Hero (1993), Wes Craven's New Nightmare (1994), Rubber (2010), Camera Shy (2012) and Snowflake (2017), while works like Delirious (1991) and Pleasantville (1998) apply meta-fiction to the medium of television. (For more detail see Meta-Fiction Films).
There is a considerable cleverness to Zoom. It tells three stories that in another work might simply be mundane episodes in an anthology concerning people's quirky lives – think maybe of something like New York Stories (1989). However, all of the stories are nested within one another – Allison Pill works in a sex doll factory while she writes a graphic novel about a Hollywood director having problems with his latest shoot, while in that tale the director (Gael Garcia Bernal)'s film concerns a model (Mariana Ximenes) who runs away to Brazil in order to write a novel, which happens to be about a girl who works in a sex doll factory.
The three stories are constantly, wittily influencing and reflecting one another – when Alison Pill gets fed up with her breast implants, she retaliates by giving the director character in her comic-book a minuscule dick; in that story, the studio doesn't like the director's ending so decide to add a big flashy one in which Mariana gets a more glamorous makeover and flees by car and is then taken up by helicopter; while in her story, she decides to spice up her novel by having a parcel of drugs accidentally end up in Alison's mailbox and rewriting her boyfriend Taylor Labine with a criminal history. The characters are constantly reacting to these abrupt changes in their world, which makes up a good deal of the film's amusement. I would go so far as to say that Zoom has a much more confident and cleverer use of its meta-fiction than Stranger Than Fiction did.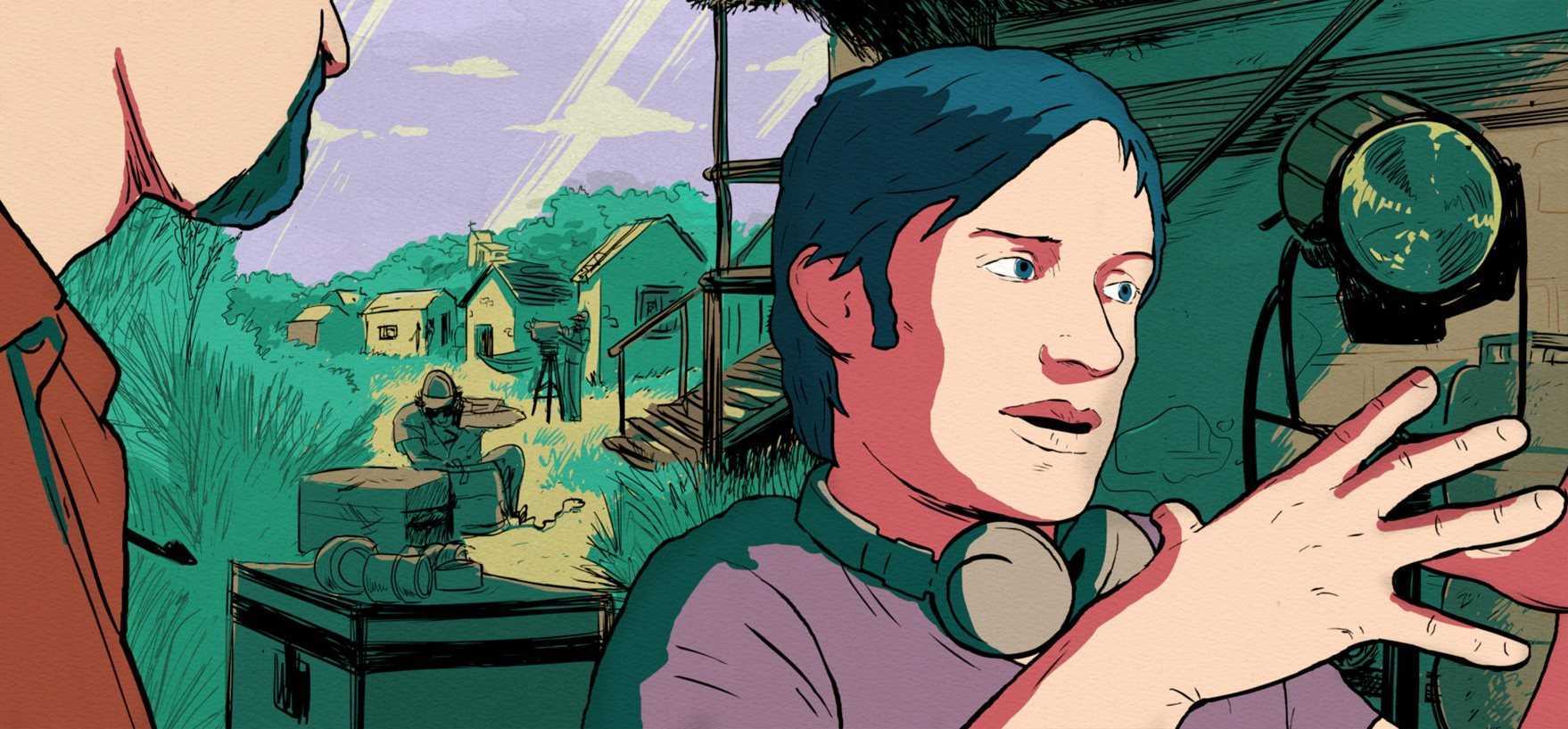 Zoom is a film filled with visual invention and cleverness. I particularly liked how in the animated sections the world around Gael Garcia Bernal is gradually being filled out as Alison Pill adds more detail – the characters are just outlines at first then come the addition of shadow followed by colour and background detail. The film is constantly filled with blackly funny twists – Alison Pill finding that she has to sneak into the home of Michael Eklund and steal the doll back at the same time as he is making out with it; the over-the-top film reshoots that are forced onto Gael Garcia Bernal.
The film reaches an appealingly witty ending where all three stories start to merge and the characters end up addressing their creators – Alison Pill sending word balloons down to Gael Garcia Bernal, while shots fired in the sex doll workshop pierce her artificial breasts and the silicon lands on the comic-book panel, causing the film set to be overrun by a blob and characters' drawings to start to run together.
---