---
Crew
Directors – Greg Tiernan & Conrad Vernon, Screenplay – Evan Goldberg, Kyle Hunter, Seth Rogen & Ariel Shaffir, Story – Evan Goldberg, Jonah Hill & Seth Rogen, Producers – Megan Ellison, Evan Goldberg, Seth Rogen & Conrad Vernon, Music – Christopher Lennertz & Alan Menken, Animation – Nitrogen Studios Canada Inc, Animation Supervisors – Jeff Bailey & Steve Wittman, Visual Effects Supervisor – Bert Van Brande, Production Design – Kyle McQueen. Production Company – Annapurna Pictures/Point Grey.
Voices
Seth Rogen (Frank/Sergeant Pepper), Kristen Wiig (Brenda Bunson), Michael Cera (Barry), Salma Hayek (Teresa del Taco), Nick Kroll (Douche), Edward Norton (Sammy Bagel Jr), David Krumholtz (Kareem Abdul Lavash), Jonah Hill (Carl), Paul Rudd (Darren), Bill Hader (Firewater/Tequila/El Guaco), James Franco (Druggie), Danny McBride (Honey Mustard), Scott Underwood (Gum/Twink/Pizza/Krinkler's Chips), Anders Holm (Troy), Craig Robinson (Mr Grits), Lauren Miller (Camille Toh/Tampon)
---
Plot
In the Shopwells supermarket, all the food and products live in joy at the thought of being purchased by the gods and taken into the Great Beyond. Frank is a sausage in love with his girlfriend, the hot dog bun Brenda – they even sneak out of their respective packets to let their tips touch, although this is a practice that is frowned upon. Just as they are selected by one of the gods, Frank hears the tale from a jar of honey mustard who has been returned about how the Great Beyond is not a place of joy but one of absolute horror where all of them are wantonly slaughtered. The shopping trolley crashes and both Frank and Brenda are thrown from the cart. They now find themselves in a part of the supermarket far away from their home aisles. They set out to return home in the hope of slipping back into other packets. However, a douche has also fallen from the cart and is angry at the fact that its nozzle has been twisted, meaning it will not be able to go into The Great Beyond. Leaking, it starts devouring the contents of other containers it comes across, turning into something larger and more maddened as it sets out seeking revenge against Frank and Brenda. As Frank and Brenda continue on their journey, Frank is driven by a need to find out the truth about The Great Beyond for himself.
---
Seth Rogen has attained an A-list name in the last few years. The Canadian-born Rogen first appeared on the short-lived tv series Freaks and Geeks (1999-2000) and around the same time made a name as a comedy writer on the tv series Undeclared (2001-2) and Da Ali G Show (2003-4). Rogen had his breakout hit with the Judd Apatow film Knocked Up (2007), and then wrote and made appearances in the Apatow produced Superbad (2007) and Pineapple Express (2008). These served to give Rogen a name and he has gone onto star in a slew other films such as Zack and Miri Make a Porno (2008), Funny People (2009), 50/50 (2011), The Guilt Trip (2012) and Neighbors (2014), as well as voiceover work in Kung Fu Panda (2008), The Spiderwick Chronicles (2008), Monsters vs Aliens (2009) and Paul (2011).
Seth Rogen the writer is a somewhat more uneven proposition. His scripts for Superbad and Pineapple Express have been side-splitting but these are balanced out by the abortion that was The Green Hornet (2011) and the none-particularly standout The Watch (2012). More recently, Rogen along with his writing partner Evan Goldberg, made their debut as co-directors of the hilarious This is The End (2013), followed by the subsequent notoriety of The Interview (2014), while also producing An American Pickle (2020) starring Rogen as a Jewish immigrant from 1919 awoken in the present. Around the same time they also produced the comic-book adapted tv series Preacher (2016-9), the time travel comedy Future Man (2017– ) and the superhero series The Boys (2019- ). Rogen and Goldberg write and produce Sausage Party, while Rogen voices the lead role.
The actual directing of the film has been turned over to Greg Tiernan, a newcomer whose only prior directorial experience had been on various Thomas the Tank Engine specials, and Conrad Vernon, a DreamWorks director who had co-directed Shrek 2 (2004), Monsters vs Aliens (2009) and Madagascar 3: Europe's Most Wanted (2012). Greg Tiernan and Conrad Vernon subsequently went on to make the animated The Addams Family (2019) and Addams Family 2 (2021).
Sausage Party must count as the most off-the-wall (or maybe off-the-shelf) concept for a film, let alone animated film, that one has set down to – the lives of talking supermarket produce and goods. Oddly enough, the idea of talking food was done previously in Cloudy with a Chance of Meatballs 2 (2013), which featured an island filled with animate food – although Sausage Party pushes the material in far more adult directions than the innocuous family fare we had there, not to mention restricts the concept to merely the products found in a supermarket.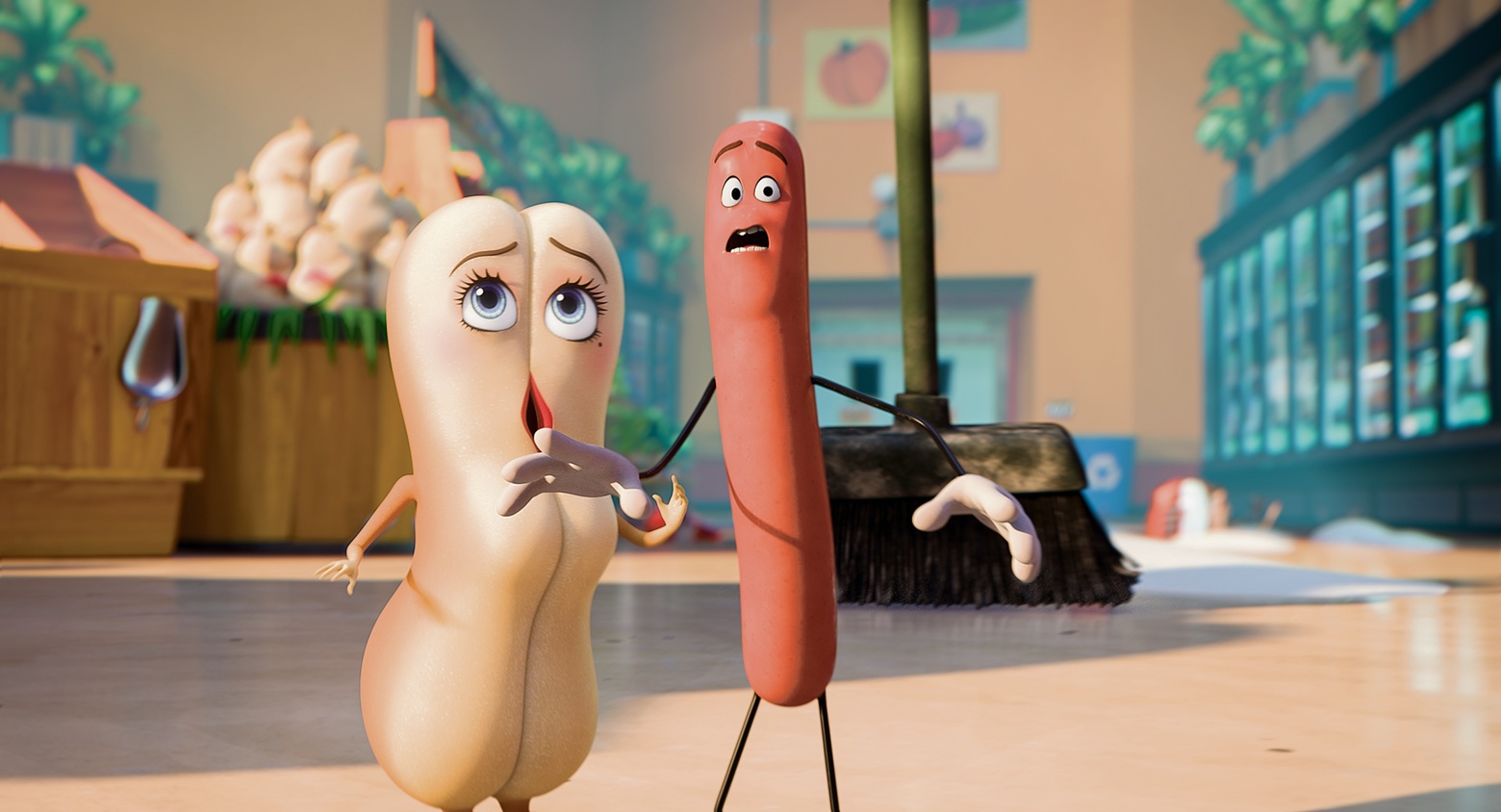 Both films do lead to some head-scratching questions about how such an eco-system would work. In that the food products here seem divided into genders and equipped with genitalia – given the number of references we have to dicks and balls throughout, not to mention items of food product expressing sexual desire for one another – then what purpose would these serve? Assuming their genitalia exists for the same purpose it does in the animal kingdom, how would a sausage and a hot dog bun give birth to anything? How much sentience and a life could an item of food with an expiry date possibly have? As we have talking packets of chips, is each chip an individual sentient entity or is it the packet itself that is (both seeming to be indicated at various points)? In that these creatures have created a mythology about their fate, do they not have similar thoughts about their origins and how they came to be in packets?
The plot of Sausage Party is similar to the one that served both Charlotte's Web (1973) and Babe (1995) – namely the journey of a lowly animal destined to be eaten (in this case, one that has already been processed) as it sets out on a quest to find its purpose among the god-like beings that tend it. All of these are Conceptual Breakthrough stories that follow the bildungsroman of a small or innocent character towards a greater understanding of the world. The surprise is that Seth Rogen and Evan Goldberg then throw in  a series of analogies that compare this to religion and atheism – although in a hardly serious vein.
Rogen and Goldberg readily delve into bad taste. This is a film that trades in racial caricatures whereby the various food types inherit the characteristics of their associated ethnic origin – thus the bagel is Jewish, the taco and tequila Latino, we have Native American firewater, the grits are African-American, the potatoes talk with Irish accents, while the Chinese food maintains its own aisle like a Chinatown and so on. One of the running gags throughout the film is how current Israeli-Arab tensions play out between Edward Norton as the Jewish bagel and David Krumholtz as the Middle Eastern flatbread. (When the two are returned to their home shelves, we see both sides angrily shouting at one another across the divide. While most multiplex films try to do everything to avoid modern politics, it is nice to see a film that readily acknowledges Middle Eastern tensions, if in a hardly serious way).
A lot of commentators leapt aboard this calling the film racist. I am not sure if this an issue I want to agree or disagree with here – you feel like there should be some line between a caricature and a racial slur. That said, the image of the German sauerkraut singing "Kill the Juice" in the opening scene does kind of make you wince (I suppose you can kind of give the film a certain latitude here as both Rogen and Goldberg are Jewish).
What you cannot deny about Sausage Party is that it is extremely funny. It takes a completely lunatic premise and keeps finding ways to twist it and come up with ridiculous variations on the theme of animate supermarket products and especially the variety of sexual combinations that these can be put to. The hero and heroine are a sausage and hot dog bun and view their relationship in terms of taboos against pre-marital sex as they sneak out of their respective packets to "only let the tips touch" and she worries about still being fresh after she sneaks back into the packet.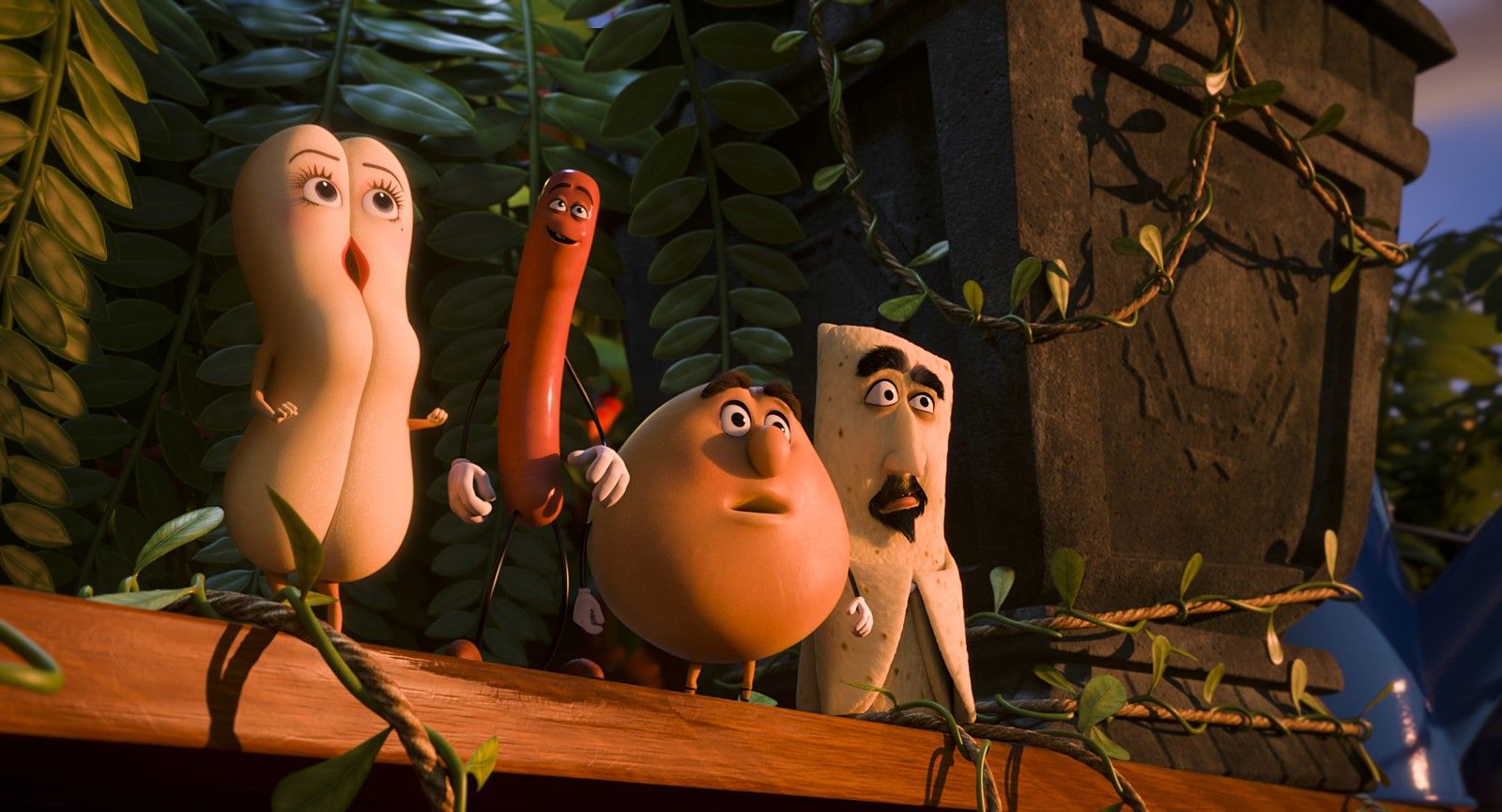 This is a film where the villain of the show is literally a douche and becomes a super-villain of sorts by devouring the contents of other product containers and becoming stronger and more maddened. Or when Meat Loaf's classic tune I'd Do Anything for Love (But I Won't Do That) (1993) is played, the song is performed by a packet of meat loaf. During Barry's venture into the outside world, he encounters half-eaten slices of pizza and cookies, a Stephen Hawking lookalike made of discarded gum, even a talking used condom and a dog shit where we see pieces of corn embedded in it like dead ghosts.
The scene where the supermarket trolley crashes is relayed in terms of a movie disaster aftermath where rather hilariously we see a fallen can of spaghetti struggling to hold its ruptured innards in, an Oreo searching for one of its missing wafers and a banana that has had its skin split open. The kitchen massacre scene where the food brought from the supermarket is slaughtered – vegetables being seen being brutally sliced up, nachos screaming as they are placed in the microwave, the sausages skewered by kitchen knives – is a surprisingly grim and horrific scene despite the absurd notion of it being played out by talking food.
None of this prepares you for the pure dementia of the climactic scene where the food turn the tables on the humans, followed by the all-out orgy between the various food products (during which the sausage hero and his bun girlfriend finally get to consummate their relationship). The triumphant climax of the film does make you wonder how such a status quo would last or how long a life could be expected for foods with expiry dates but I suspect that may well be over-thinking it. There is an unnecessary fourth wall breaking final gag where the foods realise that they are cartoon characters being played by the respective actors and set out through a portal to meet them but otherwise I stretch to think of a film where I laughed so much throughout.
(Winner in this site's Top 10 Films of 2016 list. Winner for Best Original Screenplay at this site's Best of 2016 Awards).
---
---