---
Crew
Director/Screenplay – Dash Shaw, Producers – Tyler Davidson, Kyle Martin, Jane Samborski & Bill Way, Music – John Carroll Kirby, Animation Director – Jane Samborski. Production Company – Electric Chinoland/Low Spark Films/Washington Square Films.
Voices
Lake Bell (Lauren Grey), Thomas Jay Ryan (Nicholas), Angelika Papoulia (Phoebe), Grace Zabriskie (Joan), Louis Krause (Amber), Irene Muscara (Giulia), Emily Davis (Pliny), Michael Cera (Matthew), Zoe Kazan (Magdalene), Joce Soubiran (Vaughn)
---
Plot
The 1960s. Lauren Grey works for the Cryptozoo in San Francisco, a facility that has been set up by Grace to house cryptid animals from all around the world in safety. Lauren's job is hunting down cryptids and bringing them back. Her greatest rival is Nicholas, a former soldier who captures cryptids ostensibly on behalf of the government but sells them to private buyers. When Lauren was a child, she had terrible nightmares but a Baku, a creature that eats dreams, came and took them away. Grace now learns that there is a Baku in private hands in the American Midwest. She is given a new assistant in Phoebe who is a gorgon but wears contacts and tranquilises her snakes. However, Nicholas is also on the trail of the Baku.
---
Animation in the USA is usually pegged as being for children, almost never for adults. It seems a problem with a conceptual niche. Certainly, there have been occasional exceptions to this such as the works of Ralph Bakshi and some of the more envelope-pushing work that turns up on television – Beavis and Butt-head (1993-2011) and South Park (1997- ) being two popular examples.
Cryptozoo has to count as one of these rare animated films made for grown-ups. There is a good deal of adult content – the character of Amber, the surviving one of the hippie couple, spends all her scenes with no clothes on, for instance, while there is the appealingly kinky scene where the aging Joan is seen going to bed with a Bigfoot-like creature.
Cryptozoo comes from Tyler Shaw who had previously made the interestingly strange sounding animated film My Entire High School is Sinking Into the Sea (2016). Cryptozoo also comes with a surprisingly reasonable name cast line-up.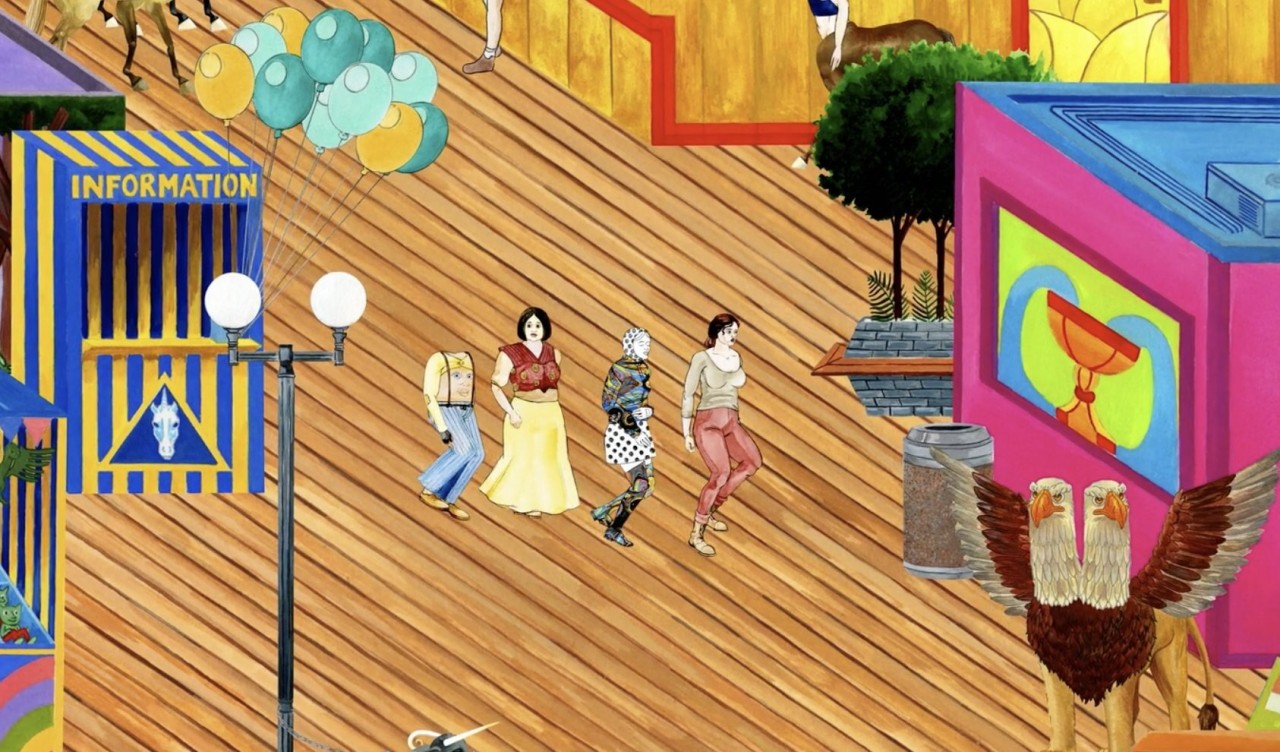 The animation in the film is fairly simple – the characters are essentially pen sketched, for instance. It is however the backgrounds, all of which come with an eye-poppingly psychedelic vibrancy, that make the film. These come packed with all manner of exotic creatures and travel through all the colours of the rainbow at various points. It is an amazingly colourful world that the film creates,
The premise – a group of dedicated zoologists who search the world for cryptids and bring them back alive, all while racing to beat the villainous rival big game hunter who does the same for profit – is a great one. It is a surprise that some tv show has not done a similar thing before along the lines of a series like The Librarians (2013-8). The story itself works extremely well – the hunt for the dream-eating creature from Lauren's childhood, which blossoms out into her and her enemy Nicholas having to make their way across the zoo park after somebody has released all the creatures. I could see this working in even more amazing ways as a live-action film.
---
Trailer here
---