---
Crew
Director/Screenplay – Richard Linklater, Producers – Mike Blizzard, Bruno Felix, Richard Linklater, Tommy Pallotta & Femke Wolting, Photography – Shane Kelly, Visual Effects Supervisor – Matthijs Joor, Animation Production Design – Vincent Bisschop, Production Design – Bruce Curtis. Production Company – Detour/World of Submarine.
Voices
Milo Coy (Stan), Jack Black (Grown Up Stan), Bill Wise (Dad), Lee Eddy (Mom), Natalie L'Amoreaux (Vicky), Josh Wiggins (Steve), Jessica Brynn Cohen (Jana), Sam Chapman (Greg), Danielle Guilbot (Stephanie), Zachary Levi (Kranz), Glen Powell (Bostick)
---
Plot
Stan grows up in El Paso, Texas in the late 1960s in a family of six other brothers and sisters. His father works as an official at NASA. All around, things heat up towards the Apollo Moon Landing in 1969. At school, Stan is taken aside by NASA officials and told that they have discovered that the dimensions for the Apollo Moon Lander capsule have been built too small and so they need a kid to fly a test Moon shot. NASA then place Stan through NASA training and launch him on a secret Moon mission.
---
Richard Linklater is a director who hails from Austin, Texas and has developed an interestingly original voice in contemporary cinema. Linklater first caught attention with his second film Slacker (1991), a hilarious mockumentary that purported to interview various eccentrics on the streets of Austin. Linklater went onto often individualistic films like Dazed and Confused (1993) and subUrbia (1996), which both depicted teenagers on the edge of leaving school into adulthood, and Tape (2001), which had a group of former school friends re-gathering to reminisce; Before Sunrise (1995) and its sequels Before Sunset (2004) and Before Midnight (2013), which had Ethan Hawke and Julie Delpy engaged in a series of philosophical observations about life while wandering the streets of Paris and reconnecting years later; Boyhood (2014) covering the life of a boy, which was shot over a twelve-year period; and more commercial works like The School of Rock (2003) and The Bad News Bears (2005).
In between his live-action films, Linklater has made several animated films. The first of these was Waking Life (2001), a series of philosophical musings about the nature of reality and dreaming, followed by an adaptation of the reality-bending Philip K. Dick novel A Scanner Darkly (2006). In both of these and here, Linklater prefers to shoot the film in live-action first and then hires animators to trace over the images – a process known as rotoscoping.
A number of Richard Linklater's other films fall into being Coming of Age stories – films nostalgic for one's younger years and centred around formative experiences. (I have an essay about genre variants on these here at Coming of Age Stories). Apollo 10½: A Space Age Childhood is maybe one of the most perfect depictions of the Great American Childhood we have had on film. More than half the film consists of a trip through growing up in the era of the Moon Landing. Much of this is quasi-autobiographical on Linklater's part – he was born in 1961 and would have been around the same age as Stan. That said, a good part of the film is also fictional – unlike Stan, Linklater grew up in Austin as opposed to El Paso and has only two sisters rather than six, while his father did not work for NASA.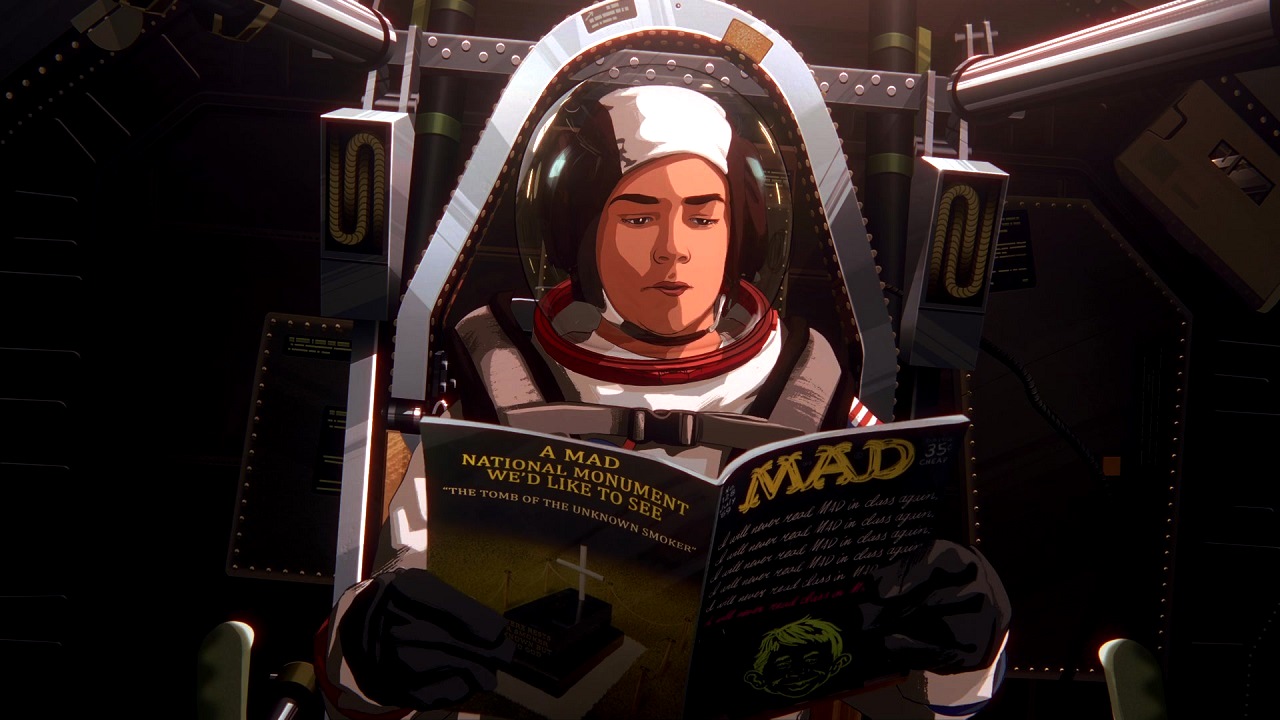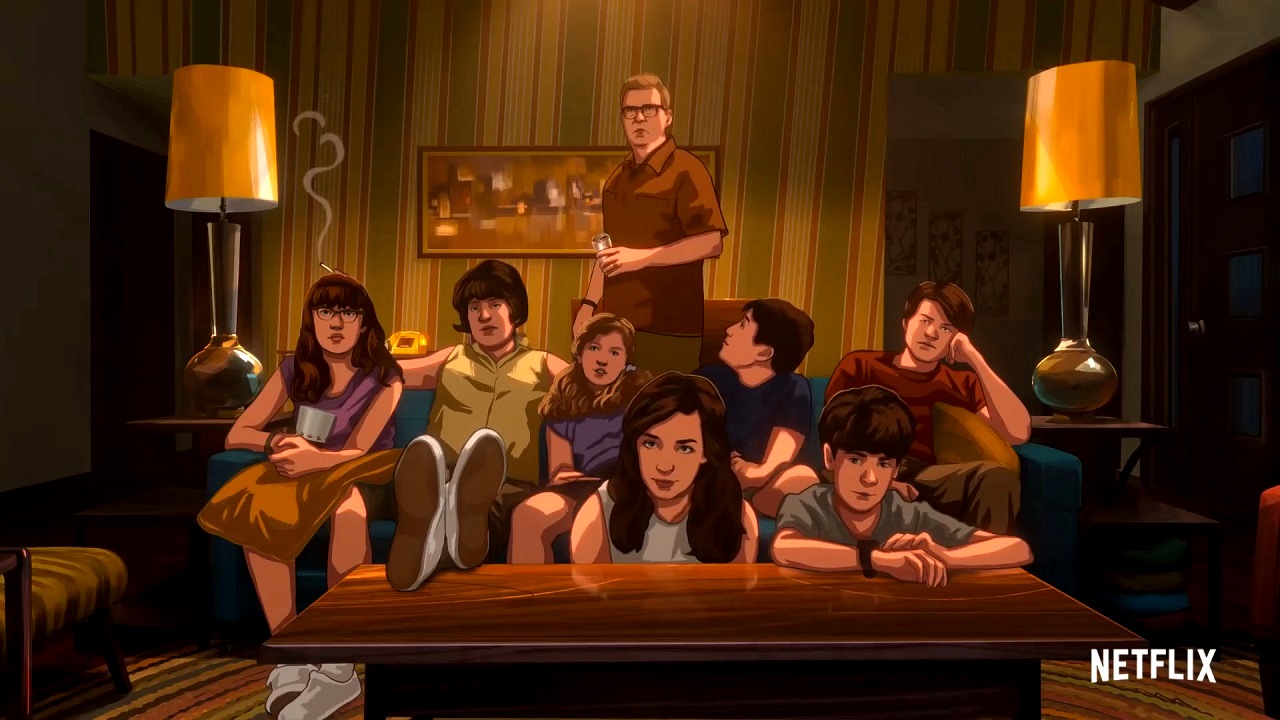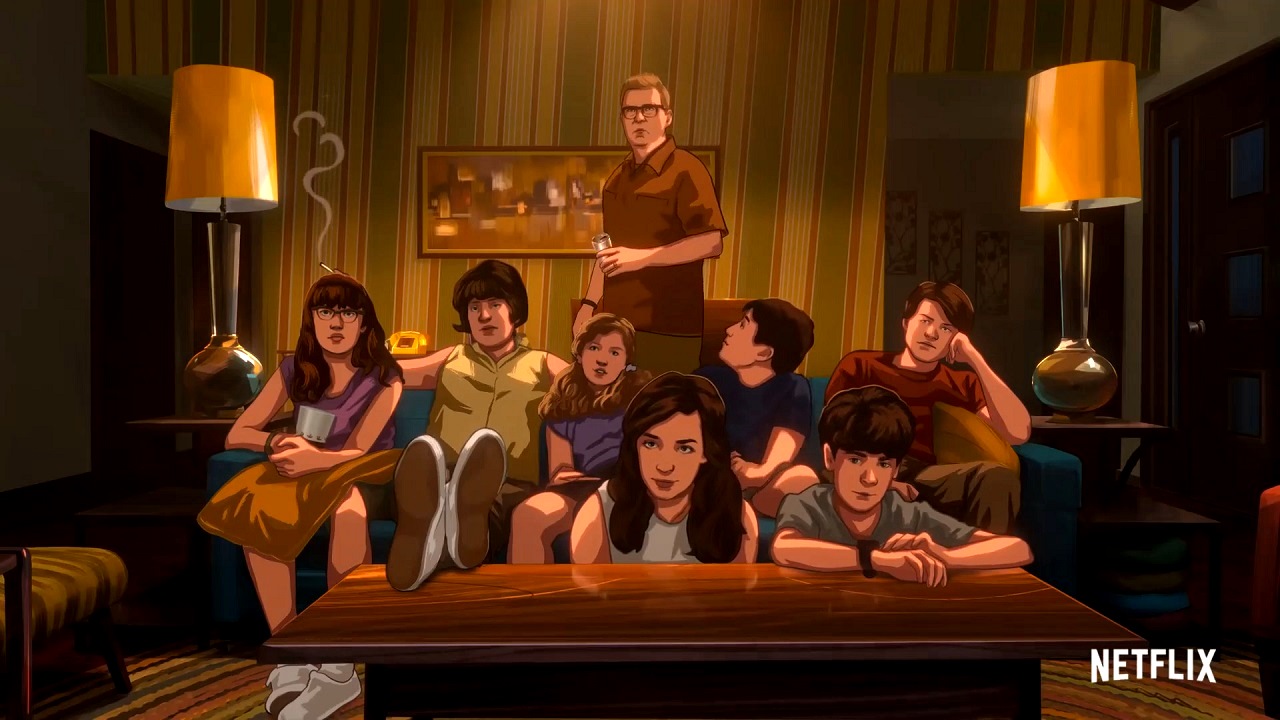 One of the great delights of the film is just someone recounting the story of their childhood in nostalgic terms – from the topography of new development suburbs to the cruelty of teachers and schoolyard games, of Stan's sisters and their musical tastes or the fight for shows on tv, the joys of certain amusement park rides, their father's penny-pinching habits. All are shown with a nostalgic adult hindsight and wry wit that affectionately conveys a concrete time and place. Standing over all of this is the lead up to the Apollo 11 Moon Landing and the cultural landmark it cast over the age, along with the local aspirations and hopes that it seemed to carry with it. The quality of animation is beautifully realistic with characters that come in clear lines and shadings that are quite different to any animation we are used to.
Particularly delightful for me as a film historian is when we get an animated recreation of scenes from films and tv of the era including Destination Moon (1950), The Incredible Shrinking Man (1957), Attack of the 50 Foot Woman (1958), tv's Dark Shadows (1966-71), The Frozen Dead (1966), It (1966), Countdown (1967) and 2001: A Space Odyssey (1960), among others, even tributes to forgotten shows such as The Time Tunnel (1967) and It's Only Time (1968), not to mention a whole montage wall of great tv shows of the era that Stan cites.
All of this sits alongside another story where Stan tells how NASA recruited him because they found that they had miscalculated the size of the capsule and needed a kid to fly a trial Moon Landing mission but how everything had to be conducted in complete secrecy. You wonder what is going on here as this sits at contradiction to the story of Stan's family as they watch the actual Moon Landing. You recall back to earlier when in his class project Stann announced he was a fabulist and liked making up stories and can only conclude that the B plot about him being selected for a secret Moon mission was one of these made-up tales. Linklater never quite specifies one way or the other but the charm of these scenes is seeing the same genteel nostalgia turned towards a depiction of the Moon Landing.
(Winner in this site's Top 10 Films of 2022 list. Nominee for Best Original Screenplay at this site's Best of 2022 Awards).
---
Trailer here
---