---
Crew
Director – Pete Hewitt, Screenplay – Ben Steiner, Producers – David Brown & Ruth Jackson, Photography – David Tattersall, Music – Harry Gregson-Williams, Visual Effects Supervisor – Paul Riddle, Physical Effects Supervisor – Ian Rowley, Flying Wire Effects – Kevin Matthews, Production Design – Gemma Jackson. Production Company – Intermedia Films/October Films/The Arts Council of England/West Eleven Productions.
Cast
Michael Legge (Vince Smith), Tom Courtenay (Harold Smith), Laura Fraser (Joanna Robinson), Stephen Fry (Peter Robinson), Lulu (Irene Smith), Charlotte Roberts (Lucy Robinson), Amanda Root (Margaret Roberts), David Thewlis (Keith Nesbitt), Matthew Rhys (Ray Smith), James Cordben (Walter Bennett), Charlie Hunnam (Daz), Mark Williams (Roland Thornton)
---
Plot
Vince Smith remembers back to growing up in Sheffield in 1977. He had a job at the office of lawyer Keith Nesbitt and developed a crush on co-worker Joanna Robinson. At the family Christmas party, his father Harold demonstrated a series of mentalist tricks. These impressed Vince's brother Ray, an aspiring amateur magician. Ray took Harold with him to perform a show at a geriatric home. However, when Harold tried to do a watch-stopping trick, he caused several of the geriatrics to have heart-attacks and die. The police wanted to prosecute Harold for murder. However, as Nesbitt stepped forward to defend him, Harold insisted that his abilities were real. Joanna's father, a respected scientist, was brought in to ascertain the truth but after seeing Harold perform suddenly became a religious believer. Meanwhile, after discovering his mother out in the local disco and that she was making out with his best friend, Vince decided to go punk only to then discover that Joanna led a secret life as a punk.
---
Whatever Happened to Harold Smith? is a modest and overlooked Coming of Age comedy from British director Peter (sometimes credited as Pete) Hewitt. Hewitt made his first film with Bill and Ted's Bogus Journey (1991) and then went onto the Disney film Tom and Huck (1995) and the modestly successful children's film The Borrowers (1997) before making Whatever Happened to Harold Smith? Harold Smith didn't do much business. Hewitt subsequently went onto make such mainstream usually family friendly fare as the mind-boggling Thunderpants (2002), Garfield (2004) and Zoom: Academy for Superheroes (2006).
Whatever Happened to Harold Smith? is an amiable and likeable coming of tale. Indeed, it is the most personal seeming of Peter Hewitt's films. Much of the film has been set around a series of comedic set-pieces. One doesn't know much about Hewitt or his screenwriter Ben Steiner but many of these aspects have the feeling of coming from real-life – Hewitt, for instance, was born in 1962 and would have been around the same age as the Vince character in the film.
There are some hysterical scenes like where Laura Fraser's younger sister (Charlotte Roberts) sits at the dinner table reading a poem she has written about Joanna's smoking; where Michael Legge tries to call Laura Fraser on the office phone and gets boss David Thewlis's number by accident, who proceeds to pipe what he is saying across the office P.A. system; the charming scenes where Michael Legge is trying to use pick-up lines on girls at the disco, only to turn around and find the woman that his best friend (James Corden) has found is his own mother (Lulu); the montage of scenes where he tries to find appropriate punk clothing; or where they trap punk Charlie Hunnam in a phonebox and snip his mohawk spikes off with a pair of garden shears.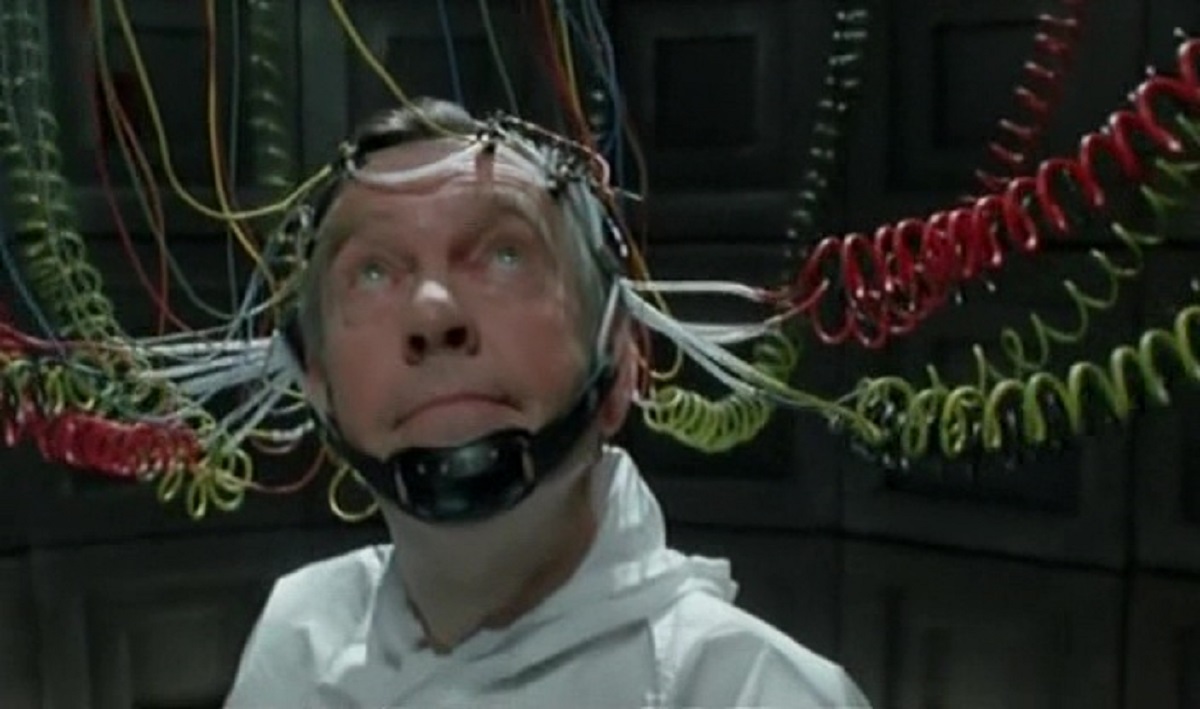 Although the sequence that should he regarded as a comedic classic is the one where Stephen Fry attempts to give sex lessons to daughter Charlotte Roberts and invites her into the bedroom and stands up naked: "The penis arises to 3-4 inches … The man deposits sperm. That's it." The expression on wife Amanda Root's face is priceless.
Like Spike Lee's Summer of Sam (1999), which came around the same time the same year, Whatever Happened to Harold Smith? is set in 1977 on the cusp between the end of disco and the rise of the punk movement. (Although where Summer of Sam was a serious social portrait, Harold Smith is more an overtly comedic coming of age tale). There's a good soundtrack selection of British punk artists from the era – The Buzzcocks, The Sex Pistols, The Members, The Clash. The film's enjoyable climactic moment is an amusingly surreal scene where Michael Legge goes to a punk disco and woos Laura Fraser on the dancefloor with a rendition of The Bee Gee's disco anthem Saturday Night Fever (1977) while all the punks join in in a chorus line in the background.
Lead actor Michael Legge has a likeable and handsome presence. Laura Fraser, later a regular on tv's Breaking Bad (2008-13), is perfectly cast opposite him. Although the standout performance in the film comes from Tom Courtenay as the title character. Courtenay plays the part of Harold with a placidly calm dullness – he is the model of retirement age British slippers and pipe anonymity and quite refreshingly the complete opposite of what one would expect of a character who is supposed to be a psychic.
---
---