---
Crew
Director – Peter Hewitt, Screenplay – John Kamps & Gavin Scott, Based on the Novels by Mary Norton, Producers – Tim Bevan, Eric Fellner & Rachel Talaly, Photography – Trevor Brooker & John Fenner, Music – Harry Gregson-Williams, Score Producer – Hans Zimmer, Visual Effects Supervisor – Peter Chiang, Digital Visual Effects – The Digital Film Co & The Magic Camera Co (Supervisor – Alan Marques), Special Effects Supervisor – Digby Milner, Production Design – Gemma Jackson. Production Company – Working Title Films.
Cast
John Goodman (Ocious P. Potter), Flora Newbigin (Arrietty Clock), Jim Broadbent (Pod Clock), Bradley Pierce (Pete Lender), Mark Williams (Exterminator Jeff), Tom Felton (Peagreen Clock), Raymond Pickard (Spiller), Celia Imrie (Homily Clock), Hugh Laurie (Officer Steady), Aden Gillett (Joe Lender), Doon Mackichan (Victoria Lender)
---
Plot
The Clock family are Borrowers, tiny people who live hidden inside the walls of a human house and sneak out secrecy to borrow human objects for their own use. Arrietty, a teenage girl Borrower, is found by and befriends a human boy Pete Lender. She then learns that the human owners of the house are being evicted and it is to be demolished by lawyer Ocious P. Potter. Pete's attempt to move the Clocks goes wrong and Arrietty and her brother are left behind where they witness Potter obtaining the deed that rightfully belongs to the Lenders. After grabbing the deeed, they are fiercely pursued by Potter who brings in an exterminator to put them down.
---
This is the third screen adaptation of Mary Norton's popular series of children's books about the adventures of a family of tiny people who live in the wainscoting of a human house. Norton published the first book The Borrowers (1952) and this led to four sequels The Borrowers Afield (1955), The Borrowers Afloat (1959), The Borrowers Aloft (1961) and The Borrowers Avenged (1982). The first film adaptation was The Borrowers (1973), a little seen tv movie that relocated the story to America and, although reasonably faithful, suffered from poor effects. The second and best attempt to adapt the books was The Borrowers (1993-4), two sets of six-part half-hour British-made tv serials that adapted the first four books. These were very faithful to the books, featured modest but excellent effects and proved a considerable delight.
The British serials and this 1997 Anglo-American co-production make for interesting comparisons. The tv serials had a quiet sense of wondrous adventure, balanced with a sense of droll understatement that was quite sublime. On the other hand, this film, while retaining the basic idea and the same principal characters, has thrown out most other semblances to turn the books into a big-screen special effects extravaganza.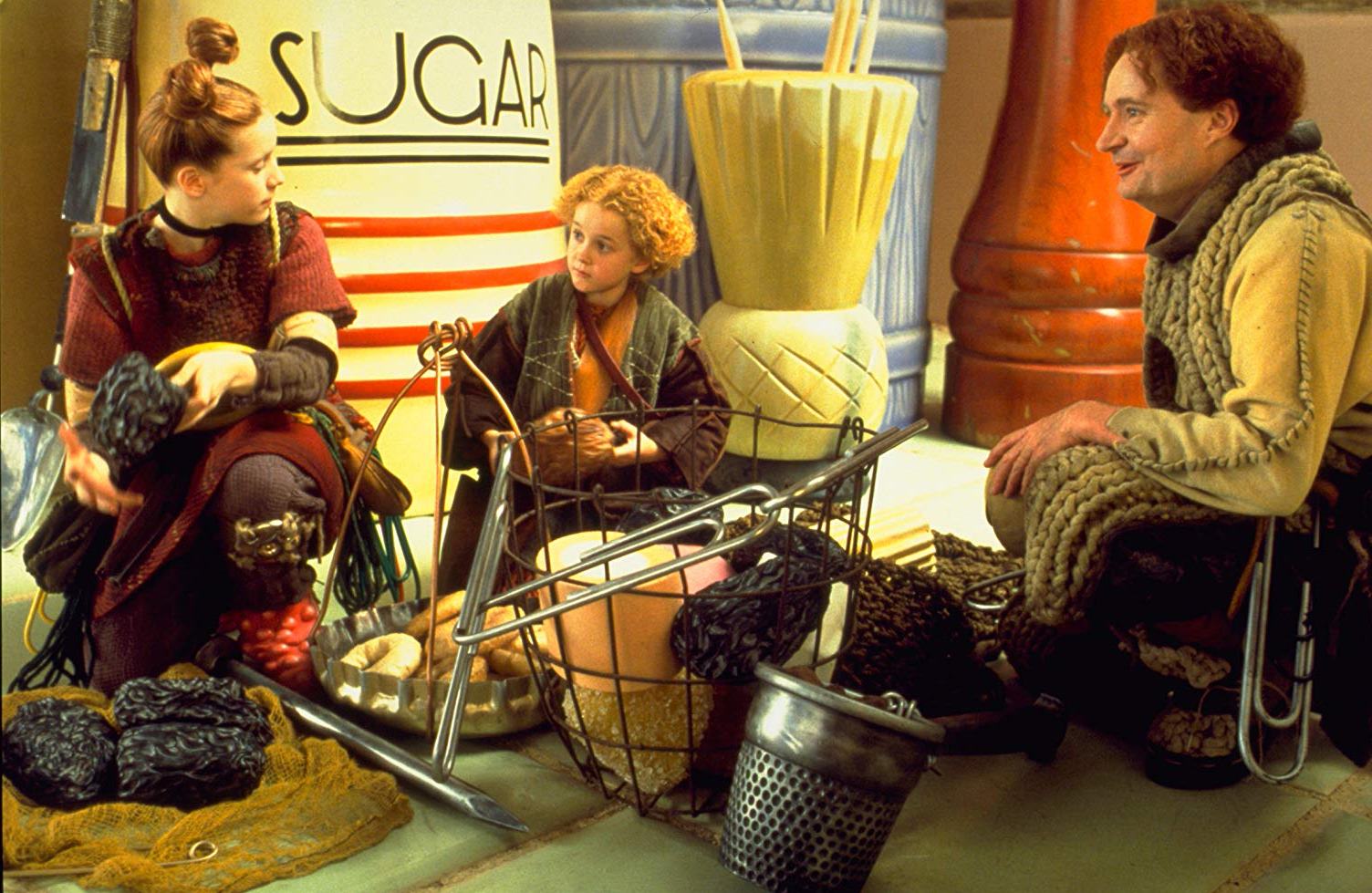 Case in point being the scene where Arrietty befriends the human boy and introduces him to her parents – the first tv serial took several episodes to develop the friendship before it was discovered by her parents; the film never even bothers with the scene of taking him to meet her parents but simply cuts from Pod saying he will never accept the idea to the boy placing them in a box to be moved. Here the books have essentially been reworked to turn them into a take on Home Alone (1990) with John Goodman having been written in as an odious lawyer whose sole purpose is to act as a slapstick butt of the ingenuity of the little people.
If one is prepared to take The Borrowers on this level, it does everything with a considerable degree of energy and visual invention. The balance of big and small sets and special effects is amazingly good and there are some delightful set-pieces with characters trapped on lit lightbulbs; pole-vaulting across sinks, skidding along pieces of soap and trampolining off appliance handles to get across a kitchen; becoming trapped inside the fridge in an attempt to steal ice-cream; enthralling scenes racing to avoid the villain as he smashes a hammer through the wall and so forth. However, the film is only constructed around these effects set-pieces and, while it entertains a good deal, one wishes it had slowed a little to allow the story more time.
There is a bizarre design scheme to the film that tries to create a fantastacized 1950s Midlands industrial city landscape – sort of like a combination of Coronation Street (1960– ) (if one can imagine Coronation Street's brick backstreets with airships moored above them) and the Gothic industrial nightmare city out of Batman (1989) (but with the lights turned up). In a gag borrowed directly from Peter Jackson's Meet the Feebles (1990), all the vehicles in the film are Morris Minors, including the joke of having the villain of the piece ride in a black stretch Morris Minor.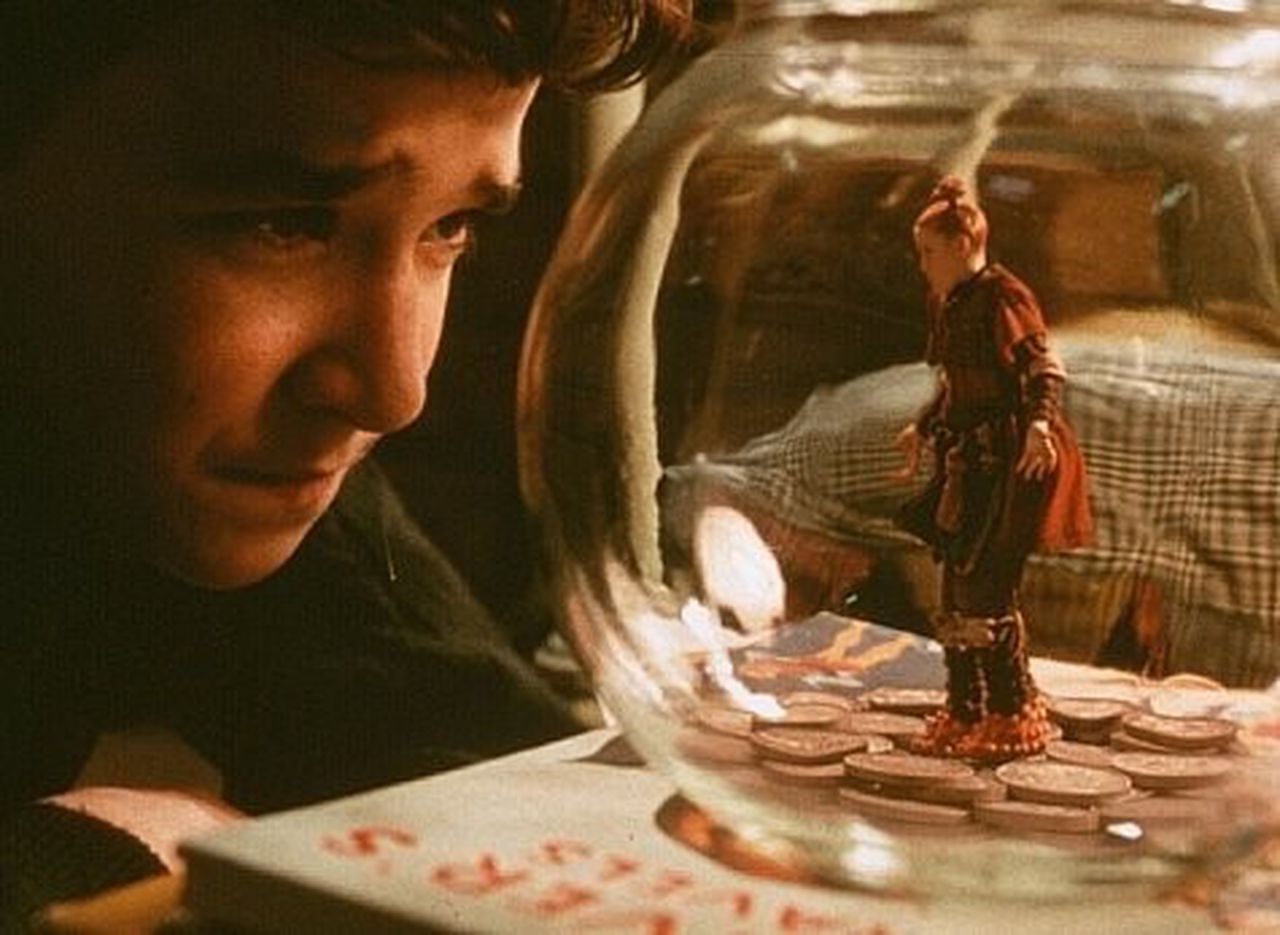 Studio Ghibli conducted an anime remake with Arrietty/The Secret World of Arrietty (2010), a much more faithful rendition of the essence of the books. There was also The Borrowers (2011), a BBC tv movie version starring Christopher Eccleston.
Director Peter (sometimes Pete) Hewitt has made a number of genre entries including Bill and Ted's Bogus Journey (1991); Whatever Happened to Harold Smith? (1999), a coming of age comedy about a teen whose father has psychic powers; Garfield (2004) based on the popular syndicated comic-strip; the superhero comedy Zoom: Academy for Superheroes (2006); and Mostly Ghostly: Have You Met My Ghoulfriend? (2014). Hewitt would return to the same fantasy Midlands landscape, this time populated by Mini Minors, with Thunderpants (2002) concerning a kid whose farts are so powerful he is able to launch a NASA rocket. Hewitt is also credited with the story for the big-screen adaptation of Thunderbirds (2004).
(Nominee for Best Special Effects and Best Production Design at this site's Best of 1997 Awards).
---
---