---
Crew
Director – Dan Ireland, Screenplay – Michael Scott Myers, Based on the Book One Who Walks Alone by Novalyne Price Ellis, Producers – Dan Ireland, Carl-Jan Colpaert, Vincent D'Onofrio & Kevin Reidy, Photography – Claudio Rocha, Music – Harry Gregson-Williams & Hans Zimmer, Production Design – John Frick. Production Company – Kushner-Locke Co/Cineville.
Cast
Renee Zellweger (Novalyne Price), Vincent D'Onofrio (Robert E. Howard), Ann Wedgeworth (Mrs Howard), Chris Shearer (Truitt Vinson), Harve Presnell (Dr Howard)
---
Plot
In Cross Plains, Texas, in 1933, schoolteacher Novalyne Price meets Robert E. Howard, who is having some success as a pulp novelist with his stories featuring Conan the Barbarian. She is drawn to him, although many in the town regard Howard as strange – he rarely goes out of his home and is overly attached to his mother. A friendship and later tentative romance grows between Novalyne and Howard.
---
The Whole Wide World is covered here because it is a biopic of the life of Robert E. Howard (1906-36), the pulp writer who created the characters of Conan the Barbarian, Red Sonja, Kull the Conqueror and Solomon Kane. Although, rather than a fantasy film, The Whole Wide World falls into the genre of true-life romance. It is based on a book by Novalyne Price, the real-life figure played here by Renee Zellweger, who befriended Howard and wrote her first (non-fiction) book One Who Walks Alone (1985) at the age of 75, upon which the film is directly based.
The film is a romance about two mismatched outsiders – an introverted, socially maladjusted writer with both bizarre and progressive ideas who dreams of being a larger-than-life masculine hero, and a timid but cautiously free-thinking teacher who ultimately sides with tradition and conservatism. Renee Zellweger, who made The Whole Wide World just before she had a big breakthrough success with Jerry Maguire (1996), gives a nicely spirited performance as Novalyne Price. Vincent D'Onofrio certainly looks like the real Robert E. Howard. He overacts the part somewhat, although this eventually turns out to be a performance that sits well with the film.
Certainly, the film has read its Robert E. Howard and quotes passages direct from a number of Conan stories. Director Dan Ireland is determined to get inside Howard's imagination, placing the camera in front of Vincent D'Onofrio as though it were an opponent as D'Onofrio dances down the street enacting a mock fight, or the soundtrack filling with the clash of metal as D'Onofrio becomes embroiled in describing a swordfight. There is one absolutely gorgeous shot where Howard talks about his Western and yells "Boom! Boom! Boom!" and the camera pulls back to frame him against the bare, wide-open Texas sky just like the hero on the cover of a pulp novel.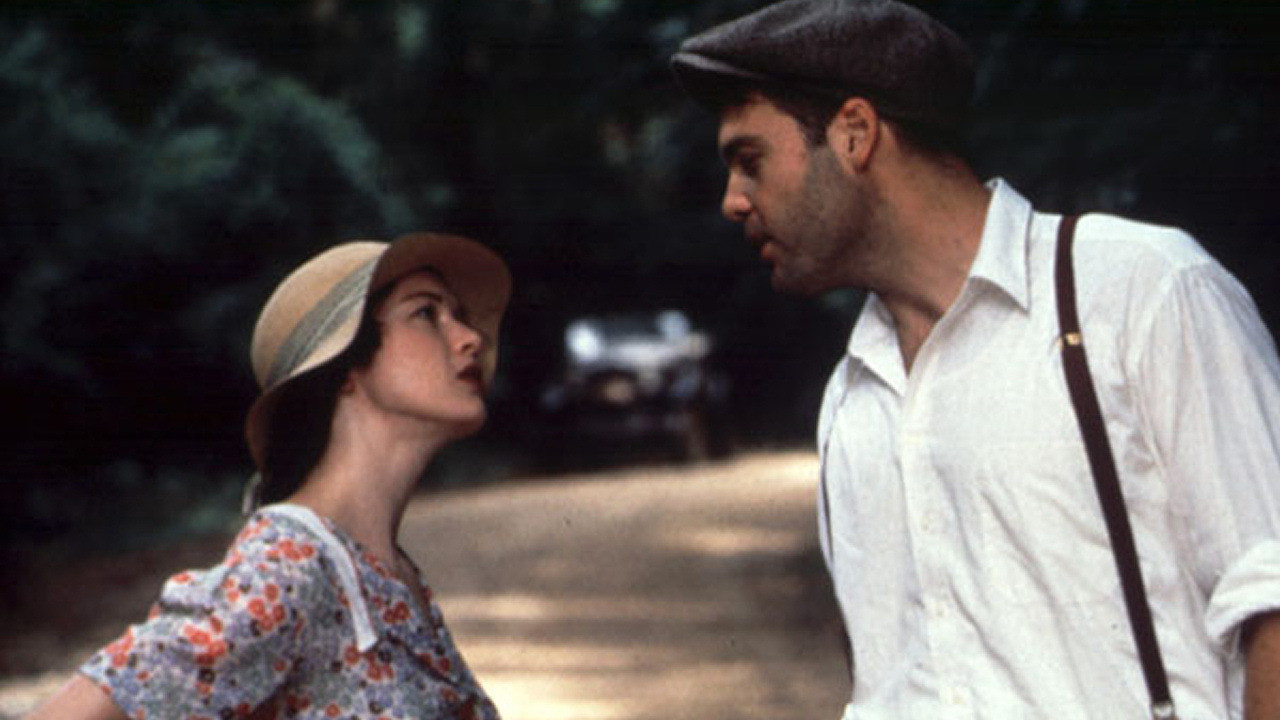 What becomes apparent is that The Whole Wide World was made more by people who were enamoured by Novalyne Price's autobiography than people that were Robert E. Howard fans. Although The Whole Wide World is a Robert E. Howard biopic, it is hardly the type of film designed to draw in Conan fans. It has a romantic, nostalgic tone – so much so that it even leaves Howard's death by self-inflicted gunshot wound to occur offscreen – which is almost 180 degrees from the primal red-bloodedness of Howartd's uber-macho fantasies of brawn and strength.
The film ultimately comes down on the side of timidity and respectability rather than daydreaming and primal freedom. However, it does reveal a certain truth about Robert E. Howard and his creations – that Howard was introverted and socially maladjusted and that his fantasies were ultimately daydreams of a person who wished he could be stronger and more fearless than he ever was in real life.
Other films adapted from Robert E. Howard's work are:– Conan the Barbarian (1982), Conan the Destroyer (1984), Red Sonja (1985), Kull the Conqueror (1997), the tv series Conan (1998), Solomon Kane (2009), Conan the Barbarian (2011) and the animated Red Sonja, Queen of Plagues (2016).
---