---
Crew
Director/Screenplay – Eli Roth, Producers – Chris Biggs, Mike Fleiss & Eli Roth, Photography – Milan Chadima, Music – Nathan Barr, Visual Effects Supervisor – Gary Beach, Visual Effects – Barbed Wire FX (Supervisor – Avi Das), Beach VFX (Supervisor – Gary E. Beach), Luma Pictures (Supervisor – Vincent Cirelli), Special Effects Supervisor – Martin Pryca, Makeup Effects – KNB EFX Group, Inc. (Supervisors – Howard Berger & Gregory Nicotero), Production Design – Robb Wilson King. Production Company – Next Entertainment/Raw Nerve.
Cast
Lauren German (Beth), Roger Bart (Stuart), Bijou Phillips (Whitney), Heather Matarazzo (Lorna), Richard Burgi (Todd), Vera Jordanova (Axelle), Jay Hernandez (Paxton), Jordan Ladd (Stephanie), Milan Knazko (Sasha), Stanislav Ianevski (Miroslav), Milda Havlas (Desk Clerk Jedi), Lilian Malkina (Makeup Woman), Roman Janecka (Roman), Edwige Fenech (Arts Class Professor)
---
Plot
Three American girls, Beth, Whitney and Lorna, are tourists in Europe. On the train from Rome to Prague, they meet Axelle, a model at an art class they took in Rome, who suggests they come with her to Slovakia. There she signs them into the hostel. As they arrive, the girls' photographs are despatched to clients around the world to bid on. Beth and Whitney are won by two American friends Todd and Stuart. As they arrive in Slovakia, the American client Todd is excited about the prospect of the killing, as he believes it changes the way that people regard a person and gives then an air of dangerousness. Variously, Beth, Whitney and Lorna are abducted and find themselves playthings to be tortured and then killed.
---
Hostel (2005) is the cornerstone film in the so-called Torture Porn fad of the 00s. Director Eli Roth pushed torture and on-screen cruelty to what was perhaps the greatest extreme that any mainstream film release had depicted up until that point. Hostel was a considerable success worldwide and Eli Roth responded to that with the inevitable Hostel Part II here. Hostel Part II failed to enjoy the widespread success of Hostel and received universally mediocre response from critics and audiences alike. Eli Roth countered by blaming this on a pirated print of the film being released online prior to its release. An equally likely explanation is that Hostel Part II is a disappointingly pallid copy of its predecessor.
One's expectations sink badly from the opening scene, which appears to follow directly on from the end of Hostel with Jay Hernandez, the sole survivor of the first film, being interviewed in a hospital by Italian police over the killing at the train station before the inspector reveals he is a hunter – only for this to be revealed to be a dream being had by Hernandez back in the US. When films need to throw in fake, misleading dream sequences, it is a clear sign that creativity has dried up. (Not to mention that the sequence reads as a badly contrived excuse to squeeze in an appearance from the star of the first film).
Hostel Part II is a film that can only be seen as numeric exploitation. All that Eli Roth has done is reshuffle the basic plot of Hostel but with three girls being tortured instead of three guys. Other than changing the sexes, the two films follow each closely in terms of plot. Anybody who has come in to watch Hostel Part II on the basis of Hostel can predict the way everything is going to turn out and the sequel lacks the surprise element that the original had. Crucially, there is none of the mystery that Eli Roth built around a group of partying tourists trying to find friends that have gone missing while surviving in a hostile foreign country and slowly uncovering a commercial torture operation.
The one addition that we get this time is a parallel plot following American hunters Richard Burgi and his nervous companion Roger Bart as they arrive in Slovakia and prepare for their respective kills. Eli Roth has Richard Burgi voice an intriguing theory that killing someone creates an aura of respect that others instinctively fear. Roth also does odd things with this subplot – he builds Richard Burgi up as the sadistic loudmouth and Roger Bart as the wimp who does not appear to be able to go through with things, only for it to be Burgi that folds at the sight of blood and Bart who suddenly relishes the sadism. You can see that Eli Roth was trying to be clever and subvert audience expectations of the characters, but this also throws sympathies awry.
Oddly, the one area that Eli Roth fails to hold up this time is in the area that became the talking point about Hostel – the scenes of extreme torture and sadism. (It is possible that some of these have been cut by the New Zealand censor who first banned Hostel Part II from having a cinematic release – we never, for instance, see the death of Bijou Phillips, leading one to think that maybe it has been cut).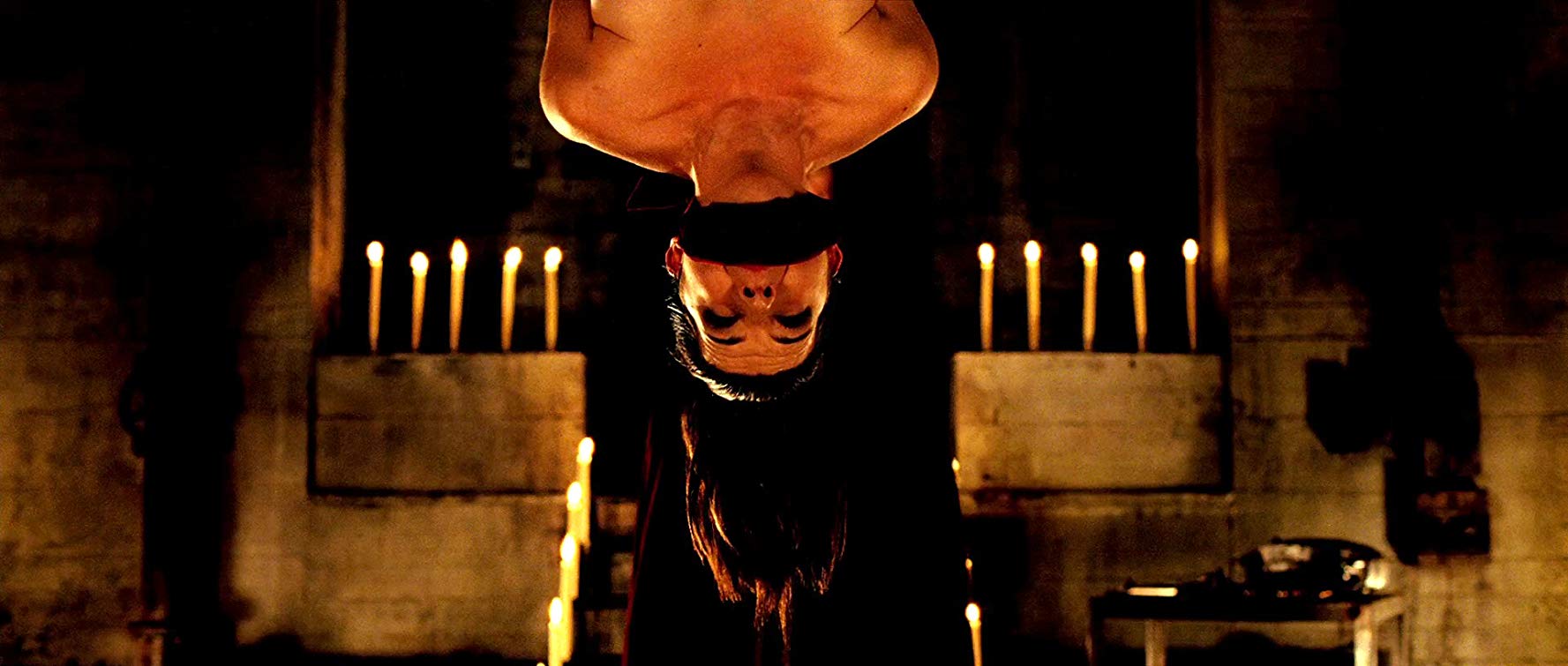 All that is left are a handful of scenes of no particular impact – a scene where a naked Heather Matarazzo is strung upside down by her feet so that a female killer can do an Elizabeth Bathory and bathe in her blood; Richard Burgi accidentally catching Bijou Phillips' hair in a buzzsaw and tearing part of her scalp off; a scene where a man, played by no less than notorious Italian director Ruggero Deodato of Cannibal Holocaust (1979) notoriety, is cutting flesh from a victim's leg and eating it; and Lauren German cutting off Roger Bart's dick with a pair of shears and feeding it to the dogs. Alas, these scenes lack the same gut-churning novelty factor as the original and Hostel Part II fades into a bland nothingness.
The dull Hostel Part III (2011) was a further sequel made without Eli Roth. It would be another six years before Eli Roth would return to the director's chair with The Green Inferno (2013), followed by Knock Knock (2015), the remake of Death Wish (2018) and the family film The House With a Clock in Its Walls (2018).
---
---