---
Crew
Director – Neil Jordan, Screenplay – Neil Jordan & Ray Wright, Story – Ray Wright, Producers – Lawrence Bender, James Flynn, Sidney Kimmel, John Penotti & Karen Richards, Photography – Seamus McGarvey, Music – Javier Navarette, Visual Effects – Rocket Science VFX (Supervisors – Bill Halliday, Tom Plaskett & Tom Turnbull), Special Effects Supervisor – John LaForet, Production Design – Anna Rackard. Production Company – Sidney Kimmel Entertainment/Showbox/Starlight Culture Entertainment Group/Screen Ireland/Metropolitan Films.
Cast
Chloe Grace Moretz (Frances McCullen), Isabelle Huppert (Greta Hideg), Maika Monroe (Erica Penn), Colm Feore (Chris McCullen), Stephen Rea (Brian Cody), Zawe Ashton (Alexa Hammond), Thaddeus Daniels (Officer Deroy), Jeff Hiller (Maitre d' Henri)
---
Plot
Frances McCullen, a waitress living in New York City, picks up a handbag that has been left on the subway. She returns it to the rightful owner – aging widower Greta Hideg, a German immigrant. Greta appears lonely and Frances takes sympathy and begins to spend time with her. The two quickly become close friends. Frances then discovers that Greta has a whole cupboard of identical bags and quickly leaves. Afterwards, Greta stalks Frances, making numerous calls, waiting outside her restaurant and following her roommate Erica. The police are unable to do anything until Greta comes into the restaurant and creates a scene. Erica persuades Frances that she should just apologise to Greta and say that she is going away to sort herself out. Greta realises that Frances was lying and responds by abducting her and making her a prisoner.
---
Irish director Neil Jordan has remained a consistently strong and well worthwhile director ever since his appearance in the early 1980s. Jordan has made a number of classic films – Mona Lisa (1986), The Crying Game (1992), The End of the Affair (1999), as well as having dabbled in genre material a number of times (see below). Jordan has touched everything from caper film, comedy, vampire film, historical biopic, fairytale, period drama, the vigilante film and here the psycho-thriller. Jordan's output has slowed down somewhat during the 2000s as he enters his sixties – Greta, for instance, is only the second film that Jordan has directed during the 2010s, although during this time he was active in the tv series The Borgias (2011-3) and has published several novels.
If Greta had been made as a regular cable psycho-thriller – Pierre David would have probably called it The Perfect Widow – it would have felt formulaic. It has a plot that is dependent on improbable actions – someone being able to stalk Maika Monroe so close as to get cellphone shots from right next to her unnoticed and these to be able to be transmitted to Chloe Grace Moretz without any download delay over a cellular networks. Or a senior (Isabelle Huppert was 65 years old when the film came out) being able to drag bodies about or physically overpower people a third her age. Or for that matter two single girls living in New York City – one of them a waitress (it is never specified what Maika Monroe does) – being able to afford a roomy studio apartment.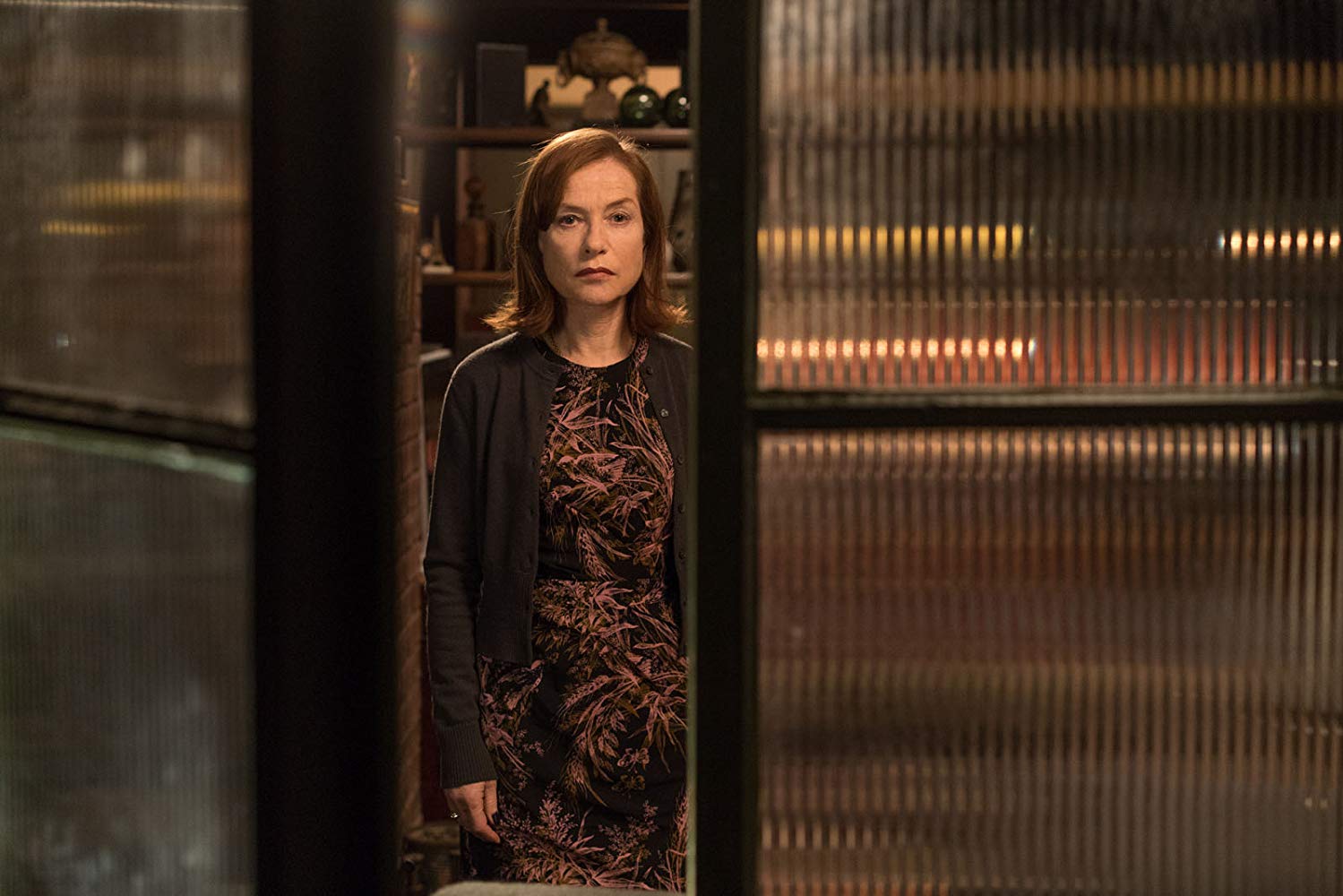 In the hands of a director of any standard psycho-thriller, these devices could easily be canned and formulaic. However, the film is elevated considerably by Neil Jordan's direction. From about the point that Chloe Grace Moretz finds a cupboard full of handbags in Isabelle Huppert's house, Jordan gets a grip on you and rides the suspense like a seasoned pro. Everything runs with such an assurance that you tend to willingly set aside the improbability of the plotting. Jordan even pulls off the annoyingly cliched dream twist jump and then turns it on its head to create a double dream twist.
The film is equally elevated by its performances. The script keeps the number of central speaking parts down to essentially only three – Greta, Frances and Erica – with one or two others – Colm Feore, Jordan regular Stephen Rea as a private detective, the cop, the maitre d' – who get about a scene or two each. Isabelle Huppert steps into the role of Greta with disturbing regard. The scene where she loses it and erupts in Chloe Grace Moretz's restaurant is a real barnstormer. Chloe Grace Mortez, a very talented child performer, is starting to show equal strengths as a grown-up.
Neil Jordan's other genre films are:- The Company of Wolves (1984), an adaptation of one of Angela Carter's stories that deconstructs Little Red Riding Hood with werewolves; the haunted castle comedy High Spirits (1998); the Anne Rice adaptation Interview with the Vampire: The Vampire Chronicles (1994); The Butcher Boy (1997), a surreal horror film about a disturbed Irish childhood; the clairvoyance thriller In Dreams (1999); the female vigilante film The Brave One (2007); Ondine (2009) about a possible sea nymph; and the vampire film Byzantium (2012).
(Nominee for Best Actress (Isabelle Huppert) at this site's Best of 2018 Awards).
---
---