---
USA/France. 1992.
Crew
Director – Paul Verhoeven, Screenplay – Joe Eszterhas, Producer – Alan Marshall, Photography – Jan de Bont, Music – Jerry Goldsmith, Special Effects Supervisor – John Frazier, Makeup Effects – Rob Bottin, Production Design – Terence Marsh. Production Company – Carolco/Le Studio Canal +.
Cast
Michael Douglas (Detective Nick Curran), Sharon Stone (Catherine Tremell), Jeanne Tripplehorn (Dr Elizabeth Gardner/Lisa Hoberman), George Dzundza (Gus Moran), Denis Arndt (Lieutenant Phil Walker), Leilani Sarelle (Roxanne Hardy), Daniel Von Bergen (Marty Nielson)
---
Plot
San Francisco police detective Nick Curran investigates a murder where a rock star has been stabbed with an ice-pick during sex. The rock star's girlfriend, the wealthy bisexual Catherine Tremell, becomes an immediate suspect when it is found that she wrote a novel describing an identical murder. As Curran investigates Catherine, she starts to taunt and seduce him, weaving a convoluted web around him that leaves him unable to know who in his life he can trust.
---
Paul Verhoeven is a director who is not afraid to pull punches. The Dutch born Paul Verhoeven's films, which include the likes of The Fourth Man (1983), Flesh and Blood (1985), RoboCop (1987), Total Recall (1990), Showgirls (1995), Starship Troopers (1997) and Hollow Man (2000), are remarkable for their lack of restraint when it comes to sex, violence and subtlety. It was no real surprise that Basic Instinct was the top box-office grossing film in several countries in 1992. Basic Instinct is a slickly calculated package of sex served up as conspicuous consumption amid fast car chases, scenic photography and expansive designer sets, and aimed straight at the public mainstream.
With Basic Instinct, Paul Verhoeven offered up some of until then the most provocative and steamy sex that had been seen in a mainstream, non-arthouse film – one scene where Michael Douglas forcibly takes Jeanne Tripplehorn is disturbing in its mixture of eroticism and near-rape. For its frank and free talk of uninvolved sex and of Sharon Stone's taunting turn-ons and then rebuffs of Michael Douglas, the film has a cold unfeeling fascination like the glitter of a knife blade. A wholly gratuitous scene in a police station where Sharon Stone flashes her lack of underwear at dazed cops became the film's talking point and a scene that was subsequently parodied by several films (see below).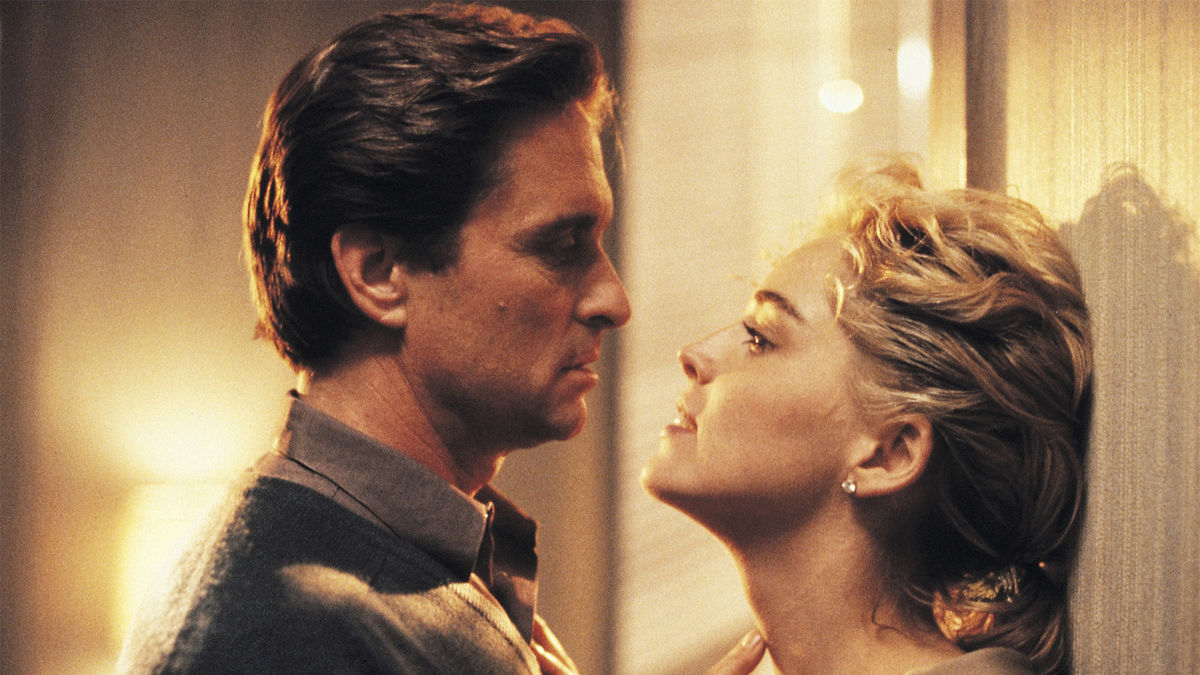 Basic Instinct is a seductively cool film – and an entertaining one, no denying – but the important thing one must realise is that it bears nothing whatsoever to do with real homosexuality, real psychopathology or, in the script's farcically contorted web of tortured jealousies and unfolding revelations, to human psychology at all. (Indeed, the film was protested against during shooting by gay advocacy groups for its purported stereotyping of gay people as psychos – a protest that screenwriter Joe Eszterhas himself joined).
As long as one gets those perspectives in sight, one can enjoy Basic Instinct for the slick, enticing titillation it is. Joe Eszterhas delivers an improbably wound corkscrew of a plot that manages to raise doubts and ambiguities about every character in the film, while at the same time maintaining the unusual device of making Sharon Stone the obvious and clear suspect right from the start.
Certainly, Basic Instinct is a far more enjoyable a film and pushes a far more radical political and sexual envelope than Michael Douglas's previous predatory female psycho starrer Fatal Attraction (1987). [Although, the same plot (bar the bisexuality angle) was done far better a few years earlier by Sea of Love (1989)].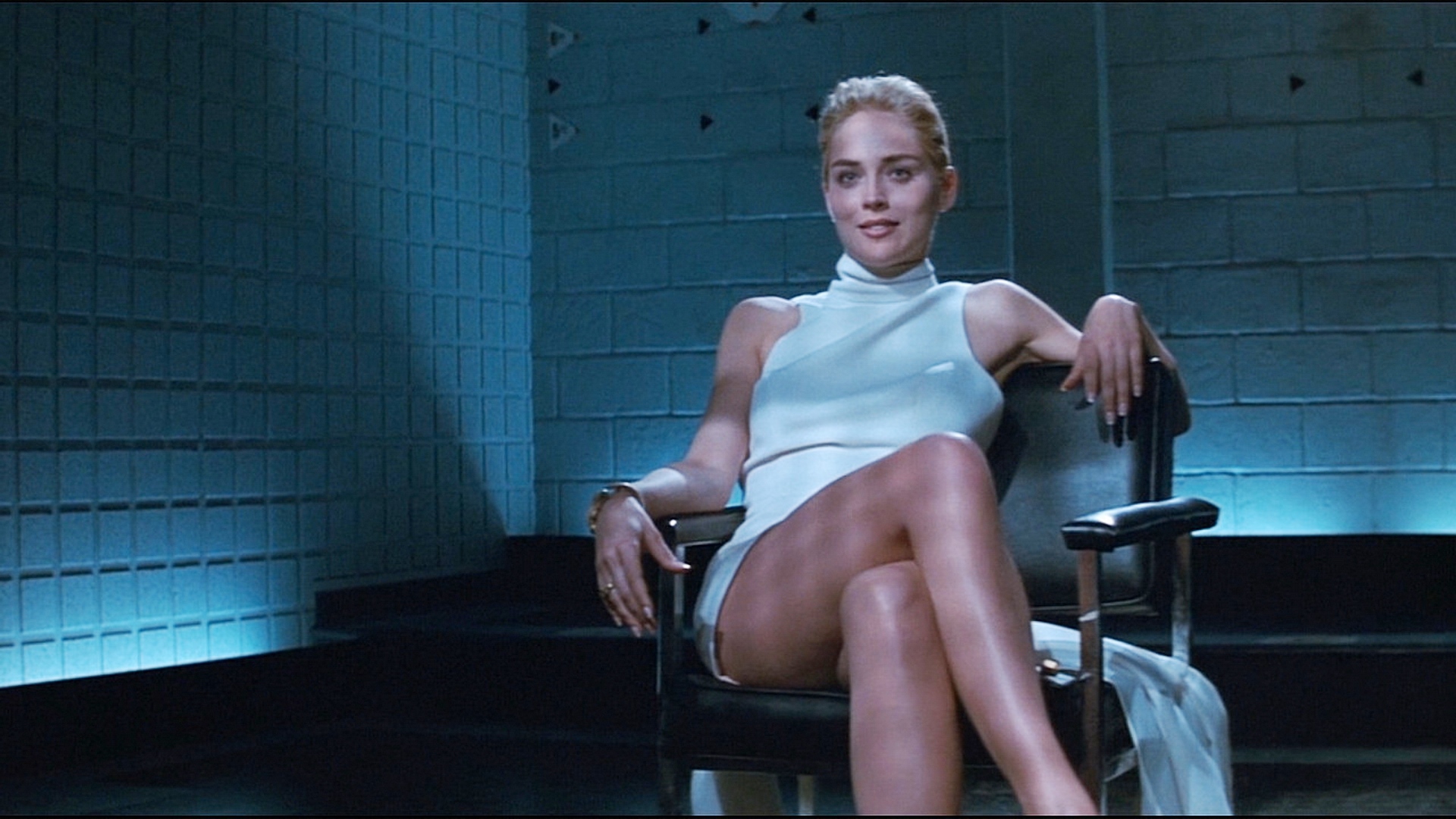 Subsequently, Basic Instinct inspired a subgenre of erotic psycho-thrillers, which one has given the name "psycho-sexual thrillers". Sharon Stone of course became a star as a result of Basic Instinct. Although, her success on screen here one feels is more due to her ability to undress and Paul Verhoeven's crafting her into a sizzling femme fatale than any native ability on Sharon Stone's part. All subsequent parts have shown that Stone, despite concerted effort to maintain herself as a serious actress, is a singularly middle-of-the-road talent.
A sequel was mentioned for a number of years, finally emerging as the universally laughed-at Basic Instinct 2 (2006), with Sharon Stone being the only person involved to return. Basic Instinct was parodied in Fatal Instinct (1993), Hot Shots! Part Deux (1993), The Silence of the Hams (1994), Scary Movie (2000) and The Happytime Murders (2018), while Sharon Stone also makes a spoof cameo in character in Last Action Hero (1993).
Basic Instinct inspired a sub-genre of imitators, all psycho-thrillers featuring killer women and torrid sex. These included the likes of Body of Evidence (1993), Crush (1993), Traces of Red (1992), Sliver (1993), Blindfold: Acts of Obsession (1993), Color of Night (1994), Blood Run (1994), Dream Lover (1994), Tunnel Vision (1994), Never Talk to Strangers (1995), Tainted Love (1995), Primal Instinct (1996), Dangerous Attraction (1999), Eye of the Beholder (1999), Jill the Ripper (2000), Mercy (2000), Dead Sexy (2001), In the Cut (2003) and Strangers Online (2010).
---
Trailer here
---