(Tsumetai Nettaigyo)
---
Crew
Director – Shion Sono, Screenplay – Shion Sono & Yoshiki Takahashi, Producers – Yoshinori Chiba & Toshiki Kimura, Photography – Shinya Kimura, Music – Tomohide Harada, Visual Effects Supervisor – Tsuyoshi Kazuno, Special Effects Supervisor – Yoshiro Nishimura, Makeup Effects – Yoshihiro Nishimura, Production Design – Takashi Matsuzuka. Production Company – Nikkatsu/Sushi Typhoon.
Cast
Mitsuru Fukikoshi (Nobuyuki Shamoto), Denden (Yukio Murata), Asuka Kurosawa (Aiko Murata), Megumi Kagurazaka (Taeko Shamoto), Hikari Kajiwara (Mitsuko Shamoto), Tetsu Watanabe (Tsutsui), Taro Suwa (Yoshida)
---
Plot
Noboyuki Shamoto, the owner of a tropical fish store, leads a downtrodden and unhappy life. His teenage daughter Mitsuko hates him and her behaviour has caused tension with his new wife Taeko who no longer seems interested in sex. They are called after Mitsuko is caught shoplifting at a supermarket. The extremely friendly owner Yukio Murata offers to let the matter go. It turns out that he owns Amazon Gold, a successful chain of rival tropical fish stores. He offers to take Mitsuko on as one of his shopgirls. Murata becomes overfriendly to the Shamotos, including seducing Taeko. He then draws Shamoto into his business schemes – only to shock Shamoto by poisoning an investor and forcing him to become an accomplice as he and his wife gleefully carve up the body and dispose of it at their cabin in the woods.
---
Shion Sono may not quite be up there with other cult Japanese directors like Takashi Miike, Shinya Tsukamoto or Shusuke Kaneko, but is rapidly gaining a name. Sono first appeared on the genre radar with the strange Suicide Club (2002) and has consistently remained there with subsequent efforts such as Noriko's Dinner Table (2005); the perversely disturbed Strange Circus (2005); Exte: Hair Extensions (2007) about killer hair extensions; Guilty of Romance (2011) about sexual fulfilment and murder; Himizu (2011) about murderous children; and The Land of Hope (2012) set in an alternate world, as well as non-genre items such as the gangster film Hazard (2005) and the sexual drama Love Exposure (2008), both of which attained festival play. Sono has gained an increasing reputation for pushing a taboo and shock edge with these films.
He gained some of his greatest word of mouth subsequently with Why Don't You Play in Hell? (2013), a sidesplitting gore-drenched comedy about gangsters and filmmakers, Tokyo Tribe (2014), a near-future set film about gangland wars where much of the dialogue is delivered in rap. In genre material, he has also made Love and Peace (2015), an awkward romance involving talking animals; the reality blurring Tag (2015); the comedy The Virgin Psychics (2015); The Whispering Star (2015) about an intergalactic delivery android; Tokyo Vampire Hotel (2017), The Forest of Love (2019) and the post-apocalyptic English language Prisoners of the Ghostland (2021).
Cold Fish is a horror film – sort of. At least, that is the territory it has certainly arrived at by the gore-drenched last fifteen minutes, although the build-up plays out more like a black comedy. For around the first twenty minutes or so, Sono involves us in the problems of downtrodden Mitsuru Fukikoshi, his wife (Megumi Kagurazaka) who seems disinterested in him and the wilfully troublesome teenage daughter (Hikari Kajiwara). Then comes the introduction of the loud and perpetually laughing Denden and his much more successful tropical fish shop. At this point, things still have a banal ordinariness where the film could act as a slightly odd, blackly comedic family drama.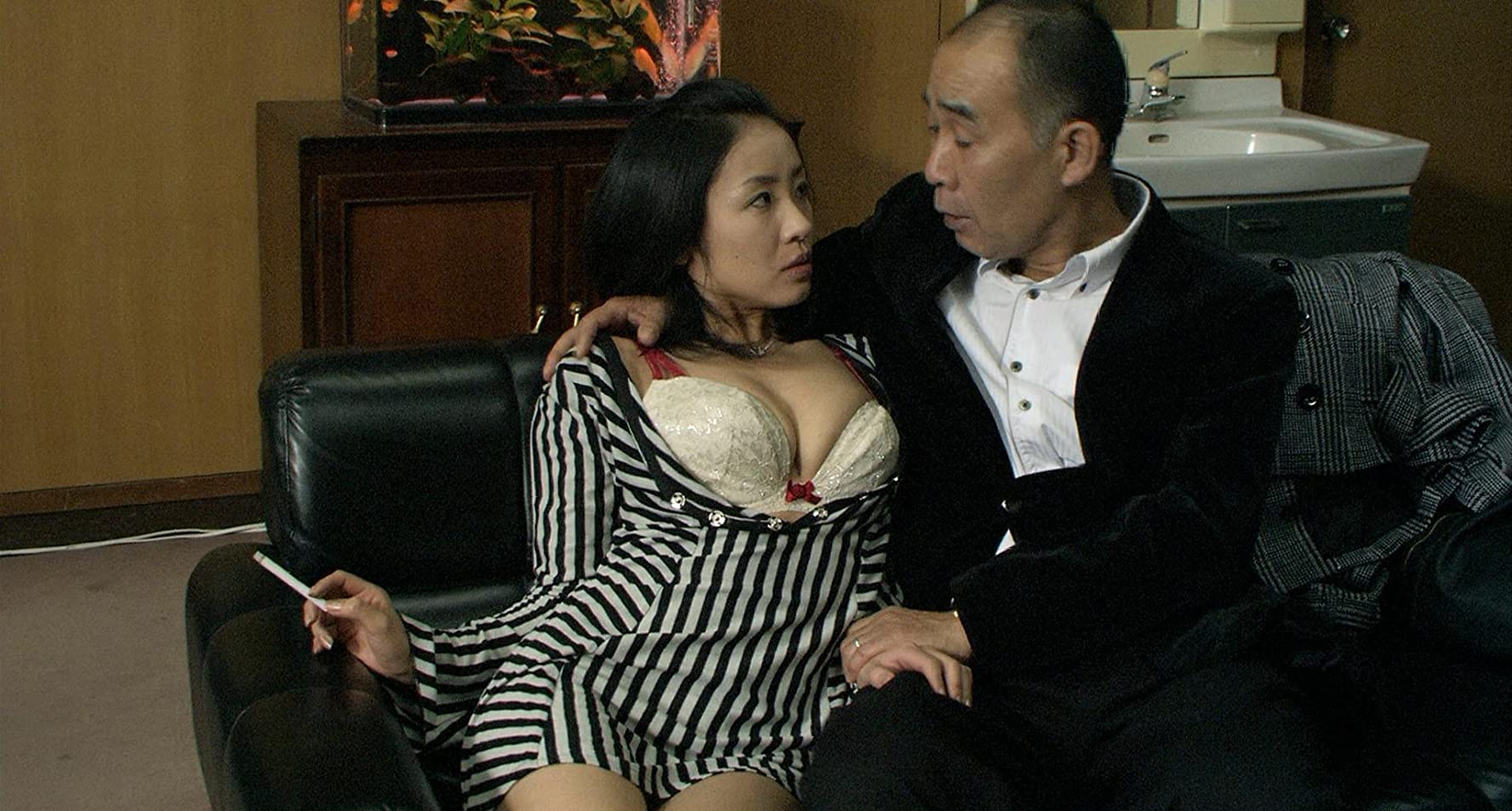 Things start to get bizarre when Denden takes Megumi Kagurazaka into his office for talks about the daughter where, after a penetrating insight into the way she thinks, he starts slapping her and tearing her clothes off to have his way with her while she lies there crying "Hit me more, please." Things plunge into decidedly demented territory when Mitsuru Fukikoshi is invited to take part in a business discussion where Denden seems to be asking an exorbitant sum from an investor (Taro Suwa) to import a single tropical fish, which Mitsuru Fukikoshi expresses discomfort with and is told not to worry, only to then see the investor keel over dead from a poisoned drink. Things become progressively more outlandish as Denden makes Mitsuru Fukikoshi his accomplice while he and Asuka Kurosawa cheerfully chop the body up at their cabin – all the while asking him to run and make coffee – and then methodically dispose of the parts.
There are times where Shion Sono taps into some of the manic black conte cruel humour that runs through the work of the Coen Brothers. You could easily see Cold Fish as a Coen Brothers film – albeit with a great deal more in the way of blood and gore. The film swings between some black extremes – like the hilarious scene where the missing Yoshida's brothers threateningly demand to know where he is in the boardroom, while on the other side of the door Asuka Kurosawa seduces one of the shopgirls in a romance of glove puppets before suddenly entering into the boardroom where she and Denden put on a great dramatic display of tears.
The film scales through a series of amusingly black twistings as the perpetually walked over Mitsuru Fukikoshi wonders how to get out of the situation he is in, Denden becomes even more extreme and further bodies pile up, climaxing in a darkly funny scene where Denden bullies Mitsuru Fukikoshi into punching him and then having sex with his wife, before the tables are bloodily turned. The film is given its life by the Japanese comic Denden whose manically happy cheer and outgoing gregariousness carries everything along, especially in contrast to Mitsuru Fukikoshi's downtrodden wimpiness and seeming inability to stand up for himself at any point.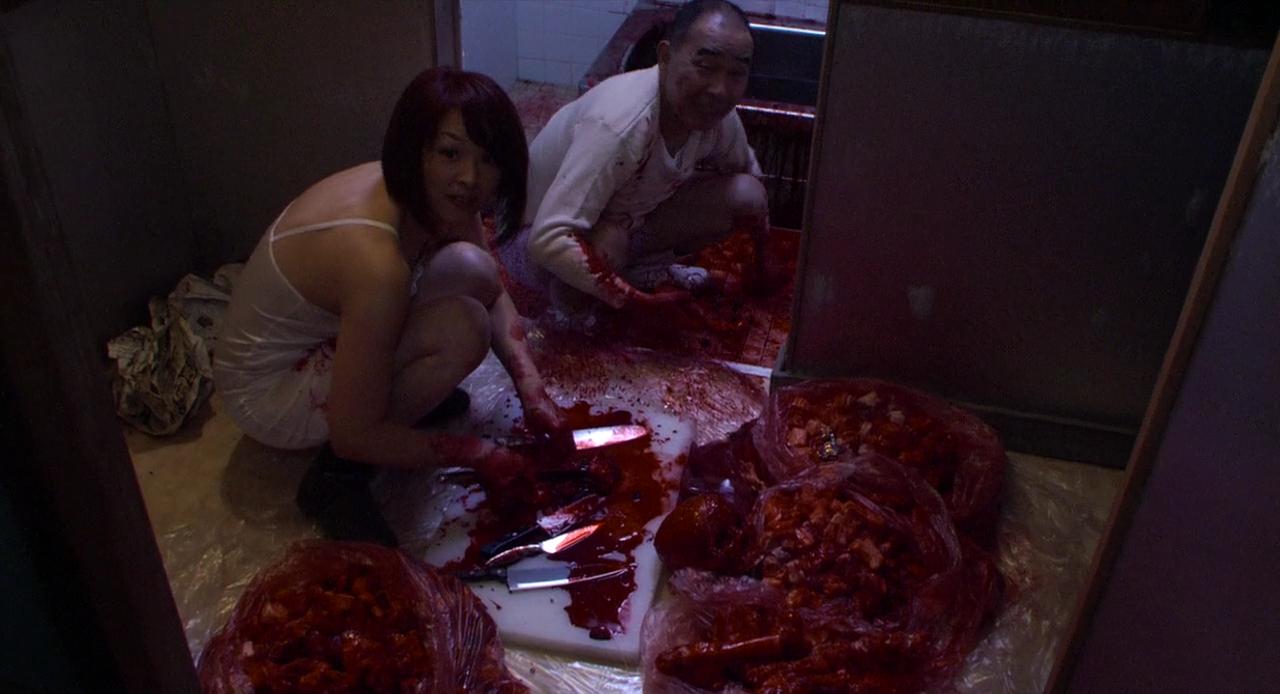 Eventually, Cold Fish appears intended as a bizarre cry of angst on the part of the downtrodden salaryman. Like Fight Club (1999), it would seem to be a film about the reclamation of male pride and dominance. In similar ways to Fight Club, you are also not entirely sure if the film is planting its tongue in cheek in seeming to advocate that what it takes to finally find one's identity as a man is to step outside of social taboos and become a serial killer. It is also a remarkably misogynistic film. None of the women are treated in a very high regard – or for that matter are shown as likeable or sympathetic – it seems their lot throughout to be regularly slapped (to even appear to enjoy it), forcibly taken sexually and dragged about.
Mitsuru Fukikoshi finally recovers his own identity as the head of the household at the end by shouting loudly, threatening to throw furniture, slapping his wife, repeatedly punching his daughter unconscious and tearing his wife's clothes off and announcing that he is going to rape her. The film is pitched in such a way that you cannot tell if Shion Sono is celebrating Mitsuru Fukikoshi finding his masculine dominance again or is offering a black critique of it – both seem equally valid interpretations.
The film arrives at an amazing climax with Mitsuru Fukikoshi and Asuka Kurosawa alternately beating and stabbing at one another, in between protestations of love, while sliding around on a floor drenched in blood and gutted body parts.
(Nominee for Best Supporting Actor (Denden) at this site's Best of 2010 Awards).
---
---