aka Cemetery Man
---
Crew
Director – Michele Soavi, Screenplay – Gianni Romoli, Based on the Novel by Tiziano Sclavi, Producers – Tilde Corso, Gianni Romoli & Michele Soavi, Photography – Mauro Marchetti, Music – Manuel De Sica, Special Effects – Sergio Stivaletti, Production Design – Antonello Geleng. Production Company – K.G. Productions/Le Studio Canal +/Audifilm/Urania Film/Silvio Berlusconi Communications/Bibo TV and Film Productions.
Cast
Rupert Everett (Francesco Dellamorte), Francois Hadji-Lazaro (Gnaghi), Anna Falchi (She/Laura), Mickey Knox (Lieutenant Straniero), Stefano Masciarelli (Mayor Scanarotti), Fabiana Formica (Valentina Scanarotti), Clive Riche (Dr Verseci), Barbara Cupisti (Magda), Anton Alexander (Franco), Pietro Genuardi (Mayor Civardi), Katja Anton (Claudio's Girlfriend), Alessandro Zamattio (Claudio), Claudia Lawrence (Pia Chiaromondo)
---
Plot
Francesco Dellamorte is the groundsman at Buffalora Cemetery with the slow-witted Gnaghi as his assistant. Of recent, they have been dealing with a plague wherein the dead return from their graves after seven days and have to be shot in the head to be stopped. Dellamorte becomes entranced by a beautiful widow who comes to visit her husband's grave. She responds to him and wants to make love on her husband's grave but just as they do so, the husband returns to life, bites the wife and Dellamorte has no choice but to despatch her with a bullet. Gnaghi develops an infatuation with the mayor's innocent daughter Valentina, only for her to be killed in a motorcycle accident. When her body returns to life, Gnaghi takes the severed head and tends it with the two of them then insisting that they want to get married. Dellamorte next falls for the new mayor's assistant who says she can only love a man who is impotent, leaving Dellamorte considering having his penis removed.
---
Italy's Michele Soavi gained his breaks in the industry appearing as an actor and working as an assistant director to Joe D'Amato, Lamberto Bava and Dario Argento, even to Terry Gilliam on The Adventures of Baron Munchausen (1989). He became a director with the documentary Dario Argento's World of Horror (1985) and then went onto fictional subjects with the giallo StageFright – Aquarius (1987) and the occult works The Church (1989) and The Sect/The Devil's Daughter (1991). Dellamorte Dellamore, which was retitled Cemetery Man for US audiences, is regarded as the jewel in Soavi's crown. Disappointingly, Soavi appears to have abandoned genre material after this point. He is still at work but since the 1990s has been almost exclusively making crime and occasionally historical dramas or working in Italian television.
The character of Francesco Dellamorte originally appeared in the cult Italian comic-book Dylan Dog (1986– ) by Tiziano Sclavi, which concerns a private eye who specialises in the paranormal. Sclavi later expanded Dellamorte Dellamore as a novel. The look of the character of Dylan Dog was based on actor Rupert Everett and so it becomes doubly fitting that Everett takes up the role of Dellamorte here.
Disappointingly, Dellamorte Dellamore was not a success when it was released but has built up a steady cult reputation over the years. Dylan Dog was later given a heavily disappointing US-made film adaptation with Dylan Dog: Dead of Night (2010), which misses the humour of the original comic-book by miles.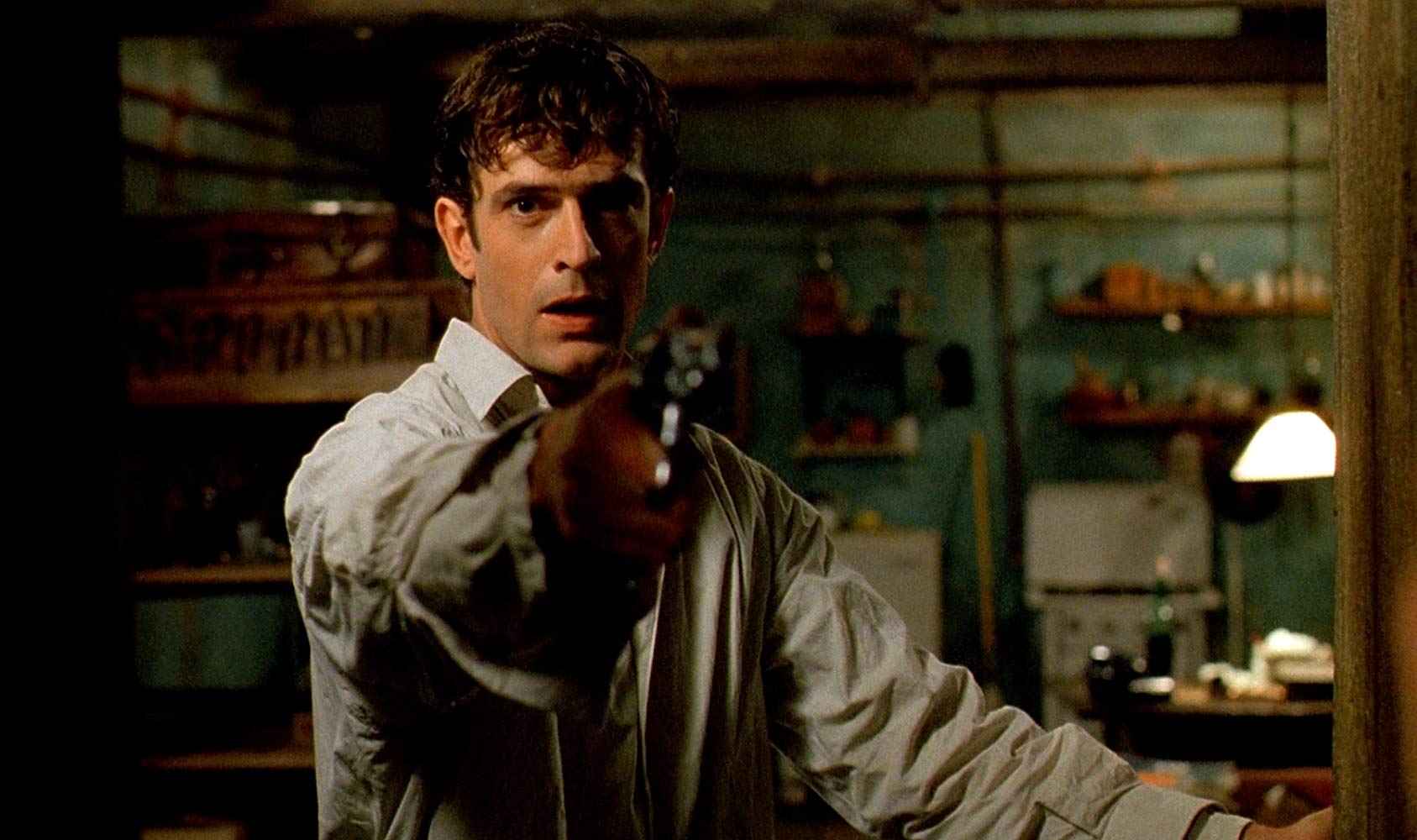 Dellamorte Dellamore is an almost unclassifiable work. It is a zombie film of sorts – at least in the sense it is about the dead coming back from their graves – but holds very little in the way of lineage to George Romero and his legion of imitators. The film had me hooked from its wonderfully laconic opening scene where Rupert Everett is on the phone, there comes a knock at the door and he answers it and with evident boredom picks up a gun and blows away the dead man standing there before returning to resume his conversation.
The first encounter with Anna Falchi as the widow comes with a surreal artiness – where Everett takes her inside the ossuary and she remains with her face hidden behind a red veil as she makes out with him, during which she is caught up and the skeletons around her seem as though they are tearing her clothes off; in the next scene, they are kissing against a massive full moon that seems to fill the entire sky before she asks him to have sex with her on top of her husband's grave (on the reasoning that she never kept any secrets from him).
The scene comes with exquisite images – naked bodies making out on top of a grave, Anna Falchi riding Rupert Everett where the wings of the statue of an angel are framed against her back. Images like these just as easily sit alongside the surreal – of a motorcycle and rider exploding up out of the grave – or black comedy – the imbecile assistant (Francois Hadji-Lazaro) finding the body of his girlfriend (Fabriana Formica) with her head severed and he walking off while the head dressed in a white veil scuttles along across the grass after him.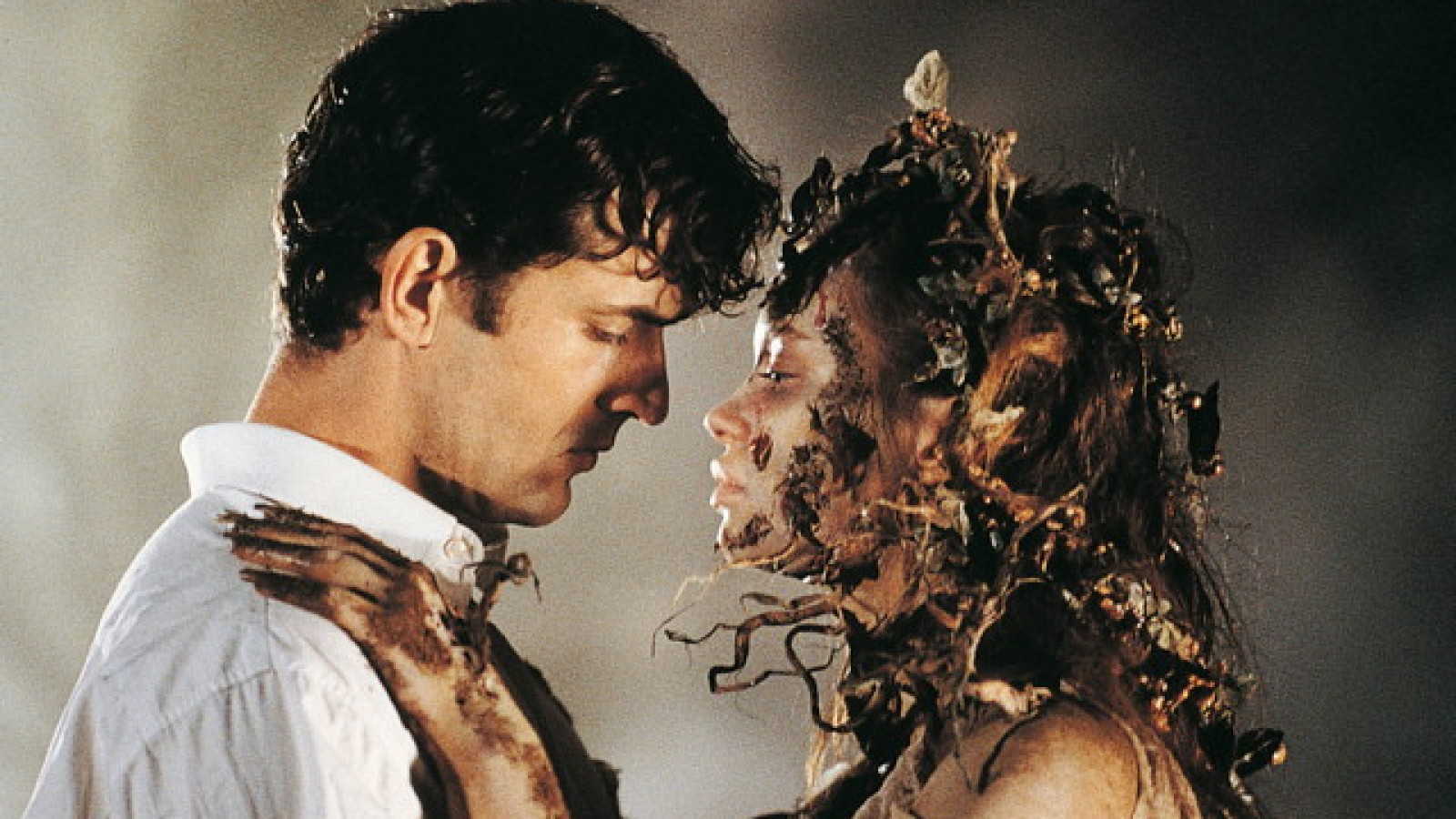 There is not much plot to the film. More so than a zombie film, it feels like a relationship black comedy with the addition of zombies. It mostly consists of a series of serial scenes where the perfectly nonchalant Rupert Everett tries to find the perfect woman but everything goes bizarrely wrong in a blackly comic way – he having to shoot Anna Falci after she gets bitten by her undead husband and turned into a zombie; the bizarrely funny scene where he goes to have his penis surgically removed to be with the woman who desires impotent men, only for her to then be raped and decide that she likes penetrative sex; his discovering another girl who says straight off that she loves him but turns out to be a hooker.
It is a film that has such an off-the-radar sense of humour – Rupert Everett is wont to come out with straight-faced lines like "I'd give my life to be dead" or where he shoots a bunch of people in the hospital and calmly shrugs off a doctor's query about what a nun is doing lying on the floor with "she's praying" – that you can genuinely never predict where it is going to go from one minute to the next.
About the only credibility problem the film has is that it is hard to believe that someone as handsome as Rupert Everett would be so rejected from society that he could only find his best friends among the dead. There is also a very strange ending where Rupert Everett and Francois Hadji-Lazaro decide to drive off to the outside world, pass through a tunnel but cannot go any further into the landscape beyond and in the last shot are revealed to be figures inside a snowglobe.
---
---