---
Crew
Director/Screenplay/Producer – Jim Townsend, Photography – Max Fischer, Zombie Effects – Dan Drakulich, Production Design – Eric Weiss. Production Company – Zombie Films.
Cast
Christine Egan (Dionne Bryant), H. Lynn Smith (Audra), Jim Townsend (Joe Bryant), Kerry Kearns (Jenny), Natalia Jablokov (Lee), John Kelly (Raymond), Walter Smith (Louis), Wyatt Gunter (Professor Tom Frank), Mike Shiflet (Fred)
---
Plot
Husband and wife Joe and Dionne Bryant run a winery but are facing the prospect of bankruptcy because of the repeated failure of their crop. Dionne goes to her mother Audra, a witch, and asks her to cast a spell to help them. Audra asks for some of Joe's blood as part of the potion but Joe has been drinking and Dionne unwittingly takes blood polluted with wine. One year later, their crop is flourishing. Joe's friend Tom Frank, a professor in the agriculture department at a nearby university, arrives with several students to help harvesting the crop. They notice that the acidity content of the grapes is uncommonly high and that the vines are growing at an enormous rate. Both Professor Frank and a neighbouring vintner go missing and then reappear as green-skinned zombies who are discovered trying to devour the grapes. As the zombies start attacking the rest of the group, the others realize they are hungry for the wine in their blood that they have drunken. As various of the group are turned into vegan zombies, the remaining survivors try to find a means to combat the menace.
---
The zombie movie is big in the 00s all over again, following the success of films like 28 Days Later (2002), the remake of Dawn of the Dead (2004) and Shaun of the Dead (2004). Shaun of the Dead pointed the way towards a more tongue-in-cheek treatment of the zombie film. A number of filmmakers subsequently started to collude wacky title collusions and adopt a parodistic/sarcastic tone with efforts like Zombie Beach Party (2003), Hood of the Living Dead (2005), Dorm of the Dead (2006), Fido (2006), Ninjas vs Zombies (2008), Zombie Strippers! (2008), George's Intervention (2009), Romeo and Juliet vs the Living Dead (2009), Stag Night of the Dead (2009), Zombies of Mass Destruction (2009), Big Tits Zombie (2010), Santa Claus vs. the Zombies (2010), Bong of the Dead (2011), Deadheads (2011), Abraham Lincoln vs. Zombies (2012), Cockneys vs Zombies (2012), Pro Wrestlers vs Zombies (2014), Zombeavers (2014), MILFs vs Zombies (2015), Scouts Guide to the Zombie Apocalypse (2015), Attack of the Lederhosen Zombies (2016), Pride and Prejudice and Zombies (2016) and Fat Ass Zombies (2020). (For a more detailed overview of the genre see Zombie Films). Indeed, Zombie Strippers!'s director Jay Lee acts as editor here and director/writer Jim Townsend had worked as production manager on one of Jay Lee's earlier films Noon Blue Apples/New World Order (2002).
Attack of the Vegan Zombies! comes with one of the most amusing titles to date among these zombie movie parodies. In fact, the great surprise about sitting to watch the film is how seriously it takes itself. It is not a parody, the characters are not cartoonish caricatures, and there are no sarcastic witticisms or absurdly over-the-top splatter effects. Indeed, the wackiest part about the film is the title itself and thereafter the script does a remarkably straight-faced job of trying to expand the basic notion out as a quasi-plausible idea.
What I liked about Attack of the Vegan Zombies! is that it is well written. Jim Townsend pays careful attention to the characters present – even when it comes to cliche characters like the nerds or the airhead party girls – allowing them to emerge with three-dimensional life, not as cut-out caricatures. Indeed, it took some puzzled effort on my part wondering, as I was watching an realistically grounded film of natural characterisations, why it ended up with a tongue-in-cheek title like Attack of the Vegan Zombies!.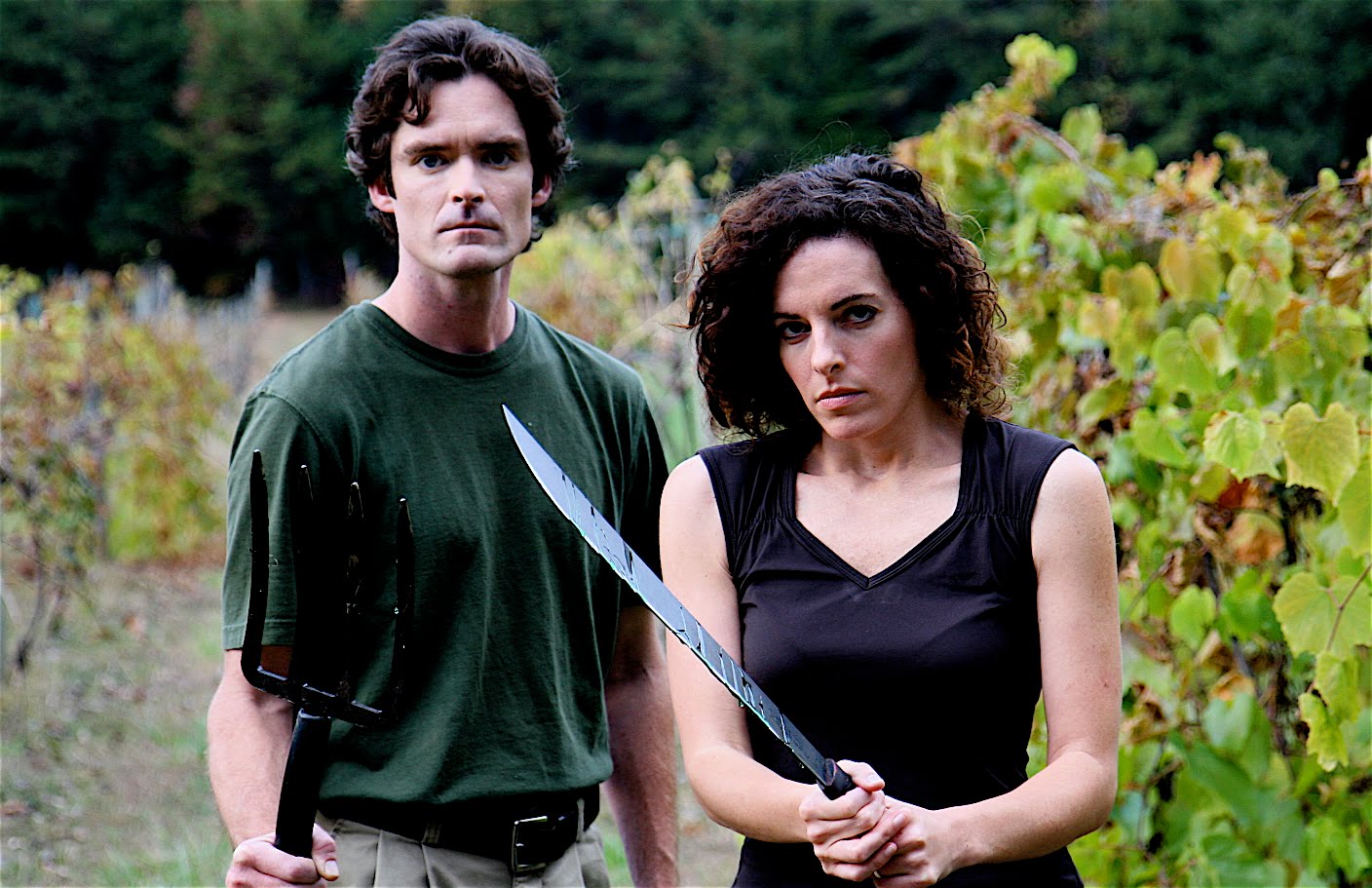 Jim Townsend (who himself plays the part of the husband) gets some generally worthwhile performances, in particular an intelligent and assured one from Christine Egan as the wife. Though she does not appear to have any other screen credentials to her name, Egan is someone you could easily imagine going onto a mainstream acting career elsewhere. There is a naturalism and occasional wit to the dialogue and interplay of the characters that makes the film move with a convincing ease – I particularly liked the scenes where Christine Egan tells how she had to explain away her mother's witchcraft to her husband as her being a herbalist, which he then took as her being a dope dealer. It is all shot with a professionalism that belies the self-confessed micro-budgeted nature of the film.
On the minus side, there is a little too much effort during the early scenes to create false atmosphere via a soundtrack filled with constantly amplified rumbling, slithering and blowing noises. These are effects that are used by a great many low-budget horror films to pump up atmosphere during mundane scenes where none exists and is something that has by now well and truly become a cliche. There is a lesbian sex scene – for no other particular reason other than that it's one of those films – although this is too brief to attain the exploitation value such scenes usually do in horror films.
The other disappointment with Attack of the Vegan Zombies! is that structurally the film is almost three-quarters build up. The emergence of the zombies in the last ten minutes is far too brief and lacks any of the apocalyptic siege mentality that zombie classics like Night of the Living Dead (1968) and Dawn of the Dead (1978) or even Shaun of the Dead have. There are some good effects scenes – particularly a scene where a snipping of the vine is placed under a glass container on the table and sits there angrily writhing; or where Natalia Jablokov opens her mouth and vomits forth a strand of vine to strangle Walter Lewis. Despite various scenes with zombie heads being crushed in winepresses, the film is very low on the expected splatter effects that are fairly much de rigeur for a zombie film. Plus the green makeup and goo that is spilt in lieu of blood tends to take these into the realm of unserious splatter effects. It is only during these latter zombie attack scenes, which come accompanied by several amusingly sarcastic lines, that Attack of the Vegan Zombies! at last starts to approach the tongue-in-cheek zombie film its title suggests it is meant to be taken as.
Buy this title on Amazon.com.
---
---