(Kyuketsu Shojo Tai Shojo Furanken)
---
Crew
Directors – Yoshihiro Nishimura & Naoyuki Tomomatsu, Screenplay – Naoyuki Tomomatsu, Based on the Comic-Book by Shungicu Uchida, Producers – Masatsugu Asahi, Hidehiro Ito, Yosuke Miyake, Jun Nakajima & Tsugio Oikawa, Photography – Shu G. Momose, Music – Blood-Stained Fellow, Visual Effects Supervisor – Tsuyoshi Kazuno, Special Effects Supervisor/Creature Design – Yoshihiro Nishimura, Gore Effects – Nishi-Zo Co, Ltd., Makeup Effects – Taiga Ishino, Production Design – Nori Fukuda, Action Director – Isao Karasawa. Production Company – Excellent Films/Pony Canyon/Concept Films.
Cast
Takumi Saito (Jyugon Mizushima), Yukie Kamamura (Monami Arukado), Eri Otoguro (Keiko Furano), Kanji Tsuda (Principal Kenji Furano), Sayaka Kametani (Nurse Midori), Jiji Bu (Igor), Namie Terada (Afro Rika/Tanaka Hanako), Maki Mizui (Kiriko), Takashi Shimizu (Professor Kohan), Eihi Shiina (Monami's Mother)
---
Plot
At Tokyo Public High School, handsome Jyugon Mizushima is pursued by the principal's daughter Keiko Furano, the leader of the Lolita girls, who wants him as her boyfriend. On Valentine's Day, the sweetly normal exchange student Monami Arukado gives Jyugon a Valentine's chocolate, only for him to find it has her blood in it. Eating it leaves him with a hunger for blood. Monami confirms that she is a vampire and tells Jyugon that she loves him. Her attention makes Keiko intensely jealous. Meanwhile, Keiko's father Principal Furano has been conducting a series of experiments in the resurrection of the dead in the school basement with the sexy school nurse Midori as his assistant. A spilt drop of Monami's vampire blood proves to be the one ingredient he needs to make the process work. Keiko is then killed in a fall from the school roof during a fight with Monami. Principal Furano takes her body and resurrects it. Keiko emerges as a patchwork Frankenstein girl and makes Jyugon a prisoner in order to force a showdown with Monami.
---
Vampire Girl vs Frankenstein Girl is a Japanese film that almost instantly found a cult. Co-director Yoshihiro Nishimura had previously worked as a makeup effects artist on films such as Suicide Club (2002), Death Train (2004), Meatball Machine (2005), Noriko's Dinner Table (2005), Strange Circus (2005), Exte: Hair Extensions (2007), The Machine Girl (2008), Robo Geisha (2009) and Samurai Princess (2009), among others. Nishimura made his directorial debut with Anatomia Extinction (1995) and has also made Speakerman: The Boo (2004), the hit Tokyo Gore Police (2008), Helldriver (2010), Ninja Torkage (2014) and the Z is for Zetsumetsu segment of The ABCs of Death (2012), as well as co-directed Mutant Girls Squad (2010).
Naoyuki Tomomatsu frequently works as an adult film director having made bizarre titles such as Eat the School Girl (1997) and Female Prisoner Ayaka: Tormenting and Breaking in a Bitch (2008) and has been directing genre material since the zombie film Stacy (2001) with the likes of Zombie Self-Defense Force (2006), Maid-Droid (2008), Erotibot (2011), Red Sword (2012) and Lust for the Dead (2012) and sequels.
Vampire Girl vs Frankenstein Girl is a completely insane film. This is more than evident from the opening scene where a mopey romantic scene between Takumi Saito and Yukie Kamamura segues into full-on cartoonish gore – with Kamamura being attacked by zombies, biting into one of them and tearing off a strip of skin that unravels to expose their skull, biting the other's zombie's nose off in an eruption of gore, slitting her wrists to form swords made of solidified blood and with the skulls of the despatched zombies all falling to neatly stack up atop each other.
The world that the film exists in is one of cartoonish absurdity. The classroom is peopled with students in absurd Blackface makeup, Day Glo haircolours and deliberately preposterous fashions. The school factions are a parody of popular real world youth trends in Japan – Lolita (quasi-Victorian) fashions, the trend for wriscutting, and especially ganguro fashion, which involves Japanese youth using makeup to exaggerate their features to look African (with some hilarious scenes here involving them wearing Afros and giant lip extensions, mimicking Michael Jackson and Barack Obama, and insisting they be so Black that they only drink black coffee).
We then meet the mad scientist (Kanji Tsuda) who is also the school principal and arrives as a mad kabuki dress-up version of a witch doctor accompanied by a nurse in fishnets. The two of them conduct a song and dance while dismembering and reviving a corpse, playing air guitar with the spinal column and the nurse holding the eyeballs as though they were nipples. Their creation is a reanimated feet-hand-eyeballs combination that looks like something out of Bride of Re-Animator (1990). Later Tsuda gets excited about the possibility of reviving his daughter from the dead: "Every father with a daughter dreams of this day."
Takashi Shimizu, the director of Ju-on: The Grudge (2003) and various sequels, also turns up as a Chinese professor lecturing on Chinese characters, while sidetracking off to explain the meaning of 'ju-on' and admonishing the pupils "If you interrupt, you'll be cursed." One of the funniest parts is Yukie Kamamura's performance where she plays with a wonderfully bright girlish cheer and nonchalant offhand manner while describing vampirism and the detail of murders she has conducted.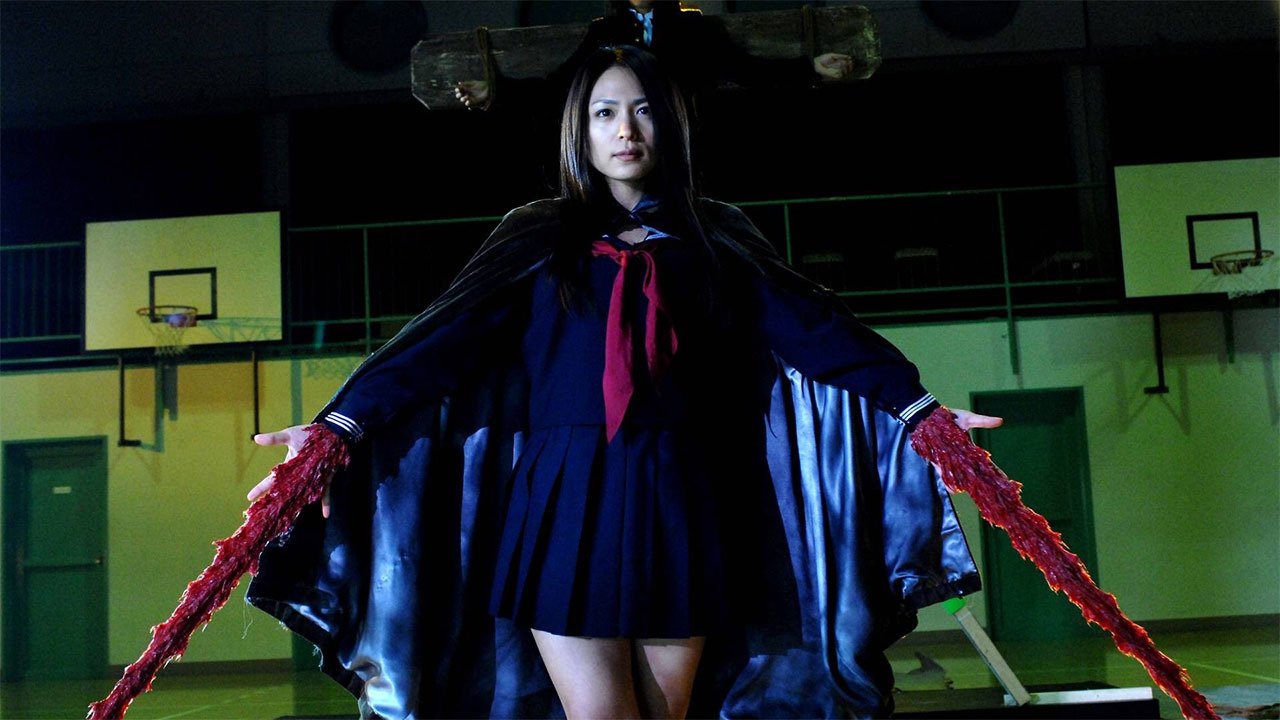 The film wades in gore of a bizarrely cartoonish variety – like Yukie Kamamura killing her teacher and bathing in a massive spray of arterial gore in slow-motion as a rocky love song incongruously plays on the soundtrack. There is the sheer bizarreness of the various fight scenes – Eri Otoguro with a power tool undoing the screws that attach her arms and then using the arms as boomerangs holding knives in their hands to throw at her opponent; or when Eri Otoguro screws an arm to the top of her head to act as a helicopter blade so that she can fly off in pursuit of Yukie Kamamura.
There is a completely demented climax that involves Eri Otoguro being impaled on a tower to emerge as a giant spider-like creation with wooden palings as her legs and arms; the nurse (Sayaka Kametani) emerging with a finger-eyeball combination in lieu of nipples that fly out to impale other people's eyes; Yukie Kamamura thrown off the tower without her vampire powers after losing her cape thanks to Eri Otoguro blasting her with noxious fumes from the toxic pollution in the Chinese professor's transplanted lungs, before Takumi Saito who is hanging on the side drips a single drop of his blood down into her mouth so she can regain her powers; Eri Otoguro firing her rivets at Yukie Kamamura who goes up in a massive spray of blood and then turns her solidified blood into bullets to shred Eri to the skeleton, with the last droll image being of her skull with helicopter blade arm still attached impaled on the tip of the tower. Indescribably delirious.
---
---